It has been over 100 years since it was discovered that ultraviolet lights kill germs. This discovery led to the use of ultraviolet lights for all kinds of uses including, sterilizing hospitals, sterilizing water, germicidal lamps in food establishments, and even curing nail polish faster.
It was only natural then that a bright inventor would figure out that UV light can be applied to improving indoor air quality for residential HVAC systems.
Let's go over the technology of UV lights for indoor air quality and the types of UV lights available for residential HVAC systems.
Comparison of the Best UV Lights for HVAC
IMAGE
PRODUCT

Our Top Pick

Unit improves the energy efficiency of the HVAC
Voltage: 120V
Dimensions: 8.15 x 6.46 x 4.65"

View Latest Price →

Installation is easy thanks to the magnetic bracket
Voltage: 24V
Dimensions: 14"

View Latest Price →

Best Budget Option

Best for the Money
Voltage: 120V
Dimensions: 14"

View Latest Price →

Very efficient and effective air purifier
Voltage: 24V
Dimensions: 23 x 6 x 4"

View Latest Price →

Airflow sensor allows for energy savings - only operates when HVAC is on
Voltage: 120V
Dimensions: 19 x 14 x 6"

View Latest Price →

Unit comes with a one year limited warranty
Voltage: 120V
Dimensions: 22 x 4 x 4"

View Latest Price →

Works in spaces up to 10,000 square feet
Voltage: 120V
Dimensions: 2 x 6.5 x 10

View Latest Price →
At a Glance: Our Top Picks for Best UV Lights for HVAC
How to Choose UV Lights
There are a lot of UV light sanitizers on the market, which could make it a problem when deciding which one to go with. Here are a few things to look out for, which could help narrow it down:
Installation Process
The installation process should be as easy and straightforward as possible. It should also include the least amount of manual labor. Some UV light sanitizers require that you drill holes for screws, while others come with aluminum tape screws. There's even an option for a magnetic bracket. This would be important for those who lead busy lives and don't have the time to install the sanitizer or wait for an electrician to do it.
Power Consumption
UV sanitizers consume different amounts of power, which changes depending on the manufacturer. This is because every manufacturer uses different technologies to make them energy efficient, including the addition of a titanium oxide reflector. The wattage of the bulb also comes into play here. Some sanitizers use 9 watt bulbs while others use larger 18 watt bulbs.
Extra Features
Most of the UV sanitizers will work on mold and other airborne allergens. The swing vote might come from extra features. Some of these include a bulb viewing area, and a warning light indicator. It goes on to warn you when a bulb has burnt out. The bulb replacement process should also be as easy as possible.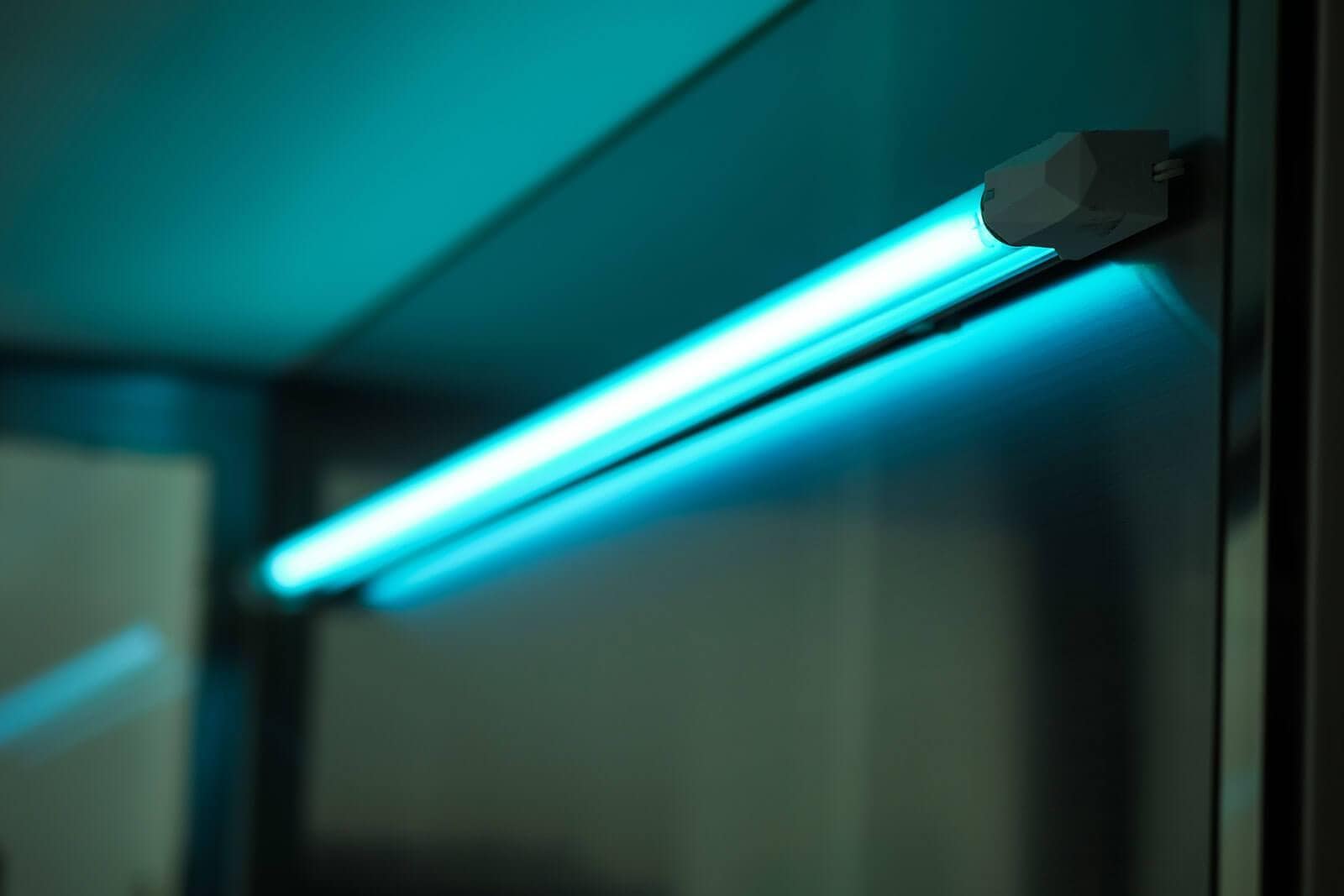 Review of the Best UV Lights for Air Purification
UV lights for HVAC come in various shapes and sizes, and with different power ratings. Although some may offer more features than others, you should look for UV lights that output UV-C light and have higher light intensity for maximum effectiveness. Be sure to check your system in order to choose the right type of bulb, they are not necessarily "one size fits all."
REKO Lighting R2000
Voltage: 120V
Dimensions: 8.15 x 6.46 x 4.65″
Power Cord Length: 10 ft
We may earn commission from purchases made from our links, at no additional cost to you
What Recent Buyers Report
Several recent buyers are impressed by the performance of this unit. It is very easy to install and takes just 15 minutes of your time. People find the nine-foot long cord helpful. They also like that the plug can fit in any regular socket. Some reports of a weird smell came while the lights were on, but the smell left after a few uses.
Why it Stands Out to Us
The REKO Lighting R2000 is a highly rated product on the market. It is a reliable option to purify and get rid of mold in the HVAC duct. The unit stands out for multiple reasons. First, it is very easy to install, and anyone can do it without any professional help. Secondly, the performance of its dual bulbs is remarkable. 
Moreover, the product has a unique and simple design. It comes with a blue indicator light to tell if the device is working or not. This indicator makes it easy for users to keep an eye on it.
Bottom Line
To sum it up, this unit is a great choice for anyone looking for a UV light that they can install themselves. It has great specifications and features such as, the long power cord, and is also backed by positive customer feedback.
Pros
Highly user-friendly and very easy to install
Two powerful dual lamps work efficiently at 120v
Fits any regular socket and no need for any additional switch
Nine-foot power cord makes it easy to fit the light conveniently
Shorter bulb length is optimal for putting the light in tighter spaces
Cons
Bulbs are not very long-lasting
Build quality of the unit is not the best
REKO Lighting PURE24V
Voltage: 24V
Dimensions: 14″
Power Cord Length: 6 ft
We may earn commission from purchases made from our links, at no additional cost to you
What Recent Buyers Report
The efficiency of this 14v UV light bulb has been praised by many. Its longer-length design helped users to illuminate more area, hence increasing the efficiency of the bulb. Various recent buyers are happy with the durability of this unit. It is also reported to be relatively low-maintenance.
Why it Stands Out to Us
This is a powerful product that is easy to install, which is what everyone looks for. It has a 14-inch long bulb designed for maximum effectiveness. The UV light reaches more area and does a much more efficient job, as fewer bulbs can light up the area easily.
The unit comes with a magnetic bracket for easy installation. This makes it very convenient to install the unit and hardly takes any time. All these specifications and features make the REKO Lighting PURE24V certainly one of the best options available.
Bottom Line
All in all, this unit offers good value for money and has decent customer reviews, as well. After hardwiring this pro-level UV light, you can make the most out of its low-maintenance and user-friendly design.
Pros
Modern design makes the bulb last longer
14-inch long UV bulbs for user-friendliness
Great build quality ensures maximum performance
Comes with a magnetic bracket for easy installation
Powerful 24-volt power input makes it work efficiently
Cons
Needs to be hardwired, which requires professional help
Deal UV Best Light AIR Purifier
Voltage: 120V
Dimensions: 14″
Power Cord Length: 6 ft
We may earn commission from purchases made from our links, at no additional cost to you
What Recent Buyers Report
Several positive customer reviews and feedback support this product. We came across many buyers who loved the detailed instruction manual that came with it for installation. Many DIY enthusiasts enjoyed installing and using this unit. Some reports also suggest that the product has a good price point considering its reliable and efficient performance.
Why it Stands Out to Us
Suitable for use in an air purifier, this HVAC UV light is the best in terms of its versatile features and price point. It is affordable, yet has an extraordinary installation design featuring magnetic ends. Some experts or people who have installed such lights before will find this unit very easy to install.
We also really like the energy-efficient design along with the advanced ozone-free functionality. This helps ensure a safe and healthy environment while also cutting down on your utility costs.
One feature that impresses us the most is its IVP technology. This guarantees that the light is not overloaded with electric current leading to electrical hazards.
Bottom Line
Summing it up, we think that this budget-friendly DEAL UV product is a great choice for everyone. It will require professional installation for beginners, but people who want a small DIY-project to enjoy will like this unit.
Pros
Ozone-free UV light
Easy cleaning ensured by UV cleaner
IVP safety feature prevents electric overload
Reported having increased energy efficiency
Magnetic brackets make installation extremely easy
Cons
Bulb may go out after a few uses
4. Honeywell UV Air Purifier UV2400U5000
Voltage: 24V
Dimensions: 23 x 6 x 4″
We may earn commission from purchases made from our links, at no additional cost to you
What Recent Buyers Report
The top-notch performance of this unit has highly impressed many users. The overall design enhances the performance of the UV bulb, which is reported to be very long-lasting. Various people appreciated the excellent performance and are very happy with their purchase decision.
Why it Stands Out to Us
There are many reasons this Honeywell model is widely popular. It is primarily known for its high efficiency, and it is made up of high-quality materials and filters that deliver great performance. The unit is integrated with an AirBRITE Odor absorption system, which helps to kill any odor in the air completely.
Moreover, it has an impressive killing efficiency and can remove up to 90% of the volatile organic compound. The system is designed to help the user save on utility costs and provide maximum performance.
Bottom Line
After having a look at all the factors, we can say that this Honeywell unit is the best because of its technologically advanced design. The carbon filter, along with the patented odor absorption system, makes it stand out.
Pros
High killing efficiency on a coil
Energy efficiency saves on utility cost
Features a maintenance-free carbon filter
Removes up to 90% volatile organic compounds
Comes with the unique AirBRITE technology for maximum odor removal
Cons
Low voltage transformer required
5. OdorStop OS36PRO1 UV Air Purifier
Voltage: 120V
Dimensions: 19 x 14 x 6″
Power Cord Length: 6 ft
We may earn commission from purchases made from our links, at no additional cost to you
What Recent Buyers Report
Some people installed this unit in their old HVAC units and reported that the light got rid of most of the mold. Other buyers also report this light is really easy to install. A few buyers who had asthma patients at home used this light to make their HVAC systems better and were satisfied with the noticeable results they saw.
Why it Stands Out to Us
A good warranty and impressive performance make this product worthy of your money. A two-year limited warranty backs this unit. Along with this, the bulb replacement design in these lights is also very convenient, and even beginners can figure it out.
Also, we really like the energy-efficient airflow sensor. This sensor will turn on the lights when there is a hint of operation in the HVAC unit, while also not costing you extra on your utility bills. The unit also comes with the necessary resources for installation, such as, the installation cut-out guide and the mounting screws.
Bottom Line
To conclude, these UV lights by OdorStop are incredible in terms of their advanced and intelligent features. They can perform really well to get rid of mold and bacteria from your HVAC systems.
Pros
Sufficient six-foot-long power cord
Cut-out installation guide is a great help
Intelligent airflow sensor that is energy efficient
Backed by a generous two-year limited warranty
Helpful indicator lights notify you of the unit's status
Cons
Might not stay in place
Will require professional help for installation
6. Honeywell UV100A1059 UV Surface Treatment System
Voltage: 120V
Dimensions: 22 x 4 x 4″
We may earn commission from purchases made from our links, at no additional cost to you
Review
This is a 36-watt device that's made entirely from plastic. It comes already pre-assembled and requires a simple install. It's white in color, which allows it to blend in with your run-of-the-mill AC unit. The bulbs are only 14 inches, and will even fit in most of the shallower models. It mounts easily above the cooling coils in your central air conditioning, and it's designed to run continuously.
The bulb's shelf life is about a year, and the unit doesn't require any other maintenance. It kills 99% of the mold inside your AC, which, in turn improves the efficiency of the entire unit. It also kills up to 75% of various bacteria that pass through (or near) the AC unit. (It's effective for 15 to 18 feet.)
The UV light is safe to use indoors. The main selling point for this UV sanitizer is its collection of nifty features. One of these is the sealed unit design.
This protects the installer and you, the home owner, from accidentally coming into contact with electricity, both during installation and running. It also has an intelligent bulb protection design that prevents the bulbs from coming on if they're in contact with anything, or in case of improper installation. There's a special light pipe that allows you to safely look at your bulb. You have the option of getting an AIRWATCH indicator with purchase. It lets you know when a bulb in the unit needs to be changed.
Bottom Line
Most times, it's the small things that matter to the customer. The safe seal design, the bulb protection feature, and the viewing pipe are all a big plus in all around convenience.
Pros
Bulb viewing area
Long bulb lifespan
Innovative bulb protection
Quick and easy installation process
Does not need any special plugs or additions
Cons
Power cord is shorter than average
7. OdorStop UV Air Treatment System (OS72)
Voltage: 120V
Dimensions: 2 x 6.5 x 10″
Coverage Area: 6 ft
We may earn commission from purchases made from our links, at no additional cost to you
Review
This professional grade air treatment system works with most standard AC units. It uses two 16-inch bulbs that put out 32 watts each. The lights have an LED indicator to make it easier to monitor whether they're working as they should. If you need to, you can find 12-inch replacement bulbs. These are ideal for homes with installation ducts that are shallower than the standard.
The OdorStop UV Air Treatment System eliminates odor-causing bacteria, mold, mildew, viruses, pet dander, and other allergens. This makes it a good investment for homes that have children or the elderly to take care of.
The body is made of high-quality aluminum, which makes this a durable and hard to break product. The installation process is also easy, and the package comes with picture directions. You get a cut-out template to help with the drilling, mounting screws, and foam tape, together with the UV sanitizer.
Simply use the template to drill holes into the duct, mount the unit onto the AC, and plug it in. It's important to note the power cord is only 6 feet long, which some customers feel is too short. To help with the installation, there's a detailed step-by-step video from the manufacturer.
There have been complaints about the integrity of the bulb support, and its long-term effects on how the sanitizer works. It's wobbly, and after 6 to 8 months of use, it becomes weak and allows the bulbs to sit lower, thereby limiting their efficiency. Bulbs also tend to fall off or burn out quickly when this happens, and you may end up replacing one every few months.
Bottom Line
This is a very good sanitizer with an excellent record. It's easy to install and easier to use. The problem with the bulb support is something they should work on though.
Pros
Easy to install and use
2-year limited warranty
Powerful and efficient sanitizer
Friendly and efficient customer service
Replacement bulbs for places without enough space
Cons
Bulb mating may be a bit troublesome for some users and is sometimes wobbly
8. D200 Dual lamp Air Purifier Whole House
Voltage: 120V
Dimensions: 7″
We may earn commission from purchases made from our links, at no additional cost to you
Review
This is an efficient UV light sanitizer that works on 99% of airborne microbial organisms, and other VOCs (volatile organic compounds). This is done through the photocatalytic oxidation process, where a combination of Ultra Violet light from the bulbs and Titanium Oxide are used. The process is extremely thorough, making this an ideal purchase for households with people who suffer from respiratory complications.
The build is a unique design that increases energy efficiency in two ways. The first is by increasing the efficiency of your AC unit, ensuring mold doesn't accumulate on the coils. It also uses less power when running, by incorporating a titanium oxide reflector, which amplifies the effects of the sanitizer.
The installation process is easy, you just cut a hole in the duct, insert the lamp with the filter, and then seal the plastic frame with easy to use aluminum tape screws. The power cord to plug it in is a normal 6 footer, and you may have to make arrangements for an extension cord if your outlet is farther away. Bulbs for the D200 Dual lamp Air Purifier Whole House sanitizer last about a year before you need to replace them.
These replacements are reasonably priced and readily available. There's no indicator for a burned out bulb, so you have to keep periodically checking to see if any of the bulbs aren't working. The bulb replacement process is inconvenient though. You have to physically remove the entire unit and install it again every time.
Bottom Line
The intelligent purifying process that combines photocatalytic oxidation and energy efficiency is a big selling point. If you intend to use them in a space larger than 3,500 square feet, you can install more than one unit.
Pros
Easy to install
Works on 99% of VOC
Energy efficient design
Long light bulb lifespan
State of the art air purifying process
Cons
Bulb replacement can be an annoying process
9. Bio-Shield UV-C Air Sanitizer System
Voltage: 110V
Dimensions: 18 x 4.72 x 4.72″
We may earn commission from purchases made from our links, at no additional cost to you
Review
This is a UV air sanitizer that once installed, works on more than just your usual microbes (mold, mildew, and bacteria). It works on other airborne irritants such as dust mites and pet hair, which can cause breathing problems such as asthma.
It also improves the efficiency of your AC unit by continuously cleaning the coils and the drain pan. The result is improved air conditioning heat transfer, and an increase in the net cooling capacity as well. Coupled with the efficient 25 watt bulb, the outcome is an upsurge in the unit's energy efficiency, and lower power bills.
Installing the UV light sanitizer is pretty straightforward and is done in four easy steps. First, you locate the galvanized duct within the AC unit's installation and attach the mounting template to it. Then drill holes in the duct using the 2 and 7/8 inch bit that comes included with your purchase. You then mount the unit using the three screws that come with the product. Finally, insert the bulb and plug the sanitizer into a power source. It should emit a continuous blue light to let you know it's working.
The Bio-Shield UV-C Air Sanitizer System eliminates the need to pay for duct cleaning by stopping the build-up at the source. Most of the cleaning done on ducts is to remove the dirt, gunk, and mold build-up in the AC.
This light prevents organic material from depositing on the cooling coils, drain pan, and other surfaces inside the AC unit. There have been some customer complaints about the efficacy of the sanitizer in areas of high humidity. In some instances, mold accumulates at the base of the light.
Bottom Line
When it comes to UV sanitization systems, the Bio-Shield UV-C Air Sanitizer System has the best combination of features and ease of use for its price point. This is definitely something worth investing in.
Pros
Easy to install
Energy efficient
Efficient against airborne microbes
2-year limited warranty on the product
Improves the efficiency of your AC unit
Cons
Complaints that it may not work well in highly humid climates
Can UV Lights Really Help My Air Quality?
The UV light can help eliminate many types of fungi, bacteria, germs, viruses, and pathogens. Usually, the UV lights are installed within the air handler, which remains turned on 24/7. The HVAC UV lights are effective at controlling mold inside the air handler, as all mold in line-of-sight of the UV bulb will be killed, keeping the coil mold-free.
Several factors will affect the effectiveness of the UV lights installed in your AC system, such as the intensity, number, placement, and direction of UV lamps. The surrounding temperature and humidity levels of your home and the reflectivity of surrounding surfaces will also have an impact.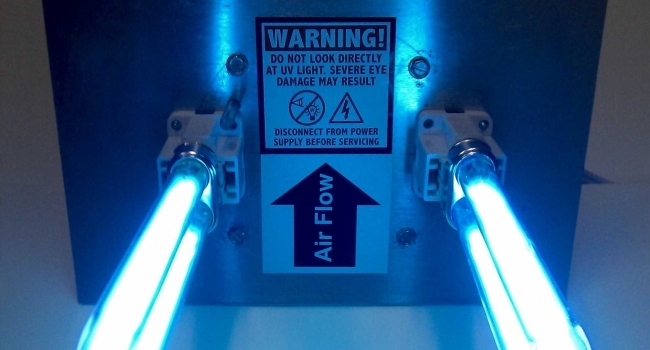 Two studies point to the effectiveness of UV light in killing mold and bacteria, one in hospitals and the other in a commercial HVAC system. In 2012, researchers at Duke University Medical Center used ultraviolet radiation (UV-C) to nearly eliminate drug-resistant bacteria in 50 hospital rooms, reducing the number of bacteria by more than 97%. In 1996, an NCBI study installed UV lights on certain floors (and not on others) of an office building for four months to measure and compare the fungal levels of each floor. It found that "the fungal levels following UV operation were significantly lower than the levels in control AHUs (air handler units)."
How Do UV Lights Help?
Fungal contamination in HVAC units is a widespread issue that shouldn't be ignored as it often contributes to building-related diseases, like infectious diseases, allergic rhinitis, asthma, and hypersensitivity pneumonitis, according to the National Center for Biotechnology Information.
Ultraviolet light helps kill a variety of harmful bacteria and mold, but most UV lights have no action on some other allergens or dust. UV systems should prevent the organic build up on the surfaces of your HVAC system's coils, and in your ducts. An additional benefit of UV lights is that they improve airflow and the energy efficiency of your HVAC system, as well as eliminating the need for regular duct cleaning.
Ultraviolet (UV) lights for air purification are more important for folks who reside in humid areas prone to mold growth or for those with severe health issues. You might argue that filters are sufficient for you, but the best HVAC UV lights do a better job at disinfecting and sterilizing the air in your home.
Types of UV Lights for Your Air System
There are two types of UV lights for HVAC systems, Coil Sterilization, and Air Sterilization.
In Coil Sterilization, a "stick type" light is installed inside the return air duct and sterilizes the air handler coil. A coil sterilization UV light runs 24/7 and is the most common type of HVAC UV light. It is also the most reasonably priced.
In Air Sterilization, a complete UV light unit is installed that sterilizes moving air. The UV light unit is installed in the return air duct and cycles on with the air handler blower.
Installation, Longevity, and Cost
Placement of the lighting system is important for high effectiveness. The UVC purification lights must be mounted next to the evaporator (cooling) coil and on the downstream (cold air side) of the coil. The UV rays must shine both on the air conditioner cooling coil and on the water drain pan underneath the coil (if installed) because this is the main area where mold spores grow.
If the UV lamps are mounted elsewhere, then slime, algae, bacteria, and mold can grow on the cooling coil, drain pan, and even the blower and ductwork. As a consequence, these organisms will contaminate the air that you're breathing throughout your living space.
The negatives of a UV filtration system are that it can sometimes be costly as it is a newer form of air purification. Depending on your area and the available models nearby, you should find a system that meets your budget while still maintaining air quality needs.
Functionally, UV systems are designed to work with a particle filter rather than as a stand-alone item, so regular filter replacement or cleaning is still required.
In addition, the UV bulbs will need to be replaced every 12 to 24 months, depending on the model. One UV stick light bulb is estimated to last 9000 hours, just over 1 year. Replacement bulbs cost about $70 and replacing the bulb during each annual HVAC service and maintenance is nearly effortless.
For just under $100 per year including electricity and tube replacements, you can have your UV lights purifying the air.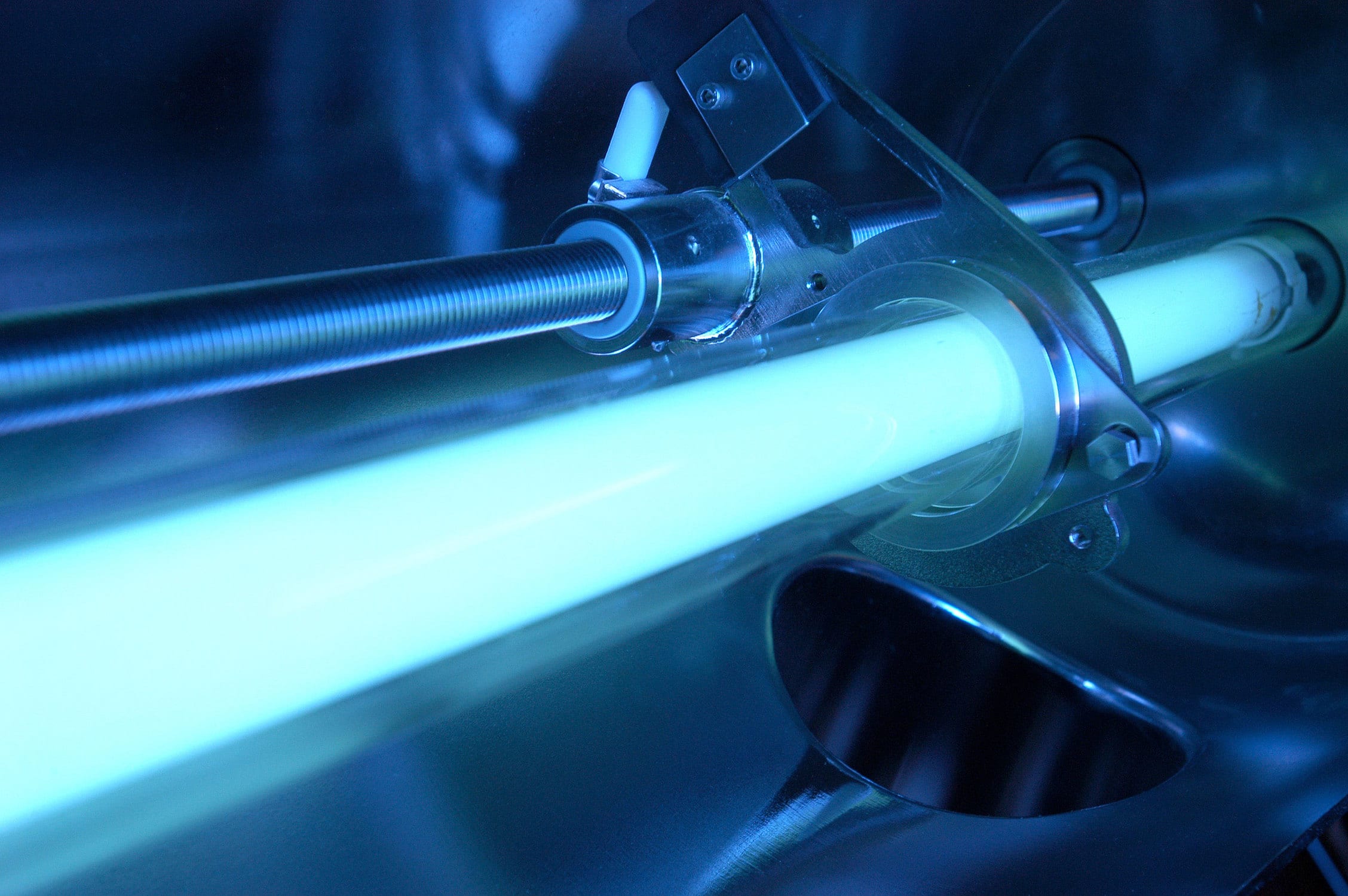 How to Install a UV Light in an HVAC System
A lot of people tend to be intimidated by the process of installing a UV light in HVAC. But the truth is that it can be easily achieved without professional help. Let's take you through the step by step guide on how to do it so you can understand it better. 
The first thing to do is to figure out the voltage you're working with, which in this scenario is 240V. Furthermore, safety is the first thing to consider, thus always shut your power off. 


In order to mount the transformer, hook up the orange wire to the high voltage, whereas the white wire is the common. 


Take the other two leads (red and black) and wire net them to the side as they may shock otherwise. 


Secure the wires in place and torque it down. It's important to make sure it's tight as the electricity vibration can cause it to short.


The next step is to mount the power supply, however, make sure that the power supply is in a suitable location inside the control panel of the air handler. When mounting the power supply, make sure you don't overtighten it, as its plastic and may break.


It is very important to establish a separately derived power system for the UV lights. If that is not the case, it causes problems with the condenser coming over the heat pump. 


Twist and turn the low voltage wires and make sure they are long enough, then hook them to the transformer. 


Now that you've managed the transformers in the control panels, take the low voltage wire that fits in the UV light. However, when dealing with the UV light, it's important to not touch the bulb as the moisture and oils in your hand can shorten the life of the bulb. 


Furthermore, the UV bulb will be mounted on the bracket as the bulb will fit inside the coil. Take the UV light, mount it to the magnet, and put it in. Plug it in very carefully. 


After you have mounted the UV light behind the coil, it's important to put the shield back on. 


Then, you can go ahead and put the aluminum panel on. And the job is done!
Now, if this description isn't sufficient for you to understand the process, that's fine, you can go ahead and check the video below. It will surely help you clear any remaining confusion that you may have.
Conclusion
When looking for the best UV lights for your HVAC system, ensure that they emit UV-C light, which is the most effective at killing germs and preventing fungal buildup. Installation at the right location within the ductwork or air handler will ensure effective performance.
Although UV lights can be helpful for those who live in humid areas or those with severe health issues, they should be used in conjunction with an air filter.
People Also Ask
When it comes to buying the perfect UV light, people are often puzzled as to which route to go. Therefore, we took the liberty of answering your most frequently asked questions in hopes of clearing out any queries you may have left. Have a look:
How Much is a UV Light for HVAC?
You should be able to get a good UV light for HVAC for under $100, but that would depend. However, the real cost is associated with its installation, which can cost from $450 to $700. The factors affecting it include the type of UV light system chosen, the wavelength of light emitted, etc.
Do I Need a UV Light in my AC Unit?
It can have a big positive impact, thus, it is a good investment. UV light technology is tried and tested to reduce fungal growth inside an AC unit. Therefore, it can reduce the production of airborne pathogens and improve air quality. However, it needs to be installed properly for that to happen.
Where Do You Put a UV Light in an HVAC?
In order to sterilize the air, you need to put the UV light in the return air duct. It then works with the air handler. Furthermore, the complete UV light system works to sterilize moving air, which is pushed through the HVAC system.
Are HVAC UV Lights Worth it?
Yes, they are worth investing in if you care about air quality. Moreover, it has been proven that a UV bulb kills any mold that is in its sight, and thus, it effectively controls the growth of mold in the coil.
Do HVAC UV Lights Create Ozone?
According to two different studies, UV bulbs that are being used in HVAC systems for the purposes of sterilization and irradiation do not create excessive ozone concentrations.
What Bacteria Does UV Light Kill?
In order to kill bacteria, a certain germicidal light wavelength is required, which is of 185-254 nanometers. A very common example of a pathogen killed by UV light is E. coli. But that isn't all! High-frequency UV radiation isn't just effective in killing bacteria but also viruses, mold, and other microorganisms.
How Much Bacteria Does UV Light Kill?
This entirely depends upon the dosage of UV given, plus the exposure time of the bacteria or pathogen in general. Dosage is the product of intensity and exposure time, and it is measured in microjoules per square centimeter. The dosage required to kill 90% of bacteria and viruses range from 2000 to 8000 microjoules per square centimeter.
Does UV Light Purify Air?
Yes, when a system of air conditioning uses UV lights, it has the ability to kill airborne microorganisms, which in turn improves the air quality. This is precisely why UV light is used as a means of sterilization for hospital equipment.