Winters without a furnace can be a risk. 
Among all class-leading brands, Ruud furnaces not only help you stay warm in your offices and homes but also cut down on energy costs quite effectively. 
This article intends to assist you in choosing the right Ruud furnace for your place. Moreover, you will discover some characteristics that make Ruud furnaces stand out in the crowd.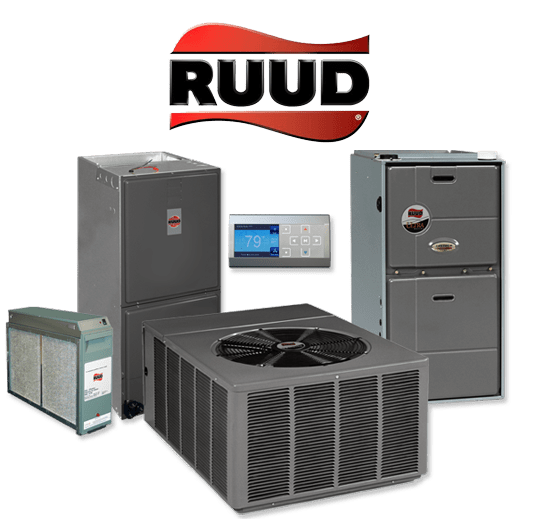 How Does Ruud Compare to the Competition?
The market is full of furnaces from different brands. Some of these brands do their jobs really very well, but laying hands on Ruud furnaces is undoubtedly an unregretful decision. Below are some qualities that put Ruud ahead of competitors. 
Outstanding Construction
The material used for making the whole body and components of the furnace matters a lot as it indicates the lifespan of the product. Owing to this fact, Ruud furnaces feature aluminized steel construction, which is an exceptional choice for reliability. As a result, the products tend to serve longer than most high-end brands.
PlusOne Water Management Feature
The units are equipped with a PlusOne water management system that stops the system from working as soon as it detects blockage or fullness of drainage. Thus, no water comes out of it, and the unit doesn't undergo any malfunctioning either.
Impressive Warranty
Ruud offers attractive warranty periods to its customers. Usually, it allows users to report issues of parts within ten years of registration or purchase. For heat exchangers, it also provides a limited lifetime warranty. This generous policy fascinates people to rely on their products, thereby making it a more successful brand than others.
Comparison of the Best Ruud Furnaces
Given the extensive range of Ruud furnaces, everybody will surely find the product appropriate for their demand or requirements since Ruud values each of its customers equally. Go through the table below, compare each furnace closely and decide on what you need and which product suits you the most. 
| Model Name | AFUE Rating | Heating Capacity (BTU/hr) | Furnace Type | Home Sq. Ft. | Cost of Unit Only | Installation Cost |
| --- | --- | --- | --- | --- | --- | --- |
| RUUD R801T | 80% | 61,000 | Single-Stage | N/A | $800 | $2,500 |
| RUUD U802V | 80% | 61,000 | Two-Stage | 2300 | $925 | $2,730 |
| RUUD Econet U98V | 98.7% | 55,000 | Modulating | N/A | $3328 | N/A |
| RUUD R801C | 80% | 40,000 | Single-Stage | N/A | $891 | N/A |
| RUUD ROCB07204M | 86.5% | 72,000 | Two-Stage | N/A | $1875-$2135 | N/A |
Review of the Best Ruud Furnaces
Although all Ruud furnaces possess astounding features, some of them literally steal the show. Here, we talk about such models in depth. Besides the pros, we also collated their cons so that you can have a better understanding of the product.
RUUD R801T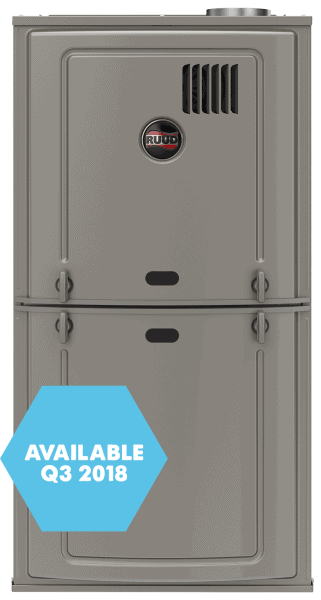 Energy Efficiency (AFUE): 80%
Parts Warranty: 10 Years Limited Warranty
Unit Warranty: 20-Year Heat Exchanger Limited Warranty
We may earn commission from purchases made from our links, at no additional cost to you
Why it Stands Out to Us
First of all, this qualified product incorporates Ultra-Low NOx technology with which the unit releases a controlled and minimum possible amount of harmful furnace gases. Hence, it is environment-safe. 
The three-phase induced draft blower motor also compliments the performance of this furnace. It not only accelerates the working power of the furnace but also reduces the chances of accumulation of combustion gases inside the unit. 
One more interesting thing about this Ruud furnace is it includes a compartment where fuel gases mix well before entering the combustion chamber, thanks to the PreMix Burner.
Its construction is also not ordinary. The doors, bottoms, walls, and other components are made of high-grade aluminized steel, which is corrosion-resistant.
Bottom Line
The dip switches, draft blower motor, and rock-solid construction contribute to its effectiveness. Furthermore, the QR code facility allows the end-user to control and manage the functions of the unit through a smartphone anytime. 
Pros
Heat exchanger is removable
Includes PlusOne Ignition system
34-inch tall furnace occupies less space
Discharges a harmless amount of burnt gases
Features QR code facility for controlling the output
Cons
Not a two-stage furnace
RUUD U802V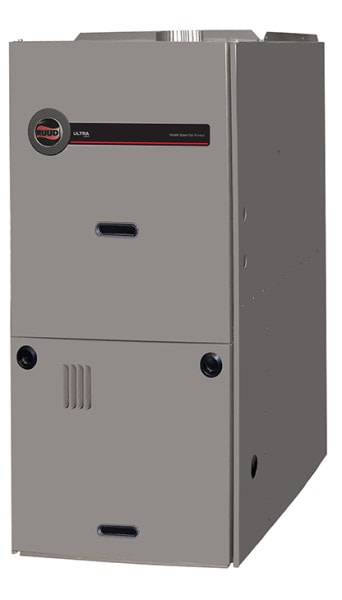 Energy Efficiency (AFUE): 80%
Parts Warranty: 10 Years Limited Warranty
Unit Warranty: Lifetime Exchanger Limited Warranty
We may earn commission from purchases made from our links, at no additional cost to you
Why it Stands Out to Us
It features a two-stage operation, meaning it can be used with both a single or twin-stage thermostat. Hence, people can enjoy the desired degree of heat in the room, depending on the weather or personal preference. 
Being a two-stage furnace, it also boasts a variable-speed blower motor, which enables the unit to run smoothly at higher speeds without creating whistles. So, you can get the optimum warmth that you desire without any hassle. 
You will also find the Eco-Net facility, which keeps the user aware of the need for maintenance or any internal issue. Moreover, the user also stays in touch with professionals with the help of this feature.
Bottom Line
With the fast running blower motor and dual-stage thermostat, it allows everyone to make the most of its heating capabilities. Furthermore, you can count on its steel built to serve you for years.
Pros
Initiates working through direct spark ignition
Heat exchanger, being removable, is easy to clean
All of the components meet the standards of CSA
Innovated with everybody's favorite Eco-Net feature
Includes dip switches in order to avoid a head-scratching setup
Cons
No sensor for checking the blockage in a drain system
RUUD Econet U98V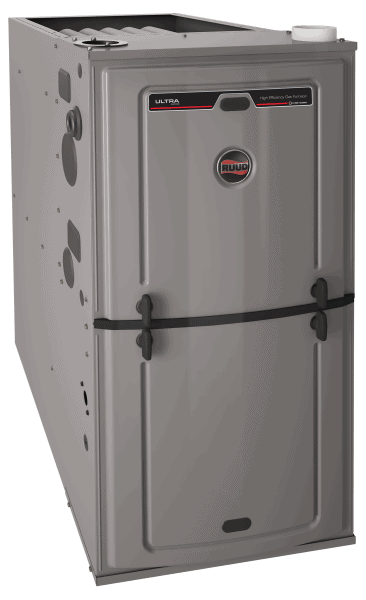 Energy Efficiency (AFUE): 98%
Parts Warranty: 10 Years Limited Warranty
Unit Warranty: Lifetime Limited Heat Exchanger Warranty / Limited Lifetime Conditional Unit Replacement
We may earn commission from purchases made from our links, at no additional cost to you
Why it Stands Out to Us
This Energy Star furnace does its job impeccably while also maintaining a drastic reduction in energy bills. In addition, it shows 98% AFUE (Annual Fuel Utilization Efficiency). Hence, it offers a smart combo of unique capabilities and lifetime savings. 
A sensor is placed inside the unit whose duty is to detect the condition of the drainage zone. If it suspects fullness due to overfilling or any constriction, then it stops working the next moment. Thus, the unit remains safe, and there's no spillage of water.
The equipment executes all the above-mentioned tasks very quietly, so the comfort of the user is not compromised.
Bottom Line
Now get rid of complicated furnaces and replace them with this one. Its DSI enables the buyer to operate it with an ignition method. In addition, by using this furnace, you will experience a noticeable decrease in your bills.
Pros
Works very quietly
Possesses 98% AFUE ratings
Includes a seven-segment LED display
Works with a variable-speed ECM motor
Installation is very convenient, and the maintenance is very cheap
Patented heat exchangers ensure uniform distribution of heat throughout the room
Cons
Unit replacement warranty can only be availed if you register the product
RUUD R801C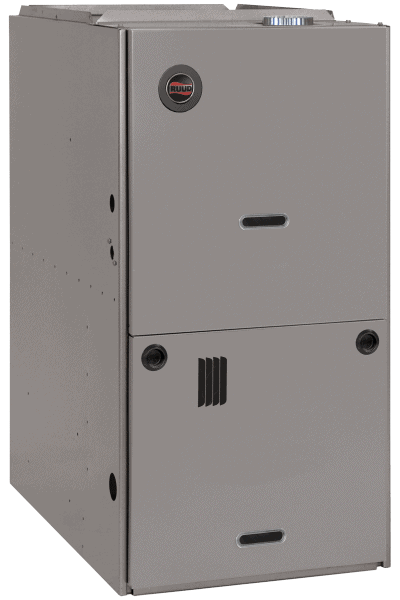 Energy Efficiency (AFUE): 80%
Parts Warranty: 10 Years Conditional Warranty
Unit Warranty: 20-Year Heat Exchanger Warranty
We may earn commission from purchases made from our links, at no additional cost to you
Why it Stands Out to Us
We like this unit because it comprises a constant torque motor whose efficiency is generally considered to be extraordinary. This electrically commutated motor is powerful enough to deliver the desired results. 
Moreover, the PlusOne Ignition system is convenient to use. Unlike other brands' furnaces, it does not need you to operate it through matches. Just use the spark plug, and the furnace is ready to work. 
The removable heat exchangers ensure effortless cleanup and inspection. Besides this, the compact design makes it suitable for everyone to install it anywhere in a small room. The 34-inch cabinet neither looks odd in the rooms nor requires much space.
Bottom Line
The seven-segment LED display keeps the user informed of its working temperatures. Moreover, the steel construction does not succumb to corrosion or prolonged use. The constant torque motor encourages the heat exchangers to work more efficiently.
Pros
Available with dip switches
Solid construction lasts for years
Comes with a removable heat exchanger
Aluminized steel catches no rust or corrosion
Can be connected to smartphones through a QR code 
Cons
Lacks Eco-Net facility
RUUD ROCB07204M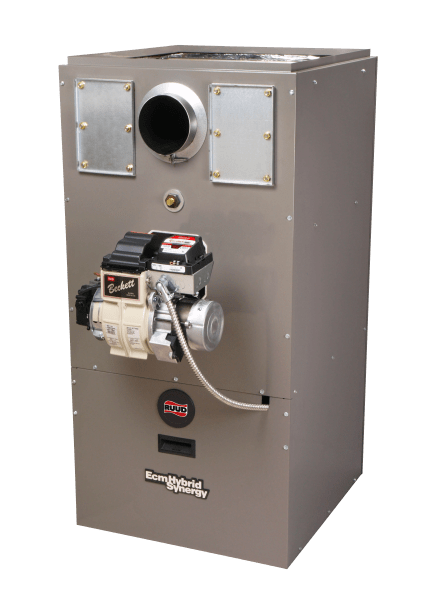 Energy Efficiency (AFUE): 86.5%
Parts Warranty: 5 Years Limited Warranty
Unit Warranty: Lifetime Limited Oil Heat Exchanger Warranty
We may earn commission from purchases made from our links, at no additional cost to you
Why it Stands Out to Us
Many features of this unit make it stand out. 
The discharge of hot air from the furnace takes place from the horizontal, left, and right positions so that the heat spreads evenly in the room. On the other hand, the expulsion of duct gases is possible from both rear and front flues. 
Furthermore, if you wish to vent it directly, employ Riello BF3 Burner and use the vent kits provided with the furnace.
The unit accompanies two locations from where you can clean its interior very comfortably. In short, maintenance is very easy. Plus, it is 44.5-inches tall, but it won't take up a lot of space in your room.
Bottom Line
The Highboy furnace comes with vent kits that allow for direct ventilation while using Riello BF3 Burner. It embodies a three-pass heat exchanger, which allows for efficient heat transfer.
Pros
Two flue points available
Works at three different heat input levels
Produces heat with an efficiency of 86.5%
Makes the heat waves flow in all directions
3-Pass heat exchanger maximizes the yield of heat
Cons
DSI system is absent
What Kind of Warranty Does Ruud Offer?
Ruud already possesses various qualities due to which it gains immense appreciation from its customers far and wide. When it comes to warranty limits, you will also find this company very courteous. There are two types of warranty plans that it provides.
General Warranty
The first one is a simple ten-year warranty limit, according to which the company is liable to repair mechanical failures or replace faulty components within the given time period. To avail of this offer, a person must register the equipment immediately after purchase.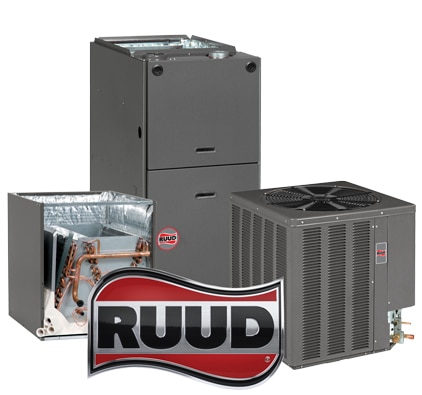 Extended Warranty
Next comes the Protection Plus Program, which is amazing. It is basically an extended warranty and continues for ten years ahead of the expiry of the general warranty. The facilities you get from this warranty include free repairs and hassle-free contact with the company's contractor, experts, or professionals for reporting the complaints and requesting them to visit the unit.
In order to reap the benefits of the second type of warranty, a buyer has to buy the unit from the Protection Plus contractor and sign a paid agreement within a year. After that, the unit will be eligible for these services for ten years, even after the general warranty expires. 
If a person wants to undo the agreement, he can do so within the first thirty days of purchase and get the money back. In case he contacts the dealer to cancel the program after thirty days, then the amount of money corresponding to the elapsed duration of the agreement will be deducted from his refund.
Who Is Ruud?
Ruud has an interesting background. A Norwegian-American mechanical engineer, named Edwin Ruud, came up with the idea of manufacturing automatic water heaters. Thus, his untiring efforts led him to the invention of the first automatic water heater almost a hundred years ago. Gradually, he formed a company, Ruud, in the 1950s that manufactured heating and air conditioning units.
In 1959, a renowned brand, Rheem, got hold of Ruud. Since then, Ruud is considered as a sub-brand of Rheem Manufacturing Company. But another important fact is both companies have been in the ownership of Paloma Industries, a private international company, since 1988.
Ruud is dedicated to producing air conditioners, heat pumps, and gas and oil furnaces of both domestic as well as commercial levels. All of its products include modern technology and satisfying warranty limits and exhibit the most wanted durability and unparalleled precision.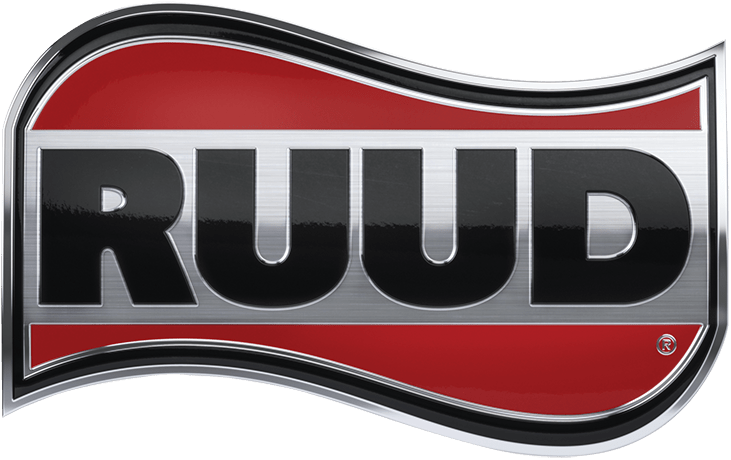 Conclusion
Ruud furnaces are equipped with heavy-duty motors, including variable speed motor, draft motor, and constant torque motor. Resultantly, the heat exchangers attain high speed and work faster. The two-stage operating furnaces give you the opportunity to adjust the heat levels accordingly. Also, the PlusOne ignition system encompasses a self-ignition method, thereby easing the customers to the fullest.
People Also Ask
Ruud furnaces come in the list of those few furnaces that ensure ease of use. But people often ask some questions regarding the behavior and capabilities of these units. Below, you will get the answers to those questions.
Are Rheem and Ruud Furnaces the Same?
Actually, their products are the same, but the models and designs are different. The major difference exists in their identity. Ruud is the division of Rheem, a private company. Both Ruud and Rheem manufacture air conditioning and heating units and furnaces on a large scale. In a nutshell, Ruud is a sub-company of Rheem.
Where Is the Filter on a Ruud Furnace?
Ruud furnaces usually involve a filter cabinet where you can find the filters. This cabinet is located at the bottom of the furnace. It's quite easy to reach, inspect, and change the filters. 
Who Makes Ruud Furnaces?
Although Rheem owns Ruud, the products manufactured by the latter are distinctive and far superior to other Rheem products. Rheem is responsible for the manufacture of Ruud equipment. Also, it is in the authority of Rheem to sell Ruud products. All in all, Rheem is responsible for the manufacture and sales of Ruud furnaces.
How Good Are Ruud Furnaces?
Ruud is so far the best brand for reliable furnaces. It uses pro-grade steel for making its furnaces that promise to live longer. The heat exchangers are also made from steel. To top it off, the entire body, including each steel component, accompanies aluminized coating, which resists corrosion to a great extent. In addition, it's an energy-efficient brand.
How Much Does a Ruud Furnace Cost?
The prices of Ruud furnaces are reasonable as compared to high-end furnace brands. You can find affordable models that cost as low as $800 whole more advanced models can cost up to $1500. These mentioned costs don't include installation charges.
Where Is the Flame Sensor on a Ruud Furnace?
On Ruud furnaces, flame sensors are found above the burners and near the pilot flame. Its shape is similar to a rod, which is slightly bent. Its job is to detect the presence of fuel gas in order to initiate the system. The sensors come in different shapes and sizes, but the location of installation remains the same for all.