If you've been sweating through your clothes this summer every time you work in the garage, it may be about time to consider a garage fan. By installing a fan in the garage, you can negate the thick insulation and lack of ventilation by circulating the air. It cuts back on that sticky, muggy feeling and gives you a more comfortable environment to work in.
Take a look at our guide to help you think about the choices you have when it comes to garage fans.
At a Glance: Our Top Picks for Garage Fans
Comparison of the Best Garage Fans
IMAGE
PRODUCT

Our Top Pick

Powerful airflow up to 3,460 CFM
Dimensions: 25 x 12.63 x 22"
Cord Length: 72"

View Latest Price →

With carry handle for portability
Dimensions: 7.2 x 20.86 x 20.86"
Cord Length: 72"

View Latest Price →

Best Budget Option

3-speed pull chain
Dimensions: 26 x 9 x 26"
Cord Length: 120"

View Latest Price →

Whisper-quiet operation
Dimensions: 20 x 18 x 12.6"
Cord Length: 65"

View Latest Price →
Pointers to Getting the Best Garage Fans
Keep an eye out for these qualities when selecting a garage fan.
Speed
Some garage fans come with variable speeds. This allows you to control the temperature more effectively in your garage. While this can help to bring more comfort, fast speeds tend to be louder.
Noise
Some people don't mind the whirring of a fan, but it can be distracting especially since garage fans need to be efficacious. Therefore tending to be louder than house fans. However, look for the 'sones' rating to show how loud it is with 0.3 being relatively quiet, and 4.0 being far louder.
Power cord
The length of the power cord is essential to consider if you have limited space or awkward power socket placement. While you can use an extension cord, it is always safer to plug the fan into the wall.
Adjustability
Garage fans come with varying adjustment mechanisms for you to change the air direction when necessary. While some models oscillate, others can be pointed in certain directions. A few garage fans have height adjustment mechanisms too.
Warranty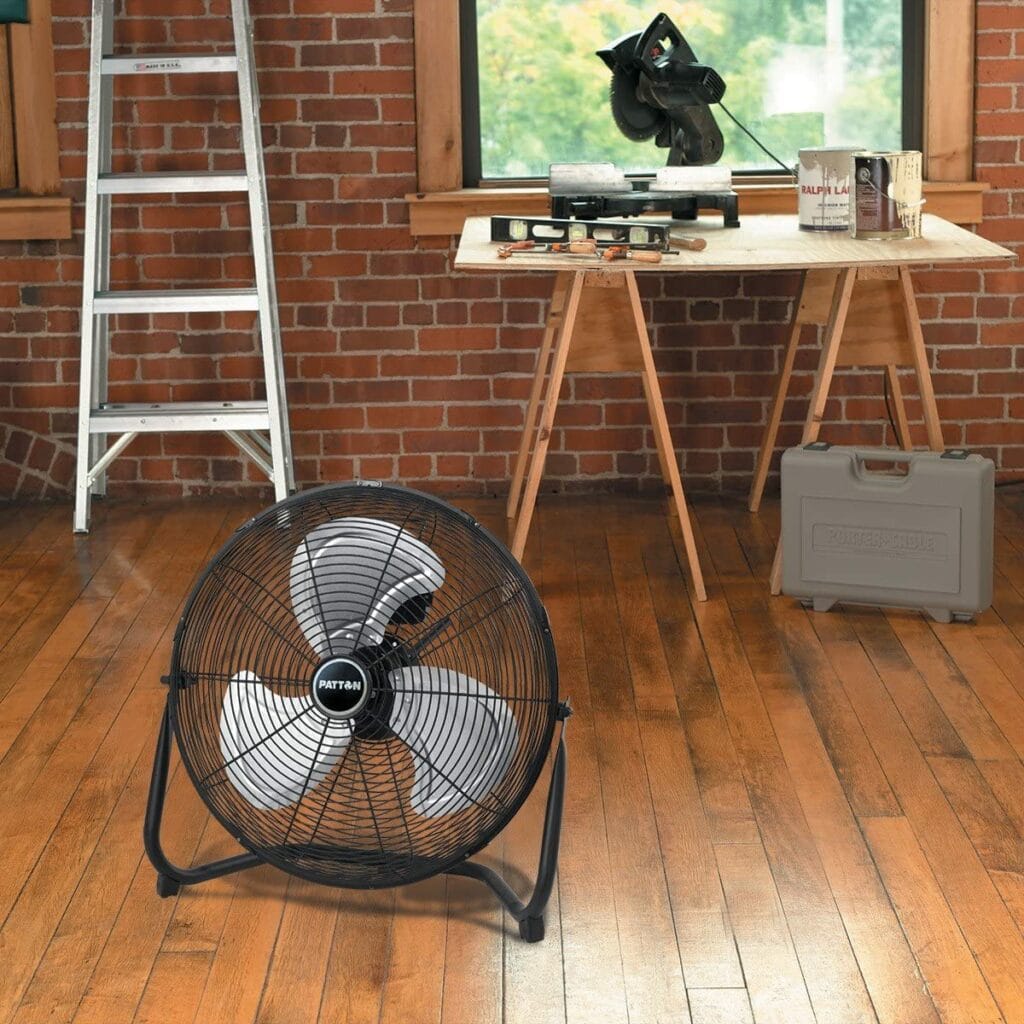 Check the warranty details to inspect reliability and durability. If the company is offering a lengthy warranty, they have confidence in the product. Shorter warranties or those with many conditions tend to accompany lower quality devices.
Price
You need to look for a model that complements your budget. Consider all the above conditions and then search in your price bracket for something that checks as many boxes as possible.
With that in mind, also take into account the efficiency level. While higher efficiency fans are more expensive upfront, they tend to lower running costs.
Review of the Best Garage Fans 
If you're in the market for a garage fan, here is a little insight into what's out there. With advantages and disadvantages of garage fans outlined, our guide runs you through what to look for and where to find it!
Lasko 2264QM High-Velocity Floor Fan
Dimensions: 22 x 12.6 x 22″
Cord Length: 72″
Speeds: 3
CFMs: High 3460 / Low 3160
We may earn commission from purchases made from our links, at no additional cost to you
Review
Easily converted from a floor mount to a wall mount, this versatile fan has a carry handle and three powerful speeds. It is designed for garage use and made with industrial grade materials. It stands at 20 inches tall.
A powerful garage fan, this model has versatile mounting and can easily cope with cooling large spaces. Be careful not to drop it while installing. The blades are a little fragile. But enjoy the ease of moving it around by its carry handle.
Pros
All speeds are powerful
Extremely durable and lasts a long time
Handle makes it easy to move around the garage
Three speeds allow for more comfortable operation
Has versatile mounting, allowing wall-mounting to save space or floor mounting for portability
Cons
Quite noisy
Blades are made of thin aluminum which can bend easily if dropped
Patton PUF1810C-BM High-Velocity Fan
Dimensions: 20.86 x 7.2 x 20.86″
Cord Length: 72″
Speeds: 3
CFMs: High 2218
We may earn commission from purchases made from our links, at no additional cost to you
Review
With 18 inch blades, this large fan has a powerful motor and three speeds for quick cooling of large spaces. It has a tiltable head. And is designed of durable metals to withstand workshop environments.
While a little pricey, this model is a powerful choice for large garages. It can be pointed easily to where cooling is needed and can be moved around with ease. It is a little loud, however.
Pros
Carry handle makes it easy to transport
Powerful motor and large blades make it a very effective fan
Adjustable head allows the user to focus cool air in the right direction
Engineered from durable materials, it is a hardy garage fan suitable for construction environments
Cons
Quite expensive for a garage fan
Significantly loud, even when on the lowest setting
Maxx Air HVWM 18 UPS Wall Mount Fan
Dimensions: 26 x 9 x 26″
Cord Length: 120″
Speeds: 3
CFMs: High 1450
We may earn commission from purchases made from our links, at no additional cost to you
Review
This garage fan can be wall-mounted or can be installed as a hanging fan. It can tilt 180 degrees, and the three speeds are controlled by a pull chain. It has 2500 cfm of airflow and rust-resistant grills.
It must be installed properly, but once in place, provides a powerful tool for cooling garages. Although loud, you can focus it on certain areas. It has three speeds.
Pros
Speed control on this fan is easy to use
Adjustable to focus the airflow where required
Engineered not to rust making it durable for the garage
Geat model for those looking to save space as it can be installed overhead
Cons
Extremely loud
Needs to be installed securely otherwise it poses the risk of falling
Tornado 16 Inch Digital Wall Mount Fan
Dimensions: 20 x 18 x 12.6″
Cord Length: 65″
Speeds: 3
CFMs: High 2800
We may earn commission from purchases made from our links, at no additional cost to you
Review
A wall mounted garage fan, this model is engineered to perform quietly. It has 16-inch blades and can oscillate. It has thermal overload protection and can be controlled by remote. There are three speeds and will shut off if assembled incorrectly.
This model is a good fan for indoors or for the garage. It oscillates at three powerful speeds but needs to be installed on a wall.
Pros
Three speeds for better temperature control
Remote makes this fan convenient to operate
Can oscillate to circulate cold air or can be focused in one spot
Thermal overload protection and shut-off for incorrect assembly are great safety features
Cons
Some users have complained that it leaks a little oil
Needs to be mounted on a wall making it a little more complex to install
How Much Power Should a Garage Fan Have? What Size Should It Be?
The space of the room you are trying to cool will determine the amount of power you will need. When purchasing a fan, look for the 'cfm' or cubic feet per minute measurement. Garages are relatively large regarding room space and often have draughty corners and cracks. With this in mind, you'll need something high powered.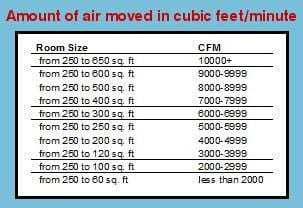 Models of around 3000 CFM and above are designed specifically to cope with the demand needed in a garage. Far more industrial in power usage, garage fans tend to be a lot more powerful than the average indoor house fan.
With that in mind, always measure your space to look for a device designed to cope with your size garage. So that you increase efficiency.
Signs That You Need a Garage Fan 
If you're a person who works out in the garage or uses the garage space as a workshop, you may find yourself losing your cool in the summer. Garages can get a little hot, leading you to need a garage fan.
If your garage is west-facing, you'll often find that you're experiencing the late afternoon intense sun blazing down. This is exacerbated if your garage door has a dark color, absorbing the heat into the room.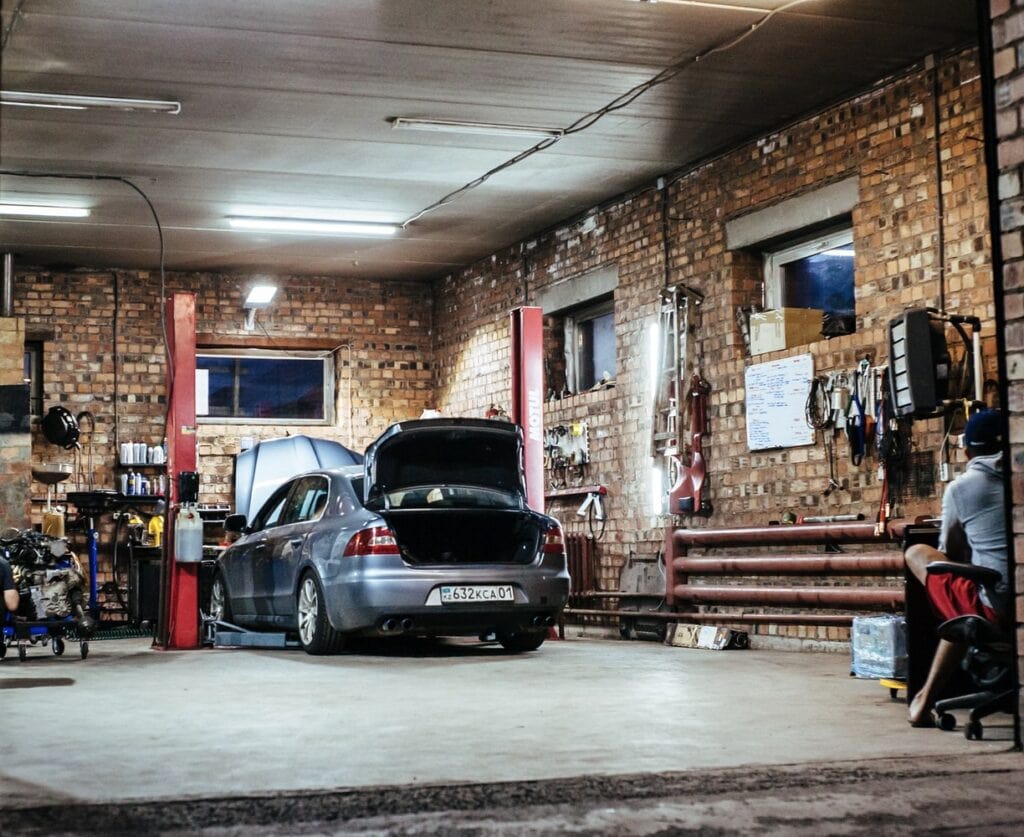 If your garage is specially insulated, you may find it feels a little greenhouse effect, locking the heat in your garage. While great for the winter, it can be unbearable if you work in the garage in the summer.
Without a ventilation system installed or the continuous use of a dehumidifier, you might find your garage becomes a little 'muggy' as the humidity builds up. By installing a garage fan, you'll find that you can move the air, creating a more fresh feel to the room.
Conclusion
If you need to cool down your garage, installing a garage fan will help the air flow. Consider the size space you have, and pick the required power level. Oscillation features are great for air circulation. Consider wall-mounting as it will help save you space. Don't forget to think about where you will plug in your fan and consider the length of the cord.