Whether you need better bathroom ventilation or you're looking to cool your home this summer, window fans are a great way to circulate the air through your home.
With both twin and single fans on offer, you can customize your air flow, to feel the comfort of a cool breeze.
If you're wondering how to choose between what's on the market, check out this guide. And see some of the best window fans and what they offer.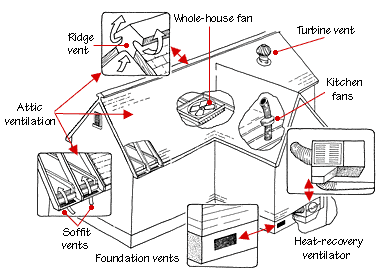 What to Look out for When Buying Window Fans
Consider your needs, the size space you are working with, and any extra features you'd like. It will help you to get started in choosing a window fan. However, if you're still wondering what to look for, consider these points.
Airflow Capacity
You need to think about the cooling power of the fan. This starts with measuring your room space. If you have a fan that isn't powerful enough, you won't feel cooler. If the fan is too powerful, you'll be wasting energy.
You need to look for the cubic feet per minute (cfm) rating. This will give you the volume of air that moves per minute. As a general rule, you need 1 cfm per square foot of space, plus an extra 50 cfm. If your room is 10 x 10 feet, you have 100 square feet to cool. You will need a fan with a capacity of 150 cfm.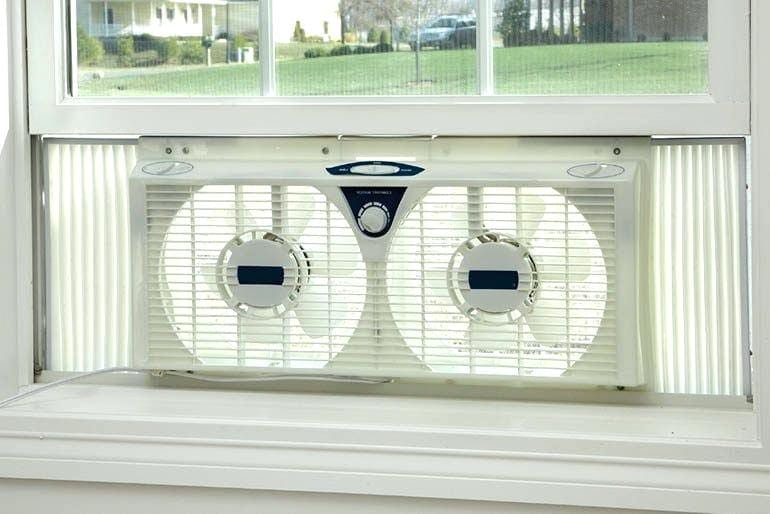 Single or Twin
Single fans have one set of blades, and twin fans have two sets of blades. Single blades perform one job, whether pulling air in or pushing air out. You may need two of these models to work effectively. The twin fan has two blades: one for pulling air and one for pushing. They are more efficient but tend to be larger.
Size
The size of the window fan is important to fit your installation limits. You want to have the biggest fan that can fit into your window for the most effective and efficient performance. Make sure to measure as a fan too large won't sit in the window. If it is a little small, don't worry as the expandable panels will help tighten the fan into place.
Speeds
Choosing a fan with variable speeds will increase its versatility. One speed only allows for one level of coolness, whereas different speeds enable the user to create a more comfortable environment. Looks for models with three speeds rather than two.
Energy Efficiency
Look for the Energy Star seal to demonstrate the most efficient models on the market. Taking into account energy consumption, durability, price, and so on, the certification shows how valuable the model is. With a more efficient model, costs of running will be reduced as less energy will be used.
Reviews of the Best Window Fans
If you're looking for the best window fan to suit your needs, here is a breakdown of some of the more popular models on the market. By understanding the pros and cons of each, you can get a clearer picture of the type of bathroom fan that will fit in your house.
Bionaire BW2300-N Twin Reversible Airflow Window Fan
Dimensions: 25.5 x 14.1 x 6″
Special Features: Remote, Reversible, Programmable
We may earn commission from purchases made from our links, at no additional cost to you
Review
This model is a twin window fan, standing at 13 inches high. It has 8.5-inch fans and extenders to help fit it securely. There is an electronic display for easier control and three speeds.
A great fan, it cools a room quickly using twin blades. It has a thermostat and a remote for easy control, but it is a little noisy.
Pros
Has a remote control for more convenient use
Motors are water resistant, making it great for the bathroom
Has a programmable thermostat to help modulate the temperature
Twin blades exchange hot indoor air for cool outdoor air, cooling the room faster
Cons
A little loud for the bedroom
Extender panels seem a little flimsy
Holmes Dual Blade Twin Window Fan White
Dimensions: 22.7 x 11.7 x 5.3″
Special Features: Reversible
We may earn commission from purchases made from our links, at no additional cost to you
Review
This dual operation fan has reversible motors for sucking and blowing. It exchanges air at two speeds and has extenders for a more comfortable fit. Fitting windows that are 24-37 inches wide, it has a thermostat included and 6 blades on each fan for quicker cooling.
Easily fitting most windows, this dual action fan is a quick way to cool a room. A little loud on the highest setting, luckily it has two speeds for more versatility.
Pros
Has variable speed settings for more comfort
Thermostat allows you to set it and forget it
6-inch blade fans are powerful and cool the room quickly
Cons
Whirs quite loudly
Thermostat is a little sensitive
Genesis Twin Window Fan
Dimensions: 4 x 24 x 12″
Special Features: Reversible
We may earn commission from purchases made from our links, at no additional cost to you
Review
With three speed settings and dual motors, this twin fan has reversible airflow for quicker cooling. It has expandable side panels and a built-in thermostat. With large 9-inch fan blades, this model is 24 x 12 x 4 inches and has an easy carry handle.
Although it needs to be placed near a socket, this model is powerful and quick at cooling a room. Silent when operating, this fan is also a good portable choice.
Pros
Operates very quietly
Carry handle and light weight make it easily portable
Large fan blades coupled with the dual motor make this model very effective
Cons
Cord is quite short
Doesn't come with remote control
Air King 9166F Whole House Window Fan
Dimensions: 26.75 x 11.25 x 26.25″
Special Features: N/A
We may earn commission from purchases made from our links, at no additional cost to you
Review
This three-speed fan is designed to cool the whole house. With a 7-foot power cable and industrial grade products, this durable model comes with a year's warranty.
Suitable for larger spaces and industrial installations, this model is designed to be durable. Its three-speed settings give it versatility. And it can sit in the window no matter the weather.
Pros
Window can shut behind this fan without removing it
Has three-speed settings designed for cooling large spaces
Made with industrial grade components making it extremely durable
Cons
Quite industrial looking for a home
Just a single fan, so it is less effective than a twin fan
Holmes HAWF2043 Dual Blade Twin Window Fan
Dimensions: 25.9 x 13.5 x 5.7″
Special Features: Reversible, Programmable
We may earn commission from purchases made from our links, at no additional cost to you
Review
With a 3 year warranty, this model has dual blade operation and 2 digital settings. It is designed to fit any window and comes with a programmable thermostat.
Suitable for a bathroom or bedroom, this smaller sized fan fits any windows thanks to its sliders. It is easy to use because of the programmable thermostat.
Pros
Fits virtually any window
Programmable thermostat is accurate and easy to use
Motors are water resistant. So it can be used in a bathroom
Comes with a great warranty showing durability and longevity
Cons
Fan is quite small
Doesn't come with a remote
Bovado USA Twin Window Cooling Fan
Dimensions: 24.7 x 13.6 x 4.8″
Special Features: Remote, Reversible
We may earn commission from purchases made from our links, at no additional cost to you
Review
With three speeds and extendable side panels, this model is great for larger rooms and bigger windows.  It can be controlled with the remote and is designed to keep insects out. This model can cool as well as circulate the air.
This is an excellent choice for big rooms. There is no thermostat, but it does come with a remote. It is versatile and holds tightly in any window.
Pros
Great model for large spaces
Device stops bugs from coming in the window
Extenders lock, keeping it securely in the window
Three settings allow you to cool the air, and circulate it; You can also extract air
Cons
A little louder than advertised
Doesn't include a thermostat
What Are Window Fans and How Do They Work?
Fans can come with many installation types, such as those installed in the ceiling on in external walls. Window fans differ in the very fact that they are installed inside a window frame. They are held by mounting screws or small expandable panels.
They work by cooling the air in a dual motion. The fan sucks the cooler air into the room from the outside. This high-velocity input of cool air creates a vacuum that sucks out the hot, humid air from inside the room. This creates a dual exchange, whereby the air circulates easily.
In general, users tend to have two window fans installed. This creates a more even and reliable flow, as one fan pushes out the hot air, and the other sucks in cold air. There are some designs, however, that incorporate technology to handle both functions simultaneously. They have two sets of blades, that work separately from each other, covering both actions at the same time.
This sucking and pushing action helps to cool the air considerably. It is perfect for making a room cooler in warm months of the year. At the same time, it functions to circulate humidity, preventing damp from forming on the surface and textiles of the room.
Why Window Fans Are Ideal
There is a bunch of benefits to deciding on a window fan. While being surprisingly easy to install, and offering the benefits of energy efficiency, window fans do a great job. Cooling the air while moving it effectively.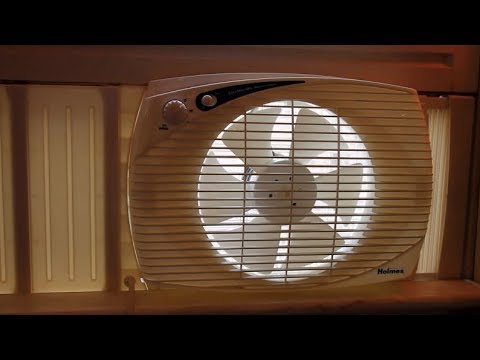 Easy-to-Install
Of all the fan varieties, window fans are especially easy-to-install. The panels on the sides are adjustable, making it a quick job. Within five minutes, you'll be blowing cold air!
Energy-Efficient
Window fans are very energy efficient with many of them boasting the Energy Star seal. As they use less energy, they tend to cost less in energy bills at the same time.
Very Effective Circulators
Window fans are excellent at circulating air around a room. This obviously helps to cool a space. But also enables you to prevent the buildup of damp and mold. Moreover, this helps to move odors out the home and to create a more fresh feeling environment.
Tips for Using Window Fans
Inhale at night, exhale in the day – You'll find you'll use less energy and keep cool by sucking in the cold air at night time while using the exhaust to expel hot air in the day. This means you won't always need to use both fans.


Right position – For fans that blow cold air inwards, make sure you place it on the cooler side of your house. Inward blowing fans should always be placed on the lower floors with outward blowing fans upstairs. This helps circulation as hot air rises.


Choose the right size – Check out the cfm and measure your window to make sure you have a model that fits and has a good amount of power.


Look for a thermostat – Thermostats allow you to set the fan and forget about it. That way you can keep a comfortable temperature without having to turn it off and on every two minutes.
Conclusion
Keeping cool in the warmer months can be a challenge without a decent fan. Remember you want to circulate air rather than just blow cold air. So putting your fans in the right position will certainly help your cause. Always remember to measure properly and to think about how adequately you can create the movement of air in your home.