Are you having a difficult time deciding what low-profile air conditioner (AC) you want and why? You're not the only one.
With various AC units on the market, it gets confusing which one is suitable for you.
This article will help answer some questions you might have. We'll give you more information on what low-profile window AC you should look into and things you have to consider before getting one.
At a Glance: Our Top Picks for Low Profile Window Air Conditioners
Comparison of the Best Low-Profile Air Conditioners
IMAGE
PRODUCT

Our Top Pick

Over 35% energy savings over other traditional units
Very quiet, operating 9 times quieter than most units
WiFi enabled to use iOS or Android Midea app

View Latest Price →

Super quiet, operating at just 43 dBA
3 cooling and 3 fan speeds, 2-way air direction
Reduces energy costs thanks to energy efficiency

View Latest Price →

Best Budget Option

Best for the Money
8,000 BTU capacity is ideal for small rooms up to 350 sq. ft.
Energy Star rated for optimal energy efficiency

View Latest Price →
What to Look for When Buying a Low-Profile Air Conditioner 
To help you make the best decision possible, we have compiled things to consider when buying your low-profile AC. 
Energy Efficiency
It's a good idea to pick brands with good Energy Efficiency Ratios (EER) ratings to spend as little as possible on electricity. The higher the EER, the more efficient the AC. According to the US Department of Energy, you should purchase an AC with an EER of at least 10.0 for best energy. 
The latest low-profile ACs have superior insulating materials and come with instructions that help you save energy. They're a more economical choice and cost less to purchase. If sized correctly, they're cheaper to operate for longer periods.
Cooling Capability
AC units are supposed to measure up to the size of the space they're supposed to cool. You don't want to pick an AC that'll be inefficient because it's too small for your room. 
The cooling power of an AC unit is measured in British Thermal Units (BTU). For the best efficiency and effectiveness, you need an AC with a BTU level designed to fit your space. This'll ensure that your room cools evenly and that your AC unit doesn't run continuously trying to fill up a large area.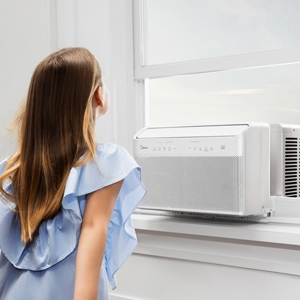 Installation
With most AC units designed to fit inside standard traditional windows, it's essential to know if your window dimensions are the right size. Most AC models allow installation inside a custom-created wall space with unique mounting hardware.
For either a window or wall installation, make sure that the model you want to use accommodates the installation type and that you have the proper installation kit. 
For wall installation, use the dimensions listed in the product specifications to create a wall opening. You can do this process by yourself or consult a professional if necessary. 
For window installation, you have to know your window's dimensions before you purchase your AC unit. You don't have to worry if your AC unit doesn't fit your window frame and leaves space. Window AC units come with window kits that include cover-up curtains for the area left on the sides of the wall or windows. 
Review of the Best Low-Profile Window Air Conditioners
We have compiled a list of the best low-profile ACs that might be of interest to you. They are unique and have different features that are worth considering.
Midea MAW12V1QWT
BTU (DOE): N/A
Coverage Area: N/A
Airflow (CFM): N/A
Dimensions (in): 21.97×19.17×13.46
Weight: 71.2 lbs.
We may earn commission from purchases made from our links, at no additional cost to you
Specs
Energy-saving: This unit achieves more than 35% energy savings than other traditional ACs with advanced DC inverter technology. It's the first window AC to obtain the energy star most efficient 2020 certificate.
Noise Level: The Midea U design allows for hushed operation as low as 42 dBA, nine times quieter than some traditional units. It's almost as silent as a library.
Installation: Available for single-hung or double-hung windows. For a more robust structure, you use a support bracket to support the unit with the window open or closed.
Smart Control: Wifi-enabled and can be controlled anywhere through the cloud using Media apps for iOS or Android. Voice commands with Google Assistant or Alexa available.
Cooling Capacity: Strong airflow that enables you to feel the cool air up to 20 feet away, and the full DC inverter technology will help cool a room quickly.
Review
The Midea U is a smart AC unit that promotes sustainability by achieving over 35% reduction of energy usage, produces no noise, and has an advanced control that helps you monitor the AC from your phone. After the installation, there might be air gaps that need to be covered by foam to ensure that it works efficiently. 
Bottom Line
The Midea U is an outstanding modernized AC unit. It works with Google Assistant or Alexa and enables Wi-Fi to control the AC from anywhere through the cloud. It has a new installation design that allows the window to open and close and the unit to remain secure. A bracket is included to improve the unit support beyond what a regular window AC unit can.
Pros
Achieves more than 35% of energy savings compared to regular units
Has a cooling and robust system that allows airflow to reach up to 20 feet away
Has a smart control that uses Wi-Fi, and you can control it from anywhere through the cloud
Includes a bracket that improves the unit support beyond what a traditional window AC can offer
With a flexible window opening for fresh air with an advanced u-shaped groove style and distinctive drop-in installation process
Cons
After installation, there could be air gaps that need to be closed using foam or sealant
Haier ESAQ406TZ
BTU (DOE): N/A
Coverage Area: 250 sq.ft.
Airflow (CFM): N/A
Dimensions (in): 21.25×23.25×15
Weight: 56 lbs.
We may earn commission from purchases made from our links, at no additional cost to you
Specs
Energy-saving: The Haier Serenity has a high EER, which helps reduce energy costs.
Noise Level: Driven by unique compressor blanket and dual fan design; super quiet operation at only 43 dBA.
Installation: It's easy to install and fits windows 26 1/16 in 39 ¼ in wide, minimum height 13 ⅜ inches. An easy window kit comes with the AC unit.
Smart Control: Digital controls with three cool speeds, three fan speeds, and two-way air direction.
Cooling Capacity: Has high and fast cooling capacity.
Review
This AC unit has an energy-saving mode; water evaporates automatically, so there is no bucket or pan to empty. It comes with an easy-to-install window kit that's easy to assemble in minutes. It has a full-function remote that controls your unit from anywhere in the room. Permanent installation might need professional help.Bottom Line
The Haier Serenity window unit comes with an easy-to-install kit which makes it easier for homeowners. It comes with a window bracket to make it suitable for those who already have the mounting windows available. It operates quietly, making it ideal for home and office use.
Pros
Has an energy-saving mode
Super quiet operation at only 43 dBA
Has a high EER, which helps reduce energy costs
Easy to install and includes a window mounting kit
Has smart digital controls and two-way fan direction
Cons
For permanent installation, drilling the unit into the wall may be difficult
TOSOT 8000 BTU AC
BTU (DOE): N/A
Coverage Area: 350 sq.ft.
Airflow (CFM): N/A
Dimensions (in): 21×17.2×12.8
Weight: 52.9 lbs.
We may earn commission from purchases made from our links, at no additional cost to you
Specs
Energy-saving: This unit is Energy Star rated, making it better for the environment and affordable.
Noise Level: The unit is engineered to be quiet as possible while cooling down your room.
Installation: Step-by-step instructions are part of the AC unit kit, and the installation process is easy.
Smart Control: The Tosot AC uses a thermostat located in the remote. Your AC unit will cool the temperature around your remote using the iFeel function.
Cooling Capacity: A sleep mode function on the remote helps adjust the unit's temperature throughout the night to an optimal sleeping temperature with a  high cooling capacity.
Review
This window unit has a quick cooling system and a modern design. It's a sleek, minimalistic AC that adds to your home's decor. It comes with modes for fan-only, dehumidifying, and smart temperature control. The Tosot AC is Energy Star rated, making it affordable and better for the environment. 
Bottom Line
The Tosot BTU is Energy Star rated, making it suitable for the environment and affordable. It's energy-efficient and engineered to be as quiet as possible as it cools up your space. It also has two fans blowing in different directions making the cooler capacity high and fast.
Pros
Design is modern, stylish, and unique
Easy installation with step-by-step instructions
Has a sleep mode function for optimal sleeping temperature
Quiet and produces no noise, with two fans blowing in different directions
Smart remote control with a sensor that determines the operation length of the unit
Cons
Doesn't have Wi-Fi connectivity
Best Frigidaire Low-Profile Window Air Conditioner
Frigidaire FGRC084WAE
BTU (DOE): N/A
Coverage Area: 350 sq.ft.
Airflow (CFM): N/A
Dimensions (in): 18.5×17.7×13.4
Weight: 64 lbs.
We may earn commission from purchases made from our links, at no additional cost to you
Specs
Energy-saving: Conserves energy and saves you money on your electric bill.
Noise Level: The noise level of the unit is 58 dB from 1.5 ft away. 
Installation: There are easy installation and removal of the unit.
Smart Control: You can cool your room from anywhere using your smart device. It's Wi-Fi-ready with the Frigidaire Smart app for mobile Operation. 
Cooling Capacity: It cools up to 250 square foot room with 1.7 pints per hour dehumidification.
Review
The Frigidaire window AC comes WiFi ready, and you control your unit from your mobile phone. It saves on energy and lowers your electricity bill with a wide range of cooling capacity. The installation and removal of the window AC are an easy process. It's perfect for cooling a room up to 359 square feet, and you can easily program your AC day and night. 
Bottom Line
This unit energy star efficiency conserves energy and saves money on the electricity bill. The unit already comes Wi-Fi ready with Frigidaire Smart App for mobile operation. It'll keep you up to date with alerts, such as clean filter indicators and other essential notifications.
Pros
Vast range cooling capacity
Installation and removal are easy
Saves on energy and lowers electricity bills
Modern design with a window-mounted installation
Wi-Fi ready, and you can connect and control your unit from your mobile phone
Cons
You might need foam or sealant to cover any air gaps
Pros of Using a Low-Profile Window Air Conditioner
The continuous use of ACs is affordable and is an excellent way of regulating humidity and heat levels during extreme weather conditions. 
Take the Midea U Inverter Window AC, for example; it's a great low profile unit with a modern and digital touch. Not only is it a solution to your extreme heat levels, but it's easy to use and comes with multiple extra features. It's tough not to love! 
The beauty of ACs is that they're affordable to almost everyone and allow for excellent energy efficiency. With sustainability becoming the primary consideration in technology with developers, using a low-profile AC is likely to conserve energy.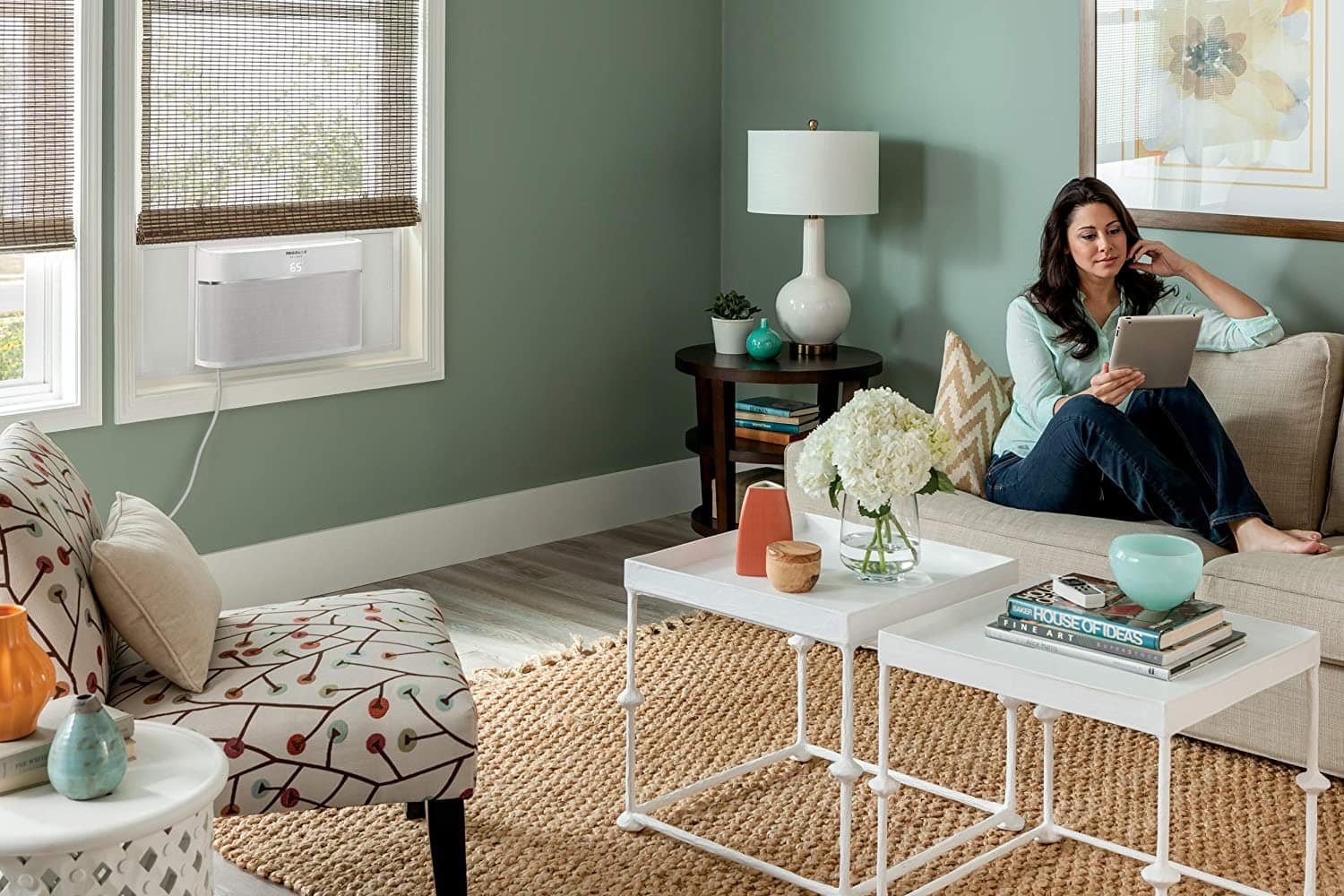 They're highly portable and compact. They can be shifted across different rooms because they are easy to carry, install, and remove. 
The modern low-profile AC systems feature inbuilt digital controls that allow for smart management of the systems remotely. Efficiency in energy consumption is enhanced.
Just like the AC units on the list above, their availability is determined by if they're easy to be purchased. It becomes easy to find professional help for repair service if the system breaks and low profile ACs are available almost everywhere. 
Cons of Using a Low-Profile Window Air Conditioner 
Despite the many benefits low profile ACs have, they also have their limitations.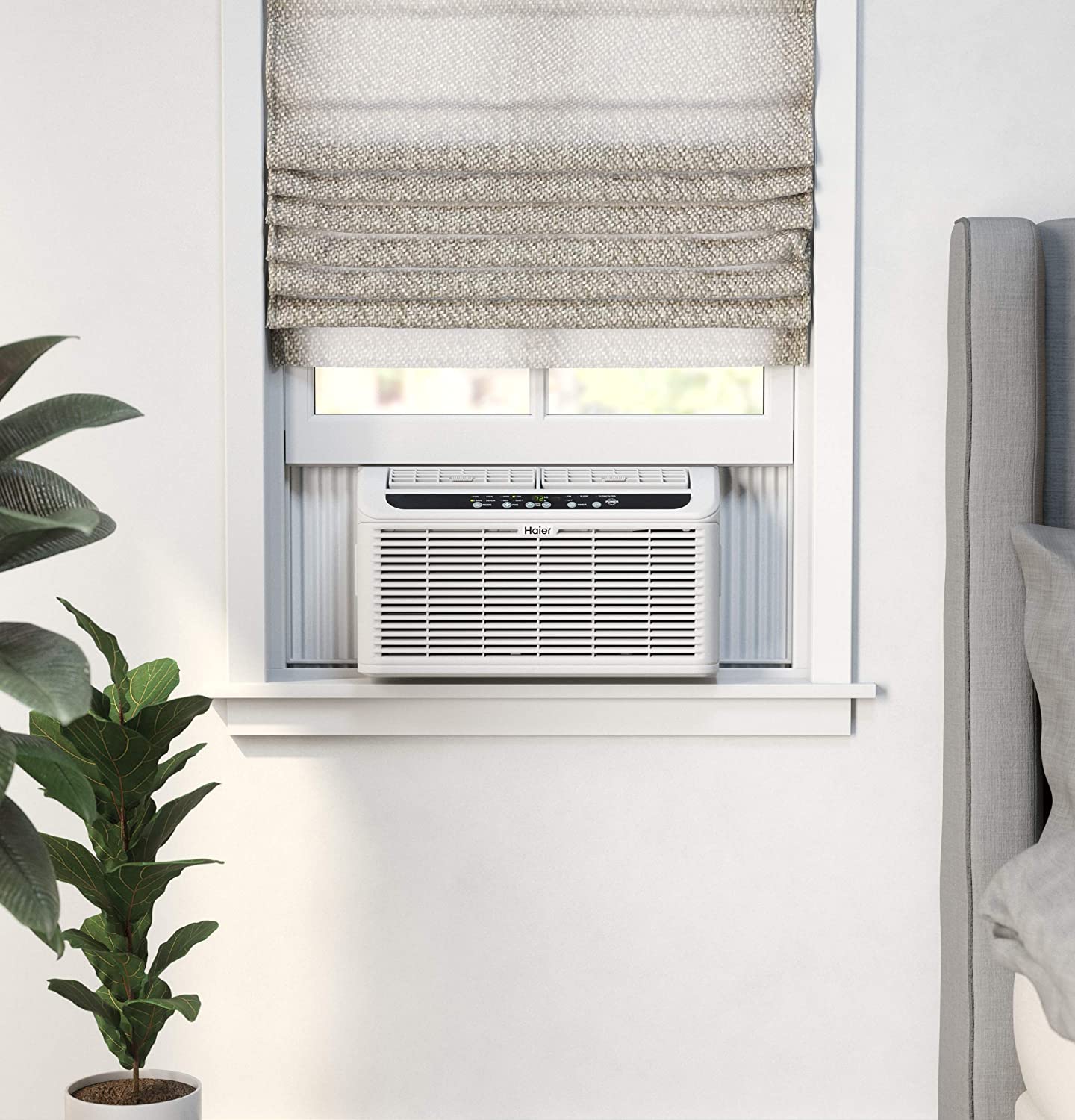 Some installations may be hard to do and, therefore, require professional help, which will result in extra costs. You need to consider some factors when purchasing a low-profile AC, as the size of the home and the climate conditions. Window ability is essential as well. 
Although most low-profile AC units are quieter than traditional ones, there are exceptions where the AC might be noisy; this'll cause discomfort in your home and be a problem when you want to rest. Seeking professional help could be an option for a noisy AC. 
Not all low-profile ACs have smart features. Others are limited in terms of features, and so you'll have to consider that before you purchase your unit. 
Keep in mind that the units are not one-size-fits-all for all windows. Knowing the measurements of your window and the availability of your space is essential. It'll help you decide which unit is suitable for you and what alterations may need to take place. 
Top Brands in the Low-Profile Window AC Space
Below are a few brands that have the best ACs available:
TOSOT
Tosot is an international brand that has unique products and exceeds the margins of mainstream technology. It has built up a high-end brand image internationally and has gained an advantage in market share. They provide home appliances that you can use to improve the quality and comfort of your home and provide the ultimate value when it comes to ductless split systems, central HVAC setups, and complete VRF systems. 
Their products' designs are exclusive with a universal touch and premium style. They consistently provide the highest standard that suits different lifestyles.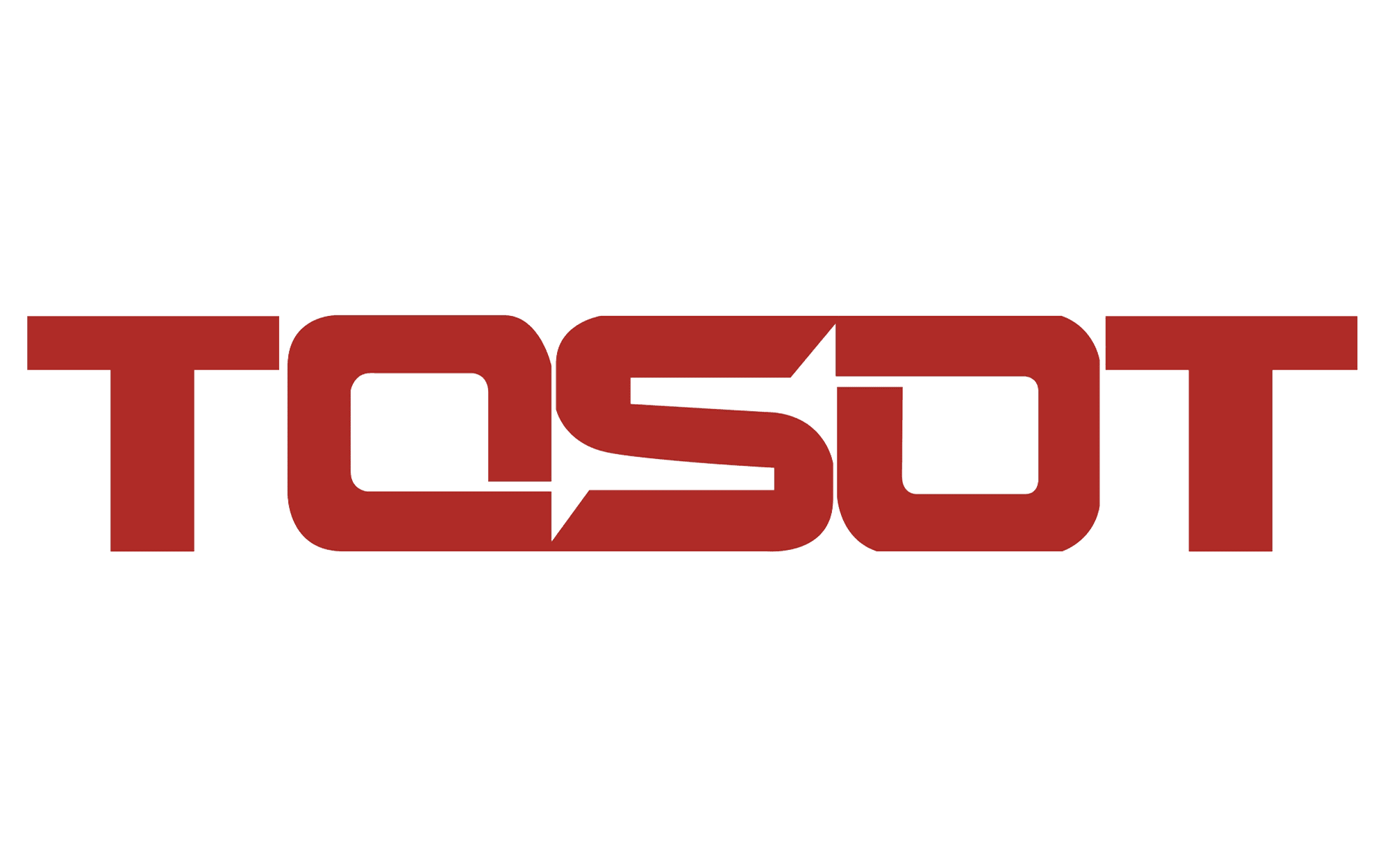 They offer inverter compressors that don't produce any noise. Their appliances are geared with advanced technology, which has a substantial positive impact on the environment and saves on electricity bills. Tosot products are manufactured with full compliance with international standards and exceed the strict quality at all production stages.
Choosing the right AC has become a complicated process because ACs have different features. The Tosot brand AC system offers a variety of highly efficient and eco-friendly cooling products that suit any commercial applications such as manufacturing, food processing and storing, warehousing, and other industrial areas where AC units are required. 
Midea
The Midea brand specializes in the production of refrigeration, laundry, large cooking appliances, kitchen appliances, water appliances, floor care, and lighting. It's the world's largest producer of major appliances and the world's number one brand of air treatment products.
The brand has also landed high-profile projects to install sophisticated HVAC solutions in all 12 of Brazil's soccer stadiums. They're a strong promoter of sports and the well-known and official sponsor and partner of FINA, the World's Swimming Federation.

The Midea brand is known for its budget-friendliness. They provide satisfactory performance, are equipped with energy conservative technology, and offer more sustainable products. The brand has extensive warranties that show how much trust the company has in its capabilities. 
Since 1985, the brand has made a name for itself in the AC market and is reputable for its wide range of air conditioning appliances with a versatile range of products including window, portable, split, and dehumidifier.
Their current innovative technology provides instant smart cooling and turns the AC unit speed automatically once the room has reached the right temperature. Their products offer the dehumidifying capability, providing much more comfort than their rival brands.
Their joint venture with Carrier has resulted in it being the largest supplier of commercial ACs. 
Frigidaire
The Frigidaire brand is the United States consumer and commercial home appliances brand subsidiary of European parent company Electrolux. The company offered a lineup of branded appliances, like refrigerators, washers, dryers, freezers, ACs, dishwashers, gas, and electric stoves.

Frigidaire has high-performance, easy-to-use appliances with time-saving features designed to help families make the most of their time and space. 
Their heating and cooling products are manufactured by Nortex Global HVAC, a company that has played a significant role in the home comfort market since 1919. You can rest assured that with Frigidaire, you'll receive effortless features and quality materials. 
Price Points of Low-Profile Window Air Conditioners
Apart from its design and aesthetic, the cost of a low-profile window air conditioner is also determined by the number of admirable features it has. Below are some of the price ranges and what you can expect from each of them.
$200 – $300
Models like the Tosot 8000 BTU and 10,000BTU are affordable in this price range. They're a modern design and have smart temperature control. They're Energy Star Rated, meaning they'll help you save on your electricity bill. A quick cooling capacity produces no noise at all; this also depends on the AC unit's size. The bigger you go, the higher the price.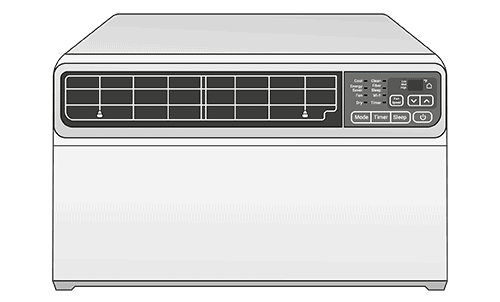 $400 – $500
For this price range, you can expect to get a sleek, modern design AC unit like the Midea U and Haier Serenity window AC. Features like smart control are available, and you'll get to control your AC unit from anywhere in the house. The AC comes Wi-Fi enabled, and you can monitor it through an app. It also comes with a window kit that makes your installation easy.
You don't have to worry about noise because these ACs are quieter than standard units, and you might even forget they're there.
Conclusion
In conclusion, low-profile ACs are a must-have, but you have a few factors to consider before getting one to ensure that it suits your living space. 
They come with extra features like smart control and low noise levels, which are of more convenience. They're easy to install, making it easy for most homeowners. Remember that you'll need to know your mounting space dimensions and your room's size so your AC unit aligns with them.
People Also Ask
Here are some answers to questions you might have.
What Happens if My AC is Too Small?
A small AC will keep running to reach the required room temperature, but it'll be futile as it can't cool a larger room. It'll be a cycle of producing a small amount of cool air consumed by the enormous amount of warm air in the room. This will also increase energy usage and lessen the life of your AC, costing you more in repairs. 
Can You Use a Window Air Conditioner Without a Window?
There are various alternatives to using your AC without a window, such as wall venting, casement window venting, sliding door venting, and ceiling venting. 

They're also available kits that'll make the installation of your AC easy. Some options might require alterations to your venting space or your AC kit, but they're efficient. 
Is There Such a Thing as a Quiet Window Air Conditioner?
Modern technology has made the idea of quiet window ACs possible. There are brands such as Midea with ACs that are nine times quieter than traditional ones. You don't hear them at all. 

You need to check your AC's features before purchasing it to know how much noise it produces. 
What Does Low-Profile AC Mean?
A low-profile AC works like other ACs but has a low profile. They're designed to save more interior and exterior space.
What is the Smallest Amount of BTUs Available in an AC?
The smallest amount of BTU available in ACs is a 5,000 BTU windows AC. It can effectively cool a room that measures 100 to 150 square meters according to basic industry standards.