While a thermometer is hardly the most exciting piece of device, it's one that is quite essential to our lives. They are commonly used to take temperatures – and in the field of HVAC, temperature control is all-important. 
As little as 1°F could represent a huge change in equipment status and compliance with regulations, such as the proper temperature that a supermarket must store meat. Precision is important.
Accurate temperature measurements are essential for tasks such as reading air differences, superheat, and sub cooling. HVAC thermometers are most commonly used to measure air, water, refrigerant, and copper lines' temperatures, and these measurements are vital to locating the source of potential hazard or defect.
Best Digital HVAC Thermometer Comparison
Characteristics of our Favorite Thermometers
A good quality HVAC thermometer is a useful tool when it comes to home and automotive maintenance, equipment repair, and HVAC work. Although speed and accuracy are an absolute must for an HVAC thermometer, it must also have the following characteristics:
Emissivity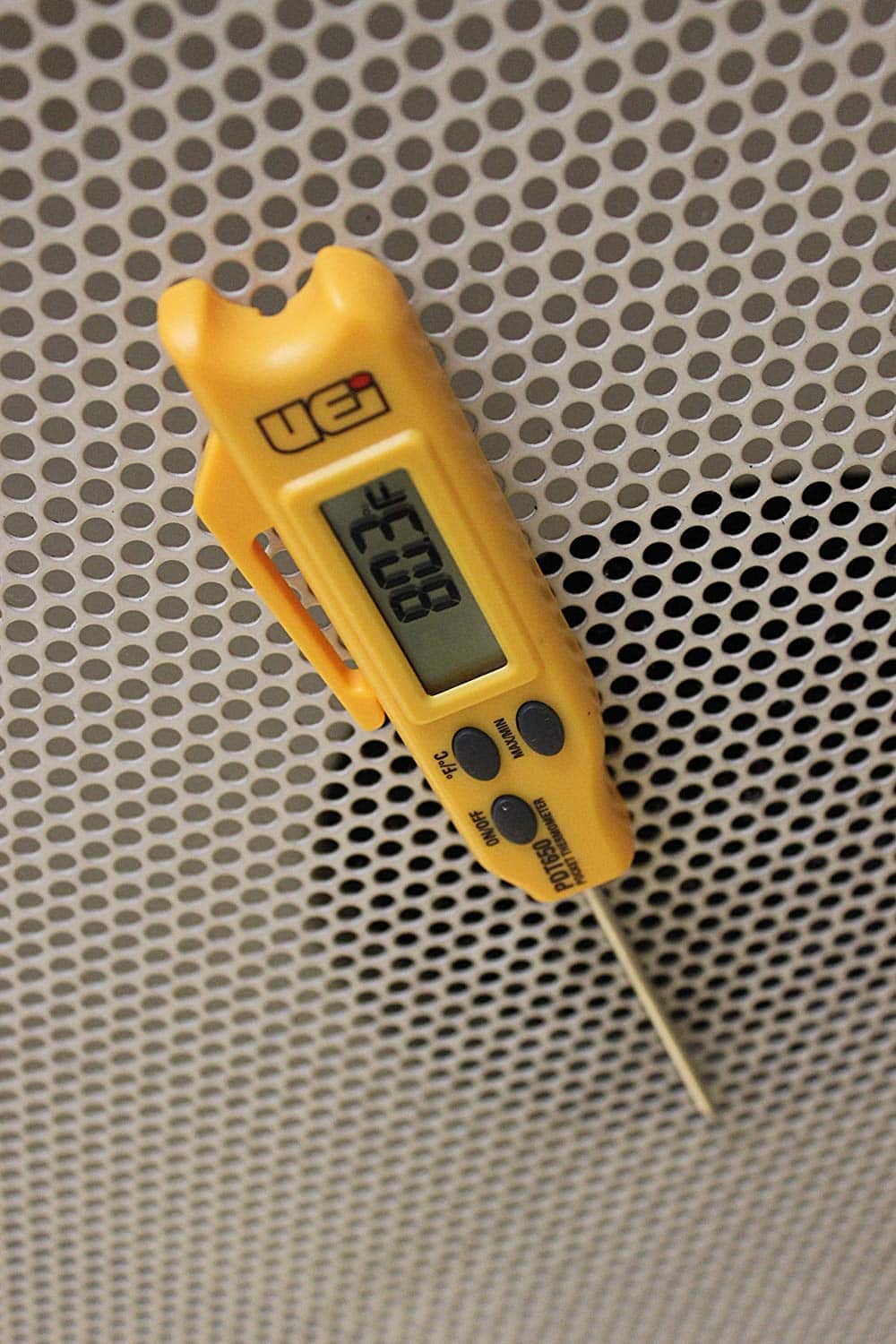 Emissivity refers to the capacity of a surface to emit thermal radiation. However, not all items radiate the same amount of infrared vitality. Therefore, a good quality HVAC thermometer must have customizable or settled settings as they are able to figure out the different components that influence readings adequately.
Durability
It is vital for an HVAC thermometer to be able to withstand the kind of abuse an HVAC technician will put it through.
Speed
The HVAC thermometer should be able to record and display the temperature of an object quickly. Make sure that you choose a thermometer that works fast as this will help you save time.
Accuracy
Accuracy is very important in an HVAC thermometer, particularly if you are working with expensive machinery. The more precise a product is, the better your results will be. Temperature range: It must have an effective temperature range, which means that it should be able to measure a wide range of temperatures.
At a Glance: Our Top Picks for HVAC Thermometers
Review of the Best HVAC Thermometers
We have compiled a list with extensive reviews of our tried-and-true products, and these four thermometers are the ones we liked best:
UEi Test Instruments PDT650
Temperature Range: -58 to 572˚F
Type: Digital
Response Time: < 30 sec
Number and Type of Batteries: 1 Battery (AB13)
We may earn commission from purchases made from our links, at no additional cost to you
Review
UEi Test Instruments is a well-renowned and experienced company that has many years of experience designing and manufacturing a wide range of high-quality, industry-leading test and measurement tools. These tools have various innovative features that greatly increase their use.
The UEi test instruments PDT650 is the best overall thermometer on our list due to its innumerable features. Its extended temperature range, folding temperature probe, built-in magnetic mount, and a large easy-to-read display make it a highly versatile product.
The PDT650 provides accurate and reliable measurements, even in exacting environments. The varied application of this thermometer makes it perfect for not only HVAC but in food service and refrigeration areas and anywhere temperature monitoring is crucial.
This rugged temperature probe comes with a built-in magnetic mount that makes it easier to carry around. Moreover, it can be folded, which makes it easy to store in your pocket. Even in the folded position, the probe is able to provide accurate readings.
Bottom Line
The PTD 650 is an accurate and durable thermometer that can be easily stored in your pocket. It is very simple for you, which makes it ideal for not only HVAC but for every equipment where temperature monitoring is critical.
Pros
Auto power off helps to save battery
Gives accurate readings even when closed
Can record both minimum and maximum temperatures
Three-year warranty on materials and workmanship provided by the manufacturer
Able to measure temperatures from -58 degrees Fahrenheit to +572 degrees Fahrenheit
Cons
Takes time to register the temperature
Etekcity Lasergrip 774 Laser Infrared Thermometer
Temperature Range: -58℉ to 716℉
Type: Infrared
Response Time: ≤ 500 ms
Measurement Accuracy: 12:1 D:S (Distance to spot ratio)
Number and Type of Batteries: 1 9V Alkaline Battery
We may earn commission from purchases made from our links, at no additional cost to you
Review
The Etekcity Lasergrip 774 laser infrared thermometer is popular among HVAC technicians due to its excellent performance. Due to its various handy functions and features this thermometer enjoys a runner-up position on our list.
This versatile, accurate, and reliable product is able to detect temperatures of distant places. Its infrared laser makes it possible to measure temperatures ranging from -58 degrees Fahrenheit to +716 degrees Fahrenheit or -50 degrees Celsius to +380 degrees Celsius. Its ability to sense and measure temperature precisely from a distant ratio of 12:1 increases this product's versatility.
There are three buttons on the control panel, namely the laser button, Fahrenheit/ centigrade mode button, and the LCD light button, thus simplifying this product's operation. It is operated with the help of a 9V battery and is a helpful tool to measure temperatures while cooking, baking, etc. moreover, this product is able to take precise temperature readings from a distance ratio of 12:1.
The LCD screen of this thermometer is backlit, thus making it easy to get the readings even in dark places such as attics. Moreover, it features a low battery indicator which ensures that you never run out of battery.
Bottom Line
The Etekcity Lasergrip 774 is a durable and versatile thermometer that provides accurate reading without coming into contact with dangerously cold, hot, or running objects. Available at very reasonable prices this infrared product is perfect for various applications.
Pros
Auto-off function helps to save battery
Can measure targets at greater distances
One-year warranty provided by the manufacturer
Allows you to calculate the temperature in both Fahrenheit and Celsius
UV paint coating helps reduce scratches and increase the life of this product
Displays the reading for fifteen seconds after measuring thus allowing you to record the temperature
Cons
Aiming the laser to an exact spot could be difficult
Fieldpiece SPK2
Temperature Range: -58°F to 392°F
Type: Digital
Response Time: 2 sec
Measurement Accuracy: ±1.8°F -3.8 to 247.8°F
Number and Type of Batteries: 1 AA
We may earn commission from purchases made from our links, at no additional cost to you
Review
The Fieldpiece SPK2 is essential diagnostic equipment for HVAC technicians. They are designed to take quick and accurate air temperatures in air ducts. It is a foldable unit; therefore, you can easily keep it in your pocket. This ensures that you have it on hand whenever you need it. Moreover, it has a hanging hook, which makes sure that you do not lose or misplace it. This hook enables you to hang it on a grille or in a duct.
The large display shows both the minimum and maximum temperatures, which are very easy to read. The temperature measurements which are available in both Celsius and Fahrenheit range from -58 degrees to 392 degrees Fahrenheit and -50 degrees to 200 degrees Celsius. Other useful features include T1 and T2 readings an auto shut-off function that helps conserve battery life.
Bottom Line
This product has been designed for HVAC technicians and provides a reliable, fast, and accurate reading. It is an easy-to-use device that is highly portable and affordable.
Pros
Economically priced to fit into everybody's budget
Folding feature makes it easy to store in the pocket
Large display makes it easy to read the temperatures
Low battery indicator reminds the user when it is time to change the battery
Auto shut-off function turns off the device when not in use thus saving battery life
Cons
Some people find the response time to be a bit slow
Fluke 62 MAX IR Thermometer
Temperature Range: -22 to 932°F
Type: Infrared
Response Time: < 500 ms
Measurement Accuracy: 1.5 degree C
Number and Type of Batteries: 1 AA
We may earn commission from purchases made from our links, at no additional cost to you
Review
The 62 MAX IR Thermometer from Fluke is a small and easy-to-use infrared thermometer which is not only durable and accurate; it will also easily fit into your budget. These thermometers feature precise laser technology that ensures accurate and repeatable measurements. They also ensure the safety of HVAC technicians in hazardous locations.
Designed and tested to withstand a three-meter drop, these compact and infrared thermometers provide excellent performance even in the harshest environments. The easy-to-read, large backlit LCD display makes it easy to review the temperatures even in dark environments.
These thermometers not only display the minimum and maximum temperatures but the difference between these two temperatures as well as the average temperature. Moreover, they are small and lightweight, which allows them to fit easily into your toolbox.
These thermometers are designed to monitor mechanical, electrical, and automotive systems. However, they also work extremely well during household maintenance and while monitoring food temperatures. Laser sighting in this unit pinpoints the exact measurement area while the 10:1 infrared distance-to-spot ratio allows technicians to take readings from a considerable distance.
Bottom Line
The Fluke 62 MAX IR thermometer is a highly functional product that provides great overall value and wide temperature range for a very reasonable price. It is ideal for both home mechanic and HVAC technician alike as it provides solid and reliable readings every time.
Pros
IP54 rated for water and dust resistance
Certified IP54 for safeguard against splashing liquid and dust
Backlit display makes it easy to read the data even in the dark
Small and lightweight so you can easily clip it to your belt loop or tool belt
Cons
Manual is very difficult to understand
Fieldpiece ST4 Dual Temperature Meter
Temperature Range: -58 to 2000°F
Type: Digital
Measurement Accuracy: -58 to 32°F
Number and Type of Batteries: 1 9V Alkaline Battery
We may earn commission from purchases made from our links, at no additional cost to you
Review
The ST4 dual temperature meter from Fieldpiece is a great thermometer that offers superior temperature compensation in different environments commonly found while working in the field. Most of the meters available take a long time to stabilize because of the transfer of ambient heat.
On the other hand, the ST4 stabilizes rapidly, therefore, allowing you to take it from the rooftop to the walk-in and get accurate readings in very little time. Moreover, this product comes with a rugged boot that protects it when dropped or exposed to steam. You can also easily hang it with the help of the provided magnetic hanger.
The great feature of this thermometer is that it is able to measure two temperatures simultaneously with the help of k-type, wrap tab beaded thermocouples provided with it. Moreover, the temperature readings are shown in both Fahrenheit and Celsius.
Bottom Line
The Fieldpiece ST4 dual temperature meter is designed for HVAC technicians. It measures two temperatures and displays the difference in metric or English units. It is an ideal product as offers users the various benefits of a digital thermometer in a heavy-duty design.
Pros
LED indicates disengaged probe
Two k-type thermocouples included
Rugged rubber boot protects it from damage
Displays T1, T2, and T1-T2 in bold numbers on the LCD screen
Clear front case with magnetic hanger allows you to hang the thermometer to nails, hooks, etc.
Cons
Displays only one temperature at a time
Absence of auto shut off feature can be a hassle
ennoLogic IR Thermometer
Temperature Range: -58°F and 1202°F
Type: Infrared
Response Time: ~500 ms
Measurement Accuracy: ± 2°C/3.5°F
Number and Type of Batteries: 1 9V Alkaline Battery
We may earn commission from purchases made from our links, at no additional cost to you
Review
The ennoLogic infrared thermometer is a feature-packed product with varied applications which make it ideal for both home and industrial use. This non-contact precision thermometer helps you measure the temperature of an object by sensing its radiated infrared energy from a distance.
This accurate and reliable product is going to last you many years. Whether you are doing HVAC work, using it for food safety inspection of freezers, or undertaking home improvement projects, this product gives you accurate readings every time.
Another innovative feature of this thermometer is its adjustable emissivity that provides you with an accurate reading of your wood-fire or brick-oven pizza. It also helps users save money on car and home repairs. It allows you to measure heat loss in doorways and in windows and monitor water heater temperatures. You can check the output of A/C units in your home as well as your car's cooling systems, brakes, tires, and catalytic converter with the help of this amazing product.
The scan mode of this unit can be used to track temperature variations of your cooking oil with high accuracy. This product takes the guesswork out of cooking and baking, thus giving you an accurate reading that you can rely on.
Bottom Line
The ennoLogic IR thermometer is a must-have for HVAC technicians. The best thing about this product is the ease of use. You just point the thermometer towards the target, and the accurate temperature appears instantly.
Pros
Rugged design ensures durability
Easy-to-read large display with bright backlight
Adjustable High/Low set points with an audible alarm
Readings are displayed in both Fahrenheit and Celsius
Hands-free mode gives you the freedom of movement
Minimum, maximum, and average temperature display
Two built-in laser pointers pinpoint the exact target spot
Backlight and laser can be turned on and off individually
Variety of uses include cooking, HVAC, forging, metalworking, automotive, etc.
Distance-to-spot ratio 10:1 means you can find the temperature from a distance
Cons
Some people may not find it suitable for cooking
The Benefits of Using a Top Notch Thermometer
A quality thermometer may not change your perception of the world, but they are quite useful when it comes to home and automotive maintenance, HVAC work, and equipment repairs. An accurate, speedy thermometer is an absolute must for HVAC technicians, but even if you are not a professional, there are plenty of reasons for needing a quality thermometer.
While it holds true that high-quality devices are more expensive, they are so for a good reason – for one, if your thermometer were inaccurate or non-functional, you would have to spend more money and time to replace your current thermometer. High-quality thermometers are not only able to deliver reliable results, but also a lot more rugged and faster compared to lesser devices, which contributes to an increase in productivity.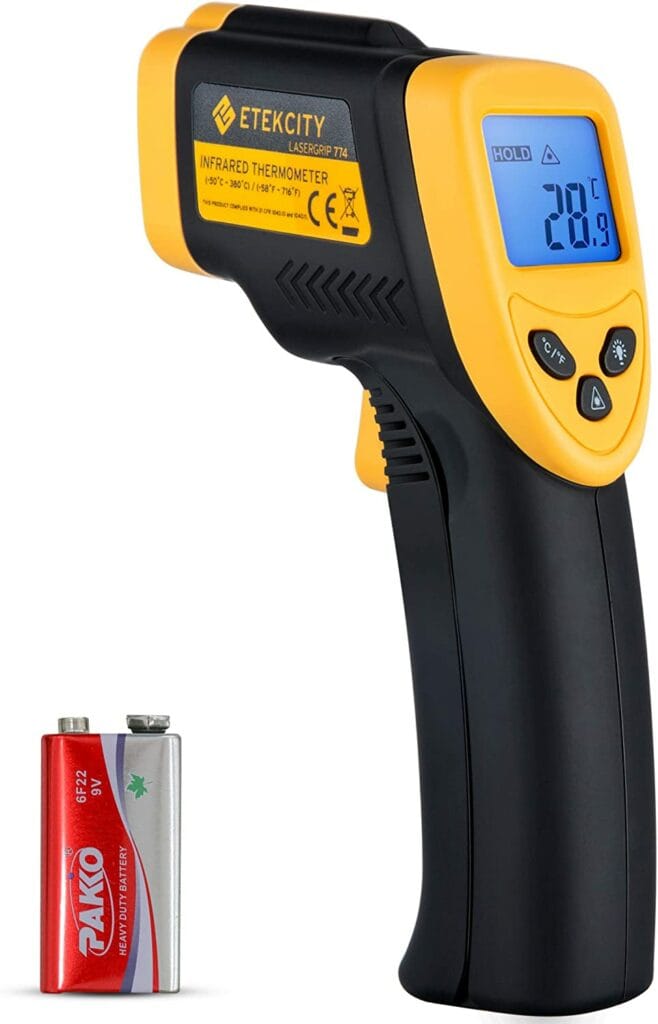 Also, ruggedness is a valid concern when it comes to HVAC equipment, and low-quality gadgets are prone to have inferior build-quality. Such devices may be fine for occasional use, but might not be able to withstand frequent usage. This brings us back to why we recommend the more expensive, high-quality thermometers, as quality devices reduce such concerns and turn out to be less expensive in the long run.
Of course, the features that define the best thermometer really depends on the situation: If you are working with copper lines, you might want to get a digital thermometer with a probe instead of an infrared thermometer, as infrared thermometers tend to bounce off reflective surfaces, and may return inaccurate readings.
The general consensus when it comes to electronics is that the more innovative a product is, the better it is, but that's not always true. The best thermometer for you should have the features you need and use, so a careful comparison is a must before you invest your hard earned money in a quality thermometer.
When purchasing a digital thermometer, you should also consider factors such as accuracy, calibration, probes, Celsius to Fahrenheit conversion, and portability. If you are looking to get an infrared thermometer, some features to consider include the device's range, accuracy, distance-to-spot ratio, and device-specific features such as response time and emissivity.
Conclusion
Thermometers are nothing but tools in the end, but as Thomas Carlyle said, "Man is a tool-using Animal. Nowhere do you find him without tools; without tools he is nothing, with tools he is all". This quote resonates with our beliefs, as we believe one's quality of life could be bettered by the quality of one's tools.
A good thermometer may come with a higher upfront cost, but it will deliver better result and save you time and money in the end. We strive to provide the best information about such tools, which is why we tried out a lot of thermometers and picked out our favorites, in hopes of assisting people interested in purchasing a digital thermometer so that the necessary information could be accessed with the least legwork.