While installing air conditioning in your home can help keep the breezy coolness you need, it can be expensive to fit an AC unit in every room of the house. Portable air conditioning units give you the possibility of zonal cooling in your home. As you are able to move the units from room to room, you can enjoy cool, fresh air wherever you are.
However, to keep from buying anything too cumbersome or space-guzzling, it is important to consider the most effective AC units for their size. Here's our guide to the finding the smallest portable AC units worth their salt!
At a Glance: Our Top Picks for Smallest Portable AC Units
Comparison of the Best Smallest Portable AC Units 
IMAGE
PRODUCT

Our Top Pick

Final Rating: 7.6
Cooling Capacity: 350sq.ft.
Yearly Cost to Run: $142/yr

View Latest Price →

Final Rating: 7.6
Cooling Capacity: 350sq.ft.
Yearly Cost to Run: $119/yr

View Latest Price →

Final Rating: 7.5
Cooling Capacity: 600sq.ft.
Yearly Cost to Run: $127/yr

View Latest Price →

Final Rating: 7.3
Cooling Capacity: 350sq.ft.
Yearly Cost to Run: $103/yr

View Latest Price →

Final Rating: 7.2
Cooling Capacity: 300sq.ft.
Yearly Cost to Run: $116/yr

View Latest Price →
What to Look for in a Small AC Unit
When shopping for an AC unit, your first priority may be to find something small and portable. However, there are a range of things to consider:
Power
Power capacity is extremely important. If you select something too small, you'll find that it won't have the power to actually cool the room you desire. However, if you buy something with too much power, you'll forever be turning it off to keep from freezing. This may cause a large amount of wasted energy and money.
Consider the BTU rating to understand the output power of each unit. While this may vary between manufacturers, you can also look for indications that show the square foot of cooling capacity. As a rule, you need 1800 BTUs per 100 square feet.
Portability
If you're looking for something portable, you need to consider size. A unit too cumbersome will be a pain to transport about, especially if you're trying to fit it into a vehicle. Equally, you need to look for a unit that isn't too heavy, otherwise lifting it may cause injury.
Consider the features such as whether it has a carry handle or wheels, as this will make it easier to move.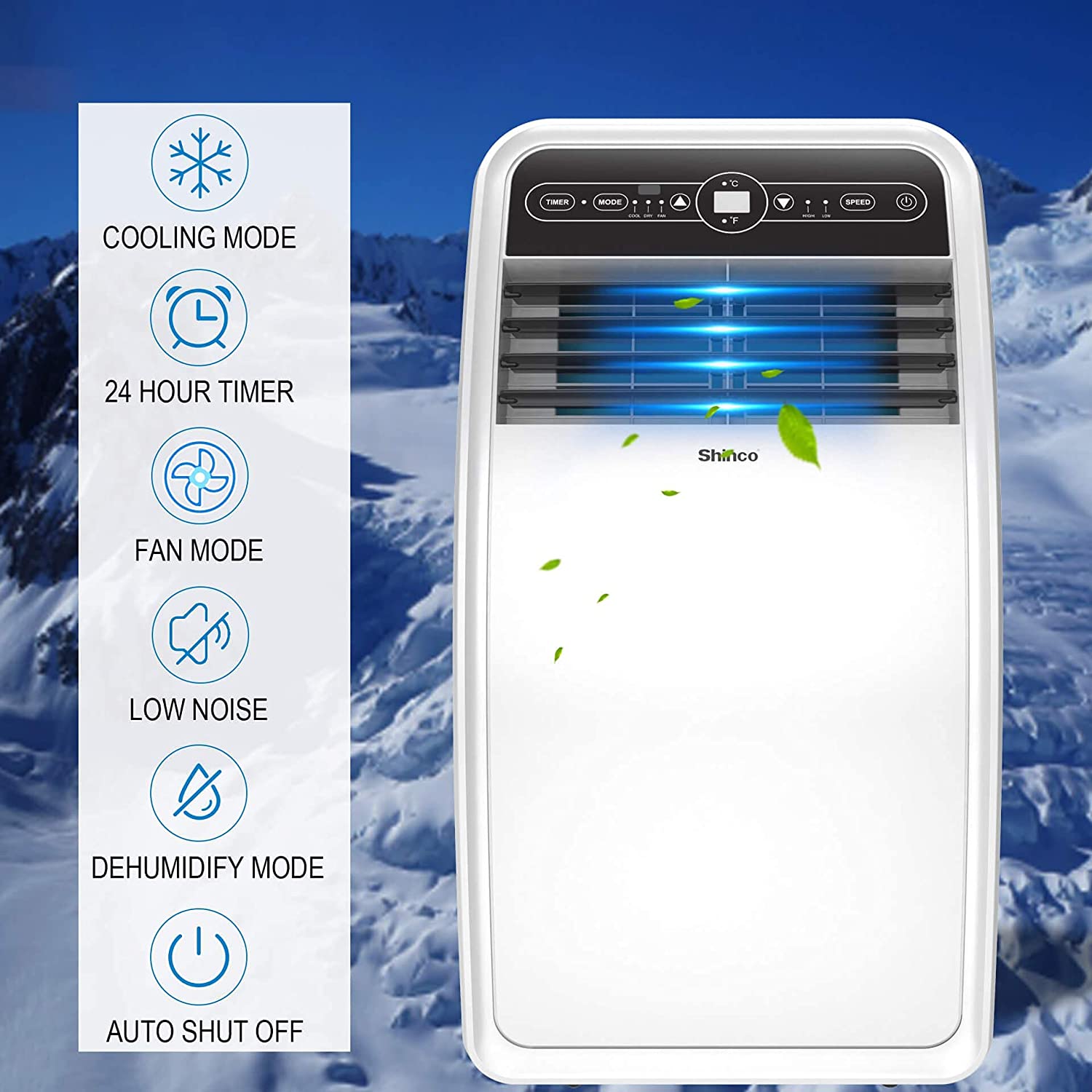 Safety Features
Cooling units with overheat protection and tip-over safety measures tend to have longer lifespans. These features help to reduce the risk of fire, while protecting the components inside the unit. Especially important for those with pets and children, you must ensure you have a unit that doesn't get too hot while in operation. Read our buyers guide for the best heater for baby room here.
Energy Efficiency
Energy efficiency refers to the amount of power that a unit needs to cool the room and the expense of that power. Units with good energy ratings or bearing the Energy Star seal are usually a little more expensive upfront but tend to have lower running costs as they utilize energy more efficiently.
Hose Options
When selecting an air conditioning unit, you need to consider the hose drainage. Single-hose AC units use only one hose for both the air intake and exhaust. These are less efficient as they need to work harder than dual-hose AC units. Dual-hose AC units have separate intake and exhaust hoses. These models cool ta room faster and are more energy efficient, yet tend to cost more upfront.
Condensation
The condensate type that you select for your AC unit can determine how easy it is to use. Drip air conditioning units work by allowing the waste condensate to drip into a bucket inside the unit, which then needs to be emptied when full.
Alternatively, you can have an air conditioner that doesn't drip, instead, it releases the condensate into the room's atmosphere. These units tend to be more popular due to ease of use.
You can also find a hybrid of the two designs that needs emptying less frequently as most of the condensate is released back into the air.
Air Filters
The filtration system in portable AC units is designed to keep out airborne particles such as dust or spores. Some models even come with built-in air purifiers. This helps reduce the humidity in the room as well as 'conditioning' the air for a cleaner atmosphere.
You need to clean the filters in these units to ensure that their ability to do this job effectively. Doing it once every two weeks is a good idea, as this will stop them from clogging. Blocked filters prevent the AC from cooling the air as they cannot suck in air effectively. This leads to reduced effectiveness and higher energy bills as the air conditioner works overtime in an attempt to cool the air.
Review of the Best Small Portable AC Units
Looking for the smallest portable AC unit you can find, yet worried about compromising on features and power? Take a look at our guide to see some of the best, tiny, portable AC units. We've given you a breakdown to point out the merits of each model and how it may work for you and your cooling requirements.
BLACK+DECKER BPACT14WT
Quick Product Specs:
BTU DOE: 7,500
Cooling Capacity: 350 sq.ft.
Size & Weight: 14x17x28″ ; 68 lbs
Avg. Yrly Cost: $142/yr
Decibel Levels: 54 dB
The BLACK+DECKER BPACT14WT is a high-quality small portable air conditioner. It's very affordable considering what you're getting from this unit, but its efficiency in terms of costs is kind of terrible.
It's portable air conditioners we're discussing, so in terms of portability, ease of setup, and ease of maintenance, it's amazing. The BLACK+DECKER BPACT14WT has handles, wheels, and it's very light.
Additionally, you won't have to change trays because this unit is self-evaporating. The noises that it makes, until you get used to them, can be annoying. The size to performance correlation isn't great, there are better units of similar size, but it is an excellent unit considering the price tag.
Bottom Line
The BLACK+DECKER BPACT14WT is a small, cheap, high-quality portable air conditioner. It has everything you would need, it's pretty light, and it's self-evaporating. If you don't mind running this unit at its average yearly cost, purchasing this is an excellent decision. Also, keep in mind that it is somewhat loud, but most ACs are loud.
Pros
Very affordable small portable AC unit
Moving this unit from one place to another won't be a big issue
Self-evaporating for ease of use
Cons
The average yearly cost of running this unit isn't the best
Can be a bit loud
Royal Sovereign ARP-910
Quick Product Specs:
BTU DOE: 5,000
Cooling Capacity: 350 sq.ft.
Size & Weight: 12.5x14x26″ ; 46 lbs
Avg. Yrly Cost: $119/yr
Decibel Levels: 52 dB
The Royal Sovereign ARP-910 is a very simple portable AC to move around and set up whichever area you need to cool. – It's a small unit with handles and wheels.
In terms of performance, this air conditioner excels past most portable units in its category, but, it'll cost you because this AC isn't the best in terms of affordability.
The Royal Sovereign ARP-910 can be a bit loud, still, it's not any louder than most other small portable units.
In terms of features, it has a dehumidifier and a fan. All in all, quite an excellent small portable AC.
Bottom Line
The Royal Sovereign ARP-910 offers pretty much everything that you'd look for in a small portable AC. The unit offers excellent performance, better than most units, and you can move it from place to place effortlessly.
Pros
Offers extraordinary performance
Couldn't be any easier to move around
Setting up the Royal Sovereign ARP-910 shouldn't cause too many issues
Cons
Not the most affordable portable air conditioner
Not the most efficient in terms of cost
DeLonghi 985109966M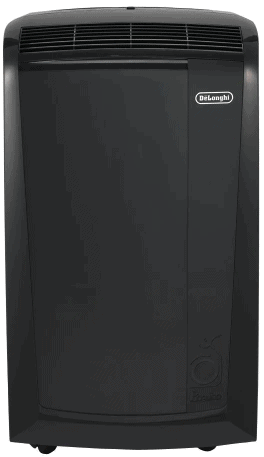 Quick Product Specs:
BTU DOE: 7,500
Cooling Capacity: 600 sq.ft.
Size & Weight: 17x16x34″ ; 16 lbs
Avg. Yrly Cost: $127/yr
Decibel Levels: 52 dB
The DeLonghi 985109966M is an exceptional air conditioner. The cooling capacity that this unit has, combined with its effectiveness, will allow you to cool off large areas quickly.
You shouldn't have too much trouble moving this, especially because it weighs 16 pounds only! And the setup shouldn't be too difficult either.
The DeLonghi 985109966M might make some noise, but not much more than any other AC, and the fact that it can cool such a large area without affecting the electricity bill too much, more than makes up for the noise.
In terms of features, this AC has a dehumidifier and a fan, and its only real downside is that it is a bit costly.
Bottom Line
This is just an excellent small portable air conditioner; there's no other way to put it. 
If you're willing to pay a few hundred bucks more, you'll get great performance, effectiveness, and ease of portability as well as setup. Besides the cost, this air conditioner doesn't have any real downsides. All in all, an excellent AC!
Pros
The DeLonghi 985109966M isn't the smallest, but it's the lightest
Extremely efficient unit for the money
Very easy to move around and set up
Cons
A bit costly
Can be a bit loud
Honeywell MO10CESWK
Quick Product Specs:
BTU DOE: 5,500
Cooling Capacity: 600 sq.ft.
Size & Weight: 14x15x28″ ; 49 lbs
Avg. Yrly Cost: $103/yr
Decibel Levels: 53 dB
The Honeywell MO10CESWK is a rather interesting air conditioner. This unit is small and easily portable, but it is a bit heavy. – The weight is basically its only real downside.
The Honeywell MO10CESWK is affordable and cost-effective to run with better than average performance. In terms of features, it's a self-evaporating AC equipped with a dehumidifier and a fan. 
You shouldn't have any real issues with this unit, besides the fact that it's a little heavy, and that it can be a little noisy, it's one of the best small portable air conditioners.
Bottom Line
The Honeywell MO10CESWK is an all-around excellent unit. This AC does cost a bit more, but it's definitely worth every penny if you can afford it. You're getting great features, ease of portability and setup, as well as really good performance.
Pros
A small unit that offers good performance
Moving the Honeywell MO10CESWK should be pretty easy
Self-evaporating
Cons
Not the most cost-efficient unit to run
Rather heavy for a small unit
Royal Sovereign ARP-908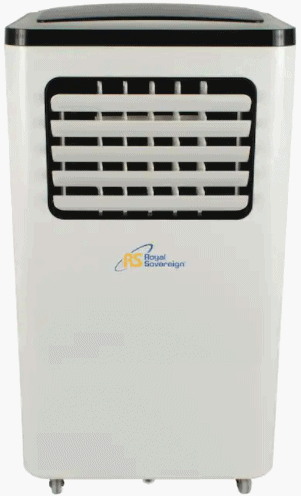 Quick Product Specs:
BTU DOE: 4,000
Cooling Capacity: 300 sq.ft.
Size & Weight: 13x14x26″ ; 46 lbs
Avg. Yrly Cost: $116/yr
Decibel Levels: 54 dB
The Royal Sovereign ARP-908 is the cheapest unit of the bunch. The price of this AC is adequate considering that it has a few downsides. The good is that you won't have any trouble when it comes to portability and setup. Once you set this air conditioner up, it will perform quite well. 
The bad is that the unit isn't cost-efficient and it can cool a smaller area compared to other portable ACs on the list. The noise that the unit makes can be a little annoying, but nothing extraordinary.
The Royal Sovereign ARP-908 has a dehumidifier and a fan, but that's all in terms of features.
Bottom Line
The Royal Sovereign ARP-908 is exactly what you're looking for; a small portable air conditioner. Its performance is pretty good, but the same can't be said for the cooling capacity of the unit. It isn't cost-effective, and it comes with basic features only, but the unit is great value for money.
Pros
Moving this air conditioner from one place to another will be easy
Not the best capacity, but better than great cooling performance
You shouldn't have too much trouble setting up this AC
Cons
Not the most efficient unit on the market
The Royal Sovereign ARP-908 is louder than other units here
Finding a Small AC Unit for Your Space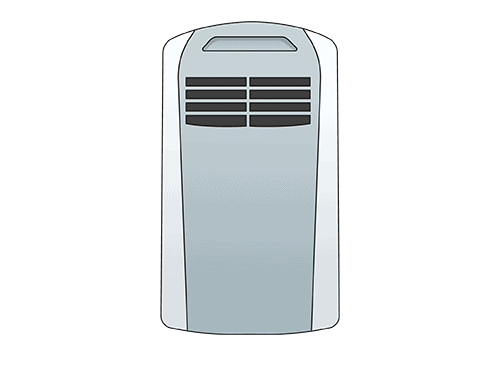 If you don't have central air conditioning in your home, you might be looking for something to help break the sweaty monotony of the heat. Employing a small, portable AC unit to do the job is a great idea. Additionally, if you're finding that the central system in your home doesn't really do the job, purchasing a small AC unit to supplement will keep air flowing more effectively.
The excellent thing about finding small portable units is the ability to move them around. If you're a person who works out in their garage or workshop, you may want to put use a portable unit rather than installing something more comprehensive, as you use the space less frequently. In this case, the smallest portable AC units are easy to store away.
For others, you may find you don't have a suitable window to install air conditioning. In this case, using a small portable AC unit will suffice in place of a central system.
What Size is Considered a Small Portable Air Conditioner?
Many people view portable air conditioners as small in different ways. It depends on which factor you're assessing for your needs. Here are some aspects that may help you determine a baseline.
Cooling Capacity
There are several BTU ranges available on the market. The most powerful ones go up as far as 24,000 for massive areas, but you could generally get away with 14,000 BTU for residential spaces. When it comes to small portable ACs, you're looking at 8,000 BTU or lower.
Weight
Air conditioners can be extremely heavy, loading up as far as 200 lbs. Even 80 pounds is considered hefty to lift by normal standards.
Small portable air conditioners can be anywhere from 50 lbs and lower.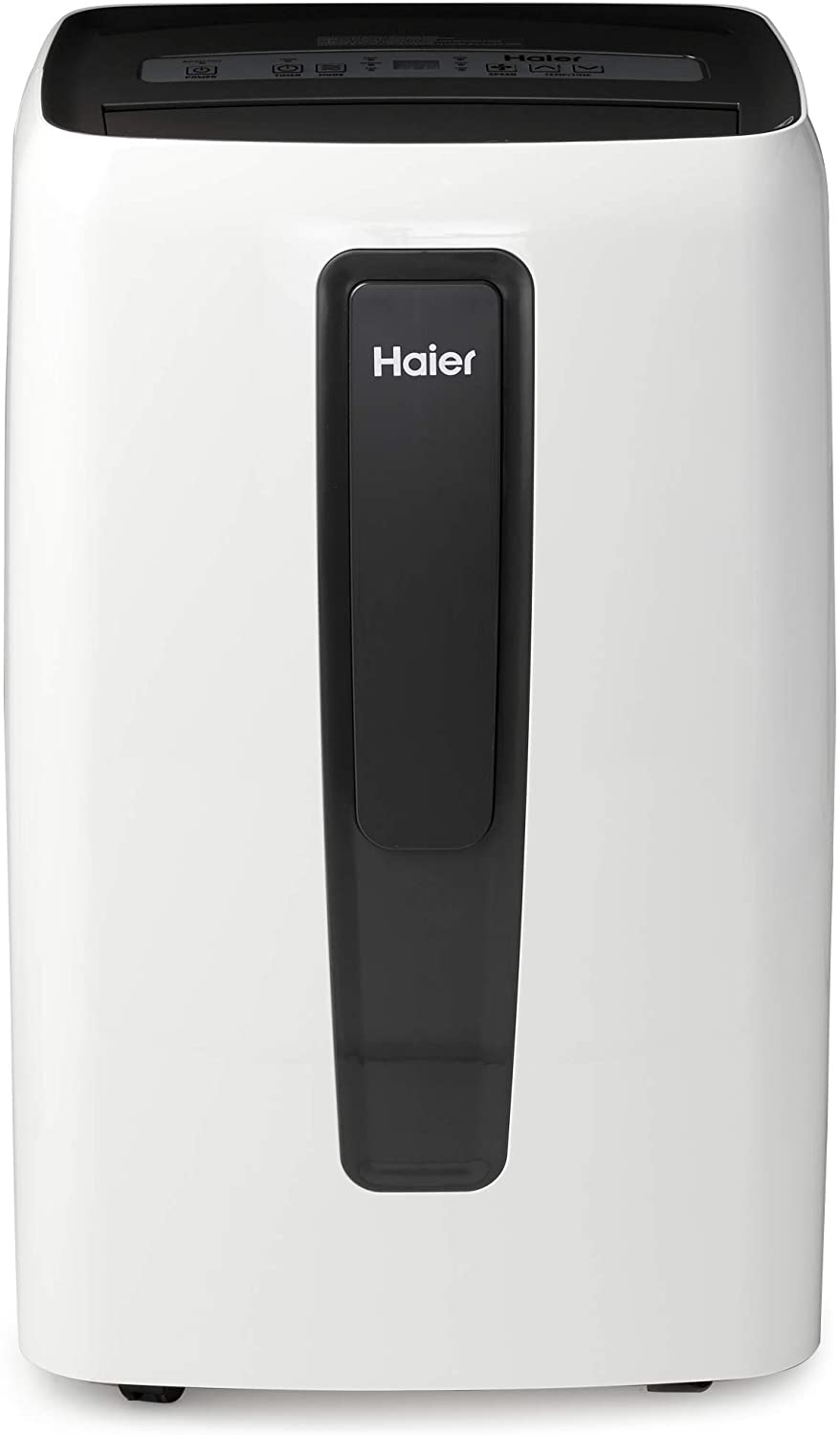 Floor Space
While cooling capacity relates to how much space the air conditioner can cool, these vary based on different factors.
Usually, small portable ACs can cover only small rooms, maybe even medium-sized areas if it's an open plan under the right conditions. You're looking at about 250 sq. ft. or lower.
Dimensions
Finally, you need to take all the dimensions into account. You might not have enough floor space to place a wide device, or you're wanting a short air conditioner to fit under a wall shelf. While standard ACs can reach up to 35" wide, small ones are generally between 12" to 18".
Top Portable AC Brands With Small Units
We've covered several brands in our reviews of the smallest portable ACs. Some of them are better known with a valuable reputation, while the others might be foreign to you. In this section, we'll quickly cover the top three manufacturers.
Honeywell
The company started off with a bang when it invented a coal-furnace regulator as the Butz Thermo-Elec Co. in 1885. Mark Honeywell established the official Honeywell Heating Specialty Co. in 1906, which expanded into heat generators.
Since then, it's grown in the HVAC industry to include chillers, coolers, and air conditioners. Its reputation was so huge that it provided 16,000 parts for the Moon Mission in 1969. Of course, its current product listing is slightly closer to home.

Whynter
Whynter isn't as old as Honeywell, founded as recently as 2006 in Santa Fe Springs, California. It produces high-quality electrical appliances but has started dipping its feet in air conditioning products. 
Most of Whynter's most popular products include ice cream makers, wine refrigerators, cigar coolers, air purifiers, fans, freezers, and dehumidifiers. It also delivers excellent air conditioners, including those of the small portable variety.
Black & Decker
Alonzo Decker and Duncan Black founded their company in 1910. What started as a small enterprise quickly shot through the roof as it broke into several industries. Some of these include power tools, hardware, home improvement, and fastening technology devices.
Today, it sells a massive variety of air conditioners, dehumidifiers, humidifiers, purifiers, and chillers. There's a generous supply of types and sizes, including small portable ACs.
Who Should
Not

Buy a Small Portable AC?

Small portable air conditioners won't suit everybody. Manufacturers designed them for a specific purpose, and they'll not function properly in adverse conditions. Let's take a look at when you shouldn't buy one of these devices and what you should consider instead.
Massive Spaces
If you see a low BTU size on the air conditioner, you'll make a mistake buying it for large rooms. While you may feel some cooling up close, it'll be wasted on the rest of the room.
An 8,000 BTU can cover up to 250 sq. ft. Anything larger than that will need something more powerful than a small portable AC. Remember, you're getting one to help cool your personal, small space.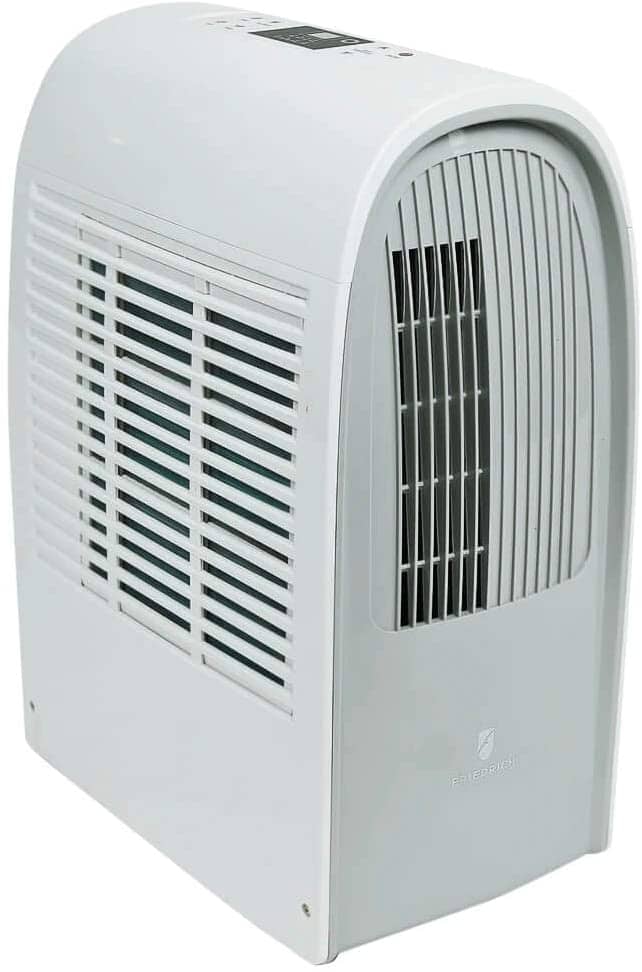 Multi-Story Homes
If you live in a two-story house, there's too much ground to cover for a small portable air conditioner. Even a medium-sized one won't suffice. 

Most people opt for central ACs to cool as many rooms as possible simultaneously, while you can also use zone control to manage which areas need it the most.
High Humidity and Temperatures
You won't feel any cooling from your small device when there's excessive humidity.
The moisture in the air will be uncomfortable and warm, and the air conditioner will struggle to fight against it. It's better to purchase a dehumidifier.
Furthermore, the AC won't be able to help combat high temperatures. You may feel a small breeze from up close, but it'll work extra hard for nothing. You should aim for a more powerful device that can handle hot climates.
Dust and Allergies
Dust and air pollutants can clog up a small air conditioner, even if it has a washable internal filter. It's better to buy a purifier or a larger AC with at least three filters.
Conclusion
Finding a small portable air conditioner can help you to zonally cool your home or to supplement your central air conditioning system. While a little pricier upfront, energy efficient units tend to save you money on running costs, while also being slightly better for the environment. 
Make sure to measure the spaces you wish to cool as this will determine the BTU you need. Remember, choosing the wrong BTU can result in high energy bills as they AC unit may have to work overtime to compensate.
People Also Ask
There are always some questions in the minds of the purchaser regarding the product. These queries need to be identified and addressed as soon as possible. Therefore, to facilitate your buying process, we have devised a list of frequently asked questions for your convenience. It will save you time and money.
Is a Smaller AC Better?
It all depends on how large the room is that needs cooling. Sometimes you can get away with a small portable AC, saving your purchasing, maintenance, and electrical costs. However, if the space is too large, the temperature is too high, or the humidity levels uncomfortable, the device will work too hard and you won't feel the effects.
How Much Space Can a Small Air Conditioner Cool?
If you buy a personal, handheld AC, it will only cool the immediate space around you. An 8,000 BTU can cover up to 250 sq. ft, while a 6,000 BTU can do up to 200. You'll have to decide which one suits your requirements the most.
How to Drain a Portable Air Conditioner
If you want your unit to cool effectively throughout the season, you need to drain it every now and then. 

There are several ways through which you can drain a portable air conditioner. One way to drain your AC unit is by using a hose. In case your AC unit doesn't have a hose option, you can drain it with a condensate pump.
How Many Watts Does a Portable Air Conditioner Use?
On average, a portable air conditioner uses around 800-1000 watts of power while in use. However, with the advent of modern technology, most of these units feature energy-saving mechanisms. This allows your unit to consume less power without effecting the cooling performance of the unit.
How Long Can You Run a Portable Air Conditioner?
Portable air conditioners can operate effectively as long as they are taken care of. Ideally, you would want to shut off your unit when it isn't required. If you perform regular maintenance checks on your AC unit, there is a greater chance that it will operate longer.