For a long time, the HVAC industry has been dominated by a few large manufacturers. Their brand names are well-known and highly regarded.
But a new company called Mr. Cool has now entered the HVAC field, and they are already making quite a splash. If you're in the market for new heating and cooling equipment, you owe it to yourself to check out their products before you make your purchase.
This is certainly true if you're looking for a mini-split heat pump, which is a Mr. Cool specialty.
Comparison Chart of the Best Mr Cool DIY Mini Splits
IMAGE
PRODUCT

Our Top Pick

A Heating and Cooling Range of Up to 500 Square Feet
Super-Impressive Cooling Efficiency, with a SEER Rating of 17.5
A Leakage Detection System That Triggers an Alarm if Coolant Runs Low

View Latest Price →

Heating and Cooling Capacity of Up to 1,000 Square Feet
Controllable By Remote Control or Via Wi-Fi From Anywhere in the World
Elite Energy-Efficiency With 16 SEER (Cooling) and 9.0 HSPF (Heating) Numbers

View Latest Price →

24-Hour Plus Weekly Multiple Programming Options
Heating and Cooling Capacity of Up to 1,500 Square Feet
Features Four Modes of Operation: Heating, Cooling, Dehumidifying, and Fan Only

View Latest Price →
How Mr. Cool Mini-Split Compares to the Competition
Modern mini-split heat pumps are manufactured with energy-efficiency in mind. Consequently, no matter what brand you choose your SEER (seasonal energy efficiency ratio) ratings for cooling and HSPF (heating seasonal performance factor) ratings for heating will be impressive. Also, most units now come with remote controls and electronic control panels that allow for precise digital interface and customized hour-by-hour programming.
What Mr. Cool has done is to take these concepts to another level. By incorporating industry best practices, they've created a heating and cooling system that hits every energy-efficiency bullseye available. Surpassing the improved mobility offered by the remote control, they've manufactured superior-quality smart appliances that are WiFi compatible. Once you've installed the Mr. Cool app, their DIY mini-splits can literally be monitored and controlled from anywhere on the planet.
But the most innovative characteristic of their DIY line of mini-splits is the DIY part. With a few basic tools and help from one or two family members or friends, you can install your new Mr. Cool all on your own in just a few hours time. This can save you an enormous amount of money on labor, more than enough to offset the higher upfront cost of a Mr. Cool DIY appliance.
At a Glance: Our Top Picks for Mr Cool Diy Mini Splits
Review of the Best Mr. Cool Mini-Splits
All Mr. Cool mini-splits are carefully manufactured to ensure consistent and reliable performance. As a result, the differences between their various models are small.
However, before you choose one over the others you should know a bit more about the specifics of each, including the overall quality of their performance. This is where we can help.
MIDEA MPF12CR81-E
We may earn commission from purchases made from our links, at no additional cost to you
Review
The designers and manufacturers responsible for creating the Mr. Cool mini-split line hit the peak of excellence with their 12,000 BTU ductless heat pump. With a stunningly high cooling efficiency rating, it is a real money-saver in the summertime, yet still offers reliable low-cost performance as a heater during the winter.
The wireless internet interface lets you program your Mr. Cool DIY 12,000 BTU Mini-Split Heat Pump and monitor its functioning no matter where you are—and it includes a remote control that lets you program it from across the room as well.
Bottom Line
The Mr. Cool DIY 12,000 BTU Mini-Split Heat Pump includes an unprecedented package of attractive user-friendly characteristics. This is all part of the Mr. Cool plan, which is designed to implement the latest and smartest technology while making DIY procedures as quick and painless as possible.
Unlike most 12,000 BTU ductless mini-splits, this price of this appliance is north of $1,000, reflecting the care and craftsmanship that went into its creation. But with no installation costs to worry about, you'll still save a lot of money on your purchase. Not to mention all the money your new high-efficiency device will save you on energy costs.
Pros
DIY Installation Can Normally Be Finished in About 2-3 Hours
Includes Remote Control That Handles All Programming Tasks
Extremely Quiet Operation by Both the Inside and Outside Units
Can Be Set to Dehumidifier or Fan in Addition to Heating or Cooling
Automatically Transfers to Thrifty Energy-Saver Mode When in Standby
Has Sleep Mode Function for Comfort-Preserving Nighttime Energy Savings
Usage Statistics are Available to Help Owner Keep Tabs on Energy-Use Habits
Powered at 110 Volts, Which Makes it Compatible With Standard Home Outlets
Comes With Quick Connect Pre-Charged Copper Line for Fast and Easy Installation
Weekly Scheduling Plus 24-Hour Programming Available for All Modes and Functions
System is Compatible With Digital Assistants like Amazon Alexa and Google Assistant
Wireless Internet Connections Available Through Smart Controller Module Plus Smartphone App
Cons
More Expensive Than Other Mini-Splits its Size
Weaker Heating Efficiency (8.80 HSPF) Than Cooling Efficiency
Professional Assistance With Electrical Work is Strongly Recommended
May Run Constantly and Waste Energy if Asked to Heat or Cool Too-Large Spaces
Mr. Cool DIY 24,000 BTU Mini-Split Heat Pump
We may earn commission from purchases made from our links, at no additional cost to you
Review
People who install Mr. Cool appliances report strong and surprising surges in performance from their new HVAC equipment. This is quite common among those who've purchased their 24,000 BTU offering, which handles the heating and cooling needs of moderate or moderately-large spaces with no difficulty.
This model makes the customization of indoor climate conditions a breeze, letting you manage your summer and winter cooling and heating loads with virtually no waste in energy. It is high-efficiency and low maintenance, giving it the edge over many of its big-name competitors.
Bottom Line
Ductless mini-split systems are hybrids that incorporate the best qualities of traditional heat pumps and window air conditioners. Mr. Cool's 24,000 BTU model is a quintessential example of this technological melding, and the fact that you can save significant dollars on installation costs by doing it yourself is only icing on the cake.
This product is an ideal choice for those who want seven day, 24-hour, energy-efficient customized maintenance of indoor climate conditions, with universal programming access from anywhere in the home or around the globe.
Pros
Auto Restart is Guaranteed Following Power Outages
Internet App Available for Both Android and Apple Devices
Five-Year Warranty on Parts and Seven Years on Compressor
Filter Maintenance Reminder to Make Sure Filter is Kept Clean
Low Ambient Cooling Potential, Down to Five Degrees Fahrenheit
Whisper-Quiet Operation Makes it Perfect for Bedroom Installation
Geofencing Feature Can Turn Unit On and Off When You Arrive or Depart
Energy-Saver Mode Can Cut Power Consumption By 80 Percent in Standby
Can Be Integrated with Amazon Alexa and Google Assistant for Voice Control
Sleep Mode Swiftly Shifts Temperatures Up and Down Based on Sleeping Habits
Features Four Distinct Operating Modes: Heating, Cooling, Dehumidifying, and Fan Only
Includes 25 Feet of Copper Line With Installation Kit, to Cover All Home-Design Contingencies
Cons
Some Users Have Found the App Difficult to Use or Program
Not the Most Energy-Efficient Choice for Cooling Small Spaces (Less Than 600 Sq. Ft.)
The 25 Feet of Copper Piping Provided is Often Too Much and Can Be Difficult to Handle
Mr. Cool 36,000 BTU Mini-Split Heat Pump
We may earn commission from purchases made from our links, at no additional cost to you
Review
High-quality, mini-split heat pumps can handle impressively heavy loads. But few models rise the challenge more decisively than the Mr. Cool 36,000 BTU ductless heat pump.
This appliance is simply a beast, which is what you'll require if you face beastly heating and/or cooling loads in your geographical location. This unit features outstanding efficiency ratings in a full-spectrum package.
This means you'll have no trouble keeping your utility bills manageable even as your Mr. Cool 36,000 BTU Mini-Split Heat Pump delivers a completely personalized indoor climate experience.
Bottom Line
The Mr. Cool DIY 36,000 BTU Mini-Split Heat Pump dispels the myth that mini-splits are only good for single rooms or enclosed spaces. It is powerful enough to cover most, if not all, of your home or large apartment, yet is energy-efficient enough to prevent your utility bills from getting out of hand.
Digital integration gives you full control over its functions and you can customize its performance to keep you in your preferred comfort zone all day and all night long. The initial investment is high, but when you eliminate the costs of installation you'll discover that this item has saved you a substantial sum of money.
Pros
High Cooling Efficiency With a 16 SEER Rating
Gold Fin Corrosion-Resistant Condenser Built to Last
Real-Time Usage Statistics Available Through Wi-Fi App
High Cooling Potential, Down to Five Degrees Fahrenheit
Nearly Noiseless Operation Even at 36,000 BTU Capacity
Five-Year and Seven-year Warranties on Parts and Compressor
Leakage Detection System Plus Alarm Protects Against Coolant Loss
Louver Position Memory Preserves User's Choice of Air Flow Direction
Indoor Half Weighs just 10 Pounds, Making for Safe and Easy Wall Mounting
Capable of Heating an Entire Small Home, Large Apartment or Condominium
Programming Options Include Energy-Saver, Sleep Mode, and Weekly Scheduling
Wireless Internet and Remote-Control Compatible in All Modes and Programming Features
Cons
Electrical Work Should Be Handled By a Trained Professional
Large Size of Model Requires at Least Three People to Finish Installation
Powered by a 230-Volt Cord That Must Be Connected Directly to Junction Box
Will Waste Energy Through Short Cycling if Used to Heat or Cool Small Rooms or Spaces
Who is Mr. Cool?
Among its menu of offerings, Mr. Cool sells well-reviewed line ductless mini-split heat pumps, which are becoming increasingly popular with the buying public.
They are not the only HVAC company to sell these products. But what makes Mr. Cool unique is that they sell mini-splits that you can install yourself.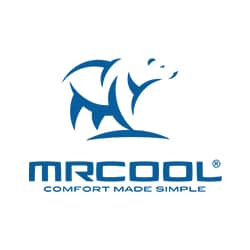 Yes, that's right: Mr. Cool mini-split air conditioner/heat pumps are designed and manufactured to be installed by homeowners, with no assistance from trained technicians.
Each Mr. Cool product comes with an easy-to-follow instruction manual that shows you how to install it safely and securely. In addition, there are a multitude of videos available on YouTube that will lead you through the process step-by-step.
You can purchase a DIY mini-split from Mr. Cool directly at Amazon. Or, you can buy Mr. Cool products from dealers across the country (you can find them by checking their website). Either way, you'll save a significant amount of money by eliminating costly installation services from your list of HVAC-related expenses.
Conclusion
Purchase a Mr. Cool DIY ductless mini-split heat pump, and for once, you won't have to pay an expert to install your HVAC equipment. You can do it yourself instead, which will save you a lot of money and give you the confidence to handle similar tasks in the future.
None of this would matter if you were purchasing a substandard product. But these products have been getting rave reviews from customers, who appreciate the complete package of features that the company's DIY mini-splits offer. So unless you simply aren't interested in installing a heat pump on your own, Mr. Cool products certainly deserve your consideration.
People Also Ask
Here are the questions:
How Many Amps is a Mini-Split?
A typical mini-split heat pump will seldom draw more than 20 amps of power and usually will use much less since they aren't normally operated at full capacity. This makes them more energy efficient than most central air conditioners or ducted heating systems.
How Many BTUs Do I Need in a Mini-Split?
Recommendations will vary between manufacturers, but some reasonable estimates might be:

8,000 BTU for 350-450 Square Feet
12,000 BTU for 500-700 Square Feet
18,000 BTU for 700-1,000 Square Feet
24,000 BTU for 1,000-1,250 Square Feet
36,000 BTU for 1,250-1,700 Square Feet

Rooms that are unusually warm because of sunlight penetration or proximity to a kitchen might need more heating capacity.
How Many Watts Does a Mini-Split Air Conditioner Use?
The power consumption of a mini-split unit varies by its heating and cooling capacity. It's reasonable to expect a 12,000 BTU ductless heat pump to use 1,000 watts of electricity or more when turned on, while a 24,000 BTU model could be expected to use twice that amount.