It could be a hot camping summer day, an open-air meditation tent, or a small camper without its own power – they all need some cooling.
These are places where a traditional air conditioner turns out to be useless due to lack of electricity. A battery-powered AC unit is the perfect alternative in such circumstances.
It functions and adds coolness to the place despite power outages and/or absence of an electrical connection. It's a great piece of cooling equipment for camping, after a natural disaster, or in any remote, isolated location.
At a Glance: Our Top Picks for Battery Powered Air Conditioners
Comparison of the Best Battery-Powered Air Conditioners
IMAGE
PRODUCT

Our Top Pick

Cools space in less than 10 minutes
Can drop temperature up to 30F
Battery powered for up to 5 hours

View Latest Price →

Best Budget Option

Battery power is up to 1400 mAH
Easy to clean and lasts a long time
Portable, light in weight, and compact

View Latest Price →

Portable
Three fan speeds
Can be plugged into a cigarette lighter

View Latest Price →

Compact Size and Low Weight (12 lbs.) for Easy Transport and Storage
Patented Built-In Micro Compressor Functions at High Intensity and Efficiency
Impressive Cooling Performance for Up to Five Hours on Standard Power Settings

View Latest Price →
Factors to Consider Before Buying a Battery-Powered AC
Before you head out and buy a battery-powered AC, there are several factors you need to consider. It can have a massive impact on performance, reliability, and costs. When you assess a product online or in a local store, ensure that you look at the following elements.
Efficiency and Power Source
One of the most significant aspects of battery-powered air conditioners is the power source. The type will determine where you can place the device and how much you'll end up paying for it. Whether you'll be able to take it with you on vacation is also another consideration, as you won't have wall plugs in the wilderness.
You'll also need to look at how energy-efficient it is. It doesn't help that you can recharge the air conditioner using a power bank if it consumers all the energy before it can fully charge.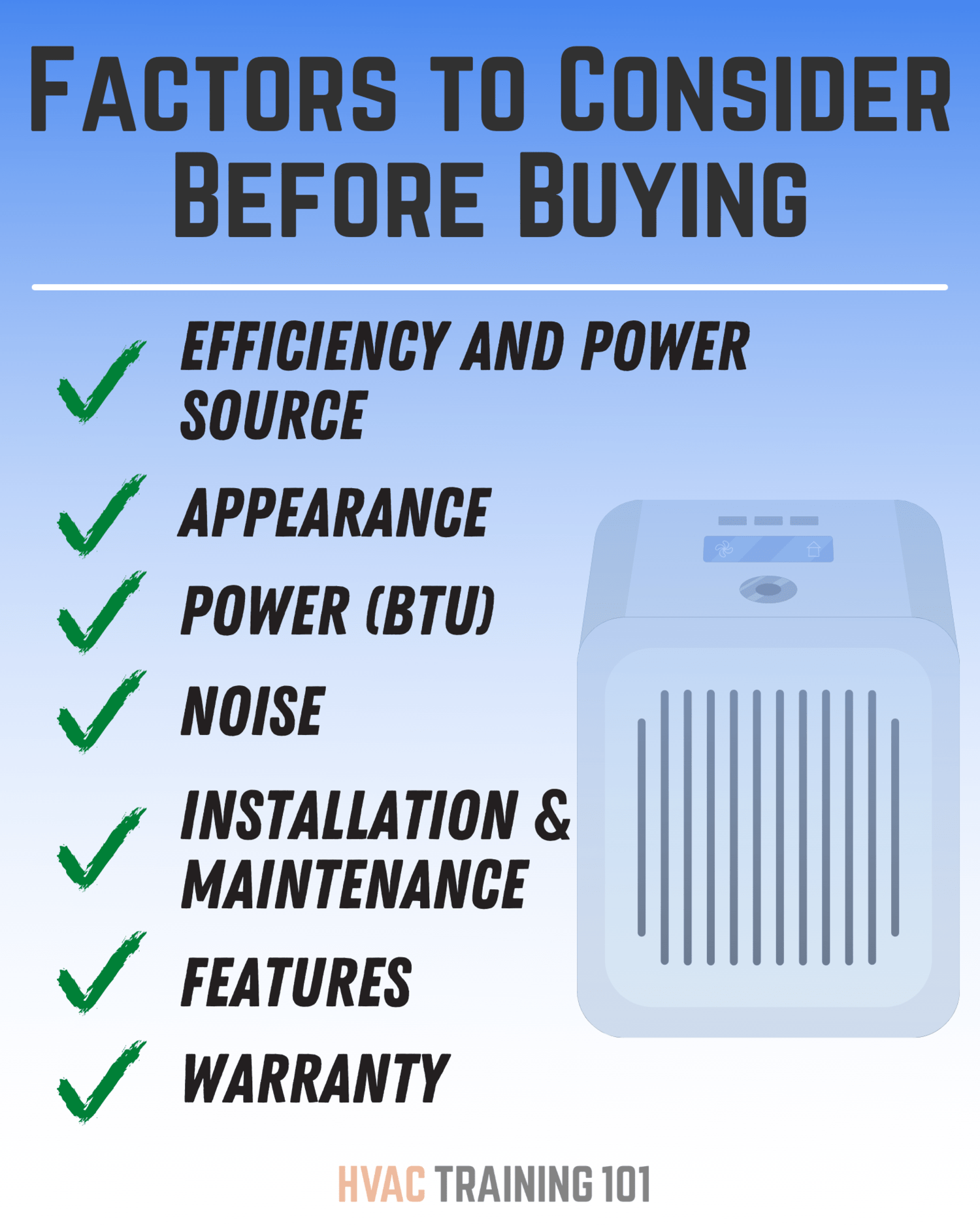 Appearance
Air conditioners don't only appear in one color or theme. Manufacturers are aware of how much aesthetics plays a part in the purchasing decision. There's no reason you can't be picky when it comes to appearance, ensuring that the device doesn't stand out like a sore thumb.
Power (BTU)
British Thermal Units (BTU) provide an excellent indication of how much heat the air conditioner can cool within a given space within a specific time. You'll need to measure your room size to determine if the device's cooling capacity is enough. If the product doesn't reflect the BTU amount, check to see if it indicates the minimum and maximum temperature ranges.
Noise
Every air conditioner makes some sort of noise, even battery-powered ones. The movement of the internal components causes a sound to arise.
However, some devices are so loud that it interferes with sleeping, talking, and other daily activities. Try to aim for one with low decibels at the highest settings.
Installation and Maintenance
Your home might have specific installation requirements for the battery-powered AC you're wanting to buy. 
You'll need to check if the device is compatible with your house, or if you'll need to make some changes to walls, windows, or flooring to accommodate it. Furthermore, look at how much maintenance is involved to save you future costs and effort.
Features
Some units have specific features you can adjust to make the experience more pleasurable. For example, you can change the fan speed and airflow direction. There are also options for remote, Wi-Fi, or voice control, while devices also have sensors for automatically turning on or off.
Warranty
Purchasing an online product is risky. You have no idea how long it'll last and what condition you'll receive it in. 
While there's generally a warranty for the entire air conditioner, have a look to see if there are individual ones for the internal components. You should also read the terms to ensure that you qualify for parts replacements.
Review of the Best Battery-Powered AC Units
When you are purchasing a battery-powered AC unit, you need to measure the product based on a few parameters. Some of the most important parameters are, BTU rating, power consumption of the AC unit, how long the unit will run on battery while cooling, weight of the AC unit and the temperature in which it can perform effectively. One caveat, if you are expecting silence with these units, then you could be disappointed. But maybe they'll drown out the crickets and the howls of the wolves while you're camping.
With units that use water, you need to calculate the weight of the air conditioner with and without ice and water in it. A gallon of water is the same as 3.78 liters. A gallon of water weighs about 8.34 pounds.  Also, remember that the majority of these units use ice and water to cool so keep them at a distance from anything that should not get wet.
Zero Breeze Mark 2
BTU (DOE): 2,300
Coverage Area: 40 sq.ft.
Dimensions (in): 20x10x11
Weight: 16.5 lbs.
Decibel Level: 52 dB
We may earn commission from purchases made from our links, at no additional cost to you
What Recent Buyers Report
Most of the recent buyer reviews were positive about this product. This is because of its phenomenal cooling capability and portable nature. Users were more than satisfied with the performance and its overall features. They recommend this air conditioner to anyone looking for a powerful cooling solution.
Why it Stands Out to Us
Well, this air conditioner speaks for itself. Unlike most traditional units, it offers you more. With its powerful cooling operation and user-friendly design, it keeps you cool even in searing heat. 
With just a press of a button, it is ready to supercool your living space in no time. The portability of this air conditioner gives it an additional advantage over other cooling options. You can easily carry it anywhere you want without worrying about the surrounding heat. Also, it comes with a 30-day money-back return along with one year of manufacturer's warranty.
Bottom Line
Overall, it's a great option to quickly cool your surroundings in no time. It is easy to use and quite reliable with its powerful cooling. It makes for a great option while tent camping or RVing in remote areas. Now, with this amazing air conditioner, you can feel at home anywhere.
Pros
Easy to use with just a press of the button
Comes with a 1-year manufacturer's warranty
30-day money-back guarantee secures your investment
Makes tent camping more convenient with cool and fresh air
Cons
Not suitable for stricter budgets
Black and grey color might not be attractive for everyone
Wooboo Mini Cooli 5th Generation
BTU (DOE): N/A
Coverage Area: Personal Space
Dimensions (in): 4.5×1.42×2.6
Weight: 0.37 lbs.
Decibel Level: N/A
We may earn commission from purchases made from our links, at no additional cost to you
What Recent Buyers Report
Most of its recent buyers are fans of this product because they don't need batteries to charge this as this one is easily rechargeable with a USB. They found it light in weight and very easy to use. Some users placed this in strollers, and they are satisfied with the results.
Why it Stands Out to Us
Made up of 100% high-quality materials, comes with a strap to carry it easily, portable, mini, light in weight, easy to operate, and easy to clean, these are only a couple of perks of this product that make it stand out to us. Plus, this one comes with a USB cable, which makes it even more worthy of a mention on our list.
Who Will Use This Most
The best thing about this product is that it can be beneficial to almost everyone. You can place a mini air conditioner at your work desk and work with cool air hitting your face. You can even take this on your next hiking trip or picnic. Fishing, traveling, or backpacking – you can use it wherever you want!
Bottom Line
In all, it only weighs 5.9 ounces, making it a perfect mini air conditioner that can be taken anywhere you want. It is easy to clean and charge. So, if you are looking for a device that makes air light and cool around you, then this is what you are looking for!
Pros
Can also act as a nail dryer
Easily affordable for the masses
Features a USB rechargeable fan
Also equipped with a mini air conditioner
Adjustable USB table fan to control the direction of the wind
IcyBreeze Cooler Blizzard Package
Temperature Range: ~35 degrees
Coverage Area: N/A
Dimensions (in): 17x19x25
Weight: 22.65 lbs.
Decibel Level: N/A
We may earn commission from purchases made from our links, at no additional cost to you
Review
This battery-operated air conditioner considers the environment by not introducing chemicals into the air. You'll place ice blocks or packs inside to keep the water cold, which provides the cooling process.
Unfortunately, the device soaks up the coldness quickly, so you'll need to refill often on an extremely hot day. Therefore, it's not ideal for weekends away in the blistering heat.
The battery lasts long for up to eight hours on the lowest setting. Power it up more and you'll get about six hours of operation. Thanks to the internal radiator, you won't find extra humidity in the air, which can be beneficial when there's loads of moisture already in the air.
Bottom Line
The IcyBreeze Cooler Blizzard Package is excellent if you're camping, and you need to cool your tent. You can also use it for your patio or for small rooms, giving you a gentle cold breeze on a hot day. Fortunately, the battery lasts quite long, so you won't need to charge it as often as replacing the ice.
Pros
Lengthy battery operation
Eliminates the need for chemicals during cooling
Includes three different speeds with up to 15 CFM
Uses radiator to cool air to avoid increasing humidity
Uses ice water to reduce ambient temperature by up to 35°
Cons
Not suitable for areas with excessive heat
Ice doesn't last as long as battery runtime
Zero Breeze Portable Air Conditioner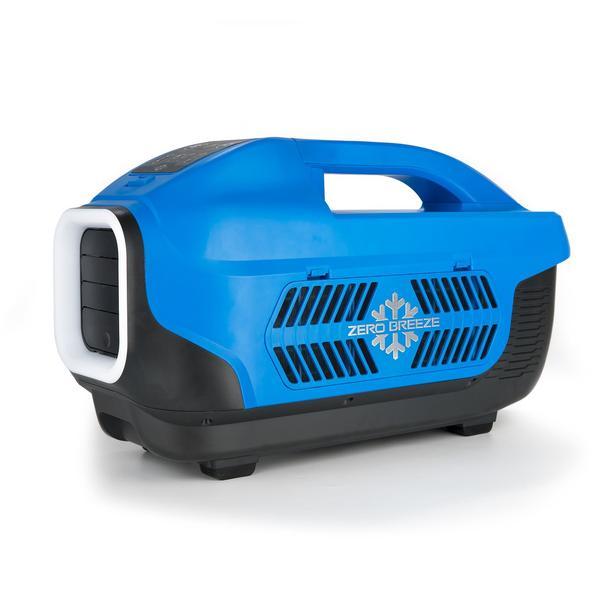 BTU (DOE): 1,100
Coverage Area: 50 sq.ft.
Dimensions (in): 19x11x7.8
Weight: 12 lbs.
Decibel Level: ≤68 dB
We may earn commission from purchases made from our links, at no additional cost to you
Review
Keeping a tent, camper, office or dorm room cool and comfortable in stifling summertime conditions is a breeze with this best-in-show portable air conditioner. Zero Breeze has set new industry standards with this potent, lightweight, easy-carry indoor cooling unit, achieving performance levels previously thought impossible with battery-powered technology.
The Zero Breeze 1100 BTU Portable Air Conditioner can comprehensively cool enclosed spaces of 50 square feet without a hitch. But it can still deliver respectable comfort in double or even triple that area.
Bottom Line
The Zero Breeze Portable Air Conditioner gets high marks for consistent and reliable cooling performance. With the Zero Breeze you get what you pay for, and what you pay for here is a top-quality, compact air conditioner that is seldom, if ever, overwhelmed by oppressive heat.
Pros
Air conditioner dehumidifies the room as it cools
Three fan speeds for a customized cooling effect
Effective at temperatures of up to 104 degrees Fahrenheit
Comes with AC adapter compatible with all standard wall outlets
Sleek design plus attached handle for convenient carrying and storage
Can reduce indoor temperatures by as much as 18 degrees Fahrenheit
Uses high-performance 12-volt lithium-ion polymer rechargeable battery
Extra perks include night light, bluetooth speaker, and phone charging station
Charge lasts for up to five hours on normal usage and 3.5 hours at full power
Maximum cooling efficiency at 50 square feet, but will also cool larger spaces
Cons
Pricier than most other portable cooling options
Warranty of 5-6 years is not comparable to full-size air conditioner warranties
One-to-one charge ratio, requires five hours of charging for five hours of usage
Uking Small Cooler-Camping Air Conditioner
BTU (DOE): N/A
Coverage Area: N/A
Dimensions (in): 8x3x4.5
Weight: 2.9 lbs.
Decibel Level: N/A
We may earn commission from purchases made from our links, at no additional cost to you
Review
If you want to go super-small but stay super-effective, the best Uking Small Cooler-Camping Air Conditioner might be the ideal choice for you. This inexpensive, but impressively versatile cooler is especially popular with camping aficionados who want to control temperatures in their tents or RVs.
However, it can do a solid job in most small rooms or even outdoors if you keep it close. Despite its small size (8" x 3" x 4.5"), this ingeniously designed and manufactured unit from best Uking can help you keep the heat at bay all day long. And as an added bonus, it can also function as a space heater in the wintertime.
Bottom Line
The best Uking Small Cooler-Camping Air Conditioner is a battery-powered, cordless wonder that can keep you comfortable wherever you are or whatever you're doing. It is so small and lightweight that you can carry it with you and set it down anywhere.
Because it consumes relatively low amounts of battery power, its operating costs are kept to a bare minimum. While the range of a single unit is limited, its bargain-rate price means you could probably afford to buy one for each member of your family.
Pros
Inexpensive unit
Virtually noise-free in all modes
Slim design fits in most standard cupholders
Turbo fan provides impressively strong and consistent airflow
Uses ice stored in an insulated central cup as a source of cooling
Comes with an extendable air tube for concentrated cooling effects
Features convenient flip-up carrying handle for convenient transport
Requires three AA rechargeable batteries to run smoothly and continuously
Cons
Not ideal for extreme temperature conditions
Cools an adjacent area but not an entire room
Ice will need to be replenished multiple times to keep the cooler operating
Go Cool Portable Air Conditioner
We may earn commission from purchases made from our links, at no additional cost to you
Review
Go Cool's entry is specially made for travel and easy portability. It measures 17.3" wide, 20" long and 24" wide. Ice and water are used to cool the area. It can hold up to 4 one-gallon jugs, 9 one-liter bottles or 40 pounds of bagged ice. It does not use any other coolant or chemical for cooling. The battery pack can be removed and recharged.
This device cools small and enclosed spaces quickly and efficiently. It comes with an extra drainage tubing that lets you flush out excess mess.
Ice'nplug 12V Portable Air Conditioner
We may earn commission from purchases made from our links, at no additional cost to you
Review
The Ice'nplug is ideal for a wide variety of uses, from campsites to cars and boats to small offices. It can also be used as a cooler in your garage. It's another device that uses ice and water to cool and manages to lower the temperature by up to 35 degrees F.  
It weighs about 14 pounds and measures 22 x 18 x 18 inches. Drawing on a 12V battery it can last up to 4.5 hours. The power cable measures 6 feet.
This air conditioner has large wheels and a retractable steel handle. It also has a water-drainage assembly.
Types of Battery-Powered Air Conditioners
There are several battery-powered ACs on the market you can look at, each with varying functions and components. The type you'll choose depends on the situation and purpose. Let's look at a few examples.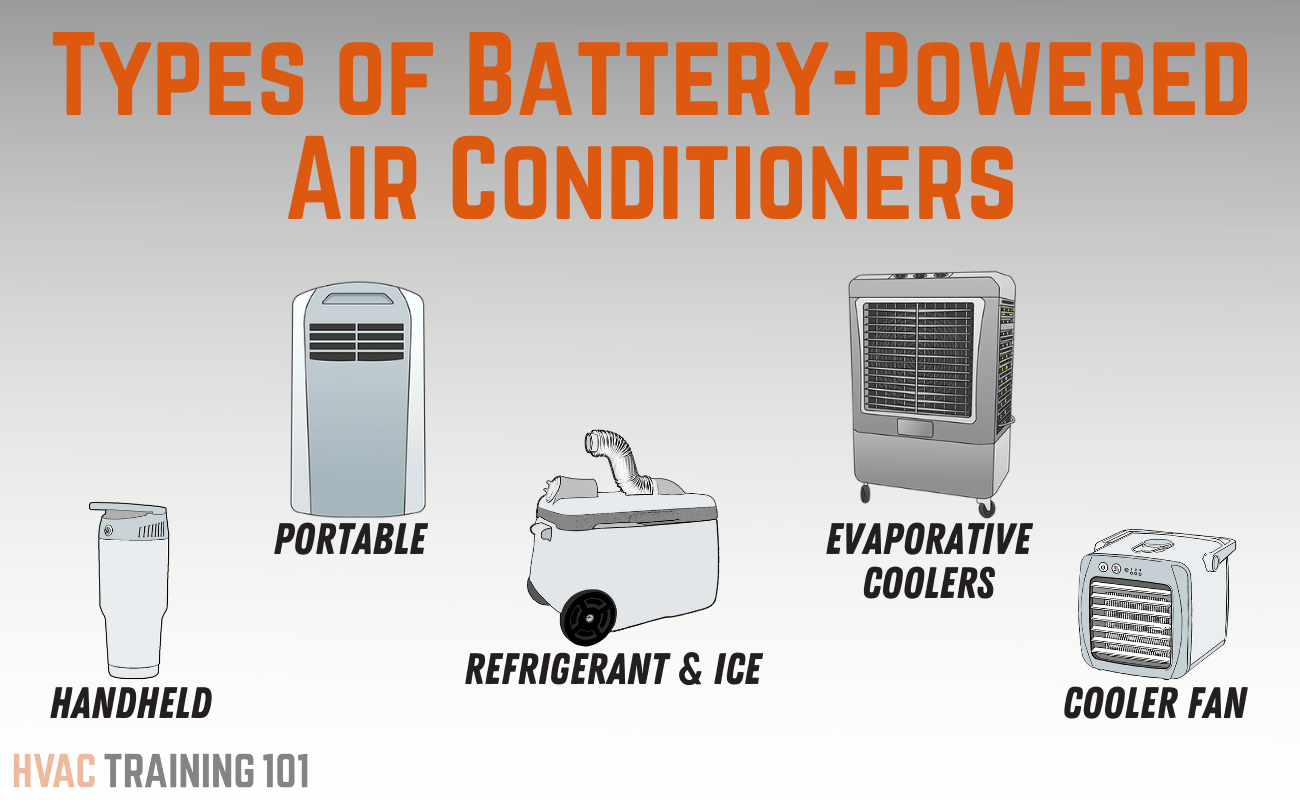 Refrigerant and Ice
Most of these air conditioners either have refrigerant or ice that cools the air. The former is a coolant that removes heat through chemical processes and releases cold air through condensation. Ice blocks or pads are less harmful to the environment, but they need to be replaced more often.
Handheld
Handheld or personal air conditioners are small devices that you can easily carry around with one hand and place on a table. They only provide minimal cooling but are sufficient for desks and bedrooms. 
Portable
Portable units are larger than handheld air conditioners, which you move around with wheels or carry handles. Some may even have exhaust hoses that you'll vent out a tent flap, window, or wall. 
Evaporative Coolers
Most air conditioners have water buckets or drainage pipes to eliminate condensation. Evaporative coolers heat the liquid into a gas form, which then is pushed out through an exhaust outside of the affected area.
Cooler Fan
These battery-powered ACs have fans built inside or attached to the exterior. As the unit releases the cold air, the blades propel it into space for improved circulation.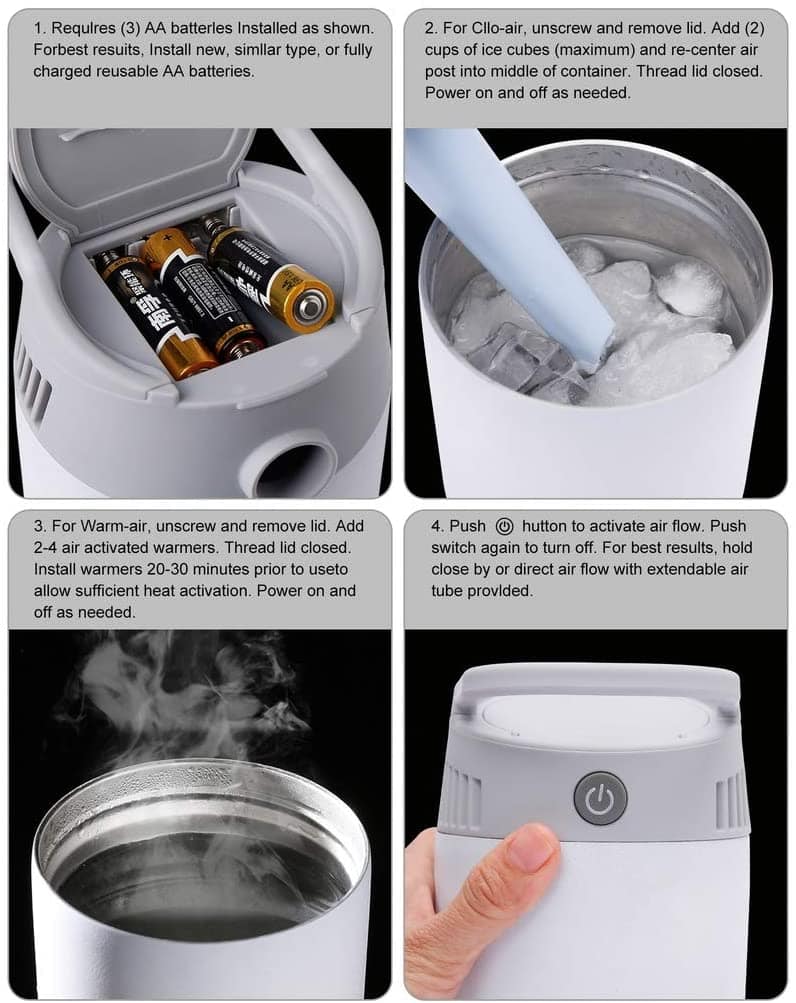 Top Brands in the Battery-Powered AC Space
You might have seen a few brands during our review of the best battery-powered air conditioners. While some have a strong foothold in the HVAC industry, some are relatively new. Here are our top three brands for these devices.
Honeywell
The company has been around since 1885, having created the first coal-furnace thermostat. Since then, it's grown in the HVAC industry and becoming a leader in cooling and heating appliances.
You'll find various air conditioners under its product range. Besides battery-powered ACs, it also developed humidifiers, dehumidifiers, purifiers, industrial chillers, and so much more.
IcyBreeze
This brand started in 2013 after a father and his son suffered intense heat during a camping trip. What began as an idea to use ice differently to cool the air led to the development of battery-powered ACs in 2015.
By 2017, IcyBreeze had a facility in Sweetwater, Texas. Today, it sells hundreds of thousands of units to well-known corporations while extending its technological knowledge with research and innovation.
Zero Breeze
The founder of Zero Breeze also started the company after a camping trip where the heat was unbearable. After discovering a massive need for battery-powered air conditioners, he established a Kickstarter campaign in 2016.
After trial and error, it expanded its research and development department until it perfected its first devices

The company is driven by innovation and adventure to ensure an enjoyable outdoor experience.
When is a Battery-Powered AC Not a Good Choice?
Sometimes, people buy these air conditioners for the wrong reasons or conditions. While they're exceptional at cooling, they don't work in all situations. 
Extreme Heat
Battery-powered ACs are generally portable devices that can only deal with a specific temperature range. If you find yourself sweating buckets in the sweltering heat, you may not feel the cooling effect of these devices.
It may be best to look at electrical-powered portable air conditioners instead. You can also opt for window or mini-split ACs if it's for your home. Be sure to see what heat range it can handle before you buy it.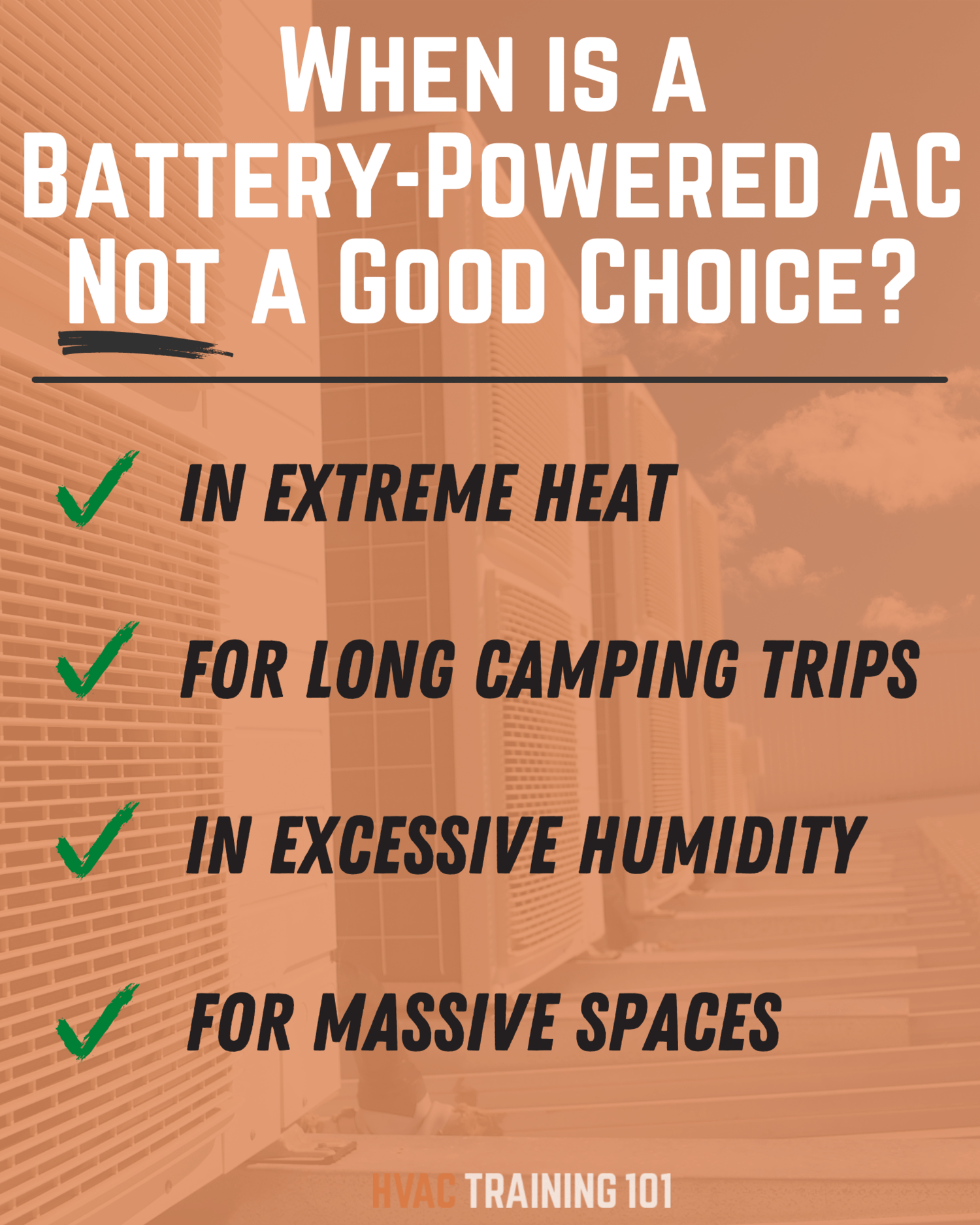 Long Camping Trips
When you're out in the wilderness with a tent, the one element you won't find is an electrical socket. Not only will your battery run flat, but your ice won't last the weekend. 
Of course, if you have a solar-powered air conditioner, that's a completely different story. If you're camping with a motorhome, you'll also be able to recharge the device.
Excessive Humidity
High humidity levels make you feel warmer, despite the moisture levels in the air. Battery-powered ACs won't be able to reduce the humidity, so the cooling effect is canceled. It's better to get a dehumidifier with a cooling function in these situations.
Massive Spaces
Portable units can only affect a small space, depending on their cooling capacity. If you're aiming to use these devices for your entire home, it won't work. 
You'll be carrying it around with you constantly, wondering why the heat won't go away. The same applies to large patios or outdoor spaces.
Why Choose a Battery-Powered AC Unit?
A "normal" powered air conditioner – one that draws on your house's current – would be your obvious choice to cool a space in most circumstances where you have perpetuity of electricity. But in those rare cases when there is no electricity you would need to choose a battery-powered AC unit.
This works best in a variety of circumstances. Maybe you are camping in the woods in the summer roughing it in a tent but you don't want to rough it too much. If you're working or living in an area with frequent power outages, you might also want such a unit as a backup. If you're traveling and need to cool a trailer or camper, it's also a good option. It can also be carried for recreational activities at the beach, on a boat, or at sporting events.

Battery-powered AC units are a must when you want to cool a tent or other small space. If you need a unit to work its best in humid and hot circumstances and can't rely on a power line, these units will serve you well.
You can also consider this type of air conditioner to cool a caravan or a truck that does not have a centralized cooling system. Since these vehicles are often used for camping and long travel, these easily portable AC units can be used en route to and at the destination without any electrical connection.
Some portable battery powered AC units can even be used to cool ice and drinks – and that's definitely a key point!
How Much Cooling Can You Really Expect?
Portable and battery powered AC units are designed to cool spaces from 50 to 250 sq. ft. This signifies that such units come with a rating between 500 and 1500 BTU.
These units typically run on 12 volt batteries, on as little as 40W, and run for about 10 hours.
These air conditioners weigh anywhere between 10 lbs. and 70 lbs. This is not directly related to the efficiency, but matters a great deal during the movement.
If you are traveling or camping for more than a few hours, you can turn them off while not in use or switch to fan mode. Another useful feature is that some of them also come with a wall adapter so that they can be charged while you are back home.
Some units use ice and water. Of course, it's important to check occasionally for leakage in such cases.
Some units can keep the temperature as low as, 35 degrees Fahrenheit for about 10 hours, while others may work that efficiently just for an hour. Though the manufacturers do not mention explicitly, the performance of these units also depends on the temperature of the external environment.
When comparing prices, you should note whether a particular unit is built to perform both indoors and outdoors. Then choose according to your needs.
Keep reading below for more info regarding each individual unit.
Pros and Cons of Battery-Powered Air Conditioners
Just like a normal-sized and normal functioning air conditioner, a battery-powered air conditioner has a couple of pros and cons attached to it. To make this easy for you, let us go through the pros and cons.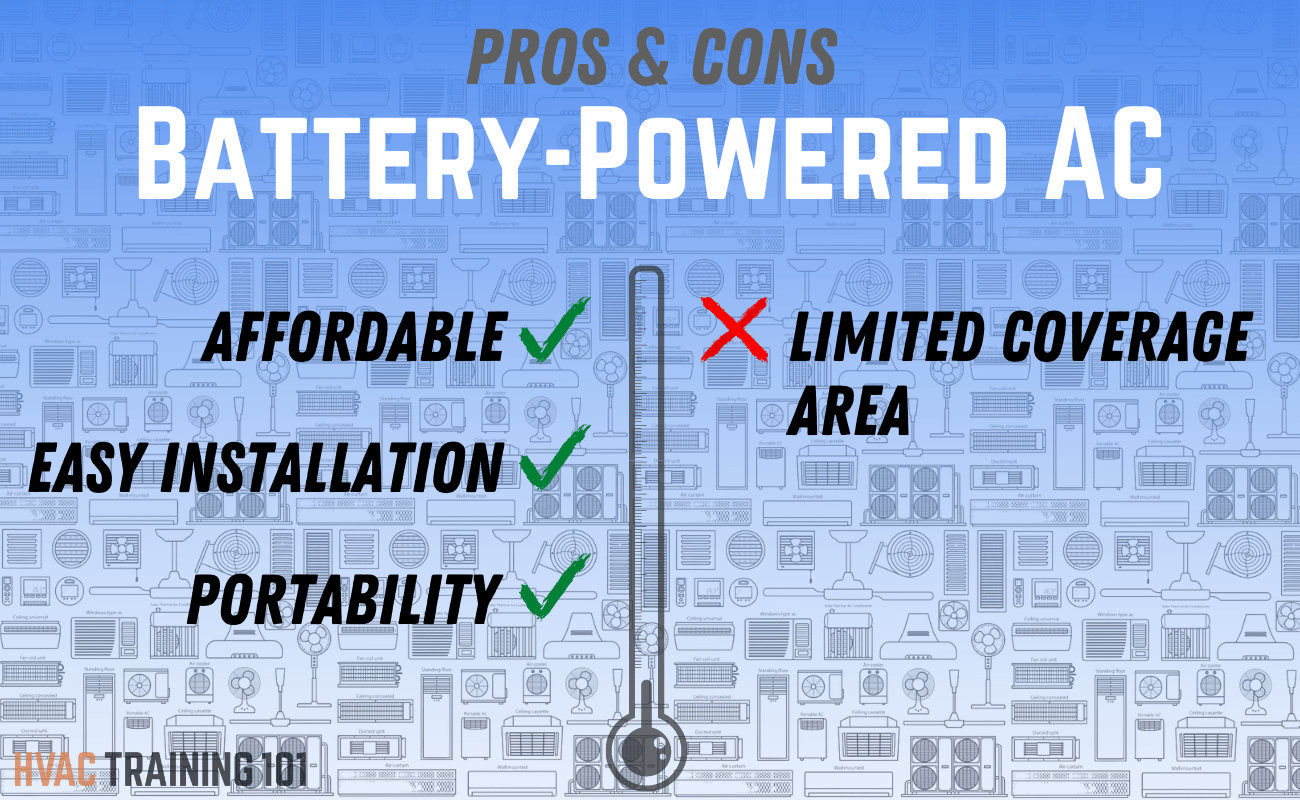 Pros
Let's first start with the pros: 
Cost
Battery-powered air conditioners are generally available at an affordable price. Central air conditioners usually come with a high price tag, plus with the cost of labor and installation, it is a heavy investment. So keep things light and breezy by getting yourself a cost-efficient mini, battery-powered, air conditioner.
Easy Installation
Such air conditioners don't need an entire team for assembling and installing. Although it is very easy to assemble battery-powered air conditioners, if you are stuck somewhere, you can always open up that manual.
Portability
Usually, battery-powered air conditioners come in a small size, so they can be moved easily from one place to another. This makes them perfect to be taken hiking and camping and other expeditions.
Cons
Now let us have a look at the cons:
Room Size
The cool breeze of battery-powered air conditioners only covers a limited area. So, if you are thinking about getting a battery-powered air conditioner for a large room, then this is not a wise idea.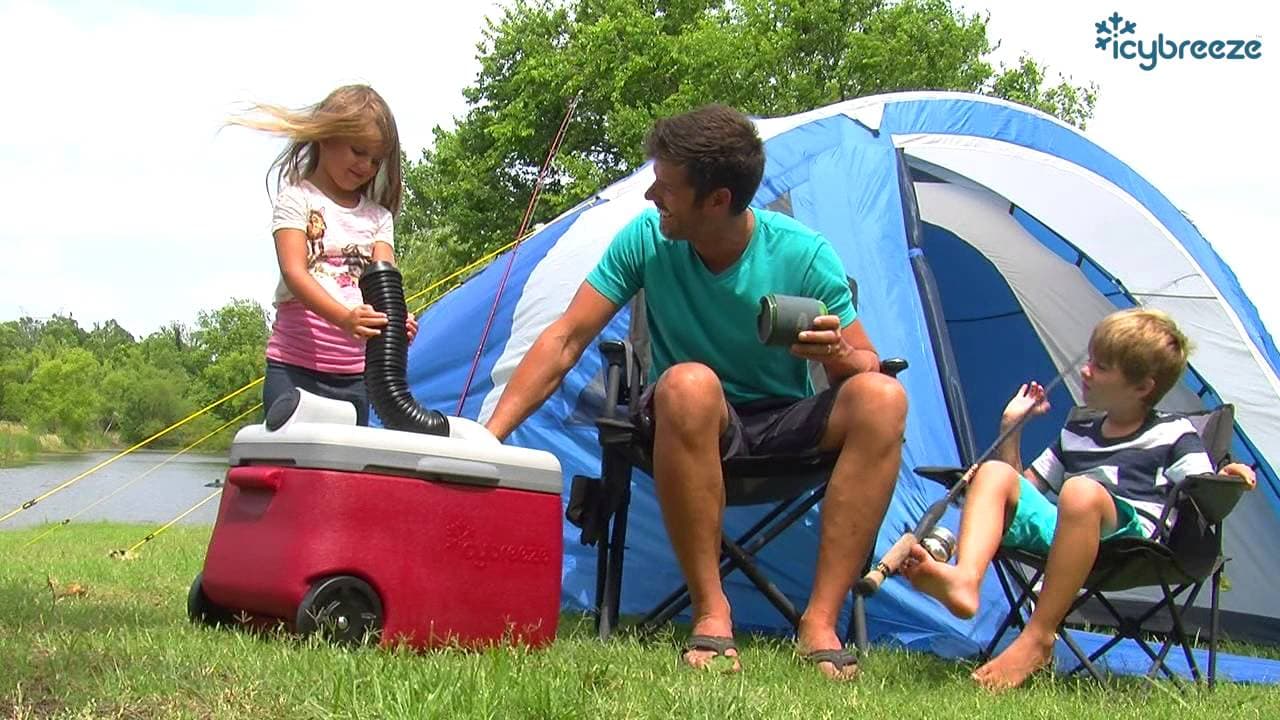 Conclusion
Battery-powered AC units aren't for daily use. But being on an adventure is the perfect time this piece of cooling equipment. It's not a primary unit and will take longer to cool a small space. But when you're on the road or out in the wild, this makeshift solution can save you from a great deal of heat.
People Also Ask
You might have some lingering questions after reading our guide. Here are some FAQs for battery-powered ACs we found online or received from our readers. Feel free to let us know if you have any other queries.
How Effective Are Battery-Powered AC Units?
It depends on your situation and the reason you're buying one. The cooling capacity only works for specific room areas, while you also have to take temperature and humidity levels into account. Choose the right one based on our article, and the air conditioner can be very effective.
What Can I Do To Increase The Cooling Effect Of Battery-Powered AC Units?
You can increase the cooling effects of air conditioners with water by adding ice blocks to rapidly chill the air. You should place them on low surfaces while using a fan to aid circulations is also a good idea. Finally, ensure that you maintain it properly by cleaning it regularly to run optimally.
How Long Do Portable Battery-Powered AC Units Last?
If you're looking at the per-charge aspect, you can expect the battery to last between four and 24 hours. Of course, many aspects can impact the timing, such as how it's used, the fill type, and the power source. As a whole, the air conditioner can last up to ten years if maintained correctly.