If you live in a dry, hot region, you may find it expensive and ineffective to use standard air conditioners and ceiling fans.
Fortunately, some devices cool the air through evaporation, saving you utility and purchase costs.
In this article, we'll look at the best portable evaporative coolers, how you can select the best one, and how it compares to standard AC units.
At a Glance: Our Top Picks for Best Portable Evaporative Coolers
Comparison of the Best Portable Evaporative Coolers
IMAGE
PRODUCT

Our Top Pick

Lifetime warranty on housing and 3 years on electric
Easy to move and fits in tight spaces
Has a large drain for effective and easy maintenance

View Latest Price →

Best Luma Comfort Portable Evaporative Cooler
Evaporative cooler and fan has remote control
No chemicals used to ensure eco-friendly function

View Latest Price →

Best Honeywell Portable Evaporative Cooler
Washable, easy-access filter keeps dust out of home
Easy maintenance thanks to low water alert

View Latest Price →

Best Indoor Portable Evaporative Cooler
Large 1 gallon water tank means less refilling
Ultra-quiet unit has a 15 hour timer

View Latest Price →

Best Arctic Cove Portable Evaporative Cooler
Easy access for quick replacement and cleaning
Can be used as evaporative cooler or simple fan

View Latest Price →

Best Hessaire Portable Evaporative Cooler
Easily attach hose for continuous cool air
Simple to maintain and easy to operate

View Latest Price →

Best NewAir Portable Evaporative Cooler
Lightweight unit has remote control and automatic timer
Portable cooler is made using quality materials

View Latest Price →
How Do I Choose a Portable Evaporative Cooler?
Buying any evaporative or swamp cooler online isn't a good idea. You need to consider specific factors before you set off on this exciting adventure with your new cooling unit. Let's take a brief look at them. 
Area of Effect
The first significant factor is the space that you want to cool. Smaller evaporative coolers will struggle to work in a massive area, causing strain on their components while having no effect on the room at all.
You'll need to measure the space first and then check the evaporative cooler's specifications. There will be a label indicating what size it caters to and whether it's suitable for your purposes.
Air Circulation
Some evaporative coolers have an automated swing delivery, which changes the airflow direction. The oscillation angles vary from 40° to 120°, which means that numerous people in the room can enjoy the cooling effect. 
You should also pay attention to the cubic feet per minute (CFM) of airflow. This measurement indicates how well it can circulate the air in the room while cooling it down, and it's directly proportional to the room size.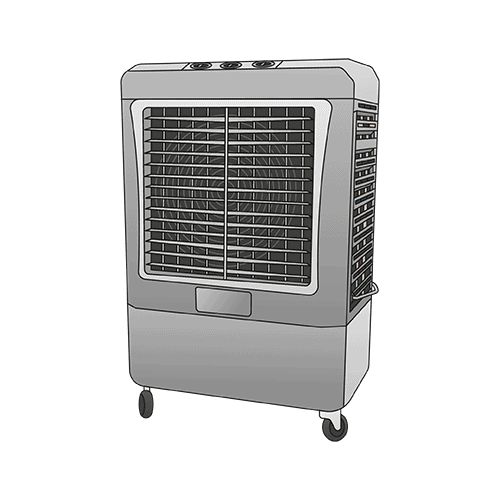 Ease of Transport
There's no use in aiming for a portable device if it can't move around quickly. Pay attention to the base wheels or carry handles, as the means of transport may affect where you can take it in the home.
This factor is especially significant when you buy a heavy evaporative cooler. Pay attention to the dimensions if you plan on taking it with you on long trips.
Cooling and Water Capacity
Since you're using the cooler for dry and hot regions, you'll need to ensure that it has sufficient cooling capacity to deal with high temperatures. The specifications will indicate how well it can perform.
In the same way, have a look at the water capacity. Manufacturers usually indicate it in gallons or liters, and a higher capacity means exceptional cooling for larger spaces.
Extra Features
Of course, it'll be beneficial to see how many other features you can enjoy. While evaporative cooling is the primary goal, other functions will make your life easier.
For instance, have a look at what the control panel or remote control has to offer. Some coolers also perform humidification or purification functions, providing you with a dual advantage.
Review of the Best Portable Evaporative Coolers
Now that you know what to look for, here's our list of the best portable evaporative coolers. Make sure you check the specifications for each device and that it meets your needs.
Portacool Jetstream 240
CFM: 4,500
Fan Speeds: 3
Dimensions: 24.02 x 40.16 x 59.06 inches
Weight: 155 lbs.
We may earn commission from purchases made from our links, at no additional cost to you
Review
The Portacool Jetstream 240 evaporative cooler means business with its 4,500 CFM airflow, powerful enough to work in any residential or commercial property. Despite this robust performance, you'll experience lower power consumption.
The main downfall is that it's quite bulky, with a massive weight to hold the enormous water tank. While it can fit in tight spaces, it's not recommended since you need all the air circulation you can manage.
Not only does it deal with extreme temperatures, but it's also excellent for high humidity. You'll receive a lifetime warranty for manufacturer defects and three years for components.
Bottom Line
If you're looking for exceptional cooling for enormous spaces, the Portacool Jetstream 240 doesn't fail to deliver. It has a liquid level indicator so you can see if there's enough water to evaporate. Ultimately, you'll enjoy exceptional cooling at a low operating cost.
Pros
Automatic shutoff
Low power consumption
Liquid Level indicator light
Material consists of Rotomolded plastic
Contains Kul Comfort evaporation media
Best Luma Comfort Portable Evaporative Cooler
Luma Comfort EC45S
CFM: 250
Fan Speeds: 3
Dimensions: 11.7 x 11.7 x 37.2 inches
Weight: 12.80 lbs.
We may earn commission from purchases made from our links, at no additional cost to you
Review
The Luma Comfort evaporative cooler has a design built for portability, with low weight and tower structure. The grille looks stunning while providing constant oscillating airflow. 
It only caters to small spaces, though. If you have a massive living room, you may want to keep it as close to the general seating area as possible. Other than that, it delivers cool air even in high temperatures.
You'll love the control panel with the icons that light up and the button arrangement. If you're not keen on moving around, you can use the included remote control from the comfort of your sofa.
Bottom Line
The top feature is the tower's upper oscillating movement, but you'll also enjoy how easy it is to move the evaporative cooler around the home. The coolant doesn't have chemicals that can harm you, so you can safely breathe the fresh air. Whether or not you like the plastic material boils down to personal preference, but it's more durable than other types. 
Pros
Wide-angle oscillation
Stunning control panel appearance
Remote control for two cooling types
Sleek design that doesn't take up too much space
Provides clean evaporation with no harmful chemicals
Cons
Suitable for small spaces only
Best Honeywell Portable Evaporative Cooler
Honeywell TC10PEU
CFM: 194
Fan Speeds: 3
Dimensions: 11.5 x 11.6 x 29.6 inches
Weight: 14 lbs.
We may earn commission from purchases made from our links, at no additional cost to you
Review
If you're looking for flexibility, the Honeywell TC10PEU unit can perform three functions. You can turn on the fan for a low breeze, use the evaporative cooling process, or switch it to humidification. 
Since this device is the smallest in the range, you can expect a low CFM. It allows for cross-ventilation, though, if you want to crack open a window to help with air circulation.
The coolant has a Honeycomb media that's easy to maintain and clean. You'll receive a remote control to change settings at will while the front grille performs vertical oscillation instead of horizontal.
Bottom Line
This Honeywell evaporative cooler has several functions available, with a handy dust filter to eliminate air contaminants and particles. With a small design, you can place it anywhere in your home for instant cooling.
Of course, you'll need to pay attention to the water level if you're in a sweltering region. The device will switch off if the level drops too low, which can often happen with the small water tank.  
Pros
Includes humidification
Tower design saves room space
Honeycomb media for easy maintenance
Oscillates vertically for improved circulation
Allows for cross-ventilation with open windows
Best Indoor Portable Evaporative Cooler
ComfyHome 2-in-1 Evaporative Cooler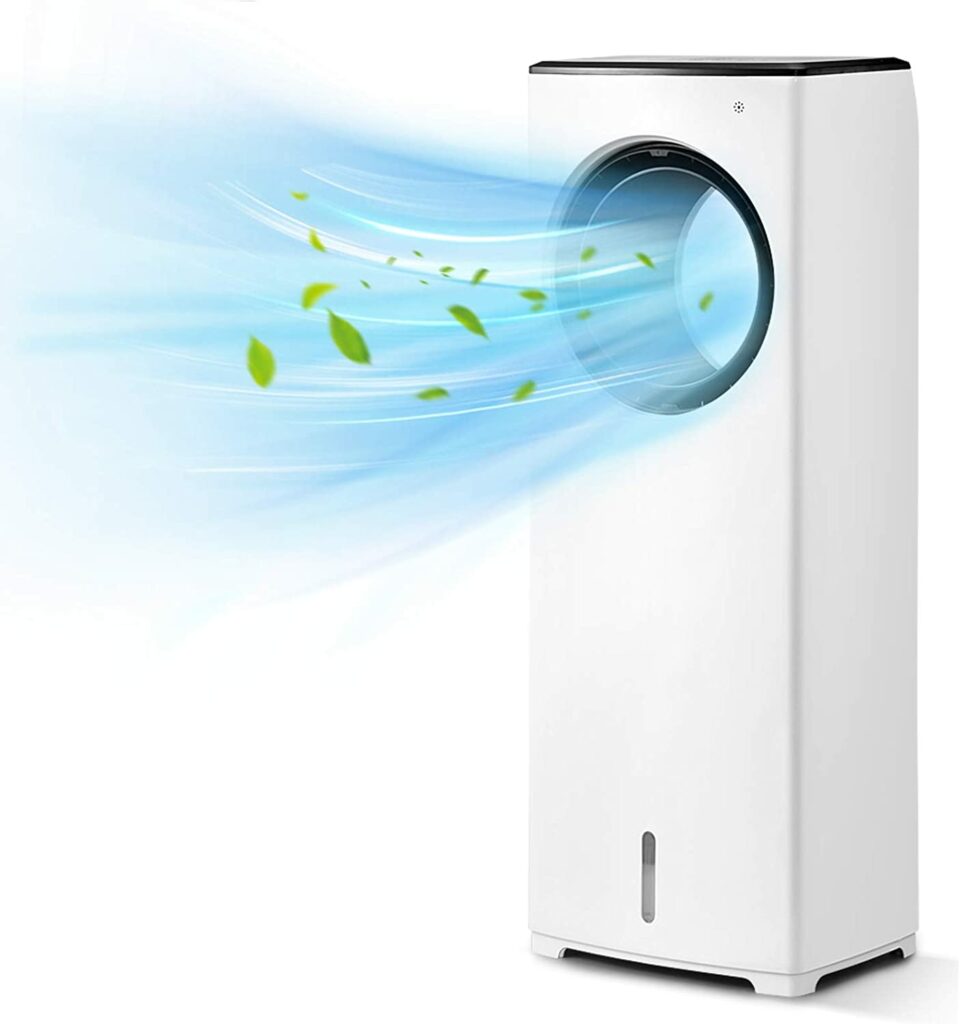 CFM: 500
Fan Speeds: 3
Dimensions: 34.5 x 14.6 x 10.5 inches
Weight: 15.32 lbs.
We may earn commission from purchases made from our links, at no additional cost to you
Review
We've covered a few evaporative coolers with humidifier functions, but this ComfyHome unit also covers purification. It has triple-layer filtration to ensure that you breathe clean air in hot weather.
One issue that's worth noting is the constant switching between fan speeds. You can set any of the three speeds available, but it appears to change between low, medium, and high at regular intervals.
It covers up to 250 sq. ft., which is quite a large area for such a small unit. There's a 15-hour timer you can set if you want to sleep with it on, and you'll enjoy the wide oscillation angle of 40° that covers most of the room.
Bottom Line
There's no doubt that you'll receive ample cooling in any of the rooms in your home. Not only will the air be colder, but there will be fewer particles and dust floating around.
Since it has triple filtration, you can expect the air to smell cleaner, too. Out of all the features, you'll enjoy the wide-angle oscillation the most.
Pros
Bladeless design
Timer for up to 15 hours
Remote control up to 20 ft.
Wide horizontal oscillation
Acts as a purifier and humidifier
Cons
Constantly switches between speeds
Best Arctic Cove Portable Evaporative Cooler
Arctic Cove EVC700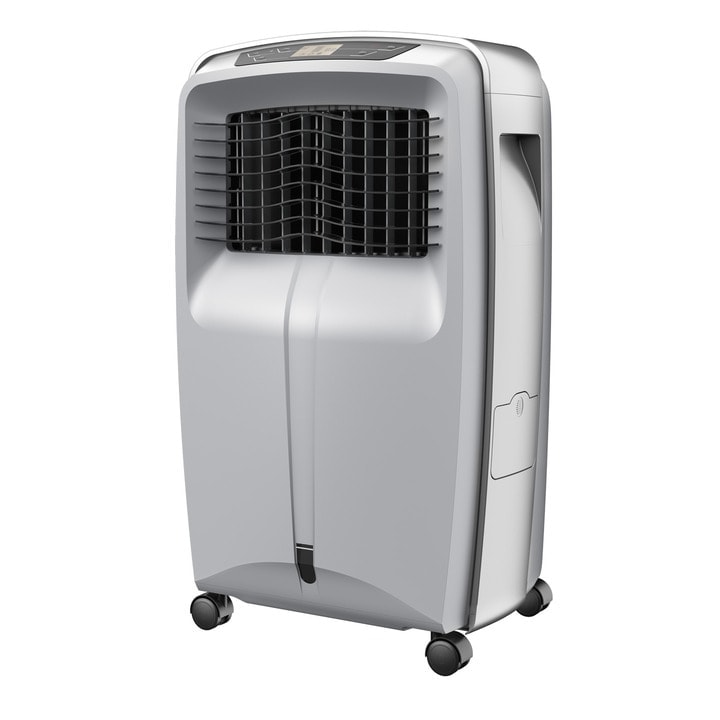 CFM: 700
Fan Speeds: 3
Dimensions: 36 x 27 x 16 inches
Weight: 27 lbs.
We may earn commission from purchases made from our links, at no additional cost to you
Review
Accessing the cooling media is vital for having a pleasurable experience with an evaporative cooler. You can quickly open a panel to refill the water levels or clean for optimal performance.
While you'll enjoy sufficient cooling and circulation with the swinging louvers, there are no humification or purification functions as extras. There are also only a few settings that you can change.
When it comes to cooling management, there's a remote control and top panel you can use for the optimal settings. If the water levels are running dangerously low, you'll hear an alarm go off to warn you. 
Bottom Line
The Arctic Cove EVC700 dimensions make it easy to store when not in use, and it won't take up too much space when in operation. The 700 CFM is decent enough to cover up to at least 500 sq. ft., which means you may be able to cool two rooms simultaneously. While the overall design and color leave much to be desired, you'll enjoy the swinging louvers that will ensure the best air circulation.
Pros
Built-in remote bracket
Covers up to 500 sq. ft.
Water alarm for low levels
Swinging louvers for between circulation
Easy access for media replacement and maintenance
Cons
No extra humidification functionality
Best Hessaire Portable Evaporative Cooler
Hessaire MC37M
CFM: 3,100
Fan Speeds: 3
Dimensions: 39.37 x 39.37 x 19.69 inches
Weight: 220 lbs.
We may earn commission from purchases made from our links, at no additional cost to you
Review
If you have a massive space to cool, such as your workshop, basement, or garage, this Hessaire evaporative cooler is ideal. It has cooling pads with high density that deliver 3,100 CFM, ensuring you don't overheat in high climates.
Unfortunately, we aren't fond of the colors or design when compared to other units. It also consumes more power to produce that amount of airflow, so keep this in mind if you're thinking about monthly operating costs.
Still, this heavy-duty device does the job, working hard against the heat to bring the optimal cooling effect. There's also a handy tool tray on the top panel, while it has built-in overheating protection.
Bottom Line
Sometimes, function beats appearance. You'll have a massive water tank that will run for hours before you need to refill it. The 3,100 CFM isn't shy to eliminate the heatwave, either.
The air circulation moves around thanks to the horizontal oscillation. It'll be beneficial for any size house, as long as you don't mind lugging the heavy weight around. Just don't expect to fit this into your vehicle unless you have an SUV.
Pros
10.3 gal water tank
Horizontal oscillation
Overheating protection
Covers up to 950 sq. ft.
Tool tray on the top panel
Cons
Ugly, heavy design
High power consumption
Best NewAir Portable Evaporative Cooler
NewAir AF-1000W
CFM: 1,000
Fan Speeds: 3
Dimensions: 12 x 15 x 35.5 inches
Weight: 23.35 lbs.
We may earn commission from purchases made from our links, at no additional cost to you
Review
This NewAir device is lightweight and easy to move around the house. There's an automatic timer if you need to leave the house or want to take a nap while it runs without supervision.
While it produces 1,000 CFM, it struggles to keep up with exceptionally high temperatures. You might feel a slight breeze, but you'll be refilling the tank more often than usual. You may want to consider adding other options, such as a ceiling fan.
Thankfully, the 5.3 gal tank should keep you going for a few hours. You can also use the remote control to adjust settings, such as changing the timer and speed while you fall asleep on the sofa. 
Bottom Line
At the end of the day, the NewAir evaporative cooler performs well. You'll receive cool air and be notified if more water is needed. The media is chemical-free, so it won't harm the environment or your lungs.
The material is high quality and durable, so you can expect it to last for many years if you look after it. Remember to have it serviced and cleaned when needed.
Pros
Lightweight design
Covers up to 300 sq. ft.
Save up to 75% in monthly energy costs
Clean, non-chemical evaporation system
Cons
Struggles against excess heat waves
COSTWAY Evaporative Cooler
CFM: 246
Fan Speeds: 3
Dimensions: 10.5 x 12 x 29 inches
Weight: 13.5 lbs.
We may earn commission from purchases made from our links, at no additional cost to you
Review
The COSTWAY evaporative cooler's design has safety in mind, with a windshield that acts as protection against children's touches. There's also a lock on the water tank that prevents leaks and electrical shocks.
Despite being smaller than some of the other units we've reviewed, you'll experience a slight hum when pushing the device to full performance. It's a small price to pay, though, for the amount of cooling it delivers.
The device handles portability with a carry handle and wheels at the base. There are three modes and functions, letting you adjust the airflow and humidity controls with ease.
Bottom Line
You'll love how this evaporative cooler works and looks. With an elegant design, safety and security are critical highlights with a water tank lock and windshield. You also have control over how much cooling it delivers by freezing the iceboxes.
Pros
Adjustable blinds
Free from fluorides
Provides humidification
Contains timing functions
Wide-angle singing leaf for even distribution
Cons
Creates a loud hum at full speed
AMEIKO Mini Evaporative Cooler
No products found.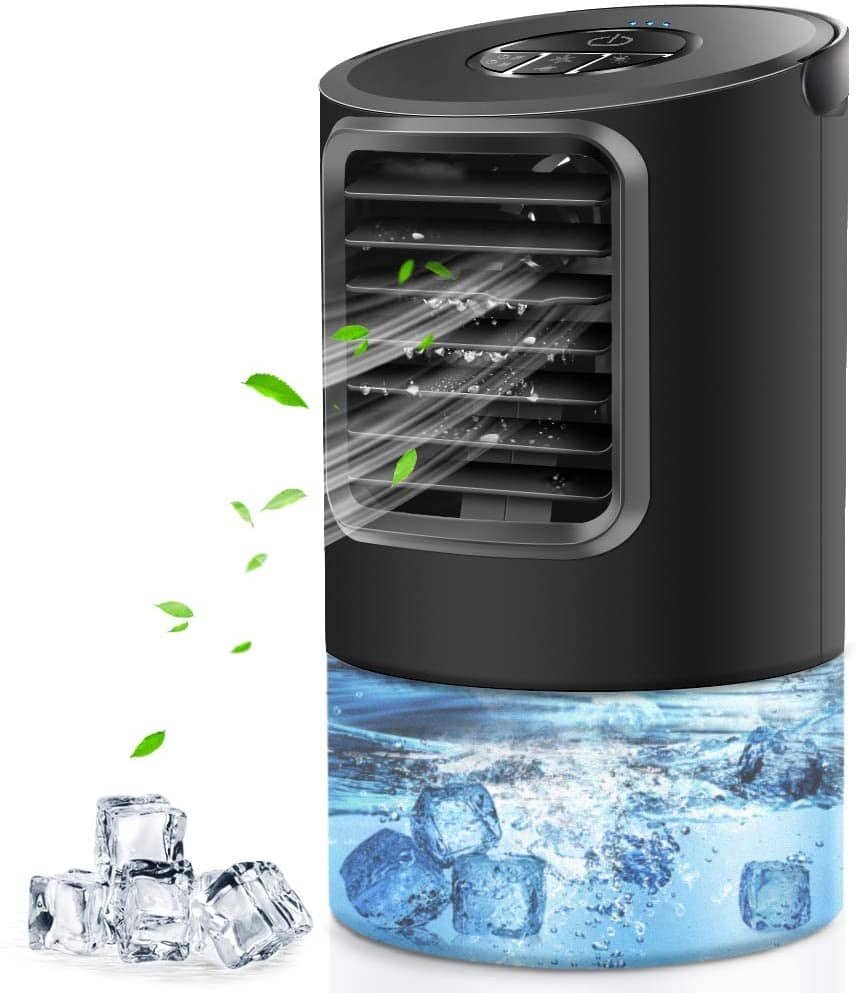 CFM: Not listed
Fan Speeds: 3
Dimensions: 11.1 x 5.9 x 5.9 inches
Weight: 1.85 lbs.
We may earn commission from purchases made from our links, at no additional cost to you
Review
When it comes to efficient cooling, this evaporative cooler makes the reloading process more manageable with an ice-cube tray. You'll always be aware of how much water is remaining, and you can switch between seven different misting colors.
Since the unit is small, the water-tank capacity isn't massive. You may need to refill regularly if you're living in a scorching region that needs constant cooling.
Fortunately, you'll be able to sleep through the night with the silent performance. If the water tank runs out of liquid, the evaporative cooler will shut down to prevent internal damage.
Bottom Line
Not only does this device perform cooling, but it also has purification functions that serve a dual purpose of eliminating odors. While it has a small water capacity, you can continue reloading the tray with cubes. You won't have to worry about high utility bills either, as it has low power consumption.
Pros
Silent performance
Auto-shutoff system
Seven different indicator colors
Includes humidifying misting fan
Easy to refill the tank with ice cubes
Cons
Only 0.1 gal water-tank capacity
How Does a Portable Evaporative Cooler Work?
An evaporative cooler works by evaporating cold water stored in a tank, releasing cooler air into the living space. Unlike air conditioners and humidifiers, there are no compressors or other electrical components needed, which is why it's more cost-effective.
Here are some of the features you'll find with these devices.
Water Tank
The most significant part is the water tank. You'll need easy access to refill the water or ice cubes, as the evaporative cooler can't work without it.
That's why it's so vital to have a water-level indicator included when you purchase the unit. Some will also have an alarm that beeps when the levels are dangerously low. 
Timer
You can use a timer for two different functions. There's the option to delay the start or switch the evaporative cooler off at a specific time.
The timer is useful for when you go to sleep or head out of the house. The last thing you want is to wake up or come home to a hot living space, so it can cool everything before you need to use the area.
Remote Control
If you're busy working in the garage or shed, you won't want to get up to change the settings. A remote control aids you in achieving this goal from a distance. Having a smartphone app to monitor and manage it is even better.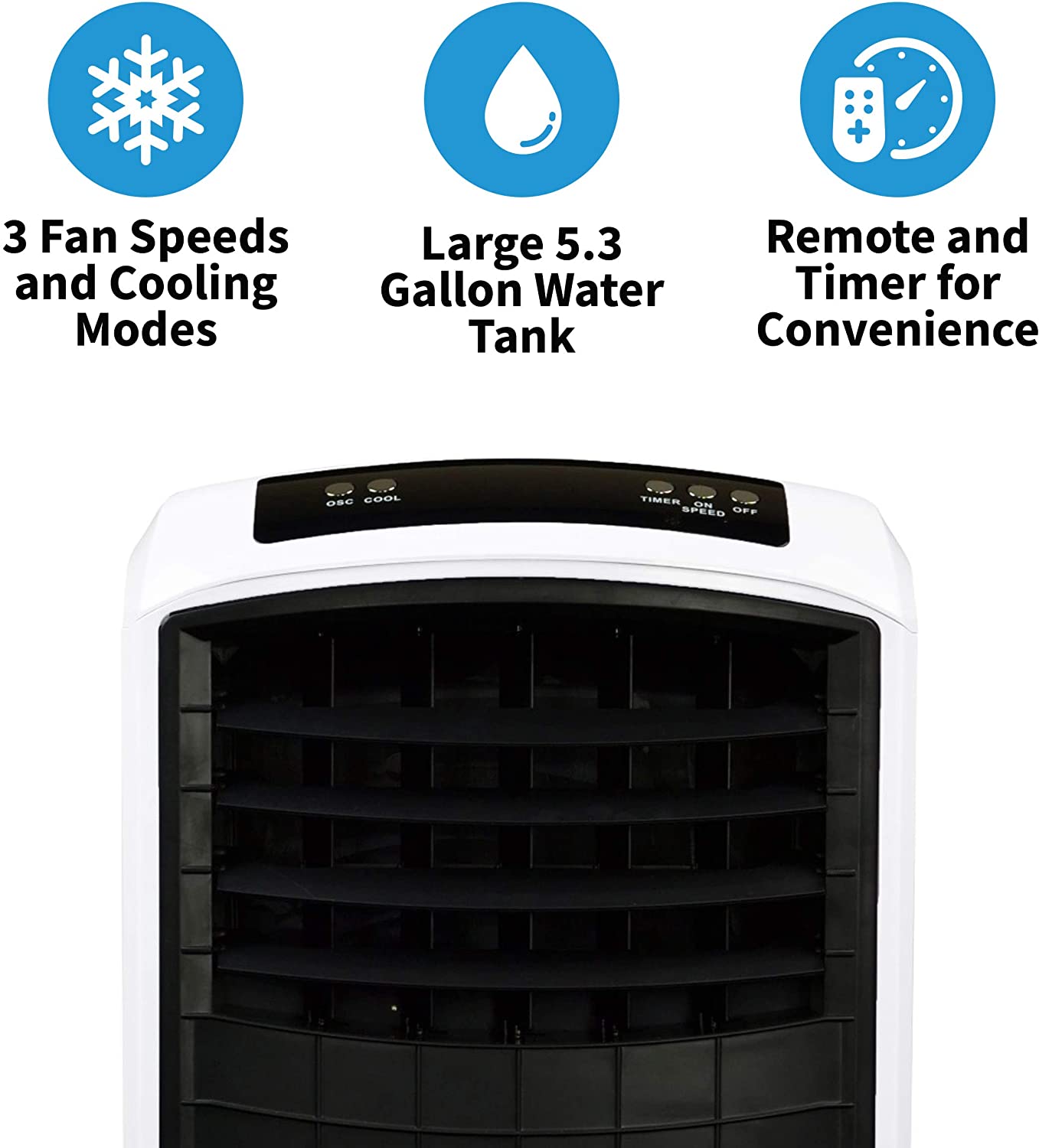 Who Should Use a Portable Evaporative Cooler?
Are you wondering if you need a portable evaporative cooler or if a different device will suffice? This section will highlight key aspects you need to consider before you make any purchases.
Dry Climate
You shouldn't use an evaporative cooler to combat humid days. There's already enough moisture in the air, and introducing more vapor will only make the problem worse.
Instead, a dehumidifier will be better in those situations. You'll want to reserve the cooling unit for dry days when there is little humidity and high temperatures.
Seasonal Use
If you still want to use your evaporative cooler when there's high humidity, don't purchase a whole-house unit. You can move portable devices around, ensuring you remain cool in the room where you're located.
Pay attention to the season's weather. With it continually changing, you want to make sure you get the best out of the device and only use it when necessary to save its lifespan.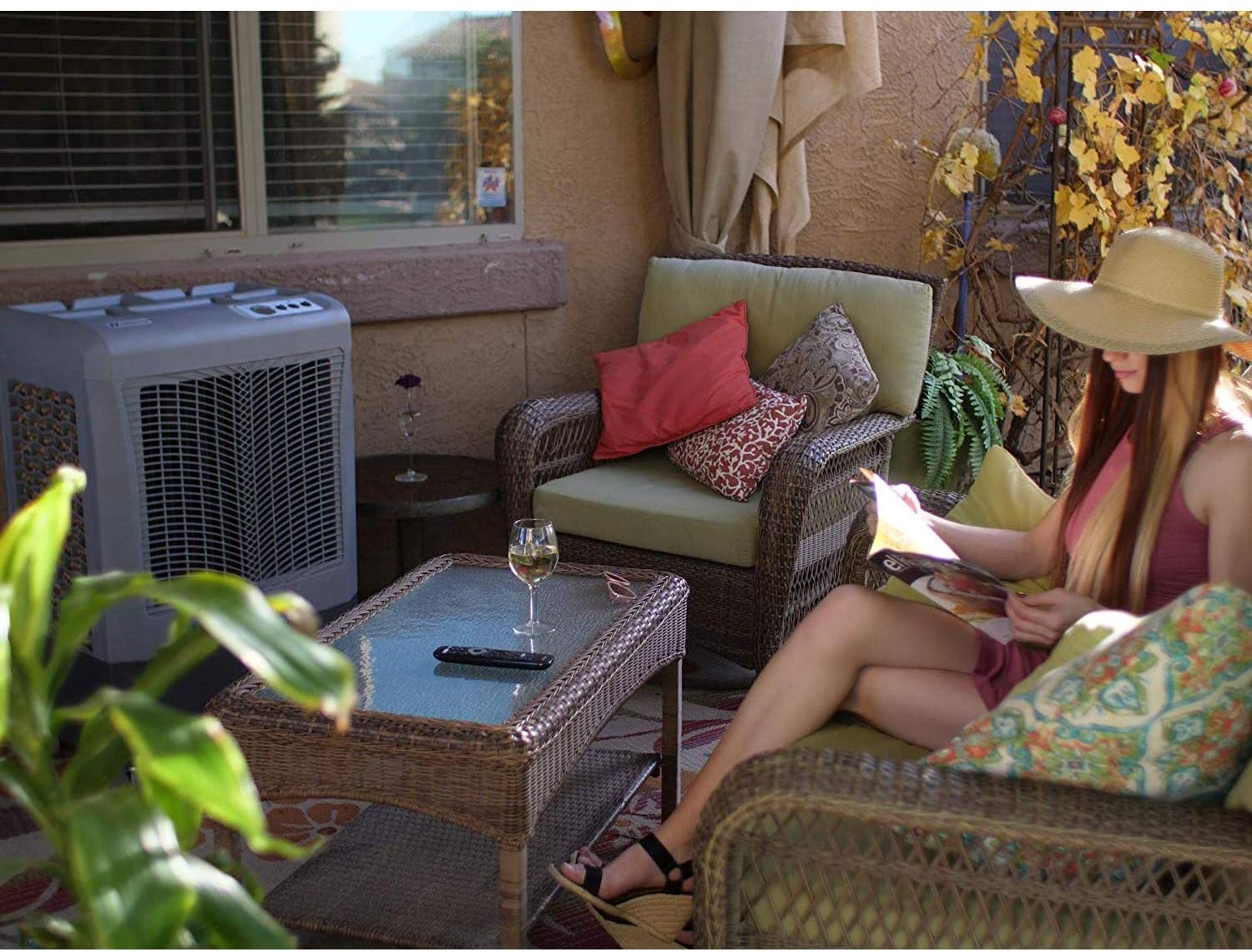 On the Move
With the device being portable, it means you can move it around at will. If you love camping or spending weekends in nature, it's convenient to pack up the evaporative cooler and take it with you.
Of course, having a bulky, heavy device won't be productive to transport it outside of the house. You should aim for a lightweight unit that delivers the CFM that matches the area it will cool.
It's About the Size
This aspect brings us to the final point. You'll want to measure the space that the evaporative cooler will need to operate in first. 
Buying a small device for a massive space won't bear any results that you can feel. Also, you may be spending more on utility bills if you buy a large unit for a small area.
Pros and Cons of Portable Evaporative Coolers
Evaporative coolers have benefits and disadvantages, each of which you'll need to weigh to see if they will suit your needs. Let's look at the top pros and cons of this HVAC system.
Extreme Cooling
The top benefit is that it provides cooling in high temperatures, especially near deserts or arid regions. If you look at the CFM level, you can see just how much airflow the unit provides while chilling the room.
Cost-effective
Since there are fewer electrical components to worry about, you'll pay less for the purchase and maintenance. There's also lower power consumption, so you don't have to worry about high monthly utility costs.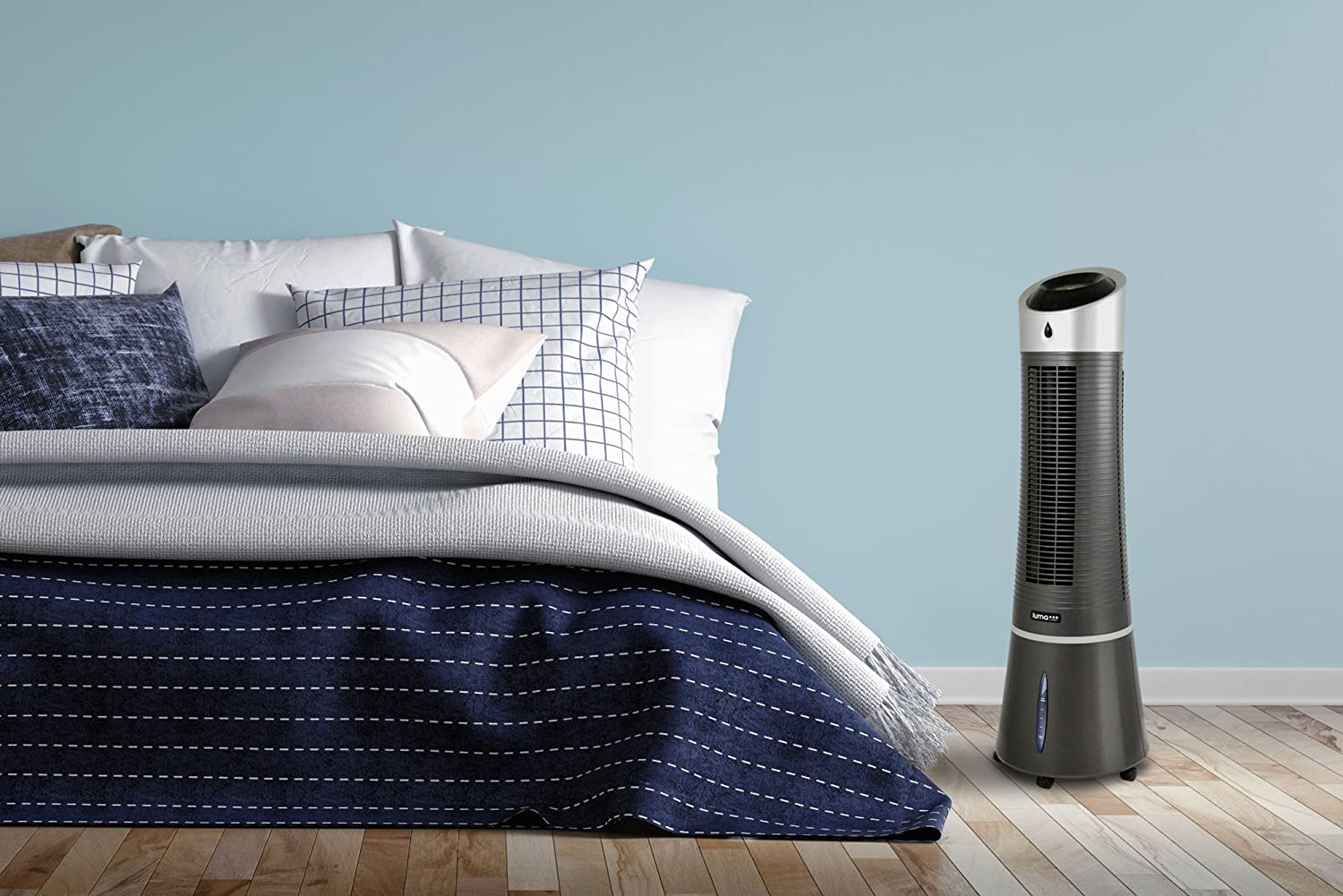 Humidification
You'll be using the evaporative cooler in dry climates with low humidification. Most devices also act as a humidifier, adding water vapor into the air and improving the moisture quality. 
Constant Refilling
The one significant downfall is that you'll spend lots of time refilling the water tank. Where air conditioners and dehumidifiers have automatic drainage, evaporative coolers don't come with auto-refilling.
Noise Levels
Another issue with powerful units is that they are often noisy in the highest settings. Smaller coolers may run quietly all night long, but they might not be able to cope with extreme temperatures.
What Size Portable Evaporative Cooler Do I Need?
The evaporative cooler size boils down to the space you want to cool. Where dehumidifiers look at pints per day, you'll effectively judge the water tank capacity and the CFM. You'll need to determine if it can handle your region's high temperatures.
There's a quick formula you can use to determine what size will be adequate for your needs:
[(Square feet x ceiling height) x average air changes per hour)] /  60 minutes
If we take an example of a 450 sq. ft. room with an 8 ft. ceiling, you will get 450 x 8 = 3,600 cu. ft.  If you multiply this by an average of 30 ACPH, it amounts to 108,000. Finally, divide this by 60 minutes, and you'll obtain a final answer of 1,800 CFM.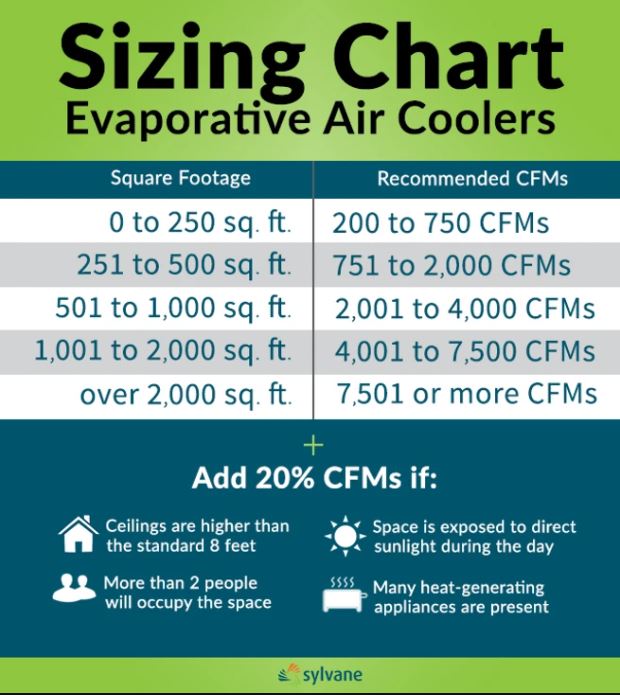 Top Brands in the Portable Evaporative Cooler Space
Sometimes, the name is everything. You might turn to a specific brand since it has an outstanding reputation for durability or performance. 
Here are a few brands worth looking at if affordability isn't an objective.
Honeywell
Honeywell is a name you may recognize among numerous HVAC systems, such as dehumidifiers, humidifiers, and purifiers. That's because it's been in business since 1885, starting with the first furnace regulator that it invented.
It followed this success by forming the Honeywell Heating Specialty Company in 1906 and has been growing in the HVAC industry ever since. It's also worth noting that Honeywell installed 14 different electronic components in the infamous mission to the Moon in 1969.
Arctic Cove
Arctic Cove is a brand that's made a home, so to speak, at Home Depot stores throughout the United States and online. For this reason, you're less than likely to see its evaporative coolers on Amazon or other markets.
The company has delved into some interesting cooling projects over time. Besides some innovative designs, it's specialized in misting tents and misting towers with Bluetooth radio. Its CHILLSTITCH technology is well sought after in the HVAC commercial arena.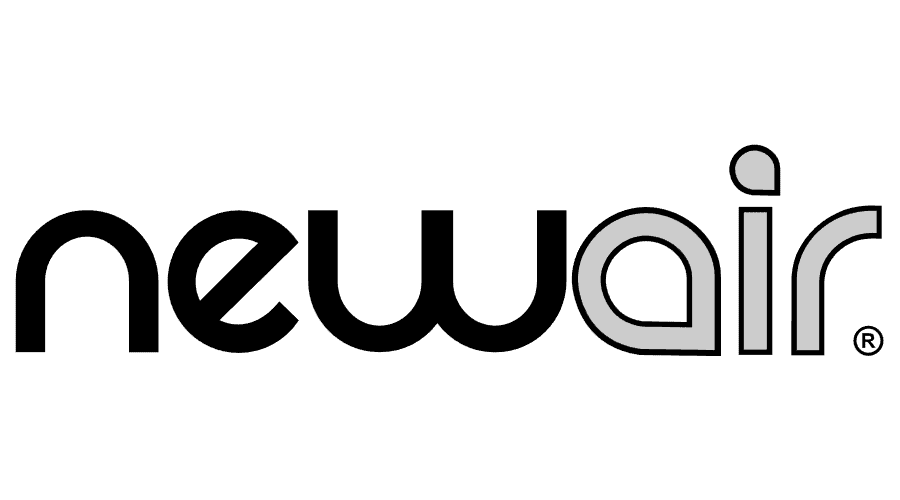 NewAir
NewAir has several brand names, two of which consist of NewAir and Luma evaporative coolers. Its primary focus is on compact appliances that deliver high performance. That's why you'll see lightweight designs with high CFM ratings.
The company started in a small garage roughly 15 years ago. Today, it delivers coolers, heating systems, and appliances to distribution centers worldwide.
Price Points of Portable Evaporative Coolers
While many may tell you that price doesn't matter, in reality, it does. You'll find improved performance, more durable material, and additional functions. Here are some price ranges and what you can expect from each of them.
$100 – $500
This price range features the most basic evaporative coolers, consisting of a low CFM rating and few functions. They'll work effectively in small spaces, but don't count on them for massive areas. Furthermore, you'll find a tiny water tank that you'll need to fill regularly.
$500 – $1,000
Now you're heading into mid-range evaporative coolers, with higher CFMs that can handle medium-sized rooms or two small spaces. Humidification and purification functions may be included, and you'll be treated to a larger water tank. You'll also receive more remote control functions.
$1000+
These units are the cream of the crop, with the top brand names listed within them. They deliver the ultimate performance for massive spaces, and you may even be able to cool the entire house or enormous workshops. The problem is that they're also generally the heaviest of the lot, so it may be hard to move around.
Portable Evaporative Cooler vs Fan vs Portable Air Conditioner
While it may seem like there isn't much difference between portable evaporative coolers, air conditioners, and fans, there are some factors you need to assess to see the small details. Here's a comparative look at the similarities and differences.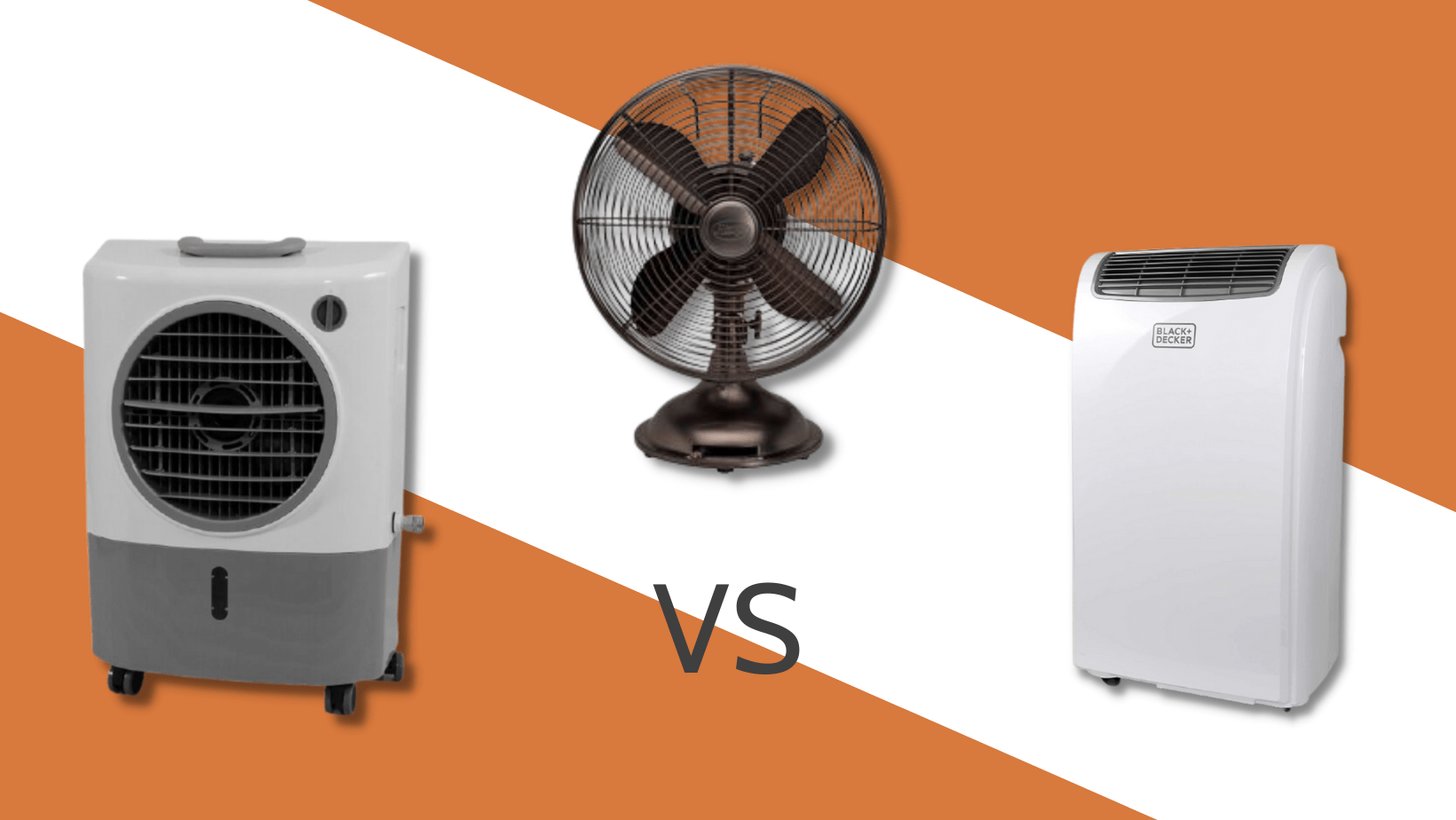 Cooling Action
While air conditioners and evaporative coolers both perform cooling functions, how they do it is where the crucial difference lies. Air conditioners rely on compressors or condensers, while coolers evaporate ice-cold water to introduce chilled vapor into the air. Fans merely circulate and blow the air around the room, cooling it with the wind action.
Humidification
Fans serve no humidification function at all. While some air conditioners also work as humidifiers, evaporative coolers are better at this purpose, as they place more moisture in the air. Coolers are therefore better suited for dry climates.
Refilling vs Drainage
Another significant difference is in refilling vs. drainage. Air conditioners need the excess water to drain somewhere, usually, a pipe that leads outside or in a bucket under the portable units. 
Evaporative coolers do the opposite, placing ice water in the bucket to evaporate into the air. You'll need to regularly refill the cooler, while the AC unit looks after itself if you have automatic drainage.
Power Consumption
Fans have the lowest power consumption, as all they do is spin blades to cool the air. However, you won't find them performing very well in high temperatures. Evaporative coolers use less power than AC units, as they don't have compressors and other components that eat the electricity.
Conclusion
It's been quite a journey looking at the best portable evaporative coolers on the market. We hope this guide has provided you with some information that will lead you to choose the one that suits your needs. Please be sure to check that it's what you need compared to the other HVAC types available.
People Also Ask
We understand that you may have some burning questions. Here's a list of the FAQs we often receive from our readers. If you have any other queries, please feel free to let us know.
Do Portable Evaporative Coolers Need to be Vented?
Air conditioners, dehumidifiers, and humidifiers often need venting due to the chemicals introduced into the area. Since evaporative coolers merely provide cold water vapor, the portable versions don't need any venting at all. 
Where Do I Put a Portable Evaporative Cooler?
It's best to place it in the center of the room or as close to the space you would like cooled. You can put it on a table if it's small enough to assist with circulation or near windows to help with cross-ventilation.
Do You Need to Have a Window Open With Evaporative Cooling?
Opening a window can assist with cross-ventilation. As the hot air blows in, the evaporative cooler blows cold air into it, which then flows into your home. However, you need to check that the device you bought can work in this fashion.
Can You Leave a Portable Evaporative Cooler on Overnight?
Yes, you can, as long as there's enough water in the tank. Most evaporative coolers have an automatic shutoff system if the level drops dangerously low. You can also set a timer if you only want it on for a few hours while you sleep.
How Cold Do Portable Evaporative Coolers Get?
It depends on the device you buy, how large the space is, and how hot the ambient temperature is. Some coolers promise to drop the air by 20 degrees, but it may be challenging if you live in extremely dry areas.