Air Innovations is best known as the manufacturer of excellent home comfort products such as humidifiers and air filters. Their humidifiers come with large tank capacities, long runtimes, many digital controls, and easy operation.
All of these work to make humidification simple and easy. Fitted with their signature permanent ceramic filter, these humidifiers ensure fresh and clean mist.
If you've been thinking of buying an Air Innovations humidifier, check out our article and top picks below.
At a Glance: Our Top Picks for Air Innovations Humidifiers
Comparison of the Best Air Innovations Humidifiers
IMAGE
PRODUCT

Our Top Pick

Works for rooms up to 700 sq. ft.
1.6 gal. capacity can run for a full 100 hours
Comes with built-in humidistat and aromatherapy feature

View Latest Price →

Ideal for medium-sized rooms
Features simple control dial and auto shut-off
360° rotating nozzle allows directing mist to desired location

View Latest Price →

Best Budget Option

Best for the money
Features a digital control panel with low water alert
Antimicrobial tank and base prevent growth of mold and mildew

View Latest Price →

Best Clean Mist Model
Extra wide opening allows easy refilling
Compact, has top and bottom handles for ease of carrying

View Latest Price →

Best Cool Mist Model
Operates quietly up to 70 hours on one tank
With built-in aromatherapy tray for spa-like ambience

View Latest Price →
Who is Air Innovations?
Air Innovations is a part of For Life Products Inc. group of brands. Joseph McDonnell, a well-known businessman, is the CEO and President of the group. This explains why the brands have seen quite a lot of success in recent times.

Air Innovations aims to improve the quality of life by producing innovative and high-quality fans, air purifiers, humidifiers, and aromatherapy diffusers. It is one of the most underrated humidifiers brands in the market despite their industry-leading performance and technology. In fact, their humidifiers are packed with excellent features that make the whole experience more convenient.
How Does Air Innovations Compare to the Competition?
With so many humidifier brands out in the market, what is it that makes Air Innovations better than the competition? Here are some factors
Rich in Innovative Features
The company is known to put out some of the most intelligent and efficient humidifiers with the highest number of features. In fact, many of these humidifiers are ultrasonic cool mist humidifiers. This means that they are some of the quietest ones you'll find today. Similarly, many come fitted with a permanently installed ceramic filter that removes the contaminants from the air in your house.
Long Run Time
Air Innovations humidifiers are some of the longest continuously working humidifiers available on the market. Their size makes them an ideal product for large bedrooms. Yet, you can get effective humidification for roughly 120 hours on one tank only. So, you can ensure your friends and family inside your house are breathing fresh, pure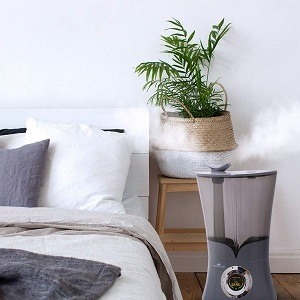 Allows a Customized Experience
Some models feature dual nozzle release valves that allow you to release moisture in two directions. The dual nozzles, along with advanced features like an accurate humidistat, let you customize the humidification experience. Not only are these humidifiers functional, but they are also stylish. Plus, they are available in various colors so you can select the one according to your room décor.
Makes Your Health Top Priority
Air Innovations humidifiers are made with your health in mind. Thus, these are great for the painful symptoms of indoor air like dry skin and scratchy throats. Moreover, they are made using antimicrobial materials, preventing the growth of bacteria, mildew, and mold.
Helps Save Money on Utility Bills
By using an Air Innovations humidifier, you can create the ideal indoor humidity level. Not only does this keep your air properly humidified, but it also makes you feel warmer during the cold months. So you won't have to spend a lot of money on your heater bills in winter.
Review of the Best Air Innovations Humidifiers
Which Air Innovators humidifier model will be the best fit for your house? We've picked out five of the best humidifiers the company has to offer. So you can choose the one with the right size and the right features that meet your needs.
Best Overall & Best Top Fill Model
Air Innovations MH-901D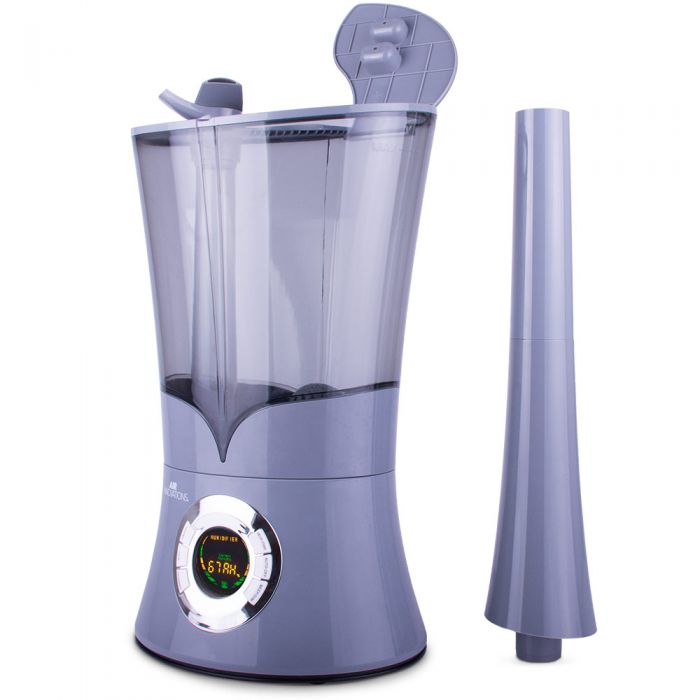 Decibel Level: N/A
Coverage Area: 600 sq ft.
Tank Size: 1.7 gallons
Dimensions: 8″ x 8″ x 18.5″
Weight: 3.83 pounds
We may earn commission from purchases made from our links, at no additional cost to you
Review
With an impressive runtime of 100 hours, the MH-901D is a cool mist digital humidifier. It fights back against various symptoms of dry air, such as cracked lips and dry skin. Plus, its steady stream of cool mist covers a space of up to 600 square feet with soothing moisture.
The 901D comes with a built-in programmable humidistat that not only monitors, but also maintains humidity levels. Like many other models, it also features a permanent ceramic filter that doesn't need to be changed. Moreover, a dual-directional mist nozzle points the mist right where you want it. Since the mist nozzle is optional, the unit can be used as both a tabletop and a floor standing humidifier.
This humidifier is fitted with a 1.6-gallon tank which means that it can work for 13 days straight without needing a refill. Moreover, its quiet operation allows you to enjoy better sleep at night. At the same time, it is powerful enough to cover large rooms.
The 901D features a completely programmable timer that allows you to control the unit easily. Moreover, the humidifier dims the display for easy use at night without disturbing anyone with its bright display.
The feature that outshines all the others in this model has to be the top fill design. With this feature, filling your humidifier has become the simplest task. You only need to open up the top fill lid and pour in the water!
Bottom Line
For a large room, the 901D seems to be a good option. Plus, with its 100-hour run time, there's no need to worry about refilling your humidifier time and again. What makes this one a great option, though, is its top-fill design. You only have to pour in the water, and you'll be done!
Pros
Ensures No Dry Nose or Parched Throat
Efficiently Adds Humidity Without Making Any Noise
Sleek Style, Complementing the House's Décor
Has a Strong Mist, Ensuring That it Reaches Everywhere
Cons
The Display Lacks a Clock
Doesn't Come With a Remote
Air Innovations MH-408
Decibel Level: N/A
Coverage Area: 400 sq ft.
Tank Size: 1.1 gallons
Dimensions: 8″ x 8″ x 14″
Weight: 2.9 pounds
We may earn commission from purchases made from our links, at no additional cost to you
Review
For a more affordable humidifier, the MH-408 is the one to go for. Despite its comparatively low price, it is still as reliable as other Air Innovations models. Given its size, the unit can cater to rooms of up to 400 square feet. At the same time, the 1.1-gallon tank promises a run time of around 70 hours per filling. The tank is big enough that you can be free from the hassle of refilling it for a few days.
The unit comes with a no-frills system which features a dial knob. This knob allows the user to control the mist output. The system also has an automatic shut-off feature for added security. The MH-408 includes a permanent ceramic filter which provides a better mist for your surroundings. Meanwhile, the anti-microbial base and tank help to keep the harmful elements out of the air and away from your family.
Users can also slightly customize their humidification experience. With the rotatable mist nozzle, it can be adjusted to their desired location. Likewise, they can adjust the output using the control knob. So you can have a wonderful experience just the way you like it.
Bottom Line
The MH-408 is an ideal option for those on a budget. It is a combination of excellent features low price, and promises good value. Moreover, it comes with a spacious tank, long runtime, and decent room coverage.
Pros
Very Easy to Clean
Ideal Size for Medium Rooms
Hardly Makes Any Noise and is Quite Soothing
The Adjustability Provides the Perfect Amount of Humidity
Cons
Not Very Durable
Tends to Leak After a Few Uses
Air Innovations MH-602
Decibel Level: N/A
Coverage Area: 500 sq ft.
Tank Size: 1.6 gallons
Dimensions: 10.51″ x 7.52″ x 14.49″
Weight: 3.7 pounds
We may earn commission from purchases made from our links, at no additional cost to you
Review
Tired of dealing with symptoms of dry air like dry skin, scratchy throat, and irritated sinuses? If so, then check out the MH-602 Cool Mist humidifier. Designed to deal with spaces of up to 500 square feet, you can use it for bedrooms and even living rooms. Plus, with its 1.6-gallon water tank, it can run for up to 80 hours.
Moreover, with the digital control panel, you can choose your desired humidity level. The built-in humidistat will work to maintain that setting. Plus, with the dual direction mist nozzle, you can have the mist directed to areas that require it the most. One of the greatest things about this humidifier is how easy it is to refill it. Simply remove the tank with the built-in handle and fill it with water. Once done, just reattach it to the unit's base.
Apart from protecting your health, this humidistat also keeps your wood furniture safe. It is also available in three accents to match different decors. In addition, the water tank and base are made using antimicrobial materials. So, the chances of bacteria, mold, and mildew growth are reduced. The protection doesn't stop here. The unit's water tank has a permanent ceramic filter. This removes the impurities from water, making sure only clean moisture is released into your air.
Bottom Line
The MH-602 cool mist smart humidifier is a versatile and long-running humidifier. In fact, considering its size, it is quite powerful, and its tank offers sufficient run time. Plus, the silent operation and the health benefits it provides make it a good model to opt for.
Pros
Easy to Clean
Nozzles Can Be Set at 360-Degree Angles
Controls Allow Users to Have a Customized Experience
Two Independent Nozzles Help Direct Mist Almost Anywhere
Cons
Not Too Durable
Tends to Leak After a Few Months of Use
Air Innovations 505A
Decibel Level: N/A
Coverage Area: 400 sq ft.
Tank Size: 1.37 gallons
Dimensions: 9.25″ x 6.5″ x 12.75″
Weight: 3.5 pounds
We may earn commission from purchases made from our links, at no additional cost to you
Review
Looking for a feature-rich yet affordable humidifier? The 505A is the one to look out for. In fact, this model is perhaps one of the most feature-rich models of this caliber. The unit comes with a programmable humidistat, permanent ceramic filter, and a 24-hour programmable timer. The permanent ceramic filter works to remove impurities from the water. As a result, you're left with pure mist.
The 505A is the medium-sized humidifier that is the ideal option for many homes. The four mist settings allow some degree of customization. Meanwhile, the 1.37-gallon tank provides around 70 hours of run time on each refill. Moreover, you can program the fully digital timer to meet your needs. In addition, the unit has a rotatable mist nozzle that allows users some directional control of the output.
Overall, this is suitable for those struggling to sleep through the night because of congestion or allergies. Plus, like many other Air Innovations models, this one also operates quietly, allowing uninterrupted sleep.
Bottom Line
The Air Innovations 505A is a great cool mist model which can significantly improve your sleep. With its numerous features, you can customize your experience. Plus, given its size, it is good for small and medium-sized rooms.
Pros
Easy to Clean and Handle
Quite Well Constructed
No Accumulation or Pooling of Water Beneath the Unit
You Can Customize the Humidity Level, Ensuring a Better Experience
Cons
Doesn't Last For Too Long
Filling Up the Tank is Slightly Difficult
Air Innovations MH-512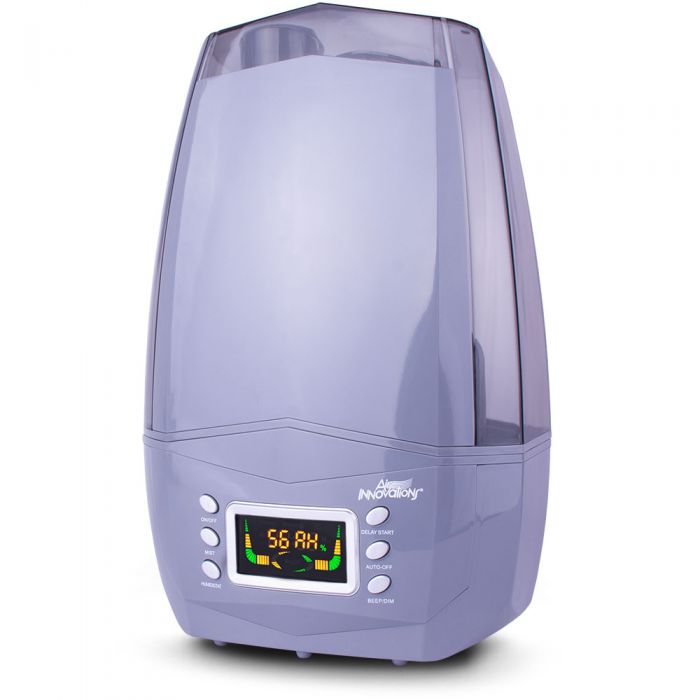 Decibel Level: N/A
Coverage Area: 400 sq ft.
Tank Size: 1.5 gallons
Dimensions: 8″ x 10.5″ x 14.5″
Weight: 4.54 pounds
We may earn commission from purchases made from our links, at no additional cost to you
Review
The MH-512 is ideal for replenishing your space with pure and clean moisture. In fact, it can help make a soothing environment for breathing. It comes with a 1-5-gallon water tank which can provide around ten nights of sleep without a refill. The humidifier is completely silent while it functions, yet it is powerful enough to add humidity to rooms measuring up to 400 square feet.
The humidifier features a programmable built-in humidistat which works to maintain your desired humidity level. There are four output settings to choose from, so you can regulate moisture levels with your needs in mind. Moreover, it is fitted with a 360-degree rotating mist nozzle. This helps you direct the mist where you want it.
Filling up the tank is extremely easy. There is a built-in handle on both the bottom and the top. Plus, there's an extra wide opening. Moreover, the antimicrobial tank and base reduce the growth of germs and mildew. In addition, the permanent ceramic filter eliminates mineral build-ups and impurities. Thus, it ensures the purity of moisture.
Bottom Line
The MH-512 is quite a versatile unit. It comes with numerous features like auto shut-off, timer, and humidistat. Moreover, its beautiful color and compact design make it a good addition to your room.
Pros
Quite Easy to Run Because of How User-Friendly It is
Since it's Extremely Quiet, it Won't Disturb Your Sleep
The Different Settings Allow Users to Adjust the Unit According to Their Needs
Cons
Tends to Break Easily
Tank Doesn't Last for Too Long So You'll Have to Fill the Tank Frequently
Conclusion
To sum it up, investing in an Air Innovations humidifier is the right choice! These humidifiers often promise long working hours. Plus, they come in different colors and unique designs. So you can place them anywhere around your house and improve your house's air quality. Lastly, most of these have useful and innovative features and are low maintenance.