When purchasing a space heater for use in your house during winter, one of the most popular options in the market is the oil-filled radiator. Thanks to their effectiveness, energy efficiency, and safety, oil-filled radiant heaters are more desirable than other options such as water heaters or bar heaters. But what makes them so effective and convenient?
Let's take a look at how they work and what models are considered the best.
Find out more as you read one!
At a Glance: Our Top Picks for Oil-Filled Radiator Heaters
Comparison of the Best Oil-Filled Radiator Heaters
IMAGE
PRODUCT

Our Top Pick

1500 watts of energy-efficient heating power keeps your home warm and comfortable
Three heating settings help to customize the temperature
Mechanical knob allow you to set a constant temperature

View Latest Price →

Thermal chimneys help maintain maximum heating while ensuring low surface temperature
Revolutionary new design efficiently heats room with convection
Anti-freeze setting automatically turns on the unit if the temperature drops below 44 degrees

View Latest Price →

Silent operation and sleek look effectively fulfills all your heating needs
Safety features include thermal cut-off and gently rounded design
Oil-filled radiator with patented steel assembly

View Latest Price →

No fan inside the heater ensures quiet operation
Three adjustable settings for personalized comfort
Suitable for large rooms such as living rooms, basements, bedrooms, and family rooms

View Latest Price →
The Good and the Bad of Oil-Filled Radiator Heaters
Like any product, oil-filled radiant heaters have their advantages and disadvantages. Here are some of the good points:
Quiet Operation
Whereas a traditional space heater with an exposed heating element uses a fan to blow hot air into the room, oil-filled heaters are almost entirely silent. The most noise it makes is some clicking as the thermostat adjusts itself.
No Dryness
Since the heater does not use a fan, the air in your room won't dry out.
Energy Efficient
Electric heaters are almost 100% efficient, which means that all the energy used is converted directly to heat. An oil-filled heater doesn't even have to provide power for a fan motor.
Slow to Cool
Oil heaters keep radiating heat even after the power has been turned off.
Long Lasting
The lack of moving parts, besides wheels on some models, means that the heater will last a long time if well-maintained.
Thermostat Controlled
Once the area or room reaches a comfortable temperature, oil-filled heaters will automatically cycle on and off to maintain that warmth, instead of running continuously, saving you money while preventing overheated rooms.
Low Maintenance
The oil isn't used as fuel, so there's no need to replace it, ever.
Compact and Portable
Oil-filled heaters are lightweight and easily move from place to place.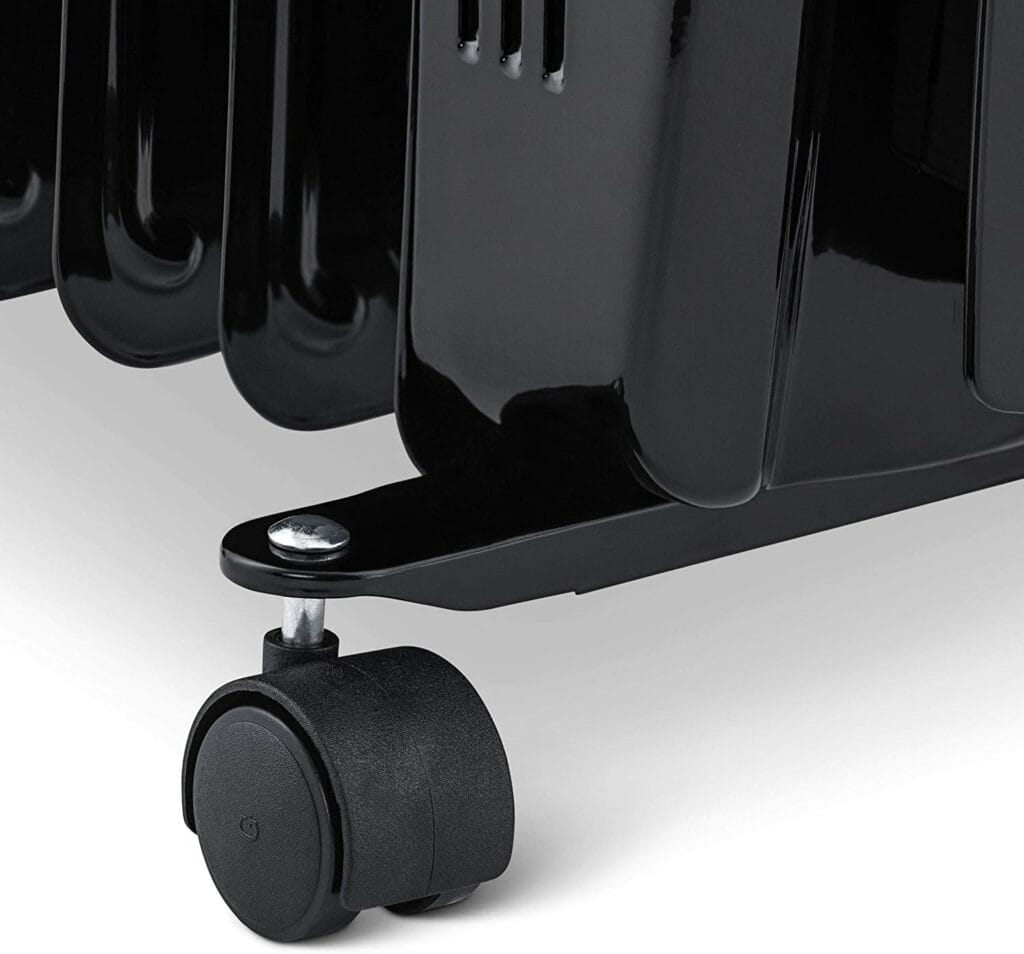 Safety
Oil-filled heaters are some of the safest space heaters available. Most models include overheating protection and tilt switches that turn the heater off in case of a problem. The heating element is sealed inside the heater, so there's no chance it will encounter anything flammable.
Non-Scorching Surfaces
The metal surfaces get warm to the touch, but never hot enough to burn if brushed against accidentally.
No Vents Required
An oil-filled heater is entirely enclosed, so there's no need to worry about dust or debris getting inside or fingers poking through an exposed grille. Also, there's no concern about blocking air flow through intake and outtake vents. Since they don't burn oil or gas, they don't produce carbon monoxide and are safe to use indoors.
One of the disadvantages of oil-filled heaters is that they take a little longer to heat up than a fan-forced heater, since they have to first heat the oil, then warm the air around them. They can also leak oil if they are not well built.
Reviews of the Best Oil-Filled Heaters
Now that you know how an oil-filled heater works, it's time to check out some highly rated heaters and see whether one of them is the right one for you.
COSTWAY Oil-Filled Portable Radiator Heater
Coverage Area (sq ft): N/A
Power (watts): 1500
Dimensions: 9.5 x 14 x 25 inches
Weight: 19.3 pounds
We may earn commission from purchases made from our links, at no additional cost to you
Review
This new electric heater model has three heat settings, (low at 600 watts, medium at 900 watts, and high at 1500 watts) and is equipped with 4.2 pounds of permanently sealed oil, meaning you'll never have to replace it.
Safety is guaranteed due to its tip-over cut-off switch and overheat protection. It has four universal casters for moving it conveniently to wherever it is needed and the compact shape is ideal for storage. The cord housing design helps you store the cord easily. Thanks to its quiet operation, you'll have no trouble falling asleep or focusing on your work. It has a power indicator light to show that the heater is still turned on.
Bottom Line
Compact, quiet, and portable, this heater is a great choice for people who need heat on a budget. However, keep in mind that some customers have complained of build quality issues, so factor that into your purchasing decision.
Pros
Three heat settings
Cord storage is easy
Oil never needs refilling
Mobility thanks to the wheels
Plenty of safety features (Thermal Cutoff, Anti-Freeze)
Cons
Quality issues reported
DeLonghi TRD40615E Dragon4 Full Room Radiant Heater
Coverage Area (sq ft): 250
Power (watts): 1500
Dimensions: 16.4 x 10.3 x 26.1 inches
Weight: 25 pounds
We may earn commission from purchases made from our links, at no additional cost to you
Review
The Dragon model is designed for large spaces like your bedroom and features easy-to-use digital controls. The 24-hour programmable timer is convenient for programming it to operate at the right time. It has three heat levels and the Eco function automatically sets the most appropriate power level for your room, helping to reduce bills. It comes with wheels that let you easily move the heater.
On the downside, it has no remote control.
DeLonghi TRH0715 Portable Oil-Filled Radiator
Coverage Area (sq ft): 250
Power (watts): 1500
Dimensions: 13.78 x 9.06 x 25.2 inches
Weight: 25 pounds
We may earn commission from purchases made from our links, at no additional cost to you
Review
Among the best available on the market, the DeLonghi oil-filled radiator heaters are the most popular and best rated. Plus points for the TRH0715 include its simple controls that allow temperature adjustments and has three temperature settings. A thermal cutoff prevents overheating, and the heater never requires refilling. It is also energy efficient and made from durable rust-resistant metal, so it will last a long time.
Anti-freeze technology automatically turns the unit on when the temperature drops below 42 degrees, preventing frozen pipes. The heater has no moving parts, providing consistent, silent warmth. The unit features snap-in wheels, requiring no tools for assembly or set-up. The cord wraps around the front plate, so moving and storing the unit is easy.
Disadvantages include that it gets quite hot so people, especially small children, could burn themselves on contact with the surface. And like most oil-filled heaters it takes time to warm up a room after starting. It does not have a remote control.
Pelonis NY1507-14A Digital Radiator Heater
Coverage Area (sq ft): 150
Power (watts): 1500
Dimensions: 13.78 x 11.02 x 25.19 inches
Weight: 16.09 pounds
We may earn commission from purchases made from our links, at no additional cost to you
Review
The NY1507-14A has a digital display and comes with a remote control for adjusting the thermostat for personal comfort. Durability is assured with heavy gauge steel construction and a rust-free enamel finish.
The oil never needs refilling or replacement. It has a handle and casters that make it easy to move. The cord can be wrapped convenient storage during the off season.
NewAir Electric Oil-Filled Space Heater
Coverage Area (sq ft): 150
Power (watts): 1500
Dimensions: 13.5 x 9.5 x 25 inches
Weight: 19.2 pounds
We may earn commission from purchases made from our links, at no additional cost to you
Review
The NewAir AH-450B is packed full of useful features that make it a popular choice. For starters, it can heat spaces up to 150 square feet, making it ideal for dorm rooms, dens and small offices. 
For safety, it has an overheat protection feature and a tip-over switch. It is easy to move around using its four casters and carrying handles. Other helpful features include a 10-hour timer, a remote control, three heat options, and five temperature settings.
What Is an Oil-Filled Radiator?
All of us have been stuck in those frosty, winter times when there is momentary comfort in the warmth of those heaters while you are tucked under a blanket. However, that comfort is soon lost with a single glimpse at the cranked-up electricity or gas bill. 
However, one alternative to staying warm while not paying a hefty electricity bill is an oil heater.
Infused in oil, oil heaters are engineered with basic heating technology best suited for single-zone heating. They are perfectly capable of targeting areas as enormous as a garage. Their ECO mode is a deal-breaker with its ability to curtail power consumption, so there will be no more fretting over hiked bills!
How Do Oil-Filled Radiant Heaters Work?
Oil heaters consist of metal columns with cavities. Inside the body and fin of the heater is diathermic oil, which flows freely around the heater. The oil is not used as fuel, but instead serves as a heat reservoir, so it never gets used up. It just continues circulating through the heater for as long as you use it.
When it is plugged in, electricity is consumed by a resistor inside the heater to generate heat. That heat is absorbed by the diathermic oil that is enclosed in the heater. As the oil in the heater warms up, it begins to circulate through the fins and columns. As the oil is slow to lose heat, the unit only switches on occasionally to keep the liquid at the right temperature. Some basic models have high, medium, and low settings, but others offer timers and precise thermostat temperature controls.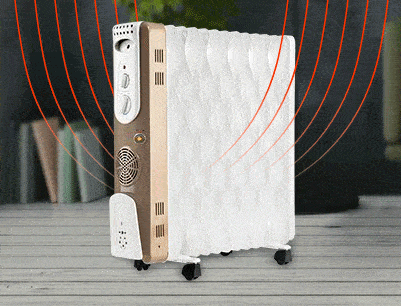 As the oil moves, it transfers heat into the metal of the heater's fins, creating an even surface temperature. One of the advantages of an oil-filled heater is that they operate so silently.
This is because most models don't have built-in fans to distribute hot air. As the metal fins heat up, they begin to radiate heat into the room. This heat is circulated throughout the room by natural convection in the air.
Unlike traditional radiators, oil-filled radiators are mobile and can be moved around almost everywhere. They connect to your household electricity with an ordinary wall plug, and most have carrying handles. Larger models have wheels for easy repositioning.
A common concern from buyers is the need to refill the oil. Because the oil is not burnt but is instead used as a heat reservoir, you don't need to refill the oil. The high specific heat capacity and high boiling point of the oil means that your heater can store a lot of heat without the oil getting hot enough to boil. This makes the design of the system much simpler.
How Much Heat Can an Oil-filled Heater Give Off?
Typical oil heaters range in power consumption/output from 300 to 2400 watts, and their length and number of columns are roughly proportional to their power rating. A 2400 watt oil heater is usually approximately 3.5 feet in length. Multiply the wattage of your unit by 3.41 per watt to calculate BTU. A standard 1,500-watt electric heater produces 5,115 BTU per hour.
All electric resistance heaters are 100% efficient, with operating costs determined by their wattage and the length of operating time. A 500-watt heater will take twice as long to reach the same thermostat setting as a 1000 watt unit; the total consumption of electricity is the same for both.
Heater sizes of 1,000 watts/3,410 BTUs are suggested for rooms under 100 square feet, a 1,500-watts/5,115 BTUs for rooms measuring 100 to 150 square feet, and a 2,500-watt/8,525 BTUs for rooms between 150 and 250 square feet.
Safety Principles
Some basic precautions should be observed for safely operating the heater. First, avoid having any object within three feet of an oil heater. Using an oil heater to dry clothes is not recommended by any modern manufacturer, as there is a risk of fire. Similarly, don't keep fabric and clothes too near the heater to prevent risk of fire.
It should also be noted that some oil heaters contain strong warnings to avoid operation in damp areas (such as bathrooms or laundry rooms) because the moisture and humidity can damage components of the heater itself.
Comparison Overview
If you are at sixes and sevens as to what type of heater will work the best for you or your family, below are some comparisons between the most effective types to assist you in pulling yourself out of this misery. Go ahead and give it a read!
Oil Filled Radiator vs Electric Heater
Below you will see an overall comparison between an oil-filled and an electric heater, so if you were confused between these two, this might help you make the right choice for yourself.
Differences
As suggested by its name, an oil heater has a heating element inside it, which is responsible for heating the oil. Conversely, an electric heater depends solely on electric current and is devoid of any liquid.
The major differentiating factor between the two is the power range they both operate on. An oil heater tends to work on a lower power range credited to the powerful heat retention of oil. On the other hand, electric heaters operate on high power as a result of the rapid loss of heat. 
This is the main contributing factor to the excessive billing associated with an electric heater. If you are an avid saver, this point might catch your attention!
However, an oil heater works at a rather slower pace than its electric counterpart as oil takes its time to absorb heat.
Similarities
The only similarity between the two is that they function to keep you warm and cozy.
Oil Filled Radiator vs Ceramic Heater
Some factors differentiate an oil-filled radiator from a ceramic heater. Read carefully to know what you are exactly looking for. 
Differences
If you are willing to invest in the long run and are interested in warming up a wider room, an oil heater needs to be your pick instead of a ceramic one. However, if you are hunting for a heater for your very own comfort place, a ceramic heater will do just the trick!
For all the light sleepers or those heavily annoyed with noise, an oil heater can be your silent buddy. A ceramic one, on the other hand, may not be the one for you. However, if you wish to trade noise for instant heating, a ceramic one will work just fine. An oil heater might lag in this regard!
If you have toddlers taking rounds in your house, a ceramic heater has improved safety protocols than its oil counterpart.
Similarities
Both of these types are single-room heating options.
Oil Filled Radiator vs Infrared Heater
If you were unsure whether an oil-filled radiator will be fit for you or an infrared one, the comparison below could be your guiding light.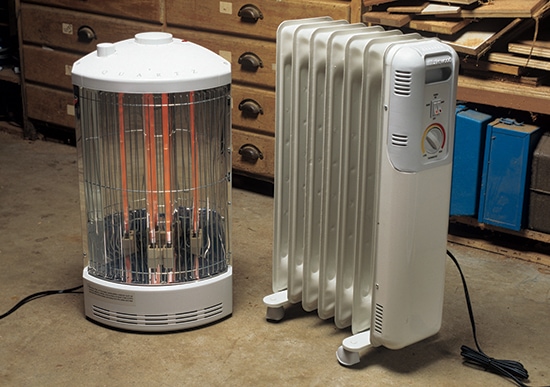 Differences
One of the easiest differences to spot is the fact that infrared heaters target surfaces in their vicinity while oil heaters target the air around them to build heating convection. To make it simpler, the former is quick in both heating and cooling off the atmosphere while the latter might be a bit sluggish in doing the job but holds onto that warmth.
For travelers, an infrared heater may be the answer to your dreams with its lightweight exterior. On the flip side, an oil heater, despite having roller wheels, can be bulky and cumbersome to move around.
Similarities
If you are concerned with safety, both of these types are somewhat similar in this regard. Adding to that, both can squeeze into small spaces and are space-friendly.
Conclusion
When you need to heat up a small, enclosed space or you need a heater to supplement your existing heating in certain rooms, an oil-filled heater can be very helpful.
Their robustness, ease of use, and efficiency make them popular with homeowners and businesses alike, and with new features like programmable timers and remote controls, the latest models can truly make staying warm a convenience rather than a hassle.
People Also Ask
Since oil radiator heaters are extremely popular, let's look into the reason for their fame. These FAQs will give you an insight into how efficient oil radiator heaters are and how you can install them in your home. 
Which Is Cheaper to Run, a Halogen Heater or Oil-Filled Radiator?
Both types are cost-effective because if oil heaters trap heat and save heating costs, halogen heaters use infrared radiation in a focused direction, targeting objects rather than all of the air.

But, if there was to be a combat, oil heaters would be on the winning end!
How Much Does It Cost to Run an Oil-Filled Radiator?
If you possess an oil-filled radiator that is powered at 3KW and it stays switched on for approximately five hours, the heater will use up a maximum of 15 units per day. 
Do Oil-Filled Radiator Heaters Use Much Electricity?
Oil-filled radiators tend to be a whopping 99% more energy-saving and efficient compared to gas heaters. They have exclusive thermal features that allow them to be more energy-saving than infrared or water heaters. It retains the heat for longer periods of time, making it use less electricity to heat up quickly.
Are Oil Heaters Safe to Leave On Overnight?
If the thermostat in the oil heater is working perfectly, it is safe to leave the oil heater on for the night. Just make sure that there are no combustible items around it or on top of it, as those can pose some serious health and fire hazards. 
Can Oil-Filled Radiators Give Off Carbon Monoxide?
It is true that if you keep oil heaters on for longer periods of time in your home, it can cause air pollution. If these heaters are not adequately ventilated, they can consume all the oxygen and replace it with carbon monoxide, which can be extremely dangerous for your health. 
Do You Have to Refill an Oil-Filled Radiator?
Oil-filled radiators do not emit oil when they radiate heat. The oil in the heater rather serves as a reservoir which is constantly reused to produce heat and give off warmth, circulating it as long as you have the heater turned on. It is not used as fuel to keep the heater running but as a reusable tank.