Investing in excellent refrigerant scales is a must for any HVAC Tech. These scales make it easier to calculate how much refrigerant should be removed or placed in the refrigeration unit.
They are the perfect tool for an HVAC technician as they help them to get the job done effectively. Moreover, they are also helpful in detecting any leaks during routine maintenance.
An accurate reading is highly valuable, as it ensures the correct amount of refrigerant is being recovered or charged from the compressor. This helps you to bill your customer accurately and keeps the system working at energy efficient, optimal performance levels.  
Following are three top refrigeration scales available that allow you to record the precise readings of the amount of refrigerant being used.
Refrigerant Scales are a must-have resource for HVAC techs. They help to accurately weigh how much refrigerant is being placed into refrigeration units.
To properly estimate and bill clients for refrigerants, it is important that techs have access to precise readings. You will want a digital scale to measure the refrigerant as it exits the tank and settles into the unit. This article will discuss the ins and outs of refrigerant scales, discussing everything from functionality to durability.
Here is a comprehensive refrigerant scale buyer's guide and reviews of some of the best scales on the market.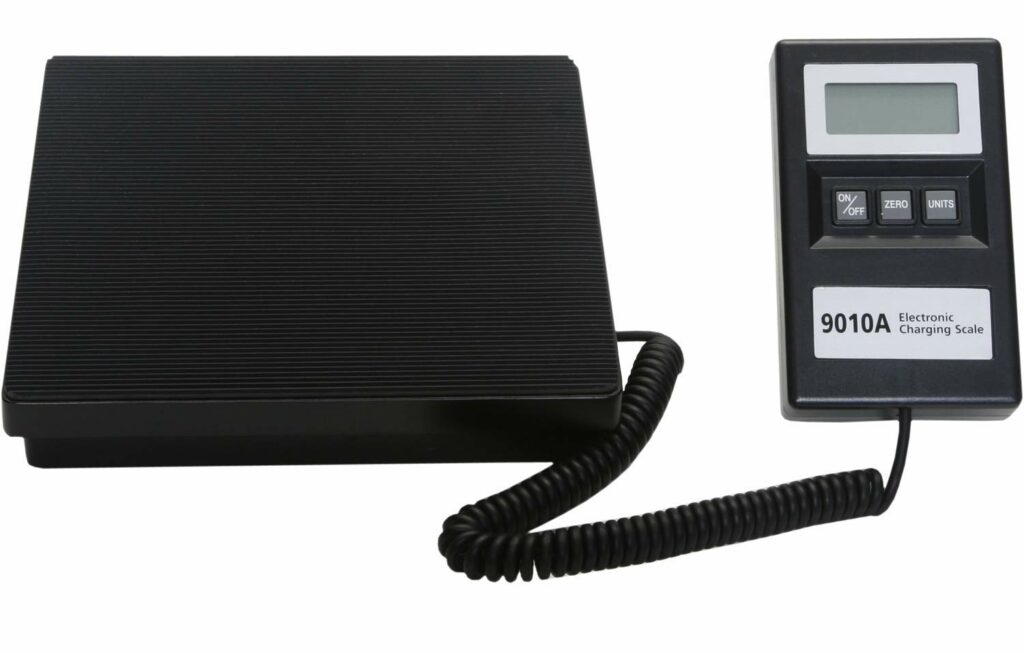 Comparison Chart of the Best Refrigerant Scales
IMAGE
PRODUCT

Our Top Pick

Made From High-Quality, Wea-Resistant Materials
Dimensions: 11.2 x 16 x 2.4"
Measurement Capacity: 110 lbs / 50 kg

View Latest Price →

In-Built Charge Alarm Prevents Overcharging
Dimensions: 16 x 11.25 x 3.25"
Measurement Capacity: 243 lbs /110 kgs

View Latest Price →

Best Budget Option

Accuracy of Readings is +/-0.5%
Dimensions: 15.6 x 13 x 3.6"
Measurement Capacity: 220lbs / 100 kgs

View Latest Price →
What to Look For When Buying a Scale
Durability, precision, readability, sensitivity, size, and power options are all aspects to consider before purchasing a refrigerant scale. Consider your personal needs before purchasing. Do you work with industrial or commercial units that require scales with more capacity? Do you need a highly-portable battery-operated scale? How much are you willing to spend on a refrigerant scale? How precise do you need the scale to be? Are you using the scale to bill clients?
Consider some of these factors to find the best fit for your personal or company needs:
Platform Size and Weight
For the most accurate readings, a bigger scale isn't always more precise. A scale with a larger platform might be what you need. A more durable platform with more supported surface area might serve you better than a scale with a higher weight capacity.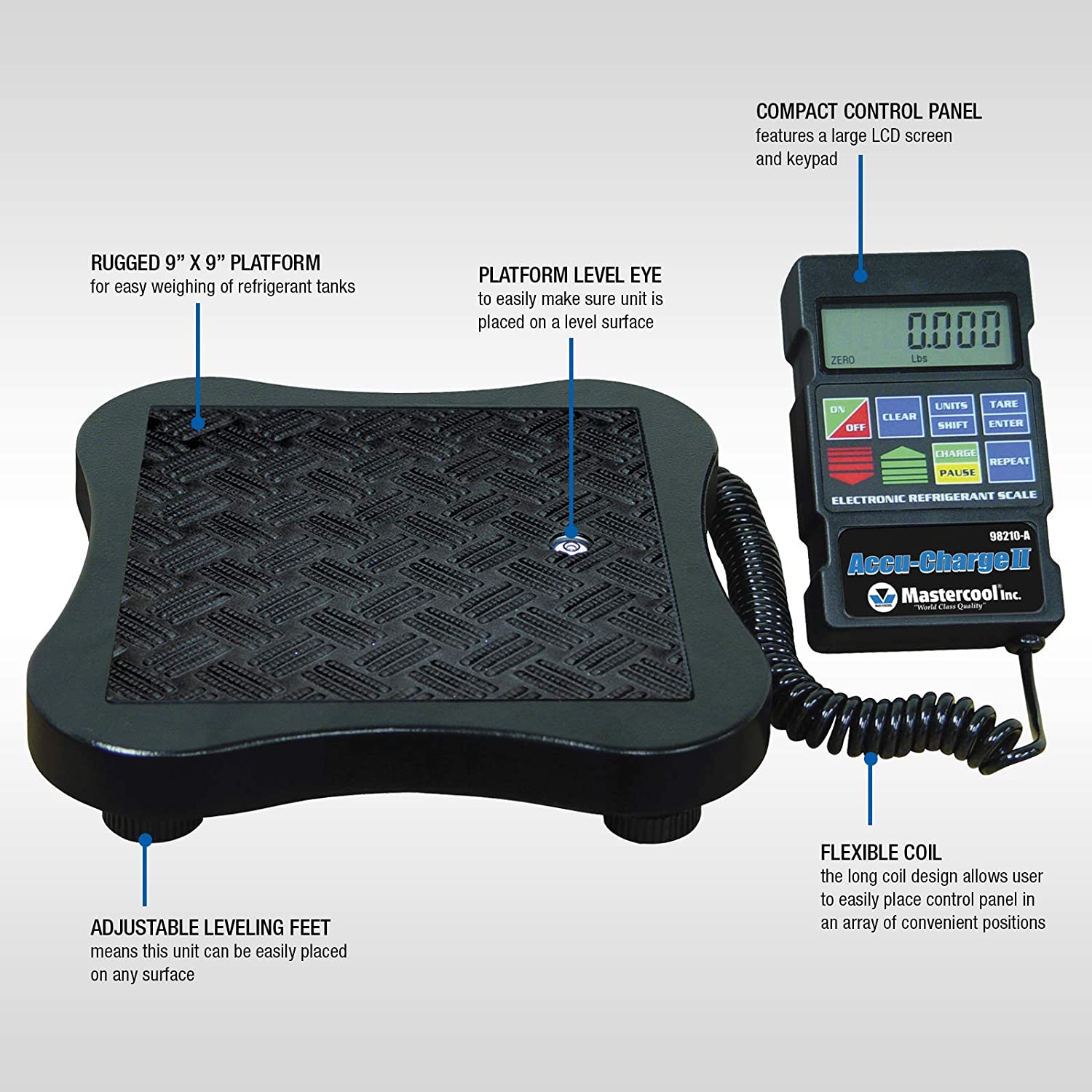 Display
Having a solid display will help you easily read the numbers. Some scales will lag in their readings, which can affect the accuracy. A large display that can be read from far away is useful when working in tight spaces. Your display needs to keep pace with the charge of liquid going into the system.
Resolution and Accuracy
You will need a scale that reads out numbers in the units that you use! Most HVAC techs use pounds with two decimal places (ex: 4.15 lbs). Make sure your scale offers a selection of unit measurement options to prevent you from having to do conversions and math on the job. The industry standard for accuracy is a scale that is accurate to the .5 oz.
At a Glance: Our Top Picks for Refrigerant Scales
Review of the Best Refrigerant Scales
Here's our reviews of the best refrigerant scales based on our experience and comments of colleagues. Let us know in the comments what you think of them and what your choices would be.
Robinair TIF9010A
Dimensions: 11.2 x 16 x 2.4″
Measurement Capacity: 110 lbs / 50 kg
Resolution: 0.1 oz./0.005 lbs./2 grams
We may earn commission from purchases made from our links, at no additional cost to you
Review
The Robinair TIF9010A is one of the best and most accurate refrigerant scales offered by Robinair. They are designed to provide exceptional reliability and performance. Part of the TIF Slimline series, this refrigerant scale features a trademark slim design and is specially built to support system charging and refrigerant recovery.
It's portable, reliable, and durable and will last you for many years. Although its capacity is only 100lbs (50kg), it has several great features such as user-friendliness, auto-zero, and a crystal clear, easy to read display.
The Robinair TIF9010A is compatible with all refrigerants and displays the measurements in three different metrics – ounces, pounds, and kilograms, thus eliminating the need to use the calculator to convert the units for recording purposes.
This refrigerant scale features an auto-zero button which gives the technician the ability to set the value at zero after the weight of the cylinder is measured but before letting the refrigerant in or out of the cylinder. This helps in recording the measurements accurately.
Its 9-volt alkaline battery lasts for up to 30 hours, while its battery enunciator feature tells the user when it's time to replace the battery. This refrigerant scale also has a two-year warranty.
Bottom Line
Excellent performance and high affordability make the Robinair TIF9010A one of the best refrigerant scales available today. It has a fairly accurate resolution of 2g which ensures no mistakes in readings. Moreover, it is designed with high-quality, wear-resistant materials that increase its life-span.
Pros
Compliant With All Types of Refrigerants
Compact Design Greatly Increases its Portability
LCD Readout Panel Serves as a Display Indicator
Provides Inordinate Reliability and Improved Performance
24-Month Warranty Provided the Unit is Not Tampered With
Can Conveniently Handle 30-Pound and 50-Pound Refrigerant Cylinders
Hand-Held Reader Relieves the Technician From Constantly Looking at the Scale
Cons
High Electrical Noise Can Sometimes Result in Inaccurate Readings
Not suitable for heavier cylinders as the capacity is limited to 110 pounds
Lack of an Auto-Shutdown Button Can Cause the Power to Drain So the User Doesn't Have to Turn Off the Scale
Mastercool 98210
Dimensions: 16 x 11.25 x 3.25″
Measurement Capacity: 243 lbs /110 kgs
Resolution: 0.05 lb / 0.5 oz / 0.01 kg
Operating Temperature: 32˚F to 120˚F (0˚C to 49˚C)
We may earn commission from purchases made from our links, at no additional cost to you
Review
The Mastercool 98210 is an electronically programmable scale designed to provide exceptional reliability and quality performance. This compactly designed refrigerant scale is available with a transferable scale.
Although this refrigerant scale is a bit heavier than the Robinair, it is still highly portable. The greatest advantage of this scale is the various cylinder sizes that this scale can support. It can weigh cylinders up to 110kg (240lbs) accurately.
Designed from high-quality, wear-resistant materials, this scale also includes a nine-inch by nine-inch weighing platform that is slip-resistant. An innovative feature of this scale is charge programming which allows the technician to dictate the amount to flow in or out of the cylinder. Once the specified amount is reached, an automatic alarm sets off notifying the user to tell them when to turn off both the cylinder and the scale.  
Moreover, this scale also has a pause-charge module that comes in handy in case of faulty connections or leaks in the hose. The highly convenient memory feature allows a system to charge by using an amount that was previously stored in its memory.
In addition, this scale supports tank capacity programming which helps the user find out how much refrigerant is left inside the cylinder. This scale is powered by an alkaline battery which has a battery life of almost 40 hours.
Bottom Line
A durable, high performing electronic scale the Mastercool 98210 is designed with weight sensors that give highly accurate readings. Although it is comparatively a bit expensive, its high capacity is very useful for technicians.
Pros
Compact, Sleek Design Allows for Easy Portability
Highly Accurate Measurements Make it Very Reliable
Able to Manage the High Capacity of up to 240 Pounds
Supports All Refrigerants, Programmable Recovery and Charging
Measurement Mode Can Be Selected With the Help of Touch Key Controls
Auto-Shut Off Feature Automatically Turns the Scale Off After Three Hours of Inactivity
Flexible, Long Cord Connects the Reader to the Scale Thus Allowing Technicians to Read the Values Without Straining Their Backs
Cons
A Bit Expensive Than Other Scales Available
Kozyvacu Electronic Refrigerant Scale
Dimensions: 15.6 x 13 x 3.6″
Measurement Capacity: 220lbs / 100 kgs
Resolution: 5 g /0.010 lbs./0.25 oz
Operating Temperature: 32°F to 113°F (0°C to 45°C)
We may earn commission from purchases made from our links, at no additional cost to you
Review
The Kozyvacu electronic refrigerant scale is a simple HVAC scale which is available at very affordable rates. This scale is able to read tanks that are up to 220 lbs in weight accurately. It is accompanied by a hard plastic carrying case that greatly increases its portability.
The measurements on this scale are shown in pounds, ounces, and kilograms. The readings are accurate up to +/-0.5% and a resolution of 5g. Moreover, its slip-resistant platform is able to handle all types of refrigerant scales easily.  
Bottom Line
The Kozyvacu Electronic Refrigerant Scale is an ideal refrigerant scale if you want a sturdy unit at affordable rates. It is highly accurate when reading cylinders up to 220lbs.
Pros
Clear, Easy-to-Read LCD Display With Background Lighting
High Accuracy and Resolution Makes the Job of Technicians Easy
Compact Design, Easily Portable Due to the Accompanying Carry Case
Flexible Coil Makes this Scale Suitable for All Types of Refrigerants Less Than 200lbs
Multiple Measurement Modes Namely Kilograms, Pounds, and Ounces Make it Convenient for the Technician to Record the Values
Cons
Auto Shut-Off Feature May Cause Some Difficulty
What Are Refrigerant Scales?
Refrigerant scales are used not only when initially installing refrigeration units, but also during routine maintenance and repairs. As the liquid or gas is removed from the compressor the scale measures its weight. While troubleshooting to find a leak, the scale can be incredibly useful for techs.
Too much or too little refrigerant can create long-term issues on the compressor from strain, thus shortening the lifespan of the equipment. Without correctly gauging how much refrigerant is necessary for cooling units, it can cost building owners big time in extra energy costs.
It is essential for technicians, building owners, and the equipment itself to have an efficient refrigerant scale.
How Refrigerant Scales Work
Technicians should place the refrigerant cylinder onto the scale to weigh it. There will be a hook-up to connect the cylinder to the greater refrigerant system. After the technician weighs the existing refrigerant inside the cylinder, he can either add or remove refrigerant to achieve the most energy-efficient levels. Some scales will require this task to be performed manually, while other scales will automatically calibrate the system.
Some scales run on battery power while others require electricity and come equipped with a power cord. Every scale has a different weight capacity, so you'll want to be sure to get one that is suitable for the systems you work on regularly. For commercial work settings, a tech will need a more high-capacity scale with optimum durability.
Scales not only vary in durability, power, and size, they also range in sensitivity and precision. Some may measure the refrigerant to two decimal places, while others only go to one.
EPA Regulations
Don't forget that handling refrigerants requires certification through the Environmental Protection Agency. Section 608 certification governs the use and handling of these materials, which are potentially harmful to the environment. There are different levels of certification based on the types of appliances you work with. You can find more information in our article on getting Section 608 certified.
Outside the US, consult your local board for regulations as well.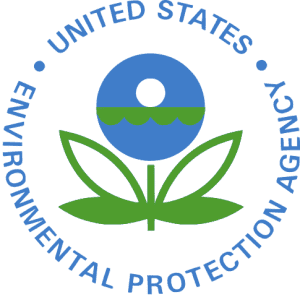 How to Use a Refrigerant Scale
As far as the best refrigerant scales are concerned, the above-reviewed products will be more than enough for you. When it comes to using these refrigerant scales, you may incur problems or confusion at some points. Below are the simple steps, which you can follow for easygoing usage of refrigerant scales.
First of all, zero out the refrigerant scale. 


Install all the hoses and gauges.


Place the refrigerant bottle on the weighing platform. 


Keep a strict eye on the display. 


Set the desired charge. 


Open the valves. 


Once completed, close the valves and remove the installation. 


Reset the refrigerant scale.
Conclusion
Our picks for refrigerating scales exhibit outstanding features like sturdy construction, error-free readings, and LED displays. The LED displays allow the end-user to read the results in a more convenient way. In a nutshell, the above-mentioned refrigerant scales are easy to carry and do their job up to the mark.
People Also Ask
Most customers usually ask the following questions about refrigerant scales and their techniques. If you, too, are in search of answers to these questions, read the section below. This will help you get the answers you might be looking for.
How Do You Weigh-in Refrigerant?
At first, evacuate the compressor. Then fix the hoses and attach the gauges properly. Put the refrigerant bottle on the platform upside down and connect it with the gauges. Install the device and reset it. Determine the amount of refrigerant you are going to charge in your equipment. The scale will display how much refrigerant is being charged. Close the valves when it reaches the desired value.
How Often Should You Check The Calibration Of A Refrigerant Scale?
The calibration frequency depends on the use of a refrigerant scale. If a refrigerant scale is used heavily, then more frequent calibration will be required for precise results. For instance, if you use the refrigerant scale regularly, then monthly calibration is suggested. Still, if you ever suspect an error, do calibrate it at the earliest.
Share to Pinterest