Getting the most from your fireplace over the colder months relies on the circulation of air through your home. If you're finding that your fire is burning unevenly or that your room fills with smoke, you may want to consider a fireplace grate.
By lifting the fire off the chimney floor, a fireplace grate improves air circulation resulting in more even heating, better fuel efficiency, and cleaner air.
Check out this guide to know what to look for, while understanding where to start when choosing the right product for your requirements.
Comparison of the Best Fireplace Grates
IMAGE
PRODUCT

Our Top Pick

Lift firewood off heart and chimney floor for better air circulation
24-inch wrought iron grate made from square bar steel to last long
Wide bars provide more surface to safely hold coal and wood

View Latest Price →

Used to lift firewood from the firebox's bottom to improve airflow
Heavy-duty grates made from flat steel bars are built to last
All-steel construction outperforms other low-quality cast-iron grates

View Latest Price →

Best Budget Option

14-inch deep and 21-inch wide with tapered shape ideal for most fireplaces
All-steel heavy-duty construction makes it highly durable
Equipped with shorter support legs in the center to prevent sagging or rocking

View Latest Price →

Best Outdoor Fireplace Grate
Comes with a strong construction to last longer
Very easy to install and use in fireplace

View Latest Price →

Black finish makes it ideally fit in with different décor
One-piece, basket-style grate with cast-on legs and flat bottom
Keeps logs in place for efficient burning and improved circulation

View Latest Price →

Seven bars to safely hold firewood, suitable for almost all fireplaces
Made with ¾-inch solid bars, ensuring heavy-duty construction
By lifting the firewood off the floor, it ensures better circulation

View Latest Price →

Ideal for small fireplaces as it can hold small logs
Made of 18-inches black wrought iron with five bars
Solid and good quality construction that will last for years

View Latest Price →
Choosing a Fireplace Grate
When choosing a fireplace grate, there are a few things to consider. First, there are two main types of fireplace grates: cast iron and steel bar grates. Consider your own fireplace and its fuel requirements and size.
Cast iron grates are designed to be more suitable for charcoal burning. They can be used for wood and logs, but not very heavy fuel.
Steel bar grates, however, are only suitable for burning wood. Visually, steel bar grates have heavy steel bars across them. The gaps between the bars are too big to hold coal, which would fall through. In this sense, they are designed to only to hold logs.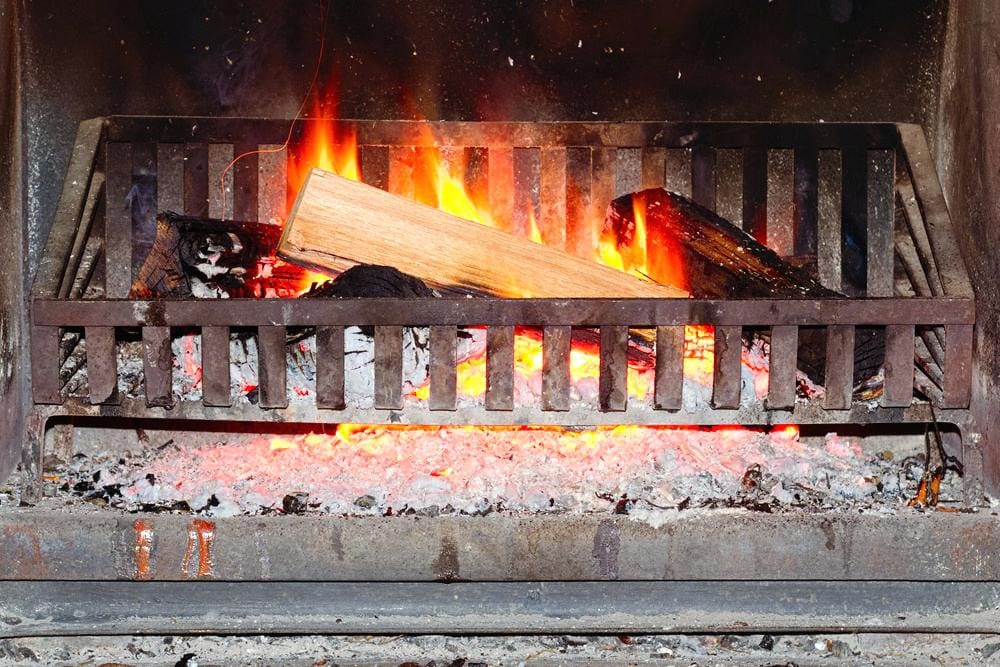 Sizing your fireplace grate is very important as something too small will fall down, while a fireplace grate that is too large, won't fit correctly. Make sure you measure your fireplace (always measure thrice!) to make sure it fits. This is especially important when choosing a steel bar grate, as the number of bars is determined by the size of your fireplace or fire pit.
Lastly, try to look for something that has an easy-to-clean finish. Often fireplace grates can get clogged. The buildup of ash can cause fires and may damage the grate. If they are difficult to clean, they tend to have a shorter lifespan as it becomes harder to keep them in tip-top condition.
At a Glance: Our Top Picks for Fireplace Grates
Reviews of the Best Fireplace Grate
Let's take a look at this year's top picks.
Amagabeli Fireplace Log Grate 24-inch
Power: N/A
Coverage Area: N/A
Heat Output: N/A
Dimensions: 24 x 11.2 x 7.5 inches
Weight: 20 lbs.
We may earn commission from purchases made from our links, at no additional cost to you
What Recent Buyers Report
Many features of this amazing fire grate were appealing to recent buyers. Most of all, the sturdiness was highly appreciated. Almost every buyer had had previous experience of deteriorating and collapsing grates just after a few uses. But this one lasted many seasons for them. The legs held their ground and did not break due to the heat.
Measuring 22 inches by 11.25 inches x 7.5 inches, this model rises four inches above the ground for increased airflow. Made from thick steel, the structure is durable. The V-shape holds logs securely, while the device comes already assembled.
Why it Stands Out to Us
A solid build is a characteristic feature of a good, long-lasting fire grate. When it comes to this model, Amagabeli did not hold back on quality to build a sturdy model that would give an unwavering performance.
Forged from thick ¾-inch square steel bars, you will find the construction quite reliable. Complemented with a wide and raised design, the efficiency of wood burning is taken up a notch. Due to the raised wood-burning platform, air can circulate under the grate and provide the burning fuel with ample air. This results in the proper burning of the woods to make the most out of it. As a result, you save on fuel.
Moreover, the logs do not burn on the hearth floor, leaving black marks that are unappealing to the eye and look like a mess. Instead, the ash that falls on the floor and can be easily scooped.
Bottom Line
It is hard to find a fire grate as well made as this one. From the construction material to the design, Amagabeli has made sure that their customers get the best of the best. That, coupled with efficient and fast customer service, makes the overall package hard to beat. If you are looking to get a big grate for constant use to last many seasons, then this might be the one for you.
This model is solidly designed with a secure way of holding the logs. It comes with a three-month warranty, but it is wider at the back than the front, so bear that in mind. It is easy to install but take caution not to hit it on anything as the finish is a little brittle.
Pros
V-shape safely secures logs
Comes with a Three-Month Warranty
Easy to install with no assembly required
Coated with non-toxic paint that won't produce any fumes
Features a strong steel structure with a wrought iron crossbar
Designed to lift the logs above the chimney floor for better air circulation
24" long and 11.25" wide wood holding surface can easily house large blocks of timber
Cons
Paint flecks off easily
Not for smaller fireplaces due to tapering
Prone to a little discoloration after excessive use
SteelFreak Heavy Duty 13 x 10 SG-40141
Power: N/A
Coverage Area: N/A
Heat Output: N/A
Dimensions: 13 x 10 x 4 inches
Weight: 9 lbs.
We may earn commission from purchases made from our links, at no additional cost to you
What Recent Buyers Report
The small size of the grate was a valuable feature for most recent buyers. They report that usually, large models that do not fit the hearths in small apartments or houses saturate the market. This model by SteelFreak was the perfect size to fit small fireplaces and wood stoves. But the usability is not just limited to small hearths; for larger places, many buyers used two and got amazing results.
Specially designed for small fireplaces, this 13-inch model is made of heavy duty steel. It is only ten inches wide and has curved up edges to hold logs in place.
Why it Stands Out to Us
Smaller grates are either hard to find, or they are usually made of recycled cast iron. Cast iron may provide good performance for limited and non-frequent use of grates, but it is not the best choice for those who need to warm their houses constantly. This is because the material is prone to bucking and breaking if used constantly.
The solid and thick plated steel design used by SteelFreak solves that problem. Now you can use the grate for up to 24 hours without the fear of breaking it. Moreover, it is small yet wide enough to hold enough logs for a considerable period of time. All in all, the design is quite useful, irrespective of the size of your hearth.
Bottom Line
A combo of solid construction that can last up to 24 hours and fit small hearths feels too good to be true. Yet, this extremely useful fireplace grate by SteelFreak proves to be just that. This is one of the very few reliable designs that fit small fireplaces yet can also be used in larger places. Enjoy the warmth in your living or working space without having to worry about buckling grates or logs running out too quickly.
Ideal for smaller applications, this model is sturdy and holds heavy, slow-burning logs. It is susceptible to warping if it gets too hot, but is perfect for smaller fires.
Pros
Well priced, high quality for cost
Wide bars for larger and heavier logs
Usable for both fireplaces and wood stoves
Heavy-duty steel construction for lasting reliability
Modern, sleek finish, provides great aesthetic appeal
Versatile model, functions well in small and large spaces
Curved edges of the wood holding area prevent logs from rolling off and causing accidents
Cons
Heavy grate reduces portability
Can warp in extremely hot fires
One grate will not fit a large fireplace
Needs cooling off between uses; cannot be used continuously for more than 24 hours
SteelFreak Heavy Duty Steel Fireplace Grate
Power: N/A
Coverage Area: N/A
Heat Output: N/A
Dimensions: 21 x 14 x 6.5 inches
Weight: 13.62 lbs.
We may earn commission from purchases made from our links, at no additional cost to you
What Recent Buyers Report
This model was very well-received by recent users. In fact, it had one of the highest customer satisfaction ratings. This was majorly because of the tapered design and the optimal size, which would fit almost any fireplace. Another reason was the good-quality build that, unlike other models, didn't melt away to dust after very little use.
At 21 inches wide and 14 inches deep, this fireplace grate is made of heavy-duty steel. It is shaped to taper, allowing it to fit most fireplaces.
Why it Stands Out to Us
Fireplaces can be very worrisome if the right grate is not used in them. They might start a fire by a rolled off burning log or might not burn the wood efficiently due to the lack of air circulation. But this model by SteelFreak solves many such problems.
Firstly, it has one of the most optimal dimensions that make for a size bound to fit most fireplaces. Even for small fireplaces or custom-made wood stoves, you might find it to be the perfect fit. Secondly, the tapered ends not only allow you to place the grate further inside the place compared to straightened ends, but they also keep the logs from falling off. As a result, the chances of a fire starting are minimalized.
Thirdly, it has a very stable layout. The center supporting legs are shorter to prevent rocking or rattling of the grate as well as help elongate its life by preventing sagging.
Bottom Line
You might not find a better deal worth your buck than this grate model. It has a perfect size and a very useful shape. The solid, unwavering, and stable constructions add the element of safety, resulting in quite a dependable model.
This is a great, versatile model that fits most homes. While it doesn't have a mesh layer to catch smaller twigs, it can hold a large load and is very durable.
Pros
Suitable for heavy loads
Heavy duty steel for durability
Ideal height for easy loading and excellent airflow
Open and spaced design for better air circulation
Allows for complete and efficient burning of fuelwood
Support legs in the center are shorter to provide stability to the grate
High-quality steel design would not melt away or buckle under the heat
Tapered shape fits most fireplaces and prevents the logs from falling off
Cons
Finish peels off quite easily
Paint might burn away after some seasons
No mesh base allowing small wood pieces to fall through
Best Outdoor Fireplace Grate
INNO STAGE Fire Wood
Power: N/A
Coverage Area: N/A
Heat Output: N/A
Dimensions: 24.5 x 15.5 x 8 inches
Weight: 15.77 lbs.
We may earn commission from purchases made from our links, at no additional cost to you
What Recent Buyers Report
Various recent buyers are impressed by the build quality of this unit. People have used it both indoors and outdoors and have appreciated the airflow it allows. Moreover, the sturdy frame is built to last long, and many buyers have agreed to it. Overall, the users are happy with this grate and totally recommend it.
Why it Stands Out to Us
The INNO STAGE Fire Wood grate is a highly praised unit in the market. It comes packed in a huge box, ready to get to work. You just have to put it into its space, and you'll start to realize how amazing it is. The unit is built from solid steel, which makes it very long-lasting.
Moreover, the frame is heat-treated and made for going through the strongest of fires. The sturdy frame is put together by welding the thick rods, which enhances its durability.
Bottom Line
To sum it up, this unit is a great option for anyone looking for a new fireplace grate for themselves or to gift to a loved one. It has a sturdy design and is backed by numerous positive customer reviews.
Pros
Doesn't need any assembling
Smart design allows better airflow
Durable welding for a robust frame
Long-lasting due to the thick steel construction
Log holder consists of seven heavy-duty steel bars
Cons
Not suitable for smaller fireplaces
Best Cast Iron Fireplace Grate
HY-C Liberty Foundry G800-27 Cast Iron Fireplace Grate
Power: N/A
Coverage Area: N/A
Heat Output: N/A
Dimensions: 27 x 15 x 7 inches
Weight: 29 lbs.
We may earn commission from purchases made from our links, at no additional cost to you
What Recent Buyers Report
Due to its promising service, the HY-C Liberty Fire Grate gained popularity pretty quickly. It was especially useful for those who wanted low fire or those who used it occasionally. For such buyers, it served as an affordable yet lasting piece of furniture. Even those who wanted bigger fires found it very useful owing to its wide burning platform.
Formed into one solid piece, this basket style fireplace grate measures 15 inches deep, 27 inches at the front and 23 inches at the back. It has a grid style crate, making it suitable for coal, and is made from heavy-duty cast iron.
Why it Stands Out to Us
With a 15" fuel burning platform shaped like a basket, this model provides one of the most practical designs. The flat surface allows for secure stacking of wood and can harbor quite a good number of logs at one time so that you don't have to refuel it every now and then.
Mostly, cast iron grates are not considered to be the strongest, but that is the case with pieces structured from multiple iron pieces joined together. This model, on the other hand, is crafted from a single piece of cast iron. Hence, it has no joints that might serve as its weak point and break or buckle under heat.
All in all, it is a reasonably solid design for a cast iron grate bound to serve the user well and long if looked after properly.
Bottom Line
Utility and affordability are manifested together in this model. It is very useful for those who yearn for a fire every once in a while but do not want to spend on a high-grade and expensive grate. This would serve their needs well. But at the same time, it does not wither away from serving the needs of regular use.
Shorter than other models, this one-piece item has a basket style design to hold logs safely in place. The grid makes it suitable for coal, but be aware that sometimes it comes with wobbly legs.
Pros
Very sturdy and durable
Basket style securely cradles logs
One piece, does not need assembly
Open-grated bottom for good airflow
Grid style grate enables use with charcoal
Raised burning platform prevents ash buildup
Made from a single piece of cast iron to avoid joints
Cons
Cannot be used continuously for several hours
Some complaints about uneven legs and wobbling
Short legs make it difficult to use with paper starter
Cast iron is not as strong as steel and is prone to breaking under heat
Best Small Fireplace Grate
Pleasant Hearth – 3/4″ Premium Solid Steel Fireplace Grates, Black, 27-Inch
Power: N/A
Coverage Area: N/A
Heat Output: N/A
Dimensions: 27 x 12 x 7 inches
Weight: 22.5 lbs.
We may earn commission from purchases made from our links, at no additional cost to you
What Recent Buyers Report
Most recent buyers found it to fit their requirements well. They really liked the multiple size options to choose from. They report that this feature made them buy the most suitable size to fit the fireplace well. Other than that, the construction was quite solid, and the overall utility lived up to expectations.
With seven heavy-gauge steel bars, this solidly constructed fireplace grate turns up at the edges to stop logs from falling off. It has a heat-resistant finish and comes with a lifetime warranty.
Why it Stands Out to Us
Not only is this fire grate made from eight thick steel bars joined together very strongly, but it also features a heat-resistant black finish. This accounts for double protection against operational flaws and adds to longevity. The black finish won't burn away no matter how hot the grate gets. As a result, the sleek black look is preserved and stays unharmed.
Moreover, the spaces between the bars make sure that the ash does not build up as it may hinder the airflow to the burning logs. The logs burn well and efficiently, warming the spaces quickly and keep it that way for long.
Bottom Line
Grates for small-sized spaces are not easy to find. This makes providing heating solutions for small apartments and houses quite a challenge. But this steel grate by Pleasant Hearth will not only provide you with a sturdy solution but will also fit your spaces. Choose from a variety of sizes to land yourself the most customized option.
A large model, this fireplace is heavy, yet very sturdy. It won't lose its finish as it heats up, but you need to use relatively large logs with this fireplace grate.
Pros
Strong steel for durability
Prevents ash buildup for a good airflow
Lifetime warranty that stands behind the product
Made by putting together thick ¾-inch solid steel rods
Heat resistance capacity further adds to the longevity
Supported by a lifetime warranty from the manufacturer
Various different sizes available for this model for maximum customization
Cons
Very heavy, weighs around 30 pounds
Bars are widely spaced, requiring larger logs
Best Iron Fireplace Grate
Panacea Products Corp 18″ Black Wrought Iron Fireplace Grate 15450Tv
Power: N/A
Coverage Area: N/A
Heat Output: N/A
Dimensions: 4 x 5 x 5 inches
Weight: 1 lb.
We may earn commission from purchases made from our links, at no additional cost to you
What Recent Buyers Report
Recent buyers found it to be one of the best grates that are made of wrought iron. They used it for both real and faux fireplaces. As far as small fireplaces went, it fit them extremely well too. Usually, they used small log pieces because they were easy to find and also worked nicely with the height of the grate.
Designed for smaller fireplaces, this grate has four hexagonal bars and is 18 inches in length. The hexagonal bars hold the wood securely and are made from heavy cast iron.
Why it Stands Out to Us
In this grate, there are four wrought iron bars welded together. They have more open spaces between two adjacent bars compared to many other models. Such a design has two major advantages. Firstly, it lets more air reach the burning logs. It also does not let any ash sit on the grate and interfere with the air reaching the logs. Hence, a nice constant fire blesses your fireplace without producing too much smoke.
Secondly, since it has a lesser number of wrought iron bars, it weighs much lesser than other models with similar construction. Wrought iron itself is a lightweight amalgam. Hence, it is easy for you to take it out for cleaning, reloading, or relocating, etc.
Bottom Line
As far as wrought iron grates go, rest assured that this is one of the most reliable models. Both in terms of intelligent design and performance, it out does expectations. You can use it in any type and size of the fireplace and enjoy a nice fire warming and lighting your spaces.
For more lightweight use, this smaller model is great for both indoor and outdoor use. While you can't place heavy logs on it, the hexagonal design ensures that smaller logs are held tightly to prevent them from falling off or through the grate.
Pros
Light and easy to move
Usable for real and faux fireplaces
Hexagonal design keeps wood in place
Wrought iron construction for lasting value
Wide-open design for efficient air circulation
18" for an easy fit in small-sized fireplaces too
4 bars at the surface of the grate to hold fuelwood
Cons
Too wide to fit wood stoves
Can't be used with heavier fuel
Paint is prone to early wearing out
Can only be used with smaller logs
Best Heavy Duty Fireplace Grate
Uniflame, C-1546, 27 Hex Bar Grate
Power: N/A
Coverage Area: N/A
Heat Output: N/A
Dimensions: 27 x 27 x 7 inches
Weight: 37 lbs.
We may earn commission from purchases made from our links, at no additional cost to you
What Recent Buyers Report
What stood out the most to recent buyers about this product was how tough it was. Some report that it did not show a single sign of damage despite being subjected to rough extended usage. Others state that the fire grate has been in their use for several years and is still going pretty strong.
This black-finish model has a 27-inch hexagonal bar-style grate. The turned up edges stop the logs from rolling off, while the large size fits even wide fireplaces.
Why it Stands Out to Us
Not often do you find a unit as heavy-duty as this one. It has a hexagonal design that is ideal for its large body. It also helps in keeping the logs stable without the slightest chance of rolling off. The bars' hexagonal arrangement forms a mesh-like network that can house logs of all shapes and sizes.
The small ones are not in danger of slipping through the spaces and causing a fire. Since it is very large, you can also put a considerable amount of wood at one time and relax without having to reload again and again.
The size is meant to tackle the heating needs of huge rooms and giant fireplaces. With a clearance of almost 2.5 inches, you can house it easily in wide-open fireplaces.
Bottom Line
One of the most robust fire grates with undeniable performance is this model by Uniflame. It has a unique mesh-like design meant to keep logs stable irrespective of the size. You will find this especially useful for large rooms with many people.
Designed for large fireplaces, this heavy steel model is considerably durable and holds logs well. It has a modern finish but is a little heavy to move around.
Pros
Good air circulation
Wide shape fits large fireplaces
Ideal for large fireplaces and large rooms
Hexagonal design holds the logs securely in place
Modern look, blends with contemporary aesthetics
Supported by manufacturer's one-year limited parts warranty
Cons
Very heavy/less portable
Not compatible for small fireplaces and wood stoves
Packaging is flimsy, causing damage while in transit
Hexagonal design has a more meshed appearance that is not the most efficient in terms of airflow
What is a Fireplace Grate?
A fireplace grate is one of the most important safety features of a fire pit or a fireplace, as well as assisting with a more smooth operation. Helping to safeguard open fires, a fireplace grate gives a solid foundation for the fire to burn upon. You will find that the grate sits just over the ash pan.
One of its functions is to serve as a filter for the resulting ash. In doing this, it helps to keep the fire burning efficiently. This stops the fire from behaving unexpectedly, as well as saving money as fuel is more efficiently burnt. Equally, it raises the fire, allowing the fire to suck in oxygen. The improved airflow helps the fire burn evenly.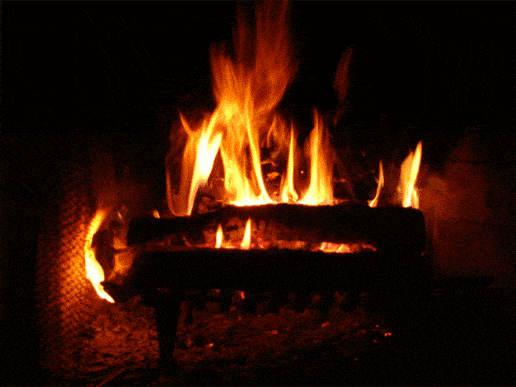 Benefits of a Fireplace Grate
Installing a fireplace grate brings about a few benefits. Firstly, fireplace grates provide good insulation. Made from solid metals, they help to encourage better energy efficiency. By holding the heat through thermal mass, they keep a room hotter longer, while ensuring the fire burns efficiently. They simultaneously help create radiant heat to warm the room faster and more evenly.
The filtering system of the grates, created by the closeness of the bars and grids, means that big lumps of ash are broken down before they hit the ash pan. This makes the ash pan much easier to clean. Not only is maintenance more simple, it also increases the life of your fireplace and ash pan.
Moreover, the improved airflow resulting from a fireplace grate means better air circulation throughout the area. In this sense, air flows more effortlessly up the chimney, which reduces the backflow of smoke into the room.
Cast Iron vs. Steel Fireplace Grate- Comparison Overview
Fireplace grates have two common variations. They are made of either cast iron or steel. Here's a comparison between the two so you can determine which one suits your needs better. 
Durability
The first factor that comes in anybody's mind before choosing a fireplace grate is the unit's durability. Cast iron is usually more efficient and durable than steel due to the different chemical properties of both the elements. However, a steel fireplace grate with a heavier grade can last as long as cast iron, but it might cost more. 
Use
Most stainless steel grates are commonly used for wood only. The bars or rods of the steel units are wider; hence they support wooden logs only. Therefore, if you're getting a grate for more materials, like coal, you should go for cast iron.
Weight
Another factor you should keep in mind is the weight of the unit. Heavier units tend to be more durable and long-lasting due to their density. They tend to be better for you in the longer run. The more weight a grate has, the more fire retardant it will be.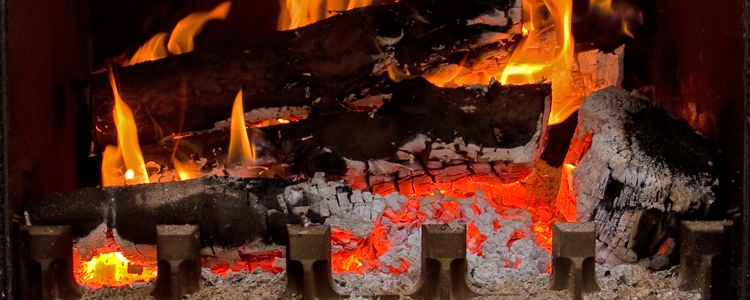 What Size of Fireplace Grate Do I Need?
Buying the right size for the fireplace grate is important. The size you should opt for depends on the usage and the size of your fireplace. The three main dimensions of your fireplace to keep in mind are:
Width
The unit should be no longer than the back of your fireplace, as it would get difficult to move it around.
Depth
The depth of a fireplace is the surface area available. The grate's size should be checked to see whether it's leg will fit in or not.
Height
The fireplace's height plays a vital role. The unit should be 10–15 inches clear of the top, so you can easily toss in the wood. 
How to Measure For a Fireplace Grate
Measuring a fireplace is one of the main prerequisites of buying a grate. It is a very basic yet vital procedure because if you get the wrong size, the grate's performance will decline, or it may not even fit in your fireplace. 
Therefore, the following is a step-by-step guide for measuring your fireplace.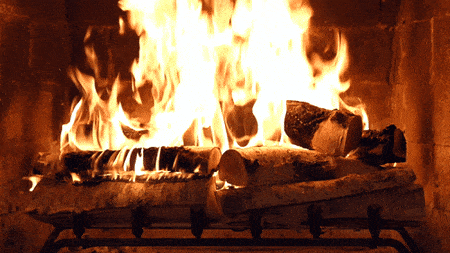 First of all, measure the front width of your fireplace. This is the front end of the fireplace, which will be the access point between you and the grate.


Secondly, get the width of the rear end because if your surface area is not in a square shape, you need to buy a grate accordingly.


The depth of the fireplace is the next thing on the list. This comes in play with the legs of the grate, whether they will fit in or not.


Lastly, the fireplace's height should also be considered to see whether there will be room for you to toss in the logs.
While going through this measurement procedure, there is one thing you should be aware of. Six inches of space should be left between the grate and fireplace surroundings due to the airflow. The space will be crucial in enhancing the performance of the grate.
Conclusion
If you're looking to help the circulation of air flow through your house while having a fire, a fireplace grate is a good place to start. Not only does it prevent backflow of smoke, keeping your home's air cleaner, it also makes fireplace maintenance less of a chore. The filtered ash helps keep the ash pan in good knick, while the increased airflow allows for better heating and more even fuel usage.Remember to measure well and choose the model most suited to your fuel type.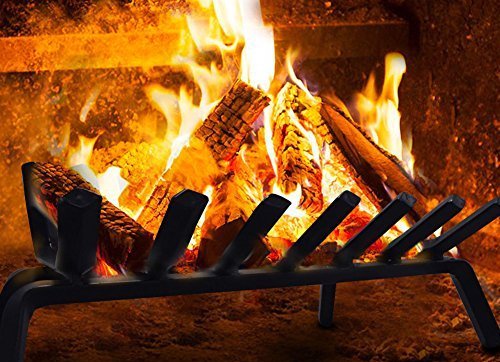 People Also Ask
By now, you know that a fireplace grate can ensure the best circulation of air inside your house to keep it toasty and warm. However, you might still have some reservations. Check out these FAQs to clear any doubts you might have.
How High Should a Fireplace Grate Be?
We would recommend a minimum of 10-15-inch clearance from the top of the fireplace. This will be best not only for safety purposes but also for better airflow. It will help the wood to burn more efficiently.
Which Way Does the Fireplace Grate Go?
You should place the grate in the center of the fireplace with the longer side facing the opening. Around six inches should be left on all sides to ensure the safe distance from the surroundings of the fireplace.
How to Clean a Cast Iron Fireplace Grate
A cast iron grate should be cleaned in the same way as any other cast iron tool. Firstly, rinse the surface of the grate with a pressure hose. Next, use some abrasive cleanser, sprinkle it on the surface, and scrub it down with any stiff-bristle brush.
How to Install a Fireplace Grate
Place the grate in the center of the fireplace. Put two seasoned logs, parallel to each other, in the grate. Fill in some crumbled newspaper or dried bark work.

Add an ample amount of twigs or leftover wood splits on the top. Light up a rolled newspaper and drop it in between the two logs.
What Are High Efficiency Fireplace Grates?
High-efficiency grates allow a wall of warmth, creating chimney ashes to develop at the unit's base while firewood burns in a controlled manner. The vertical structure starts a self-feeding fire, which allows a much more efficient burn.
What Size Grate Do I Need for My Fireplace?
When choosing the ideal size for your fireplace grate, there are three measurements to take care of. Firstly, the grade must measure as wide as your fireplace's back. Secondly, the front of the grate's legs shouldn't interfere with a structure in front of the firebox like a glass door frame or raised hearth. Lastly, your grate's height should be such that there's enough room for you to toss wood into the fire over the grate.
Why Use a Grate in the Fireplace?
Using a grate for your fireplace will ensure a good airflow, which will, in turn, allow the fire to burn more efficiently and evenly. Without a grate, the logs will rest directly on the floor and will not heat evenly.
Should I Use a Grate in My Wood Stove?
You should definitely avoid doing so. A wood stove is designed such that the wood burns directly over the fire bricks. Using a grate will lead to overheating and can even damage the firebox.
What Are Fireplace Grates Made of?
Fireplace grates are of two kinds. There are those made using steel bars that are only used for wood. Then there are those made using cast iron. Such grates are used for both coal and wood.
Why Does My Fireplace Grate Melt?
Heat tends to oxidize or, in simpler words, rust any metal that has been using steel, cast iron, or any other kind of iron. With time, repeatedly heating the grate will result in such a rusting process that will thin the metal so much that it can bend or sever easily.