Perfect Aire helps in producing premium quality products that help in controlling humidity for commercial and residential units.
The best part about their dehumidifiers is that they come in many different capacities making it perfect for small households as well as large ones.
These dehumidifiers are ideal, but before investing in them, it is a good idea to know more about this company as well as their best products.
At a Glance: Our Top Picks for Perfect Aire Dehumidifiers
Comparison of the Best Perfect Aire Dehumidifiers
IMAGE
PRODUCT

Capacity of 30 pints per day
Auto shutoff and restart function
Washable filter and 2-speed fan

View Latest Price →
Who is Perfect Aire?
Perfect Aire is an American company that helps in producing many different kinds of air quality products. Their solutions are manufactured and designed in order to ensure that you have the most comfortable environment to live in. They are also made in a way that they consume minimum power.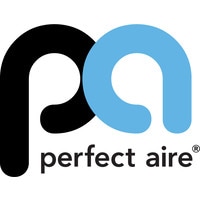 Their products include air conditioners, dehumidifiers, humidifiers, and so on. Perfect Aire has distribution centers in many different places including Chicago, Dallas, TX, IL, and WA. Their products are present in many different capacities and help in meeting the dehumidifying and cooling needs of buyers.
Furthermore, their solutions have excellent energy efficient capabilities and are perfect for people who want to cut down their energy consumptions. To sum it up, Perfect Aire has a reputation for creating consumer-friendly and feature-rich products that people will love to invest in. They focus on an impressive performance, stylish design, efficiency, and comfort.
How Does Perfect Aire Compare to the Competition?
Perfect Aire is a unique company, and its features and qualities help in proving this. Not only their dehumidifiers, but the entire company stands out due to the following qualities:
Customer Service and Warranty
Perfect Aire is a company that focuses on providing the best customer service for their consumers. Their models have a yearlong guarantee which is a great feature to look for when investing in a dehumidifier. This also covers any problem you might have in the first twelve months of this product, and you can call the company right away for any support, help or query you might have.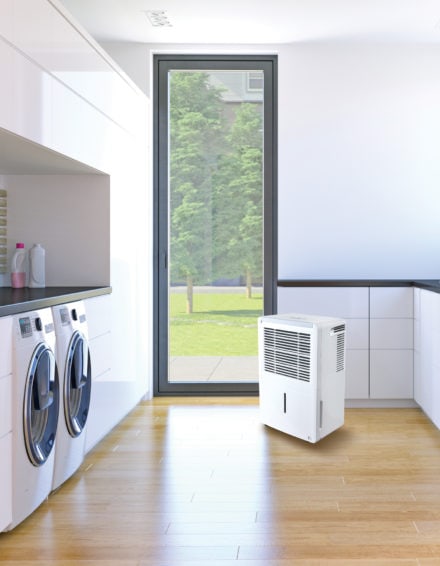 Room Temperature
Another thing you must focus on before buying a humidifier is to think about the temperature of the room you will be using the unit in. 
Perfect Aire dehumidifier has the ability to work properly in a temperature of 41 degrees, and this makes this perfect for cold areas such as garages and basements.
Their units also come with anti-defrost functions, so even if the coils present inside your unit start to cool up and become ice, Perfect Aire dehumidifier will automatically try and get rid of this icy build-up present inside.
Features and Modes
Perfect Aire dehumidifiers also come with three different operating options. They allow you to collect the water in an internal reservoir that must be emptied regularly.
You can push the water through a pump from the dehumidifier into a longer hose, or you can use a hose to take the water directly into a drain.
The dehumidifier unit you need depends entirely on whether you have an accessible sink or drain that will run the hose to.
You need to choose the model that suits your home the best before you buy the dehumidifier you need.
Review of the Best Perfect Aire Dehumidifiers
In order to find the Best Perfect Aire dehumidifier, you no longer have to research and skim through multiple reviews. We have compiled the top four units present in the market along with their pros and cons. Make sure to keep these four on the top of your list when you decide to buy a dehumidifier!
Perfect Aire Energy Star Dehumidifier
Dimensions: 10×14.3×20.3″
Weight: 29 lbs.
Decibel Level: N/A
Capacity: 30 Pints
(Max. Water Removal / Day)
We may earn commission from purchases made from our links, at no additional cost to you
Review
This Perfect Aire dehumidifier comes with thirty, fifty and seventy pint capacities. The largest pint has the ability to dehumidify up to 4500 square foot room easily within a 24 hour period. Since these dehumidifiers are Energy Star certified, they help in reducing the cost of the electricity bills.
Moreover, this unit has an eco-friendly refrigerant that helps in protecting the environment, and it also comes with two different levels of power. This way, you can adjust the unit to suit your atmosphere.
This dehumidifier can work in high as well as low temperatures, making it perfect for garages and basement. Also, with an auto-shut of feature, you can let this unit run on its own without worrying about turning it off. As soon as the reservoir gets filled up, this unit shuts down, and it also restarts on its own when there is a drop in power.
With a twenty-four hour timer, this unit can work overnight with low energy and the easy access bucket allows you to empty this unit when it gets completely filled up easily. Moreover, with a direct draining hose, you can say goodbye to emptying the dehumidifier manually, and you just need to attach this to a nearby drain, and this unit will operate continuously.
Some extra features this unit has is the check filter indicator as well as a water level window that lets you know how much water has been collected.
Bottom Line
This is a good dehumidifier overall. Apart from the noise and difficulty in emptying the bucket, this unit has features that can overcome these shortcomings. It comes with a restart button along with a water level window, making this unit easy to use and maintain.
Pros
Easy to use
Has a water level window
Compact and elegant design
Can operate to 41 degrees easily
Comes with auto-shutoff and restarts features
Cons
It is noisy
Emptying the water bucket is slightly difficult
Perfect Aire 1PED50
Dimensions: 11.1×15.3×23.6″
Weight: 36.8 lbs.
Decibel Level: 54 dB
Capacity: 50 Pints
(Max. Water Removal / Day)
We may earn commission from purchases made from our links, at no additional cost to you
What Recent Buyers Report
Perfect Aire's 50-pint unit is known for being effective and reasonably priced. Customers also commend it for being quiet despite pulling in a large amount of water. However, some reviewers have found the bucket is awkward to carry.
Why it Stands Out to Us
This device is a powerful workhorse. The 1PED50 has a 3,000 square foot-coverage area and a 50-pint capacity, meaning it can draw a large amount of moisture from the air before shutting off. It can handle medium-sized spaces and would fit well in a home, office, or commercial unit.
The "direct-to-drain" feature and attachable drain hose are lifesavers when you have to leave your dehumidifier unattended for long periods. It also keeps your air clean by expelling the collected water.
Bottom Line
This 50-pint dehumidifier is perfect for a medium-sized space or a large area if the humidity level is mild. It also has a compact build and a sleek design.
Pros
Compact
Auto humidistat
50-pint capacity
Auto-defrost included
3,000 square foot coverage
Cons
Difficult to carry
Bucket is somewhat awkward
Second Best 50 Pint Model
PerfectAire PAD50
Dimensions: 11×15.3×23″
Weight: 36 lbs.
Decibel Level: N/A
Capacity: 50 Pints
(Max. Water Removal / Day)
We may earn commission from purchases made from our links, at no additional cost to you
Review
The Perfect Aire 50 Pint dehumidifier is a great unit created for medium sized spaces. It has the ability to work properly in any area up to 3000 square feet. This unit has earned the runner-up spot in this list due to its exceptional features and Energy Star certification. This certification makes it energy efficient and helps in saving your bills. This model makes use of a refrigerant that is eco-friendly, and it also comes with a built-in pump that helps in expelling water efficiently and quickly.
Moreover, it comes with two separate power levels and has the ability to operate at temperatures as low as forty-one degrees. With the auto defrost function, this unit ensures that ice does not accumulate over that can cause the dehumidifier to stop working.
Plus, the auto-shutoff feature present in this unit makes sure that the unit turns itself off when the water reservoir gets filled up. To make it easy for emptying, this unit has a bucket along with a handle.
The best part about this dehumidifier is that it can be used easily with and without the pump as well as the hose attachment. This means that this unit is completely portable and it can be carried to any room with ease.
The water level window lets you know about the amount of water left in the 12.7-pint collection bucket, so when the water level is low, you can turn it off and refill it. Also, this dehumidifier has a side exhaust that allows it to work with ease.
Bottom Line
Overall, this is a great unit in terms of affordability and features. It can cover small to medium-sized rooms and has functions such as auto-defrost and auto-shut off. You can definitely invest in this unit with ease.
Pros
Affordable
Energy Star certified
Filters on this unit are washable
Cons
Tends to emit heat
Can only cover an area measuring up to 3000 square feet
PerfectAire PAD70
Dimensions: 11×15.3×23″
Weight: 40 lbs.
Decibel Level: N/A
Capacity: 70 Pints
(Max. Water Removal / Day)
We may earn commission from purchases made from our links, at no additional cost to you
Review
This Perfect Aire model is the best 70-pint dehumidifier present in the market. It helps in controlling the levels of humidity in your household. This unit is ideal for large living rooms, computer labs, offices, bedrooms, basements, and many other places. It comes with various impressive features that make it perfect for investing in.
The filter on this unit can be cleaned easily which makes this a worry-free product to use. Moreover, with an auto-shutoff feature, you can use this unit with ease without getting up to turn it off. Once the bucket gets filled up, this unit will turn off right away. This protects the unit and gives it a long life as well.
The restart feature on this unit is also very handy; in case of a sudden drop in power, this unit will turn itself on back to the settings you previously had. This is a stylish and sleek designed unit that looks good in any room it is placed in.
It has the ability to draw up to 70 pints of moisture from the air and provides clean and fresh air to breathe in. Moreover, this is a suitable option for people with large households and a tight budget. With an adjustable humidistat, you can relax as this unit adjusts itself on its own. Also, the direct-to drain hose access makes emptying the bucket incredibly easy, and the bucket fill indicator lets you know when you must empty the bucket.
Bottom Line
This unit is a great dehumidifier that helps in keeping your household clean. It has exceptional features that make it stand out and apart from its noisy functioning, this is a good product overall.
Pros
Comes with a timer
Bucket fill indicators
Adjustable humidistat
Filters on this machine are washable
PerfectAire 3PAD30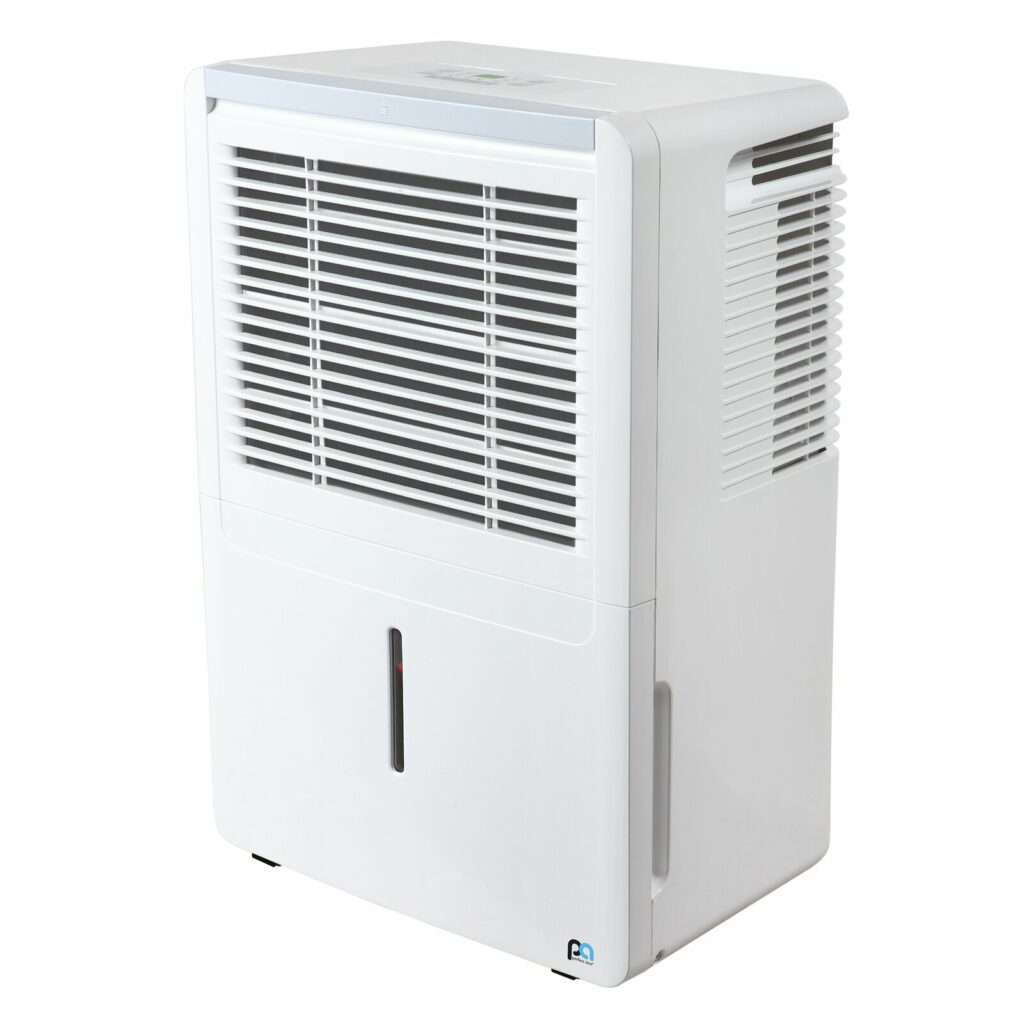 Dimensions: 10×14.5×20.25″
Weight: 29 lbs.
Decibel Level: 53 dB
Capacity: 30 Pints
(Max. Water Removal / Day)
We may earn commission from purchases made from our links, at no additional cost to you
Review
This Perfect Aire dehumidifier is, without a doubt, one of the best dehumidifiers out there in terms of capacity. This unit has a 30-pint removal capacity and can cover around 1500 square feet area. It comes with soft touch electronic controls that are user-friendly and easy to use. Since this unit is certified by Energy Star, it is energy efficient; hence it does not rack up your bills.
Moreover, this unit comes with two different fan speeds and 6.3-pint bucket capacity. With a minimum operating system and an adjustable humidity range between 35 percent and 85 percent, this is an ideal dehumidifier. Also, this unit allows you to set the range as you like and let the comfort option do its job for you.
Another benefit that this unit has is that it is easily washable and comes with reusable air filters. The bucket-full indicator feature lets you know when you must change the bucket. With this product, you can enjoy the 24-hour timer and the check filter light as well.
Bottom Line
This unit has exceptional features that make it stand out. It is a great unit that is affordable and has a 30-pint removable capacity. It also comes with user-friendly functions and a display that any beginner will find easy to use. Apart from the absence of a hose, this unit is perfect in all aspects.
Pros
Comfort option
Comes with carrying handles
Soft touch electronic controls
Easy access filters that are washable
Cons
Does not come with a hose
Perfect Aire 1PED30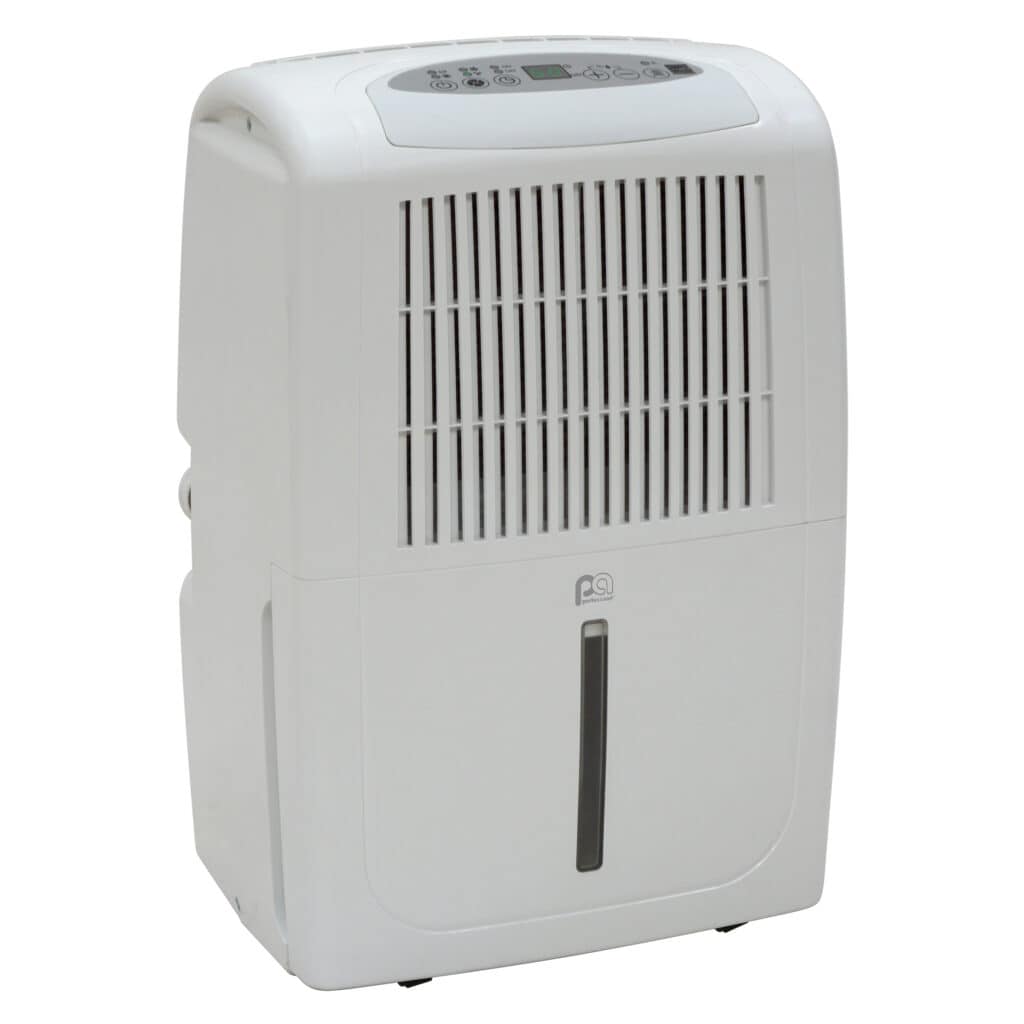 Dimensions: 10×13.5×20.25″
Weight: 32 lbs.
Decibel Level: 51 dB
Capacity: 30 Pints
(Max. Water Removal / Day)
We may earn commission from purchases made from our links, at no additional cost to you
What Recent Buyers Report
This unit has received excellent reviews. From basements to small apartments, these devices are reported to work well in a wide range of smaller spaces.
Why it Stands Out to Us
Perfect Aire's 30-pint dehumidifier is a great option for a smaller room. It's quiet, which means it can be tucked away in the corner of a bedroom while you sleep. Unlike most dehumidifiers, the unit's noise won't counteract the benefit of clean and cool air.
This device has a coverage area of 1,500 square feet, which means it's strong enough to handle most apartments, garages, or basements. It's also very user-friendly, with comfort options and useful indicators.
Bottom Line
This 30-pint model is the best of the best. We love the compact size, efficient operation, and quiet motor. It's a great option for a small space.
Pros
EEV of 1.5
Compact size
Auto-defrost included
Adjustable humidistat
1,500 square foot coverage
Cons
Small size for larger rooms
May fill quickly if very damp
Types of Dehumidifiers from Perfect Aire
For the most part, dehumidifiers reduce the level of moisture in the air and maintain the humidity level at a certain point. However, there is still a range of different dehumidifiers available that are suited for different tasks.
Perfect Aire's dehumidifier range includes: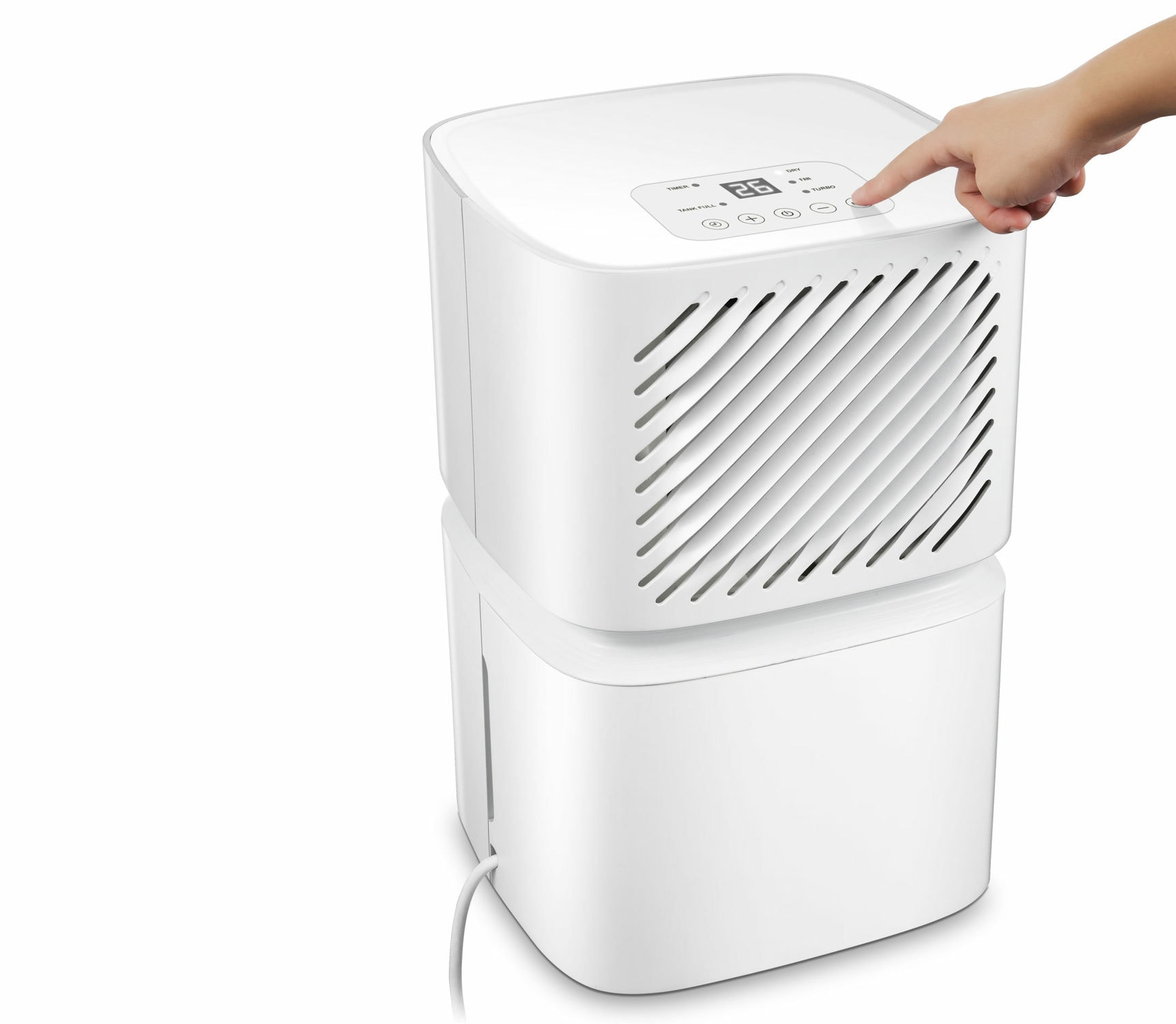 8-Pint Dehumidifier
The eight-pint dehumidifier is one of the smallest sizes we've seen available. This is a very compact unit that's perfect for an office cubicle, desk, sleeping space, or closet. It's lightweight, quiet, and has a direct-to-drain function.
50-Pint Dehumidifier
The 50-pint dehumidifier is a standard, medium-sized unit. Its portability and size make it perfect for use around the house. If you can only buy one dehumidifier, this is the way to go.
250-Pint Dehumidifier
This is the largest dehumidifier we've come across as a regular consumer item. With a 250-pint capacity, this can pull up to 120 liters of moisture from the air at a time. With a direct-to-drain option, the pump capacity is almost endless. For the biggest jobs, this is your product.
How Does Perfect Aire Compare?
To truly gauge the effectiveness of Perfect Aire's models, we've put the companies dehumidifiers head-to-head with two of the most popular brands, factoring everything from energy efficiency to moisture reduction.
Here's how things shook out:
Perfect Aire vs GE Dehumidifier
Although GE has a well-established reputation, the company's range of dehumidifiers is very limited. Perfect Aire has many more quality, affordable, and versatile options for dehumidification.
Perfect Aire vs Haier Dehumidifier
Haier produces various types of dehumidifiers, including 20-, 35-, and 50-pint options. Haier's products are aesthetically pleasing and compact. They're also effective and affordable. However, they're not as versatile or sophisticated as Perfect Aire's units. Haier also doesn't have the same range of types or features as Perfect Aire.
Perfect Aire Dehumidifier Troubleshooting
When things go wrong, it can be easier to figure it out yourself rather than deal with customer support. Here's a troubleshooting guide for common dehumidification issues: 
Does Not Start
If your unit isn't starting, make sure the bucket is properly positioned and inserted. If the bucket is correctly in place, check that it's not full. 

Room Still Humid
Make sure nothing is blocking the intake or exhaust, and that no windows are open. If these don't work, ensure the room temperature isn't too low.
Unit is Loud
Your dehumidifier will make some noise as it runs. If it's too loud, the filter may be clogged, the unit may not be stable, or the floor may not be flat.
Water on Floor
If water leaks onto the floor while the unit is running, make sure the drainage plug is entirely inserted. If you're using a hose, ensure the connector isn't loose.
Conclusion
Perfect Aire dehumidifiers are no doubt exceptional and very good. They have amazing features and work perfectly well in order to provide a clean and healthy environment. They have different capacities, allowing you to choose the one you need. So, make use of this guide and the reviews mentioned above in order to make an informed choice.
People Also Ask
Here are our answers for the most common queries regarding Perfect Aire dehumidifiers:
How Long Have Perfect Aire Dehumidifiers Been Around?
Perfect Aire has been making products ranging from air conditioners to dehumidifiers since 2007. These units are sold to both commercial buyers and for residential use.
Where Are Perfect Aire Dehumidifiers Made?
Perfect Aire is an American company with distribution centers in Chicago, Dallas, and Tukwila. Its products are manufactured and produced in China.
How Do You Clean the Coils on a Perfect Aire Dehumidifier?
Clean the base and tank weekly. Occasionally, more extensive cleaning will be required. However, the coils feature an auto-defroster. It's also possible to wipe them with a cloth.
How Does a Perfect Aire Dehumidifier Work?
Perfect Aire dehumidifiers detect the moisture level in the room with the air temperature. They then remove moisture from the air and store the water in a bucket or tank within the unit. The fan then circulates air and allows the dehumidifier to read the room.
Perfect Aire Dehumidifier, How Do You Get It To Drain Continuously?
Connect a drain hose – which can be attached to the exterior of the house or a storage tank – to the drain connector valve at the back. This will allow water to be pumped from the bucket out through the hose.