Nowadays, you'll find hundreds and thousands of houses across the world fitted with dehumidifiers that take moisture from the air and prevent damp and mildew building up in small, under-ventilated spaces. They work by extracting water from the air and prevent moisture from developing.
Given the demand of these dehumidifiers, there's been a rise in their manufacturers. Although not categorized as one of the greatest brands when it comes to dehumidifiers, the Chinese multinational brand Hisense has put out a number of impressive units.
We've taken it upon ourselves to review some units which we found to be the best. So, if you want an affordable yet high-quality dehumidifier that gives you the value for your money, make sure you look into these.
At a Glance: Our Top Picks for Best Hisense Dehumidifiers
Comparison of the Best Hisense Dehumidifiers
IMAGE
PRODUCT

Our Top Pick

Our Rating: 10.0
Pints: 70
Warranty Length: 2 years

View Latest Price →

Our Rating: 8.9
Pints: 70
Warranty Length: 2 years

View Latest Price →

Our Rating: 8.3
Pints: 50
Warranty Length: 2 years

View Latest Price →

Our Rating: 6.3
Pints: 50
Warranty Length: 2 years

View Latest Price →

Our Rating: 5.6
Pints: 50
Warranty Length: 2 years

View Latest Price →
Who is Hisense?
Hisense headquarters are located in Qingdao which is in the Shandong province in China. It is an electronics and multinational appliance manufacturer which was founded in 1969. In just a short time, it made a name for itself as one of the greatest white good manufacturers of Asia.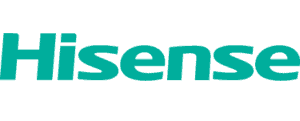 Hisense is spread across 13 provinces of China as well as outside of it. Apart from dehumidifiers, the company also has a range of products under its belt including televisions and other home products.
It is the owner of almost 12 manufacturing parks all over the world and has a number of production bases as well. Apart from this, Hisense is the owner of almost 40 subsidiaries both within as well as outside China. With such a vast international network, one Hisense product or the other is present in almost all homes.
How Does Hisense Compare to the Competition?
Hisense was already able to make a name for itself with the innovative technology it used in its smart TVs and smartphones. At the same time, when it comes down to dehumidifiers, the company was able to make ground there as well.
As mentioned earlier, Hisense is not considered as one of the best brands of all times; however, it is still well-equipped with features that enable it to put up some great competition.
Hisense dehumidifiers not only promise top-quality, truly innovative and advanced technology, and an easy-to-understand and easy-to-use design. They also ensure greater affordability along with impressive service both before the sale and after the sale.
Their dehumidifiers are an ideal solution for reducing the excessive moisture present in your environment. At the same time, they provide several health benefits to make the living environment purer and healthier.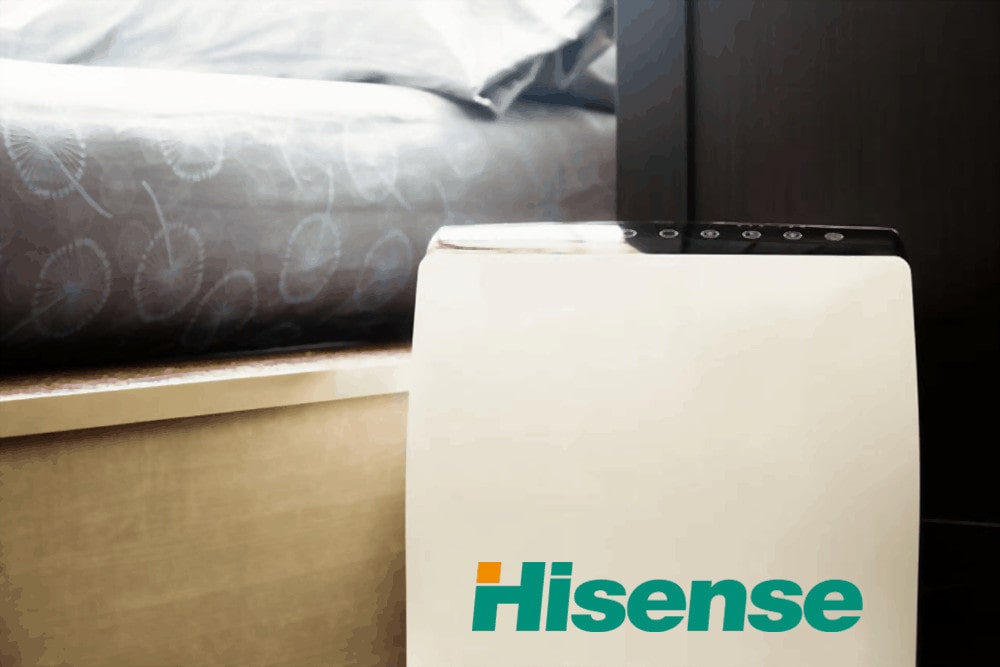 Apart from working well, their units are designed with straightforward and customized operating tools, which help to avoid cumbersome problems in terms of use. In other words, its simple operations ensure the highest customer convenience.
Another factor which gives Hisense a slight edge over other competitors is that all the dehumidifiers it puts out are Energy-Star rated products.
This means that they use less power which ultimately translates into users getting to save on their utility bills.
Review of the Best Hisense Dehumidifiers
In this section, we will be bringing you across reviews of some of the best Hisense dehumidifiers. These reviews will help you to narrow down your search about the best Hisense dehumidifiers and help you to select the one most suitable for you. Let's have a look at the greatest units we can get our hands on.
Hisense DH7019K1G
Quick Product Specs:
Pints (DOE): 70
Warranty Length: 2 year(s)
Size & Weight: 16"x12"x25"; 45 lbs
Tank Capacity: 6.62 Liters
Decibel Level: 46 dB
Review
Thanks to a small size and a low price, the Hisense DH7019K1G earns a 5-star ranking in both affordability and cost efficiency. With a 24-hour programmable timer, you can also set a specific schedule for the unit, which you can put to work while you're sleeping or if you need to remove extra moisture from the air. However, the unit is a bit heavier than other Hisense dehumidifiers, and without handles and wheels, portability can be an issue, hence its paltry 1-star portability ranking. Still, with all of its other features, it's worthy of its top ranking.
Bottom Line
With quiet operation overall and 70-pint capacity, the Hisense DH7019K1G is a superb value buy, especially for larger homes, garages, or even RVs. The standard 2-year warranty from Hisense improves the attractiveness to bargain buyers while also adding some peace of mind. But with a perfect 10-star rating overall, you probably won't find a better option in the Hisense lineup of dehumidifiers.
Pros
Drain hose included
24-hour programmable timer
Low noise, even at higher fan speed
Quicker air removal than some other units
Notifies user when to change water bucket with aural and visual cues
Cons
Only covers 1,000 sq. ft.
Problems with durability if run constantly or consistently
Hisense DH7019KP1WG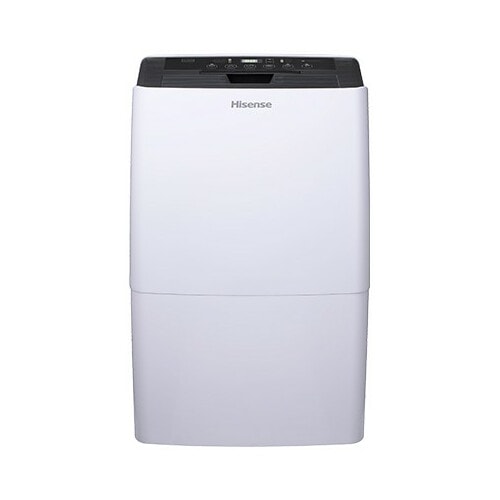 Quick Product Specs:
Pints (DOE): 70
Warranty Length: 2 year(s)
Size & Weight: 16"x12"x25"; 43 lbs
Tank Capacity: 6.62 Liters
Decibel Level: 47 dB
Review
With the ability to remove 70 pints of water from the air and a low price point, the Hisense DH7019KP1WG earns the second spot on the list of dehumidifiers from Hisense. While this unit is admittedly more expensive than its DH7019KP1G sibling (#1 on this list), it has many of the same functions. Nevertheless, this lowers its cost efficiency and affordability rankings to 4 stars, slotting it in second place. A lack of handles or wheels hinders its portability issue, but with a 3.5-star rating for space efficiency, it balances out.
Bottom Line
An included drain hose and internal pump highlight the features of the Hisense DH7019KP1WG, and paired with a 24-hour timer and 1,000 sq. ft. of dehumidifying prowess, it holds its own as a solid 70-pint option. While portability remains an issue, it's only a small setback. The Hisense DH7019KP1WG still holds its own in side-by-side comparisons.
Pros
Includes a drain hose
Reusable, washable filter
Comes with a built-in internal pump
Programmable 24-hour timer for ease of use
Operates in cold weather as low as 38 degrees
Cons
Manual is difficult to read according to some buyers
Some buyers cite issues with the quality and durability of the internal pump
Hisense DH7021K1W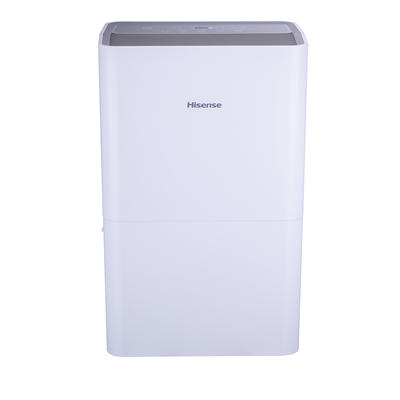 Quick Product Specs:
Pints (DOE): 50
Warranty Length: 2 year(s)
Size & Weight: 15.1"x10.7"x24.8"; 39.5 lbs
Tank Capacity: 8.7 Liters
Decibel Level: 48 dB
Review
If you have a smaller space and don't need 70-pint capacity, the Hisense DH7021K1W is a solid 50-pint option. Two fan speeds allow you to choose either a high or low setting and with a low noise system, you won't even hear it running. Built-in handles and a lightweight design give this unit a 4-star portability rating, which tops the rankings in this list. However, a higher price and only a 50-pint efficiency lower the DH7021K1W's affordability and cost efficiency rating to only 3.5 stars.
Bottom Line
For a 50-pint Hisense dehumidifier, the DH7021K1W is the top choice on this list, and with good reason. Portability and affordability are the names of the game here. And despite its issues with freezing up and only a 1-star space efficiency rating, it's still a great option for the home office, bedroom, or garage.
Pros
Washable air filter
Low noise airflow system
Covers up to 4,500 sq. ft.
Built-in handles for improved portability
Small size fits in small spaces, such as closets or RVs
Cons
Issues with the unit freezing up
Hot air released can increase room temperature 5 to 7 degrees (although blowing a small amount of hot air is normal for dehumidifiers)
HISENSE DH7021KP1G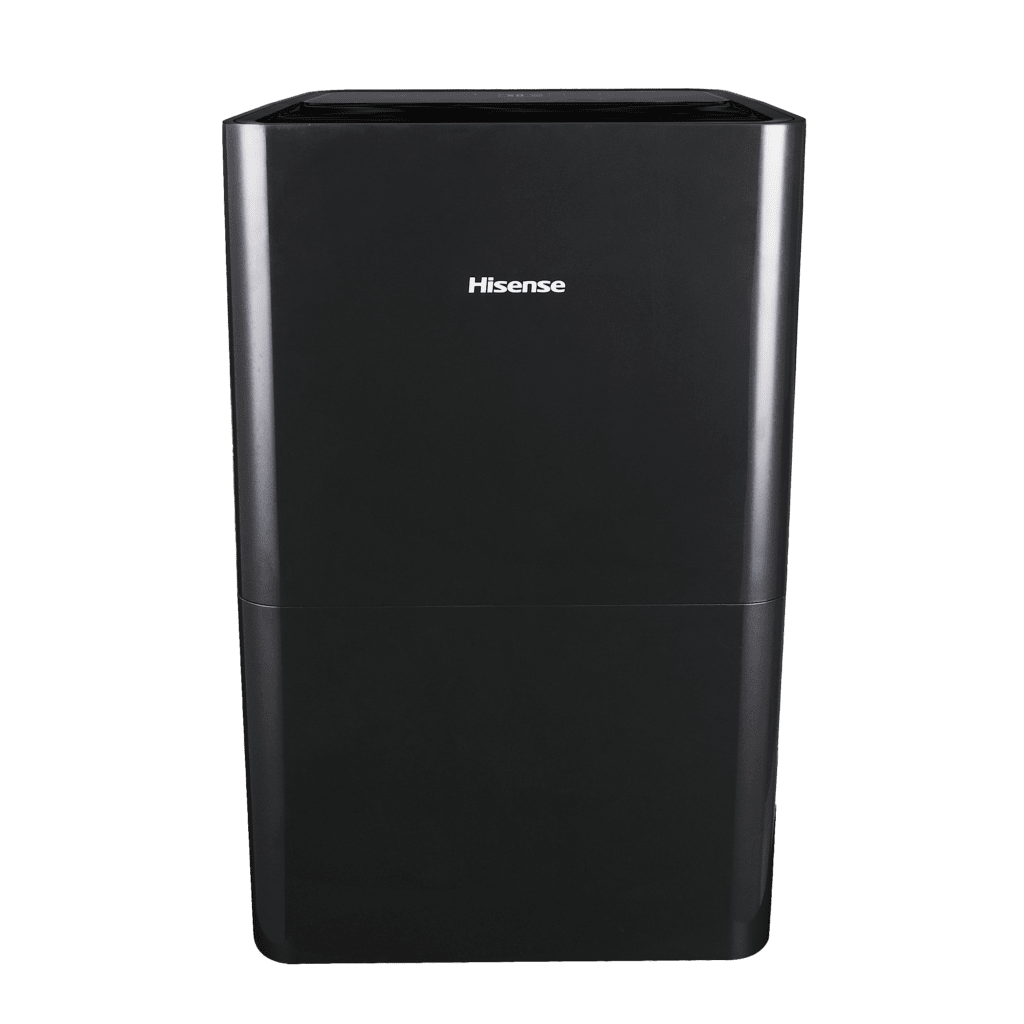 Quick Product Specs:
Pints (DOE): 50
Warranty Length: 2 year(s)
Size & Weight: 15.1"x10.7"x24.8"; 40.8 lbs
Tank Capacity: 8.7 Liters
Decibel Level: 48 dB
Review
If you're concerned about your power usage and going green, the Hisense DH7021KP1G dehumidifier should be on your radar. As an Energy Star-certified unit, this dehumidifier provides great functionality without a major drain on your energy bill. A sleek black design also allows it to fit with your interior decor. Two 2.5-star ratings in portability and affordability highlight the DH7021KP1G's capabilities, making it a decent option in the 50-pint space.
Bottom Line
Although the Hisense DH7021KP1G doesn't top the list of 50-pint options from Hisense, it still has some nice features at a decent price. The pump has some quality issues and other slight durability issues remain, but overall, it's a solid product that won't leave you disappointed with your purchase.
Pros
Energy Star certified
Quick-connect drain hose
Comes with an internal pump
Only dehumidifier on the list with wheels
Filter warning light reduces the incidence of bacteria or mold
Cons
Quality issues with the internal pump
Water bucket handle is brittle and can break if completely full of water
Hisense DH7021W1WG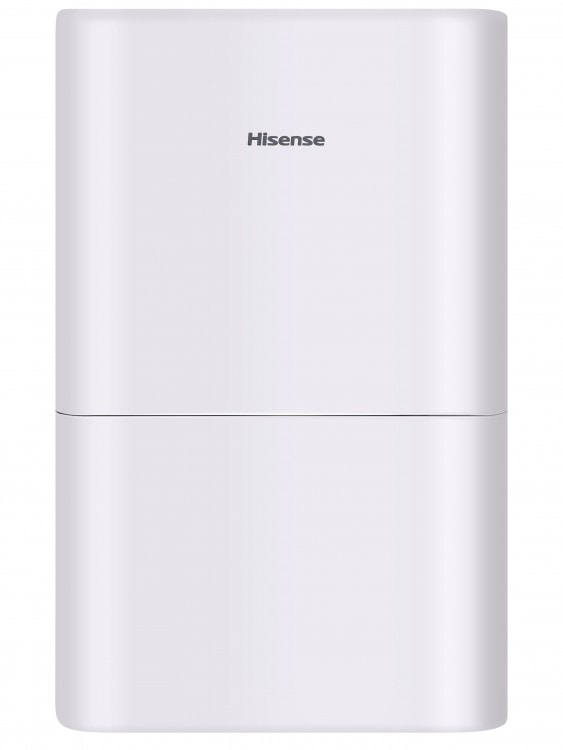 Quick Product Specs:
Pints (DOE): 50
Warranty Length: 2 year(s)
Size & Weight: 15.1"x10.7"x24.8"; 39.5 lbs
Tank Capacity: 8.7 Liters
Decibel Level: 48 dB
Review
Technophiles rejoice! With the Hisense DH7021W1WG, you can have all of the things you love about a high-quality dehumidifier with the built-in addition of smart/Wi-Fi capabilities. Simply download the app onto your smartphone, press a few buttons, and you can dehumidify your home from anywhere in the world. However, this comes with a higher price, which leads to a 1-star affordability rating compared to the other units on this list.
Bottom Line
If you simply need to have a smart-capable dehumidifier, the Hisense DH7021W1WG will certainly do the trick. But with 1-star ratings in space efficiency and cost efficiency, it's lacking compared to other 50-pint or 70-pint models. So if you're constantly asking Alexa and Siri what the weather's like, this unit is for you. If not, check out the other dehumidifiers on this list.
Pros
Energy Star certified
Smart/Wi-Fi capabilities
Handles built-in for easy portability
Comes with a proprietary downloadable app
Works with both iOS and Android phones and is Alexa/Google Assistant capable
Cons
Problems with the automatic shutoff
Fan has issues with getting stuck in a single position
Hisense Dehumidifier Sizes and Ratings
There are a variety of dehumidifiers out there that come in all shapes and sizes. Hisense, in particular, offers a range of different options to help you with the job at hand:
25 Pint
The smallest dehumidifier offered by Hisense is a 25-pint size. This is for smaller spaces or less humid rooms. It's best for air purification when you're short on space.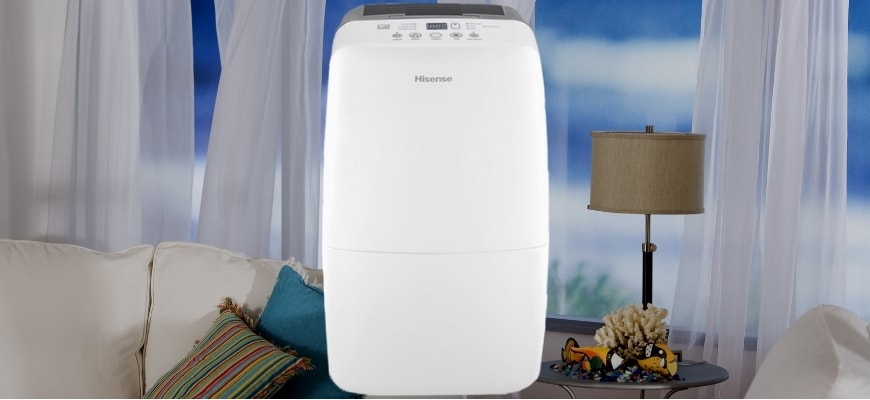 70 Pint
Hisense offers a few different mid-sized units, including 50- and 60-pint sizes. The 70-pint size is a good middle ground between the company's largest and smallest units. It can run for longer and pull in more moisture than the smallest units without taking up the space of a larger device.
100 Pint
This is the largest size offered by Hisense. The 100-pint dehumidifiers are built for difficult or larger jobs. These units can cover up to 1,500 square feet and feature a three-speed design with a built-in pump system. 
How Do Hisense Dehumidifiers Compare?
We compared Hisense's products to Frigidaire's, General Electric's, and Soleus' to get a better understanding of the quality of the company's products. We looked at a wide range of factors, including energy efficiency, ease of use, coverage, moisture removal, value, and portability. 
When standing head-to-head with some of the most popular dehumidifiers available, Hisense's units performed very well. 
Here's how Hisense compares to the competition:
Hisense vs Frigidaire Dehumidifier
Frigidaire is one of the biggest names in appliances. But Hisense has an edge over Frigidaire when it comes to affordability. Hisense's dehumidifiers function as well as for Frigidaire's, and they come at a lower price. However, Frigidaire's products are somewhat more energy efficient.
Hisense vs GE Dehumidifier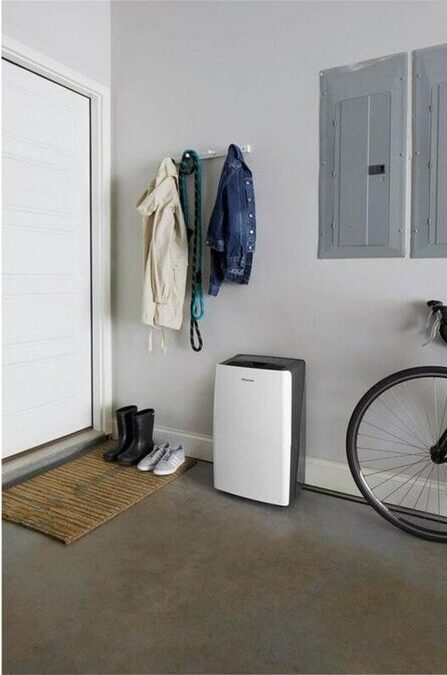 GE, which has been around since the 1800s, is well established and respected in the appliance world. But dehumidifiers aren't the company's area of expertise. GE's 50-pint unit is respectable but not quite as effective as Hisense's.
Hisense 70 vs 95 Dehumidifier
This is a little inner competition we put together for fun. These units are comparable. The 70-pint device comes with a three-speed setup and a 7.5-liter tank, allowing it to pull in a lot of moisture. It's more than enough for the average home. However, if you're looking at a really large space or a particularly humid room, you might need to upsize. The 95-pint unit is ideal for industrial spaces, garages, or large homes.
Hisense vs SoleusAir Dehumidifier
SoleusAir's products are well-made but they don't stack up to the quality and effectiveness of Hisense's dehumidifiers. If it's between these two, pick the Hisense unit.
Hisense Dehumidifier Troubleshooting
No matter how good your product is, there's always a chance that something will go wrong. 
When that happens, it's often easier to sort it out yourself than deal with customer service. All you need to know is what the issue is.
Here's a look at some common issues people have with their dehumidifiers:
Hisense Dehumidifier Pump Troubleshooting
Issues with the pump are some of the most common concerns customers encounter with their dehumidifier. Make sure your pump is correctly connected if it isn't working effectively.
If that's not the problem, restart the unit manually. If this does not fix the problem, you'll need to contact support.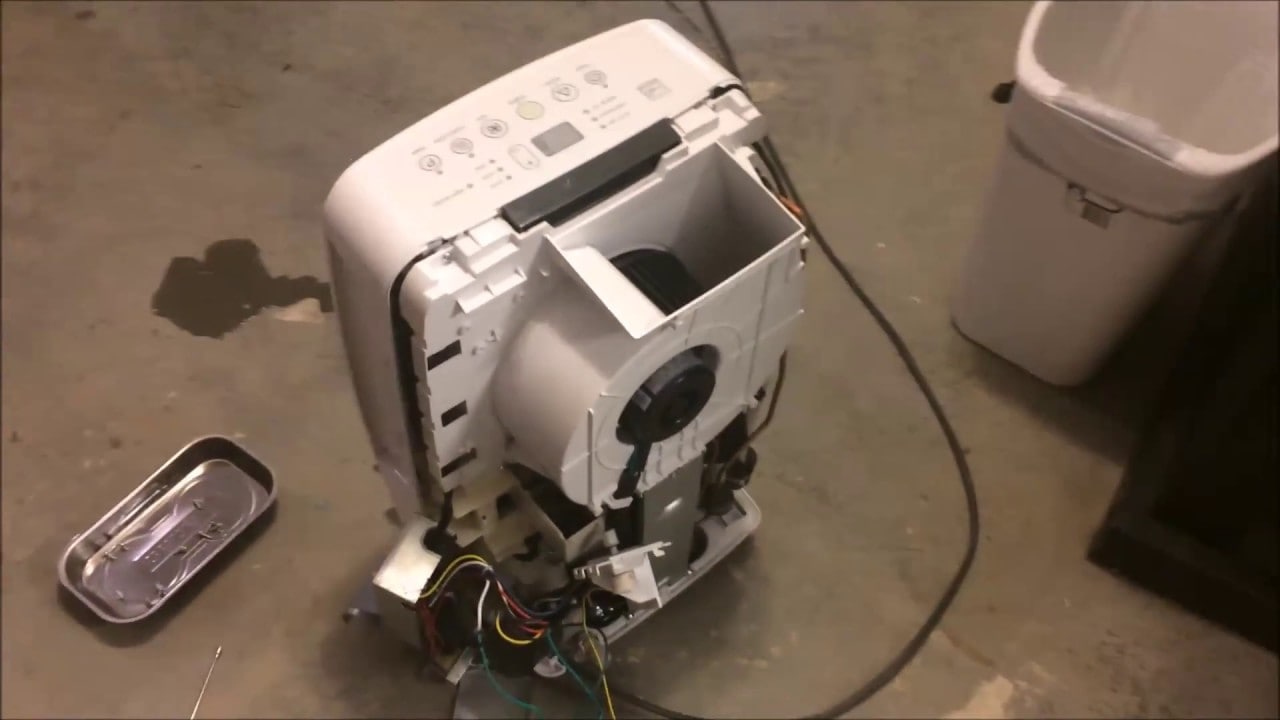 Why is My Hisense Dehumidifier Not Producing Water?
There are a few reasons why your dehumidifier might not be producing water. First, check whether the dehumidifier is running. It may not be operating if the filter isn't clean, the bucket is full, or the settings aren't correct.
If your dehumidifier is operating but not producing water, check that it's stable and flat against the ground. It may be unable to run effectively otherwise. It's also important that nothing is blocking the intake or exhaust.
Why Does My Hisense Dehumidifier Continuously Run When Set Manually?
The dehumidifier will run continuously if the humidity level is low. It'll only turn off if the bucket fills.
Conclusion
Each of the five units reviewed is best in their own way do what they are best at. A dehumidifier has become quite a necessity these days, and you must be sure of the unit you're purchasing. You cannot go wrong with Hisense but given their plethora of products, it can be difficult to single out the best one. So, read through our reviews and decide for yourself which unit you deem to be the most suited for you!
People Also Ask
Here are our answers to some commonly asked questions about Hisense's dehumidifiers:
Who Makes Hisense Dehumidifiers?
Hisense produces its dehumidifiers, as well as home appliances – such as TVs and audio systems – and other air systems – such as air conditioners and air purifiers. Hisense is headquartered in Qingdao, China. It has a branch in the U.S. and Canada.
How to Set Manual Operation on Hisense Dehumidifier
To run your dehumidifier manually, select the "mode" button on the control panel.
How to Clean a Hisense Dehumidifier Pump
A dehumidifier pump will need periodic cleaning to ensure they run effectively. To clean the pump, carefully access the drain hose connector and clean it out. For large problems, contact customer support.
How Do I Clean The Filter on a Hisense Dehumidifier?
The dehumidifier's filter keeps everything running smoothly and efficiently. To clean the filter, turn the unit off and remove the intake grill. This will allow you to clean the filter by hand or with a vacuum cleaner. You can also wash it with warm water.
How to Drain a Hisense Dehumidifier
This is simple. The bucket slides out from the bottom of the dehumidifier. It has a handle inside which allows you to lift the bucket up. We recommend supporting the bottom as well and pour it out. Alternatively, connect a drain hose.
Is Hisense a Good Brand?
Hisense makes durable and quality dehumidifiers. The brand consistently ranks highly in listings and reviews of dehumidifiers. It also gets strong feedback from customers regarding its products. We were impressed by this company's dehumidifiers.