If you happen to be running a business, you should be offering yourself as well as your employees and customers a comfortable environment. No one likes humidity issues. And if your workspace isn't comfortable, it can lead to productivity issues down the line. Humidity problems due to poor ventilation can also make spaces vulnerable to mold growth, and we don't want that, right?
Investing in a commercial dehumidifier can aid in creating comfortable surroundings for everyone. Take note, a commercial dehumidifier can also be used in houses, too.
In this well-researched dehumidifier-centric article, we are going to tell you everything there is to know about the best commercial dehumidifiers out there. From the best dehumidifier models to the benefits you will experience, we have it all covered!
At a Glance: Our Top Picks for Commercial Dehumidifiers
Comparison of the Best Commercial Dehumidifiers
IMAGE
PRODUCT

Our Top Pick

Our Rating: 10.0
Pints: 85
Warranty Length: 5 years

View Latest Price →

Our Rating: 9.6
Pints: 100
Warranty Length: 2 years

View Latest Price →

Our Rating: 9.6
Pints: 130
Warranty Length: 1 year

View Latest Price →

Our Rating: 9.6
Pints: 55
Warranty Length: 5 years

View Latest Price →

Our Rating: 9.6
Pints: 90
Warranty Length: 5 years

View Latest Price →
Aspects to Consider Before Buying
Before you go ahead and buy the first commercial dehumidifier you see in the market, you need to do your research. Not all dehumidifiers will be able to cater to your needs. So, here are some aspects to consider before buying a commercial dehumidifier.
Area of Coverage
You need a dehumidifier that is perfect for the amount of space you have. That is why it is vital you check the area of coverage being offered by a commercial dehumidifier before you purchase it. Some models are able to cover spaces up to 10000 cubic feet. Some can go even higher. Buying a unit that isn't able to handle the commercial space you have won't do anyone any good. So, measure the space you have and then compare it to what a dehumidifier can offer.
Built-in Pump
We recommended that you opt for a unit with a built-in pump. Such a model will increase the overall convenience. A built-in pump can automatically expel collected water (via a hose). Such a pump does away with the need for you to manually drain the water container when full.
Noise Level
Noisy machines can quickly grow annoying. You don't want a noisy dehumidifier distracting you during businesses meetings, right? Always check the noise level of a unit before buying one. A model producing noise near 50 decibels or lower is recommended.
Portability
Buying a portable dehumidifier is a bonus. There are models with handles and wheels, allowing you to place them anywhere you want with ease.
Warranty
Go for a unit which offers a reliable warranty. With a warranty, you know the company that created the dehumidifier has your back if an issue arises.
Auto Restart
A dehumidifier with an auto restart feature is great if your business is in an area that faces power failures. Such a unit will restart on its own when the power comes back.
Built-in Humidistat
Having a built-in humidistat means the unit will provide you real-time humidity and temperature readings.
Low-Temperature Operation
Warehouses tend to have low temperatures, especially during winter. So, if you work in such a space, opt for a dehumidifier that can operate effectively in low temperatures.
Review of the Best Commercial Dehumidifiers
Now that you are more informed about what features to look for when buying a commercial dehumidifier, let's move on to our review list.
ALORAIR 85PPD
Quick Product Specs:
Pints (DOE): 85
Warranty Length: 5 years
Size & Weight: 22.8×13.7×17.3"; 70.5 lbs.
Tank Capacity: N/A
Decibel Level: 58 dB
Review
If you have dehumidifying needs for a large garage, basement, business, or job site, the ALORAIR 85PPD might just be the best option out there. Featuring an internal pump, heavy-duty construction, and even a unique rare earth alloy tube evaporator, this unit has all the bells and whistles. But it's not without other features. With an affordability ranking of 4.5 stars and a cost efficiency rating of 4 stars, it's priced right and will work to your liking.
Bottom Line
Due to their relative expense, commercial dehumidifiers are a huge investment, but the ALORAIR 85PPD is one you'll be glad you made. Although its 3-star portability rating and heavy weight may detract some buyers, its 5-year warranty is one of the best in the industry. So if you want something reliable and ready to dehumidify in a moment's notice, this is the unit you've been searching for.
Pros
Built-in handles
Internal pump with drain hose
Rare earth alloy tube evaporator to prevent damage
19.6-foot cord and 19.6-foot drainage hose for ease of use
Wide range of operating temperatures (33 to 105 degrees)
Cons
Super heavy compared to other units
Problems with the internal pump over time
Hisense DH10019TP1WG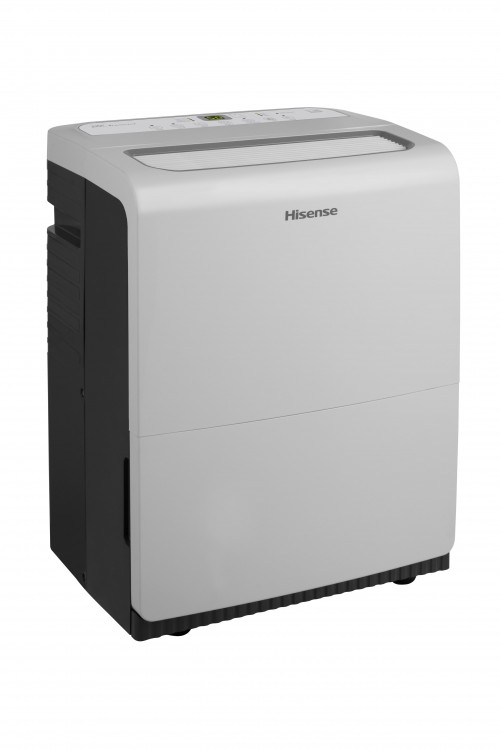 Quick Product Specs:
Pints (DOE): 100
Warranty Length: 2 years
Size & Weight: 18.7×13.8×24.8"; 62.8 lbs.
Tank Capacity: 16.3 Liters
Decibel Level: 36 dB
Review
Hisense is a household name for a reason, and it builds upon that reputation with a stellar product in the Hisense DH10019TP1WG. Featuring three fan speeds, low-temperature operation, and a huge coverage area, it stacks up as one of the best commercial dehumidifier options. Moreover, its low, low price earns it a 5-star affordability rating to go along with a 4.5-star cost efficiency rating.
Bottom Line
While the product as a whole is a great investment, especially with its price point, issues persist with the internal pump. The unit also weighs in at a bulky 68 pounds, and without built-in handles or wheels, it's tough to move around, earning just a 3-star portability rating. Still, the good outweighs the bad, giving this Hisense dehumidifier a buy rating based on its overall body of work.
Pros
Three-speed fan
Covers up to 4,500 sq. ft.
Quick-connect, quick-drain hose
Filter washing/replacement warning light
Operates at temperatures as low as 38 degrees
Cons
Longevity issues
Issues with the internal pump over time
Waykar PD858E
Quick Product Specs:
Pints (DOE): 130
Warranty Length: 1 year
Size & Weight: 27x17x15"; 58 lbs.
Tank Capacity: 5 Liters
Decibel Level: N/A
Review
With 130 pints of dehumidifying power, the Waykar PD858E is the most powerful unit on the list, making it ideal for bigger offices, large construction sites, or sizable garages. But what makes this unit even more amazing is its price and efficiency, earning 5-star ratings in both affordability and cost efficiency. It also has intelligent humidity control via a humidistat, which makes using the Waykar a cinch.
Bottom Line
With so many extra features and the ability to move the unit via casters or handles, the Waykar PD858E is a great commercial unit with practical applications no matter where you decide to put it. While its 1-year warranty is a cause for concern, earning just a 2-star rating in that field, its capabilities, built-in pump, and auto restart and shut-off make it a superb option for business owners or buyers that need a tough, reliable unit.
Pros
Built-in pump
Intelligent humidity control
Auto-restart and auto shut-off
Biggest water removal capacity on this list
Comes with wheels and built-in handles for maximum portability
Cons
Louder than other units on this list
Unit may not have as much coverage as advertised
ALORAIR Sentinel HD55
Quick Product Specs:
Pints (DOE): 55
Warranty Length: 5 years
Size & Weight: 11.8×17.7×11.8″; 57.3 lbs.
Tank Capacity: N/A
Decibel Level: 52 dB
Review
If you need a commercial dehumidifier but you don't need to cover a massive area, the Alorair HD55 is the product you've been searching for. Though it only has a 55-pint capacity, its coverage area will be bone dry, hence its 4-star space efficiency rating.
It's also the smallest and most mobile unit, letting you move it to the basement, attic, or other areas of your home or business with ease and earning it a best-in-class 4.5-star safety rating. An optional remote control makes this an even better option if you want to mount it.
Bottom Line
Despite its small size, its price pushes it to a 2.5-star cost efficiency rating, but if you don't have a large area to dehumidify, this may not be an issue. But with a 4.5-star rating for affordability, this is the bargain buy of commercial dehumidifiers.
Pros
Easy filter access
Excellent warranty
Optional remote control
Covers up to 1,300 sq. ft.
Works at temperatures as low as 36 degrees
Cons
Poor customer support
Problems with coil defrosting
ALORAIR Sentinel HD90
Quick Product Specs:
Pints (DOE): 90
Warranty Length: 5 years
Size & Weight: 24.8×13.8×15.8; 57.3 lbs.
Tank Capacity: N/A
Decibel Level: 58 dB
Review
With a name like the Sentinel, you know this Alorair dehumidifier is one bad mother, and the product lives up to its name. Featuring a 3.5-star cost efficiency rating and a 3-star space efficiency rating, this unit provides adequate dehumidifying coverage for up to 2,600 sq. ft. Wheels also bolster its overall rating with a 3-star portability ranking.
Bottom Line
While the Alorair Sentinel may not have the added features or glitz and glamour of some of the other units on this list, it's still highly reliable, covers a wide area, and gets the job done. You can put a price on reliability, and the Sentinel comes through in top form.
Pros
Covers 2,600 sq. ft.
Wheels for improved portability
Optional remote monitoring system
Adjustable feet to fit in tight places or keep out of standing water
Connecting the drain hose and using the unit is simple, even for first-time buyers
Cons
Issues with leaking refrigerant
Doesn't last as long as advertised
How Do Commercial Dehumidifiers Compare to Other Models?
As the name states, commercial dehumidifiers are meant for commercial use. You can see them operating in offices, shops, warehouses, spas, etc. Compared to dehumidifiers intended for homes, commercial units are generally more powerful and even bulkier in size.
This list we have created showcases a number of commercial dehumidifiers. You will get to see how they differ from other (household) models in terms of size and the amount of moisture they eliminate.  
Commercial dehumidifiers also typically offer more area coverage compared to household units. Furthermore, commercial units can lower humidity levels to below 30%, especially when it comes to models meant for quickly dealing with water damage due to heavy rainfall or floods.
They also tend to have a Hot Gas Bypass System which enables them to continue operating in lower temperatures. Such a feature is very useful when a dehumidifier is being used in spaces with lower temperatures, like warehouses, for example.
How to Choose a Commercial Dehumidifier
It's important to know how to choose the best of the thousands of dehumidifiers available on the market. The best commercial dehumidifiers give you a wide range of coverage; these include a commercial unit or an industrial dehumidifier.
You also want a device that's easy to install and portable with durable wheels. Additionally, ensure the outer casing provides ample, durable protection and seek quieter dehumidifiers. 
Why Use a Commercial Dehumidifier?
You may be wondering why a commercial dehumidifier would be necessary. Here are some reasons to add one to your large space. 
Cooling Tunnels Application
In commercial bakeries, dehumidifiers play a vital role when it comes to the essential cooling tunnels. For example, conditions in chocolate factories must always remain precise.
Protecting Super Cars
Supercars and collectible priceless vehicles must also always be kept under precise conditions. A dehumidifier is the most effective way of preserving these vehicles by maintaining the surrounding environment. A failure to do so can result in corrosive moisture. You can opt to hire a professional company that understands the best way to use a dehumidifier to keep your cars safe throughout the year. 
Pharmaceutical Industry
Powder medications can cake if they're not correctly stored. Dehumidifiers are a good way to prevent damage to drugs stored in a warehouse.
Types of Commercial Dehumidifiers
While we are on the topic of commercial dehumidifiers, it is a good idea to know about the various types of commercial dehumidifiers you might come across.
In short, as far as working is concerned, these are classified as the 'Desiccant Type' or the 'Refrigerant Type.' When it comes to usage, we have the 'Portable Type' and the 'Industrial-Type.'
Portable Dehumidifier
A portable unit, as the name states, can be easily moved around. These are generally made for office use. The design is also normally appealing. They also have fan speeds and control panels.
Industrial Dehumidifier
These dehumidifiers intended for industrial use; while they can be portable, they are typically fitted on walls or the floor. They are quite bulky in design.
Pool Dehumidifier
Such units are used in spaces with heated indoor pools or Jacuzzis. You might even see them in spas.
Refrigerant Dehumidifier
Refrigerant dehumidifiers are also known as condensation or mechanical dehumidifiers. They make use of the refrigeration cycle to reduce an area's humidity levels. They have a fan which pulls in humid air to the evaporator. The captured air is then chilled to condense into water. The resulting water is collected in a tank.
Desiccant Dehumidifier
Such models have a rotating desiccant wheel. The fan brings the air to the wheel, and dry air is released. Dry air passes through the system to keep the wheel from remaining wet.
How to Clean a Commercial Dehumidifier
Knowing how to maintain your commercial dehumidifier properly is essential if you want it to remain working effectively down the line. Due to how these models work, they collect mold, bacteria, dust, and other particulates from the air. You should consider cleaning a dehumidifier at least twice a month, primarily if it is used frequently.
Many of the dehumidifiers mentioned in our review list have the same mechanism. So, following the steps below should enable you to clean a unit properly.
Unplug the unit: To clean your dehumidifier, the first thing you will need to do is unplug the unit (after turning it Off).


Clean the exterior: You should clean the outside of the dehumidifier while you're at it. Using cleaning solvents isn't recommended.


Clean out the reservoir: Even though a built-in pump does drain water, the collecting tank can get dirty. So, clean it up.


Rinse the air filter: The air filter being used is a vital part of a dehumidifier. The filter will collect mold, dust, and other nasty stuff. After taking out the filter, wash it gently with soapy water and a sponge. Remember to let the filter dry before reinstalling it.
Cleaning Tips
After opening the dehumidifier, using a vacuum to clean the insides is a good idea. You can also use a vacuum to clean the air filter.


Ensure that dust or debris isn't being collected on the coils of the dehumidifier.


You should always consult the manual before beginning the cleaning process.
Do make sure to check out this informative video to see the cleaning process and the importance of keeping the air filter and coils as clean as possible.
Conclusion
Buying a reliable commercial dehumidifier is a great way to ensure your workplace has the humidity levels you prefer. Moreover, such a unit is able to protect spaces from mold growth and other humidity-related issues.
We hope our Best Commercial Dehumidifier Review list helps you to make an informed decision. Go ahead and check out the models we recommended to see which works best for you.
People Also Ask
Dehumidifiers play a crucial role in many industries and at home. Here are our answers to some commons questions regarding dehumidifiers.
How Do Commercial Dehumidifiers Work?
They move air over a cool, metal surface. 
How Long Do Commercial Dehumidifiers Last?
A good commercial dehumidifier will last three to five years with proper use, care, and maintenance. It breaks down easily if it's not properly used.
How Much Do Commercial Dehumidifiers Cost?
Light commercial dehumidifiers cost from $1,000 to $2,500. Heavy commercial humidifiers cost from $5,500 to $6,500.
Where to Place a Commercial Dehumidifier?
The center of the room is the best place to install a commercial unit. If you need to install several dehumidifiers, spread them at the corners for proper dehumidification of the area. 
Do I Need a Commercial Dehumidifier?
Yes, you need one if you know the job requires a powerful and high-capacity machine. You might have a basement prone to high levels of humidity requiring powerful dehumidification. 
What is the Optimal Humidity Level that Should Be Maintained in a Hotel, Supermarket, and Other Commercial Places?
If you ask us, we would advise you to maintain humidity levels below 60%. We say this because lower than 60% helps prevent mold growth and mildew spawning. Furthermore, lowering it below 50% can aid with preventing dust mite proliferation. Unless a commercial space has water damage that needs to be quickly dealt with, there's no reason for you to go lower than 40% or 30%.  
Can I Use a Commercial or Industrial Dehumidifier in My Home?
You certainly can use a commercial or industrial dehumidifier in your house. The models we have mentioned in our review list can easily be used at home. The humidistat featuring units will ensure the preferred humidity levels are maintained in your house. However, do keep in mind most commercial models aren't the most visually appealing. So, they might not always go well with your home décor.
How Much Water Will a Commercial Dehumidifier Remove?
The answer to this question depends on the Commercial Dehumidifier model you opt for. There are units which are able to remove 55 pints of water while others remove 160 pints a day. It all depends on how much moisture you want to be removed and how quickly you want it to be gone from a space.