Dehumidifiers may not seem like a necessary home appliance, but their uses and benefits are endless and can prove to be life-changing if installed at home.
Excessive moisture in your home can lead to multiple health concerns due to the build-up of dust particles and microorganisms like fungus and bacteria.
This article will review eight dehumidifiers and will also guide you on how to choose the best dehumidifier for your home. So, make your choice wisely!
At a Glance: Our Top Picks for Bathroom Dehumidifiers
Comparison of the Best Bathroom Dehumidifiers
IMAGE
PRODUCT

Our Top Pick

Our Rating: 10.0
Pints: 0.68
Warranty Length: 2 years

View Latest Price →

Our Rating: 9.6
Pints: 0.63
Warranty Length: 2 years

View Latest Price →

Our Rating: 9.6
Pints: 0.37
Warranty Length: 2 years

View Latest Price →

Our Rating: 8.7
Pints: 1
Warranty Length: 1 year

View Latest Price →
Should Any Dehumidifier Be Placed in the Bathroom?
There is more than one kind of dehumidifiers that include:
Compressor-Based Dehumidifiers
These are the more popular kind of dehumidifiers, known for their large capacity and power. They use a condensation mechanism to absorb and eliminate moisture from the surrounding areas. They are also referred to as full-sized dehumidifiers that have a capacity of more than ten gallons of water.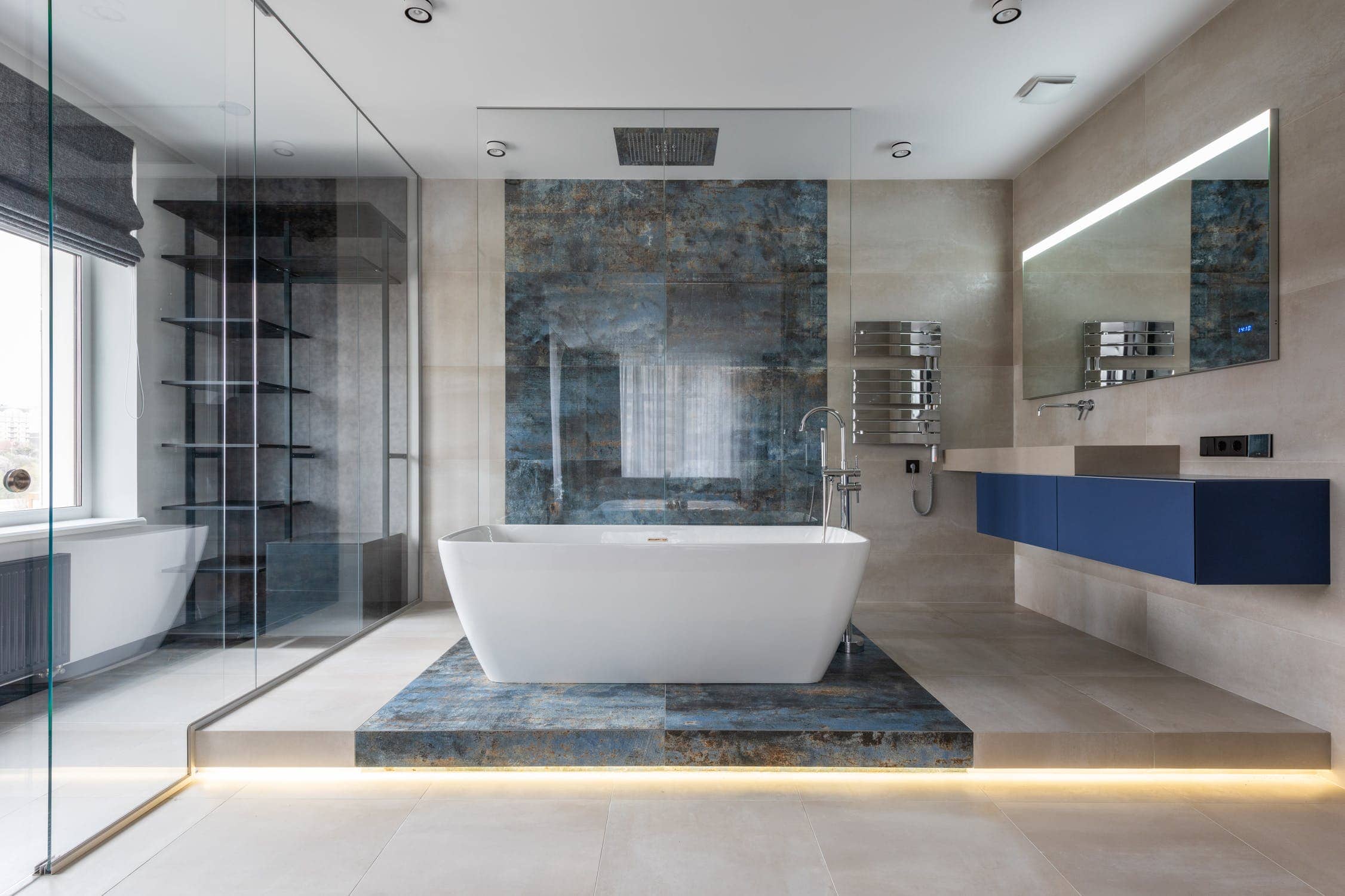 Thermo-Electric Dehumidifiers
These dehumidifiers are smaller than compressor units, which makes them suitable for smaller spaces. Thermo-electric dehumidifiers are also less noisy and have a lower sound output. They operate on a desiccant wheel that absorbs moisture until it reaches its capacity. It is then recharged through the electric power supply to continue dehumidification.
Wall-Mounted Dehumidifiers
We have also reviewed an effective wall-mounted dehumidifier which is best suited for people who have pets or children at home. Wall-mounted dehumidifiers are designed to fit with wall brackets and work just as efficiently as any other unit.
How to Choose a Dehumidifier for Your Bathroom
Before you can go ahead and buy yourself a dehumidifier, it is important to take a thorough look at some of the important aspects of a dehumidifier that can impact performance and usage.
Noise
Since dehumidifiers are running for most of the day, it is essential to look for a model that is quiet or produces less sound than others. Excessive noise can be irritating and disturbing, especially while sleeping or studying. So, look at the noise output of a dehumidifier before purchasing one.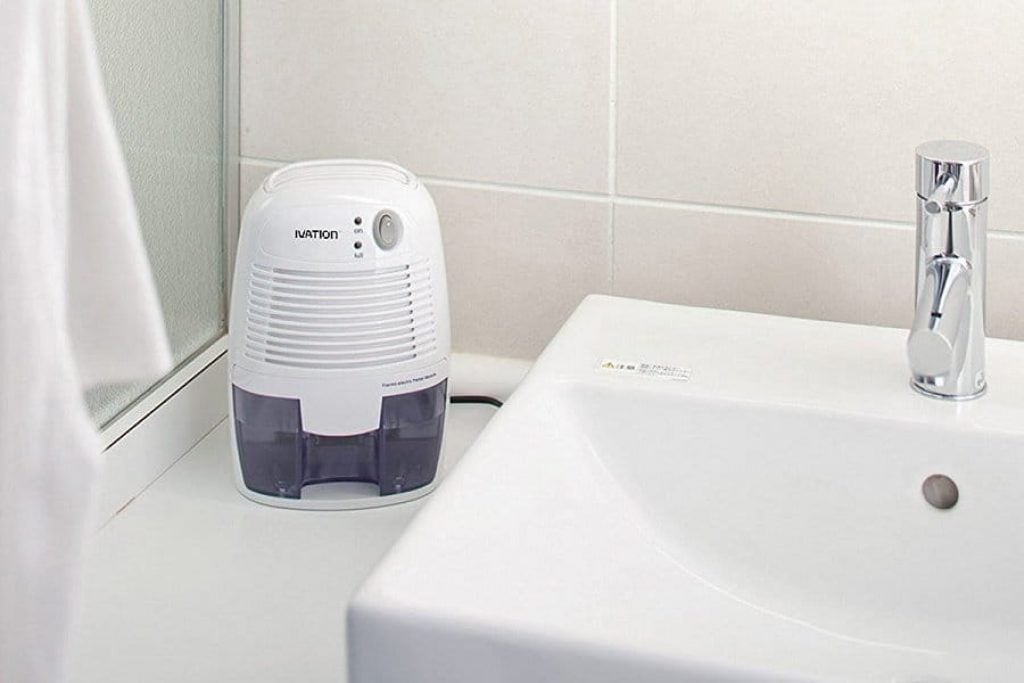 Power Consumption
Power consumption refers to the amount of power the dehumidifier consumes when operating. If the power consumption of the dehumidifier is too high, it can have a negative impact on your bills. Look for an energy-efficient dehumidifier so that you can use it conveniently without worrying about the bills skyrocketing. You may also refer to the calculator below to check efficiency.
Moisture Capacity
This refers to the capacity of moisture a dehumidifier can absorb in a day. In cases of dehumidifiers with tanks, you should also consider the capacity of the tank because a small tank can lead to overflowing very often.
Review of the Best Dehumidifiers For Bathrooms
Now that you understand the need for a bathroom dehumidifier and have looked at the important aspects to consider before the purchase, here is a list of eight dehumidifiers divided into categories based on performance.
The reviews are in-depth and give a detailed overview of the product to help you make a smart investment.
Alfoia Electric Air Dehumidifier
Quick Product Specs:
Pints (DOE): 0.68
Warranty Length: 2 years
Size & Weight: 10.5"x4.2"x6.4"; 2 lbs.
Tank Capacity: 0.7 Liters
Decibel Level: 35 dB
Review
Size and style are what make the Afloia Electric Air Dehumidifier a stellar choice for those concerned about an obtrusive or unsightly unit in their bathroom.
With 4.5-star rankings in portability and affordability, it's also a great option if you're searching for something you can move quickly or if you don't have a ton of money to spend. And with LED lighting to tell you when the unit needs emptying and plug-and-play operation, there are many reasons why the Afloia tops the list of best bathroom dehumidifiers.
Bottom Line
Quiet operation, a head-turning price tag, and portability highlight the top features of the Afloia Electric Dehumidifier but don't forget about the four color options to blend everything together in a nice decorative package.
While it only gets a 3-star cost-efficiency rating due to its mediocre water removal compared to its size, the unit receives a perfect rating overall, making it the top choice for your bathroom.
Pros
Modern, sleek design
Super quiet operation
One-button, two-color control for ease of use
Four available color options to blend with your bathroom decor
Small size allows you to put it under cabinets or on window sills
Cons
Have to empty the water tray often
Afloia Home Dehumidifier w/ Automatic Shutoff
Quick Product Specs:
Pints (DOE): 0.63
Warranty Length: 2 years
Size & Weight: 10.5"x4.2"x6.4"; 3 lbs.
Tank Capacity: 0.7 Liters
Decibel Level: 35 dB
Review
Another mini dehumidifier from Afloia tops the list of best bathroom units for similar reasons to the first. It's portable, doesn't take up much space, and has a price tag that will turn heads.
While this dehumidifier earns a 4.5-star rating for affordability and portability, it doesn't have the same cost efficiency or space efficiency ratings, hence it's #2 ranking on the list.
Bottom Line
With little difference between the Afloia Electric and Afloia Electric with automatic shutoff, it all comes down to whether you want the added protection of the shutoff. In return, you'll get a slightly lower, 2.5-star cost-efficiency ratio. But with the price the same, the decision is entirely up to you.
Pros
Automatic shutoff
Semiconductor cooling technology
Super lightweight for easy portability
Compressor-free for quieter operation
Porous design to increase water absorption
Cons
Doesn't offer the water absorption rate of similarly sized units
Afloia TOP-X
Quick Product Specs:
Pints (DOE): 0.37
Warranty Length: 2 years
Size & Weight: 2.76"x2.36"x7.4"; 1 lb.
Tank Capacity: Tankless
Decibel Level: 30 dB
Review
If you're looking for a set-it-and-forget-it dehumidifier unit for your bathroom, the Afloia TOP-X will certainly scratch you where you itch. Using a charging base, you simply charge the dehumidifier in two hours and put it in your bathroom for strong dehumidifying action for anywhere from two to four weeks.
With the lowest price on the list, it earns a 5-star affordability rating, as well as a 5-star portability rating thanks to its 1-pound weight.
Bottom Line
While the TOP-X only covers 55 sq. ft., it's surprisingly powerful for its stature, earning a cost efficiency and space efficiency rating of 4 stars.
The only downside is that it lacks the charging base, which is sold separately, somewhat offsetting the initial price tag of the unit. But if you need a unit for your bathroom (or gun safe) that's about as inconspicuous as possible, the Afloia TOP-X should get the job done.
Pros
Charges in just two hours
No batteries or cords required
Perfect for gun safes as well as bathrooms
Runs for up to four weeks on a single charge
360-degree air inlet design for maximum water absorption
Cons
Only covers 55 sq. ft.
Charging base costs extra
Vremi VRM010638N
Quick Product Specs:
Pints (DOE): 1
Warranty Length: 1 year
Size & Weight: 7"x4.9"x11"; 4 lbs.
Tank Capacity: 1.5 Liters
Decibel Level: N/A
Review
When you want strong water absorption in your bathroom and style to match, the Vremi dehumidifier should scratch you where you itch. Despite a higher price which lowers its cost-efficiency rating to 3.5 stars, you're paying a little bit extra for the style, and you'll certainly know where that money went.
Bottom Line
At 4 pounds, it's more than twice as heavy as most other bathroom dehumidifiers, but it certainly isn't going to cause much fuss. If a style is just as important as water absorption, put all bets on Vremi for your next bathroom dehumidifier.
Pros
Stylish design
Cordless operation
Covers up to 150 sq. ft.
No extra or unnecessary flash
Small control panel for easy operation
Cons
Doesn't work as well below 68 degrees
Less water absorption than other models on this list
Afloia Q3
Quick Product Specs:
Pints (DOE): 1.25
Warranty Length: 2 years
Size & Weight: 5.71"x5.71"x10.2" ; N/A
Tank Capacity: 0.6 Liters
Decibel Level: 35 dB
Review
Weighing in at less than two pounds, the Afloia Q3 provides optimal water absorption without the bulk of similar dehumidifiers. While it's a bit larger than its Afloia siblings, it removes more water from the air, giving it a 4.5-star cost-efficiency rating to go along with a 4-star portability rating.
This one-two punch makes it a great unit, especially if you want to remove water more quickly after a shower or a bath. And with a bargain price, the Q3 does everything you need without costing excessively more for the extra power.
Bottom Line
Like the other Afloia products on the list, the Q3 does a first-rate job of removing water from the air while also flawlessly blending into the background. A slight increase in price dips its affordability rating to 4 stars, but in the grand scheme of things, it's still a great selection in the bathroom dehumidifier space.
Pros
Works in bathrooms up to 165 sq. ft.
Cat-ear design for a more modern look
Electric operation to keep noise to a minimum
Uses about as much power as a small table lamp
Soothing orange and blue LED lights to signal on an empty tank
Cons
Occasional problems with the unit shutting off before tank is full
Black power cord doesn't match white housing, which can make it inadvertently stick out
What Makes a Dehumidifier Great for Bathrooms?
Your bathing or showering activity causes intense humidity levels in the bathroom. What makes a dehumidifier ideal for this situation? Let's take a quick look.
Humidity Removal
The most significant benefit is that it removes excess moisture in the air. Lingering humidity can cause damage to your floors and walls, so it's best to keep levels below 50%. Depending on your family's size and how often you use the bathroom, you might need to keep the machine running for long periods.
Lightweight Design
Besides sporting light frames, some dehumidifiers have wheels for ease of mobility and relocation. Of course, it's better to have them on shelves or counters off the floor. When you're ready to clean the device or empty the tank, you'll be glad that it's not heavy.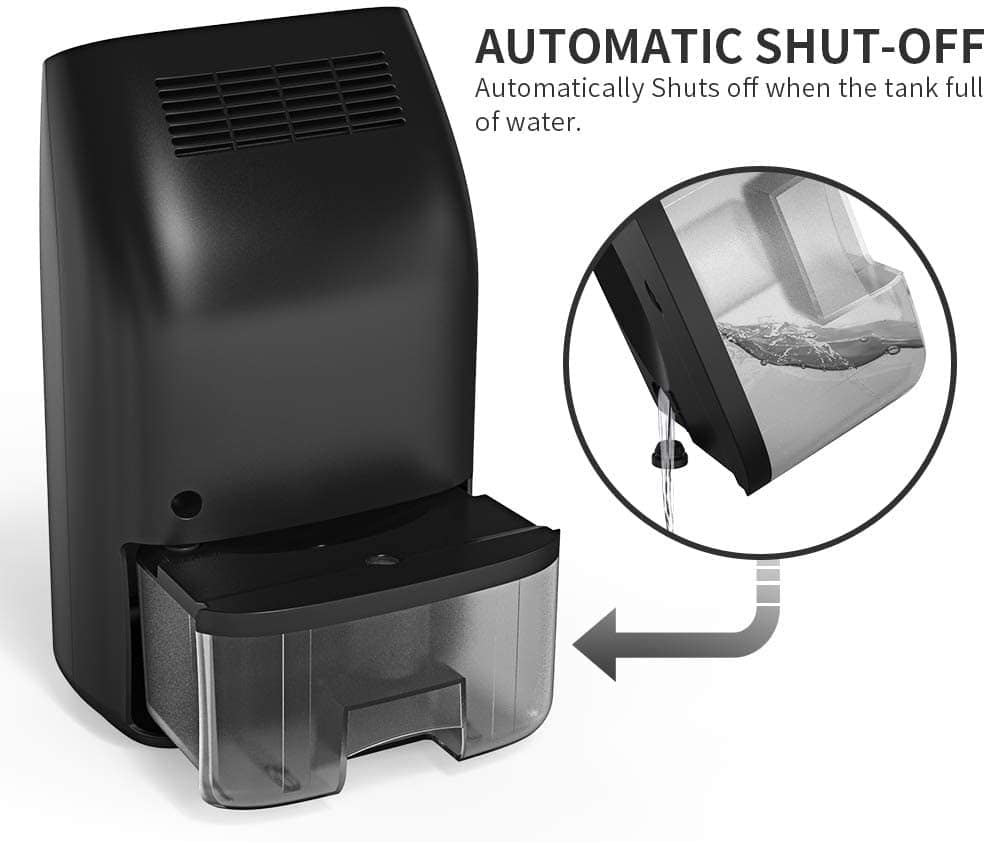 Shut-Off Functions
Since the dehumidifier is isolated in the bathroom with no access to a drain or hose, it's designed to shut off operation when the tank reaches a specific level. It prevents damage to the components and flooding of your bathroom.
If you have a desiccant dehumidifier, you won't have to worry about this issue.
Defrosting Coils
Running a dehumidifier during high temperatures will force the coils to work overtime in order to cool the air and remove the moisture through condensation.
However, when the temperature suddenly drops, the last thing you want is for the coils to freeze. Fortunately, these units have a defrosting function to prevent any problems.
What Size Dehumidifier for a Bathroom?
The dehumidifier size depends on several factors. Firstly, you'll need to measure the bathroom's area to see how hard the machine will have to work. The larger the room, the more humidity the unit will need to remove. If you have a ceiling higher than eight feet, which is the measurement standard, you'll need to add a few digits to your estimate.
The humidity level also plays a vital role. There are different ranges to consider, as anything above 50% is bad for your health and promotes mold in your bathroom. The higher up the scale the moisture level rises, the more pints per day the dehumidifier will have to remove. 
Types of Bathroom Dehumidifiers
There are primarily two dehumidifier types, but you can also find dual-purpose units. Here's an overview of the types you'll find for bathrooms.
Refrigerant
These units focus on cooling the air it draws in with condensation, collecting the droplets in a water tank below. Once the moisture is removed, the dry air is pumped out of an exhaust back into the room. You'll either manually remove the water from the tank or drain it through a hose.
Desiccant
The desiccant dehumidifier works with a silica gel that removes excess moisture rather than cooling the air. Most people prefer this unit for colder climates, even if it becomes steamy in the bathroom. It has the advantage of not requiring manual drainage or liquid removal thanks to the adsorbent material.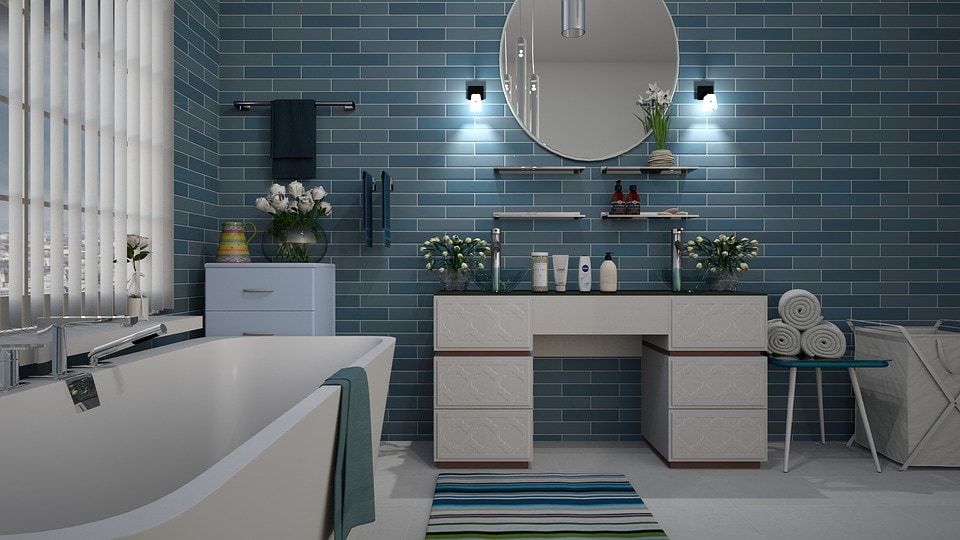 Dual-Purpose
Other devices you'll find in the HVAC industry are purifiers and ventilators. The former cleans the air of harmful contaminants that can aggravate your lungs and allergies, while the latter improves air circulation. In some cases, you'll find a dehumidifier that combines moisture removal with one of these functions.
Bathroom Dehumidifier Comparisons
Are dehumidifiers the right solution for your situation? How do these units compare to other devices? Here's a brief comparison with similar HVAC systems.
Bathroom Dehumidifier vs Exhaust Fan
Exhaust fans are the standard option for bathrooms when it comes to adequate ventilation. They're lighter and more affordable. The flexibility of the design allows you to install it on any floor or wall through an easy set up process.
The most significant issue is that exhaust fans can't reduce humidity levels. Their primary function is ventilation, so your bathroom will still fall victim to excess moisture and mold. You also can't adapt them to handle different climates.
Damprid vs Dehumidifier
Damprid is a portable, miniature version of a dehumidifier. The most evident difference is that it can only effectively work in small bathrooms. Most manufacturers recommend introducing a dehumidifier once the area is larger than 1,000 sq. ft.
Another issue is that you need to continually replace the crystals in Damprid units, while the filters, silica gel, and evaporator coils inside dehumidifiers last longer. There's also the added danger of the Damprid bag leaking or someone knocking the device over. 
Other Aspects to Consider Before Buying
While we've discussed several factors at length, there are some other aspects worth considering before you purchase a dehumidifier for your bathroom.
Power Consumption
Not every dehumidifier has an Energy Star rating for low power consumption. The last thing you want is to purchase a unit that will excessively add to your monthly utility costs. Before you click on that add to cart button, read the specifications to see how energy efficient the product is.
Intuitive Controls
It's fantastic to have a dehumidifier with a beautiful display panel. However, the function should override design. Find a device that can adjust its settings automatically depending on the environment and humidity conditions.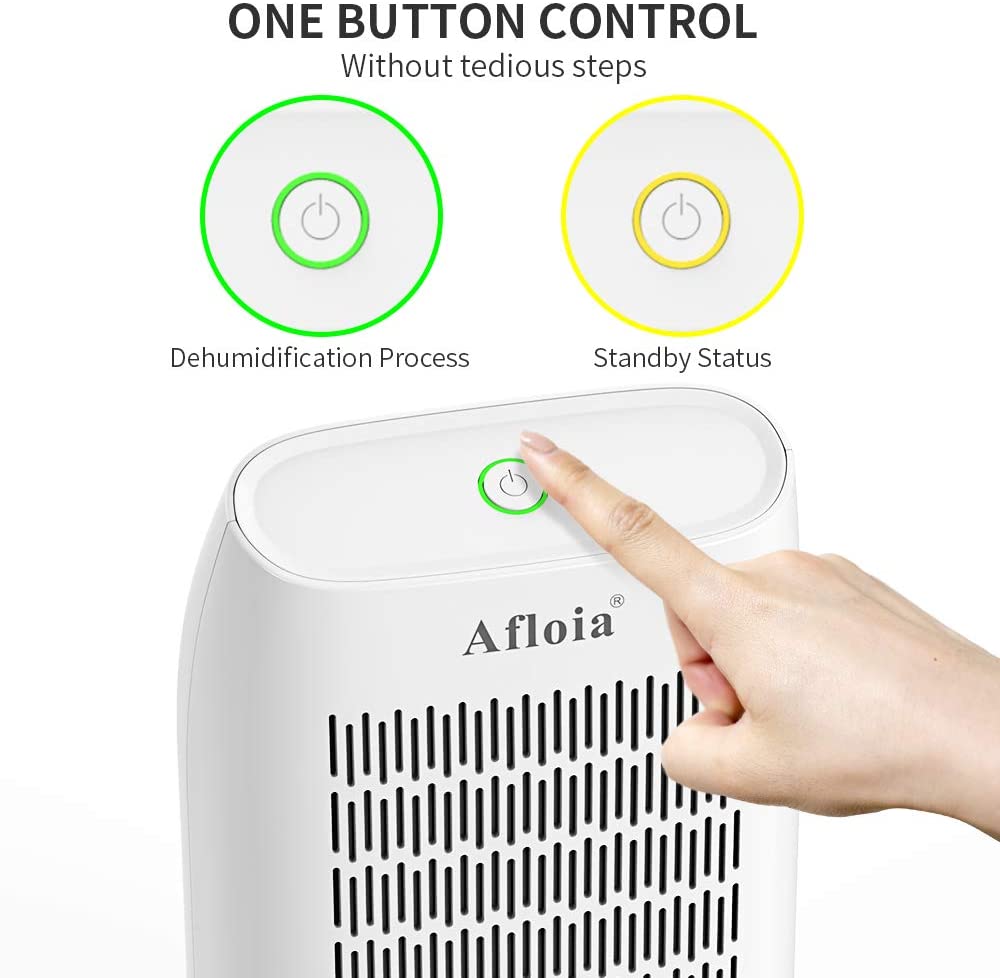 Pints Per Day
Areas that suffer from heavy humidity require dehumidifiers to draw as much moisture from the air as possible. As such, look out for the pints per day label on advertised products. The larger your bathroom and the higher the humidity level, the more PPD you'll need to remove.
Design and Layout
Finally, think about your bathroom's design and layout. How many obstacles block the airflow, and how high are the ceilings? Do you use the shower often, and do you have any counters or shelves you can place the dehumidifier on for the best effect?
What You Can Expect From a Bathroom Dehumidifier
A bathroom dehumidifier can bring about several changes in the air that you breathe inside your home. Excessive moisture can be harmful to your health, which is why a dehumidifier in areas like bathrooms is important.
We have thoroughly reviewed some of the best dehumidifiers in the market, and each of them is beneficial in a different way. Investing in one of these models can be hugely advantageous.
Here are some benefits you can expect for installing a dehumidifier in your bathroom:
Prevent Damp Patches
Excessive humidity in bathrooms can lead to damp patches on the ceiling and on the walls.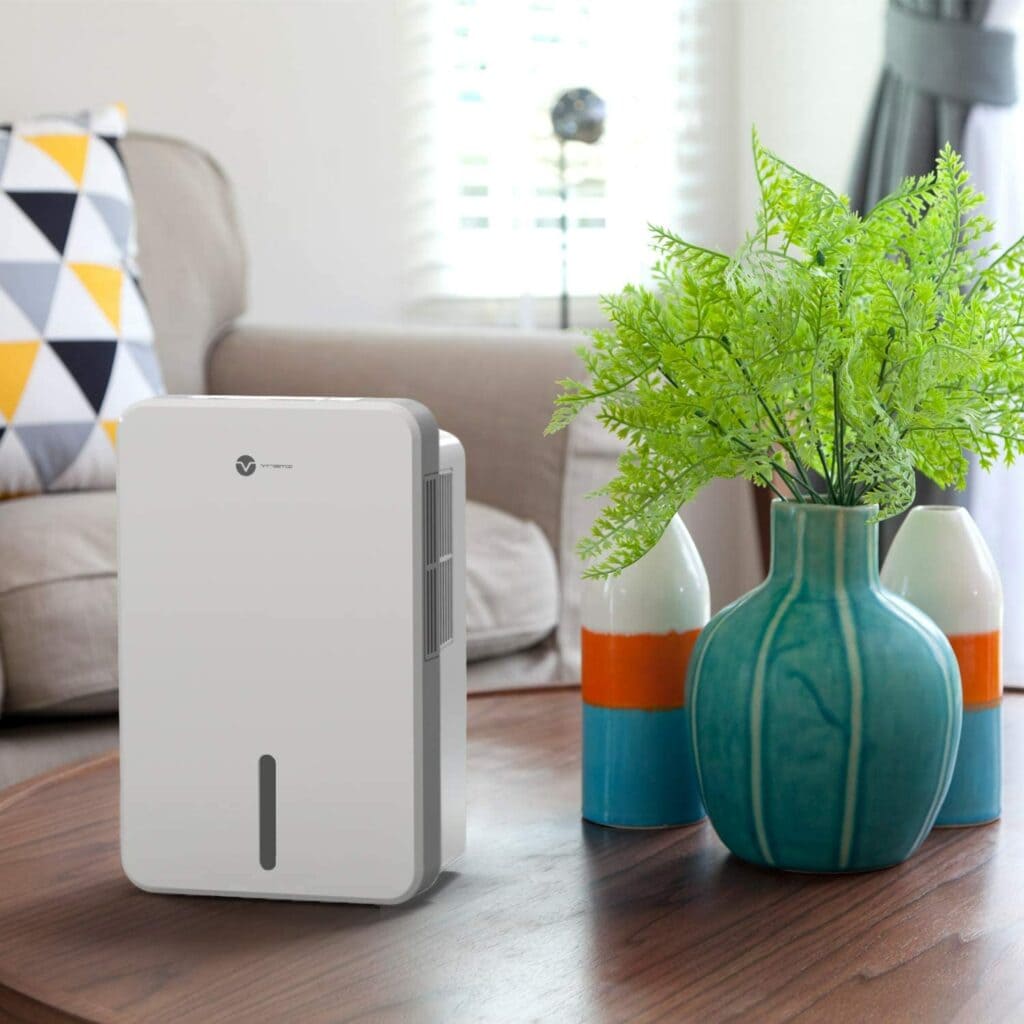 These can also make their way out of the bathroom and reach other areas of the house like bedrooms and the living room. Dehumidifiers can prevent excessive moisture from doing so.
Avoid Bacteria Build Up
Dehumidifiers are capable of capturing bacteria and microorganisms like fungus. Bacteria can be unhealthy for your respiratory systems especially if you have children at home.
Cleanse the Air
Dehumidifiers also fight and clean the air from stagnant air and unpleasant odors, which are common in bathroom areas.
Protect the Interior of Your Home
Installing a dehumidifier can prevent extra moisture from destroying your walls and ceilings that can be unattractive to look at and is unhealthy for your family.
Conclusion
To wrap it up, we can say that the need for a dehumidifier in a bathroom should not be overlooked since it can be of great benefit. A model's efficiency and effectiveness will largely depend on how wisely you have chosen it.
Match your chosen product with your usage and personal preferences such as whether you need it to be wall-mounted or not. Our detailed review of eight outstanding dehumidifiers on the market should help you in picking out the best model, so choose wisely.
People Also Ask
We might not have answered all of your burning questions. In case we've missed any, here's our list of FAQs for bathroom dehumidifiers.
What Setting Should I Put on a Dehumidifier in a Bathroom?
Levels between 35% and 50% are known as relative humidity. Bathrooms usually end up with values above 60% due to the shower or bath's steam. Ensure you keep it set at about 50% or slightly lower to help combat the effects of the warm rising air.
Where Should a Portable Dehumidifier be Placed in a Bathroom?
You should keep the dehumidifier on the opposite side of the bath or shower, as placing it too close to the steam's source can damage it. Furthermore, it should be raised off the floor for the best effect, so use a shelf or a counter.
Why Put a Dehumidifier in the Bathroom?
Your soothing bath or shower causes the presence of excess moisture in the air, which doesn't help if you already live in an area with high humidity. This can encourage severe dampness that may lead to mold formation and sickness. Dehumidifiers assist in preventing these issues and keeping humidity levels within a normal range.
Can a Dehumidifier Help with Mold?
Yes, absolutely. By removing the moisture in the air, you're reducing the source of mold formation. These colonies thrive in damp environments, so you're effectively destroying their habitat.
Is it Safe to Put a Dehumidifier in a Bathroom?
As long as you follow the prescribed safety measures, you won't have any problems. Keep the device away from windows or direct sunlight, which can cause bacteria to grow in the water tanks. Ensure that you empty the trays as soon as they're full; otherwise, you may have a small flood in your bathroom.
Do Dehumidifiers Help With Smells?
Since these devices prevent or remove mold formations, you won't be struggling with the foul odor that comes with that. Furthermore, dehumidifiers with filters can also remove any lingering smells that currently exist in your bathroom.