Your job as an HVAC tech isn't just identifying and repairing problems in the systems you work on. Your job is also to make sure those fixes will last for a long time to come. Having a poor vacuum pump that fails to reach critical draw level will result in contaminants in your refrigeration system. That will cause the system to fail again.
Picking the right vacuum pump for the job may seem tricky. This article will break down of a few of those available on the market to help you decide which is best for you.
At a Glance: Our Top Picks for HVAC Vacuum Pumps
Quick Comparison Table of the Best HVAC Vacuum Pumps
IMAGE
PRODUCT

Our Top Pick

Best HVAC vacuum pump in this list
Dimensions: 12.6 x 10.63 x 6.3"
Flow Rate (CFM) 3.5 CFM

View Latest Price →

Second best HVAC vacuum on the list
Dimensions: 10.7 x 10.6 x 4.7"
Flow Rate (CFM) 3.5 CFM

View Latest Price →

Limited 1 year warranty on the product
Dimensions: 15 x 8 x 11.70"
Flow Rate (CFM) 5 CFM

View Latest Price →

Best vacuum pump kit among options tested
Dimensions: 13.2 x 11.4 x 10.8"
Flow Rate (CFM) 3.5 CFM

View Latest Price →

Intelligent inlet fitting design and coupling
Dimensions: 13.2 x 4.8 x 10"
Flow Rate (CFM) 3 CFM

View Latest Price →
What Makes a Great Vacuum Pump?
There are a few things to look at when deciding what makes a great vacuum pump. These factors impact on both quality and the functionality. They include:
Extra Features
Standard pump features include CFM rating, and continuous use motors. Look out for extra features like surge safe protection, protection against backflow, and the ability to vacuum indoors.
Build Quality
This particularly extends to the rubber seal rings in your exhaust and oil caps. You should also look for a strong body that's well-put-together. This will protect against accidental damage in case of bumps during storage or moving.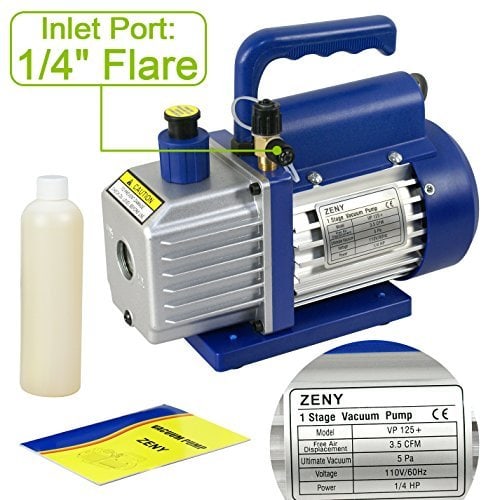 Ease of Use
Features that make your vacuum easier to use include an oil viewing glass. Oil refill ports are helpful too, for faster, spill-free refilling. Some vacuum pumps can be refilled from either the exhaust port or the oil cap.
Reviews of the Best HVAC Vacuum Pumps
Let's take a look at some of the best HVAC Vacuum Pumps to help you do your job quickly and effectively.
ZENY 3.5CFM Single-Stage Vacuum Pump
Dimensions: 12.6 x 10.63 x 6.3″
Flow Rate (CFM) 3.5 CFM
1 or 2-stage? 1
Horsepower (HP) 1/4
Voltage/Frequency: 110V/60Hz
Inlet Size(s) 1/4″
Oil Capacity: 320 ml
Pressure Scale: 0~400psi, 0~140psi
We may earn commission from purchases made from our links, at no additional cost to you
Review
This HVAC vacuum pump is made with long work hours in mind. Its high volume cooling fan allows the pump to run without overheating. It's also one of the quietest vacuums to operate. The casing is a durable aluminum alloy, and the exhaust port has an exhaust cap to prevent dirt and bugs from getting inside. It also a solenoid valve, and automatically cuts out in case of a power failure, to reduce the chances of damage.
It has a direct drive motor to make it easier to start. The oil drain plug is located at the bottom of the unit, to make it easier to empty. There's an oil-viewing glass which shows the condition of the oil and lets you know when to refill. Refilling your oil in time increases the pump's lifespan by preventing a motor burnout.
The vacuum comes with a nonslip handle, which is cushioned to make it easier to hold. Every purchase has a bottle of vacuum oil included. The ZENY 3.5CFM Single-Stage Vacuum Pump works on 400 psi and comes with a 4 foot hose. The hose measures ¼ inch and is available in blue, red, and yellow.
You should ensure that your manifold gauge can accommodate these measurements. If it doesn't, you may have to get a vacuum pump adapter, which is an added expense. There have been customer complaints about the longevity of the pump. Their main point of protest is it starts leaking oil about a year in. This continues even after tightening the screws at the bottom.
Bottom Line
This vacuum is a great purchase. The shock proof base is a great selling point. Some customers complain about leaking oil, but those same customers give it high praise, so it balances out.  
Pros
Pocket friendly
Oil view window
Easy heat dissipation
Durable shock proof base
Remains quiet when in use
Cons
Isolated complaints of oil leaking after about a year of operation
Kozyvacu TA350 Single-Stage Rotary Vane Vacuum Pump
Dimensions: 10.7 x 10.6 x 4.7″
Flow Rate (CFM) 3.5 CFM
1 or 2-stage? 1
Horsepower (HP): 1/5
Voltage/Frequency: 110V/60Hz
Inlet Size(s) 1/4″
Oil Capacity: 225 ml
Pressure Scale: 0~400psi, 0~140psi
We may earn commission from purchases made from our links, at no additional cost to you
Review
Small and portable, the Kozyvacu TA350 Single-Stage Rotary Vane Vacuum Pump is ideal for tight places and small jobs. It comes with a ¼ horse power motor that's capable of displacing about 100 liters of air a minute. It also comes with an on-off switch non slip handle. The unit weighs 10.6 pounds.
The motor is thermal protected by an efficient cooling fan. This reduces the chances of overheating during operation. It also has a high torque design that incorporates a direct fast start. The hose dimensions are ¼ inch for the flare male and ½ inch for the Acme female. This is a low noise machine.
The oil reservoir can hold up to 280 ml, and there's a viewing glass at the front which shows oil levels. The drain valve is conveniently located at the bottom of the reservoir. It's angled to reduce the draining time and ensure that all oil is out. The refill process is easier thank to an oil fill port which is accessible from all sides.
Apart from air suction, it can be used for various other operations, including automatic milking and wine degassing. This vacuum works best on small jobs, and there have been complaints regarding its low power rating, which keeps it too slow for larger jobs. There have also been complaints about the quality of the thread connectors on the unit. The recharging process could also be troublesome.
Bottom Line
This is a great vacuum pump for small jobs. The low power rating and the recharging troubles are an issue, but they don't outshine the value of this vacuum.
Pros
Efficient cooling fan
Easy direct start design
Low noise during operation
Lightweight cast aluminum design
Portable and works best at small jobs
Cons
It has a low power rating
Robinair 2-Stage VacuMaster Economy Vacuum Pump
Dimensions: 15 x 8 x 11.70″
Flow Rate (CFM) 5 CFM
1 or 2-stage? 2
Horsepower (HP) 1/3
Voltage/Frequency: 110V/60Hz
Inlet Size(s) 1/4″
Oil Capacity: 221.801 ml
Pressure Scale: 0~400psi, 0~140psi
We may earn commission from purchases made from our links, at no additional cost to you
Review
The Robinair VacuMaster Economy Vacuum Pump – 2-Stage, 5 CFM is a compact yet powerful vacuum capable of displacing up to 140 liters of air per minute. It's factory rated for up to 35 microns. The inlet fitting is made with maximum airflow while at the same time preventing oil from flowing back. There are finned aluminum surfaces designed to increase heat transfer, and they keep the pump cooler. It's a precious feature for HVAC technicians who work for long hours on these units.
The oil reservoir is made of aluminum and can hold about 7.5 ounces (22o ml). There's a filing port that can be accessed from either side, making it easier to refill. The drain valve is also angled for more efficient and complete drainage. It's located at the bottom of the vacuum pump. It comes with ¼ inch male flare and a 3/8 inch acme inlet fittings, and 3/8 female flare with ½ inch adapter. The unit is a bit heavier than other options in the market, and weighs 21 pounds.
There's some difficulty finding spare parts for the machine when something breaks down. This makes repair impossible, so the pump ends up sitting on the shelf unused for long periods. This is a big deal, because plastic blades are prone to breaking after about 9 months of continued use, and it may take a while to find replacements, so start looking early, and stock up on your spares. There have also been problems with light oil leakage.
Bottom Line
If you're looking for a powerful 2 stage HVAC vacuum, then this is the one to get. Hoard your parts though, especially if you're a continuous user. And look out for occasional oil spills. They're light and largely benign, but can be messy to clean up.
Pros
Quick oil change port
Perfect for indoor jobs
Easy fast start operation
Durable heavy duty motor
Portable lightweight design
Cons
Parts are not readily available for repairs
Kozyvacu AC Repair Kit With 1-Stage 3.5 CFM Vacuum Pump
Dimensions: 13.2 x 11.4 x 10.8″
Flow Rate (CFM) 3.5 CFM
1 or 2-stage? 1
Horsepower (HP) 1/4
Voltage/Frequency: 120V/60Hz
Inlet Size(s) 1/4″
Oil Capacity: 280 ml
Pressure Scale: 0-140 psi, 0-400psi
We may earn commission from purchases made from our links, at no additional cost to you
Review
The Kozyvacu AC Repair Kit with 1-Stage 3.5 CFM Vacuum Pump comes with a high torque design which incorporates an easy start up. This is ideal for HVAC repair in tight spots or places with poor lighting.  The die cast aluminum housing also helps in such places, since it protects the unit from damage in case of accidental bumps.
The motor is also thermal protected to ensure that you can run the unit uninterrupted without causing any breakdowns. This pump delivers less than 150 microns when in operation. That's well below the requirements for AC systems, which is 500 microns.
It comes with well-written and easy-to-follow instructions to guide you on how to vacuum your home AC system, and how to recharge it with the provided components. The manufacturer guarantees these user-friendly instructions can be followed even by anyone, even if they have zero experience with HVAC vacuuming and recharging.
The vacuum comes with a high quality manifold wand a quick coupler. It's made from aluminum and has two 70mm gauges. The gauges have a protective boot. It works through a diaphragm and valve mechanism that comes with a central sight glass built in. The Kozyvacu AC Repair Kit with 1-Stage 3.5 CFM Vacuum Pump leaks oil after a few months of use, at least according to certain customers.
The oil level indicator may give incorrect readings on first use. If this happens, draining oil from the reservoir and refilling the tank will rectify the problem. The connectors to the manifold may get loose after a while, and you may need to replace the hoses as well.
Bottom Line
There are a lot of great features on this product that make it a worthwhile investment. You should, however, keep checking the manifold connections, and the conditions of the connector hoses.
Pros
Large oil tank
150 microns full vacuum
Durable aluminum housing
Low noise when in operation
100 liters of air per minute displacement
Cons
Oil leakage reported after a few months of use
Robinair VacuMaster Single Stage Vacuum Pump
Dimensions: 13.2 x 4.8 x 10″
Flow Rate (CFM) 3 CFM
1 or 2-stage? 1
Horsepower (HP) 1/4
Voltage/Frequency: 110V/60Hz
Inlet Size(s) 1/4″
Oil Capacity: 251.375 ml
We may earn commission from purchases made from our links, at no additional cost to you
Review
This is a portable HVAC unit vacuum pump that's rated for 3CFM, which means it's extremely fast. This makes it easy to work in poorly lit spaces, or places with poor ventilation. It's also factory rated at 70 micron, against the AC standard 500 micron. It uses a standard ¼ horse power motor, and has an 8.5 ounce oil tank. The large oil tank reduces the need to keep refilling after use. Heat is dissipated through an intelligent design that uses finned aluminum surfaces to transfer heat faster.
The Robinair VacuMaster Single Stage Vacuum Pump requires a 30 second break-in period prior to first use. Inspect the drain plug before using the vacuum and make sure it's tight. Don't overtighten it though; there's a high chance you may damage the o-ring.
Use unadulterated pump oil with the product. This is because additives in some of the oils will reduce the lifespan of the motor, and other parts as well. It comes with easy oil refill, and you can fill the reservoir from either the oil fill cap, or the exhaust port. Make sure to inspect the o-ring on the oil cap, which may fall off with subsequent refills.
Some customers are unhappy about the vacuum pump's build quality. Most of these complaints concern oil leaks. In most cases, these leaks are caused by o-ring breakages. Other complaints have been isolated incidents of the vacuum breaking down after a few uses. This is however covered by the warranty, and the customers happily received their hassle-free replacements. Meaning the vacuum pump's customer care team is reliable.  
Bottom Line
This is a vacuum pump that has some useful qualities. It's highly rated when working with wood, and is quiet when in operation. The delicacy of the o-rings are something to keep an eye on though. 
Pros
Prevents oil backflow
Oil level viewing glass
Nonskid feet for added grip
Large 8.5 ounce oil reservoir
Angled drain valve for faster and more complete draining
Cons
Questions raised about the build quality
What's the Purpose of a Vacuum Pump?
Vacuum pumps are part of one of the final processes in the repair process. After you've diagnosed and repaired any leaks or other issues in the system it is time to recharge. Before recharging you want to make sure the system is free of any unwanted gasses, air, or water. If these were to remain in the system, it would turn the oil it runs on into sludge and leave behind damaging impurities.
The draw on a vacuum pump is usually broken down into its "CFM," or Cubic Feet per Minute. To estimate what your CFM needs, look at the tonnage of the systems you work on. Take the square root of that number and you'll get the approximate CFM you need to have to work with that system. Typical residential systems need 4-5 CFM, while commercial and rooftop systems generally need as much as 6-8 CFM.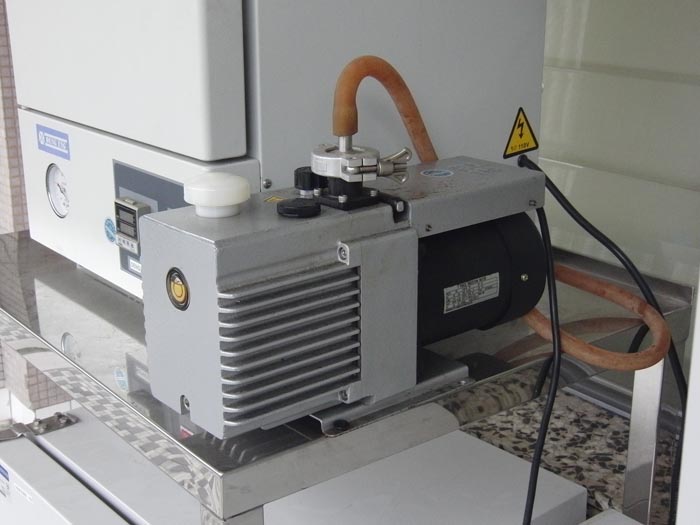 Ultimately CFM is a function of the time it will take to achieve vacuum. Many pump systems will eventually reach the necessary draw, then once the vacuum is completed, it takes very little CFM to maintain it.
Besides CFM, it is important to understand Microns as a standard unit of measurement. To evaporate and withdraw water from the system you need at least 500 microns of vacuum. Lower micron numbers mean a stronger vacuum. 0 microns is a perfect vacuum while 760,000 microns is the measurement of a space with no vacuum at sea level. Pumps with lower micron ratings will achieve vacuum faster and more efficiently.
Vacuum pumps use an air compressor to create a vacuum. They create good vacuums if you have a strong compressor, but they can be very loud. They also break down in humid climates. Diaphragm pumps are capable of creating adequate vacuums, but nowhere near complete vacuums. They are common in hospitals and laboratories but are not adequate for HVAC work.
Types of Vacuum Pumps
Vacuum pumps come in three types: vacuum generators, diaphragm pumps, and rotary vane pumps. Additionally, they can be either one- or two-stage. Both use one stage to establish the vacuum. Two-stage pumps have a second vacuum stage for greater draw and a tighter vacuum. A tighter vacuum means fewer impurities in the system.
The pumps we'll focus on are all rotary vane pumps. Unlike the other pumps, rotary vane pumps are oil-based. They use oil to pump a vane which creates the vacuum. These pumps are inexpensive and create the best vacuum (up to 99.9% in many models). But they must have their oil changed regularly to work. Although the oil can be an inconvenience, these pumps are the most effective for extended use.
What's the Process of Using a Vacuum Pump?
For an HVAC technician you'll primarily need the vacuum pump for AC and refrigerant repairs. Use it for finishing up the recovery and repair process. After you've recovered the usable refrigerant and diagnosed your problems, you'll need to refill the unit.
Use the vacuum pump to pull out all the air and airborne vapor from the system before refilling. If you don't get the water vapor or other impurities out of the system you'll get a chemical reaction once you add your refrigerant back in. This can cause oil sludge, impurities on piping, and acidic reactions that can damage O rings.
Oxygen and moisture all can create a number of future problems if they're not properly evacuated. This will damage the unit over time. You may even cause a spike in pressure within the system which will reduce the efficiency. The worst case scenario is a short circuit in the compressor, which will be a much costlier repair in the long run.
Before using your vacuum pump, you want to recover the refrigerant, make any repairs needed and do a leak check. Only then can you hook up and run your pump.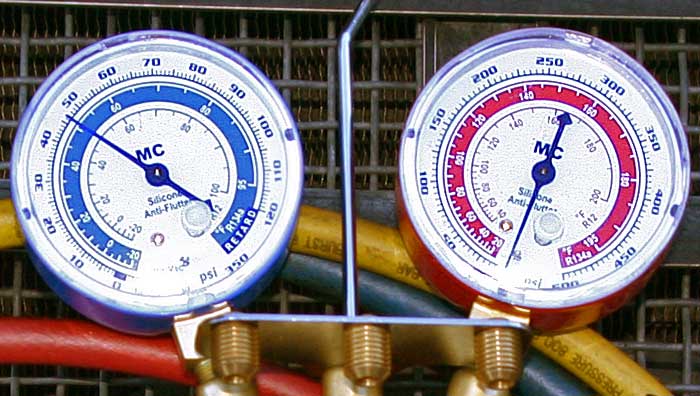 Basic Steps to Using an HVAC Pump
Locate and remove the service valve caps and attach your core removal tool.


Attach the hoses of your manifold gauge to the valves. ⅜ inch hose is optimal. The blue hose goes to your low-side core removal tool and the red hose to the high-side core removal tool.


Make sure your pump has enough oil. Check the sight glass. Fill it if needed – this is important both to keep your pump from overheating and to trap contaminants.


Connect the vacuum hose from your manifold gauge to your pump.


Make sure your pump is on a flat, stable surface.


Turn the pump on.


Open both manifold gauge valves.


Your electronic gauge should show the microns lowering. Following manufacturer specs to determine the right level, but it should be around 500 microns. At that level, you can turn off the pump.


The level will normally go up some. But if it continues to rise and reaches atmospheric levels of 760,000, you probably have a leak.


Disconnect all three hoses of your manifold gauge and replace the service valve caps.
Always make sure to evacuate your system before you start to recharge it. Having a good vacuum pump is the only way to do that.
What Size Vacuum Pump Do You Need?
As we covered before, which vacuum pump is best for you will depend on the types of systems you're working on. Keep in mind the CFM vs. the size of the systems you repair daily. Remember that the larger the system, the harder it will be to reach that 500 Micron sweet spot.
When it comes to one- or two-stage pumps, generally I find two-stage to be more convenient. This is only because they're faster at reaching a vacuum. But it's far from necessary to have a two-stage pump. On smaller jobs, you'll get plenty of vacuum from a standard single-stage vacuum pump.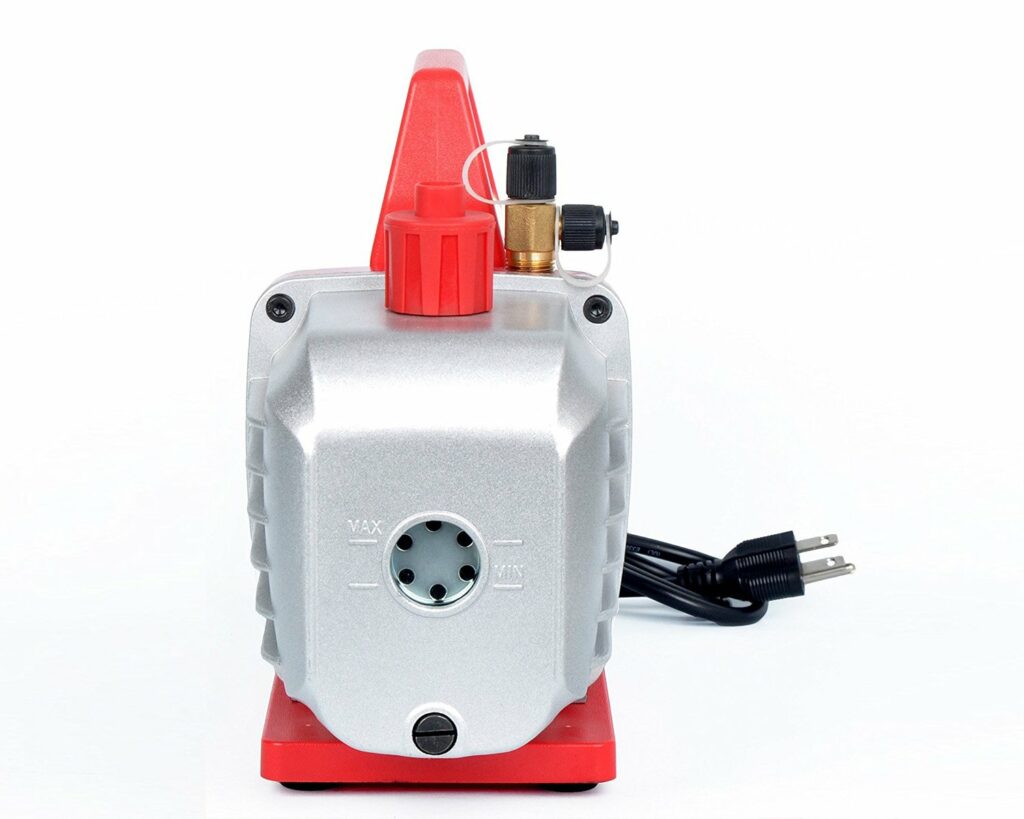 Conclusion
Hopefully we've cleared up some of your questions on vacuum pumps and provided a good jumping-off point. The list should help you see which features you'll need to keep your jobs working at the highest standard. Just remember that your vacuum pump will suck so the work doesn't have to.
People Also Ask
An end-user may face some problems or confusion while using a vacuum pump. Go through this section and get answers to all your perplexities. Perhaps, these might even help you make the ideal purchase. 
How do you decide whether you need a vacuum pump or not? This can be a tricky decision, especially when your knowledge is far more basic and you're too embarrassed to ask, "What exactly is a vacuum pump?" And even if you have the fundamentals covered, you might be unsure about annoying your technician with questions like, "Does the manifold coupling in the pump matter?"  Here are some common queries you may be too intimidated to bring up … as well as their answers.
What Impact Does Hose Size Make on HVAC Vacuum Pump?
The size of the hose on an HVAC vacuum pump is of great importance. The geometry of a hose, like every other component, affects the performance of the compressor and results in unacceptable flow rate and pressure drops. For instance, if your equipment requires a huge amount of fluid transfer, then small hoses will exert more load on the motor or compressor for doing so. 
How to Dispose of HVAC Vacuum Pump Oil
For disposing of the vacuum pump, we would recommend you to opt for a container having a broader mouth. Once you drain out all the pump oil, clearly mention 'waste vacuum pump oil' on the container. Don't dump it in your dustbin. Also, avoid flushing it in the washroom. Instead, dispose of it in the waste container nearest to your place.
What Happens if You Don't Vacuum Your Ac System?
Vacuuming the AC system is crucial for the soundness of the equipment. In easy words, it is necessary to evacuate the pressure from the compressor before refilling it since water molecules tarnish the efficiency of an air conditioner. The vacuum pump pulls out all the water particles, thereby creating a vacuum inside the compressor. 

Therefore, if somebody pays no heed to vacuuming the system, he may incur inadequate cooling.
How Long Can You Run a Vacuum Pump?
Consider the amount of use to decide how long a vacuum pump can run without any risk. Usually, it can run continuously for about 12 to 48 hours for evacuating 500 microns air. If it hangs around 15 inches, there might be a leak.

Also, one should inspect the color of the oil before making it run longer. If the color appears to be white, then it means that the system contains more moisture, and it's time to replace the oil with a fresh one in order to achieve good results.
What Does a Stage 2 Vacuum Pump Mean?
This is a vacuum pump that has a two stage rotary vane design. The emphasis is on the higher vacuum second stage, which is also called the exhaust stage. This stage speeds up the pump's performance considerably. It rapidly shifts the operation from 150 micron to below 1 micron. Single stage pumps take longer to even get to 15 micron.
What Is a CFM Vacuum Pump?
CFM stands for Cubic Feet per Minute, which is what they use to measure the speed of the air displacement. It's found in mainly rotary vane pumps, especially for HVAC maintenance. A vacuum pump that's CFM rated means it can move a specific volume of air per minute.
Other Related Content
Here is some other content that might interest you: